Prague Travel Guide — Travel Tips & The Best Things To Do In Old Town Prague And Beyond
Prague Travel Tips & The Best Things To Do In Prague, Czech Republic
I'm not gonna lie…I didn't want to like Prague, the capital of the Czech Republic. It was always kind of the baby of the digital nomad world when I first learned about location-independent life, and my inner 13-year-old boy just wanted to go against the grain. Spoiler alert: I loved my first visit to Prague and I can't wait to go back and spend more time. There is an endless list of things to do in Prague, whether in Old Town, the newer districts, or even an hour away on a simple day trip.
Join the email list to stay in the loop on new releases!
This site participates in the Amazon Services LLC Associates Program and other affiliate programs and may earn from qualifying purchases. You're never charged more, but it helps out little by little! Check out "Privacy" in the top menu if you need to know more!
Prague, Czech Republic: The City Of A Hundred Spires
The capital city of the Czech Republic, Prague is nicknamed "the City of a Hundred Spires" for good reason. Back in the day, philosopher Bernardo Bolzano counted over 100 towers and spires on all the cathedrals and buildings and gave it the nickname. There are many more than a hundred spires now, but the name endures.
This travel guide will give you a rundown of some of the best things to see and places to visit in Prague, from visiting Old Town and Old Town Square, to Prague Castle and St. Vitus Cathedral, to exploring beyond the city limits. (Can you say "Bone Church?") So whether you're a first-time visitor or a seasoned traveler, this guide to Prague will have something for you!
READ NEXT: Prague Day Trip: The Kutna Hora Bone Church — The Sedlec Ossuary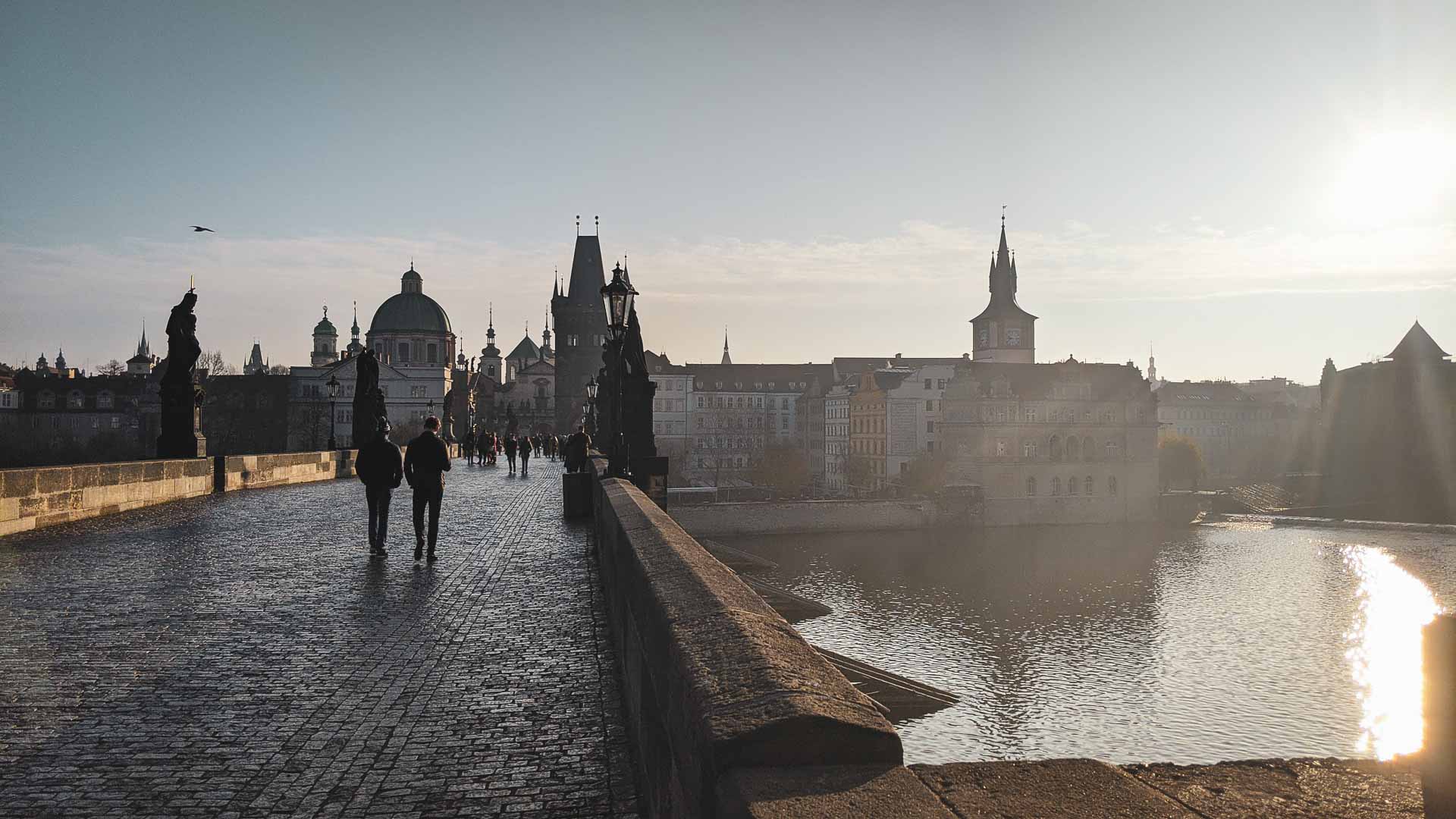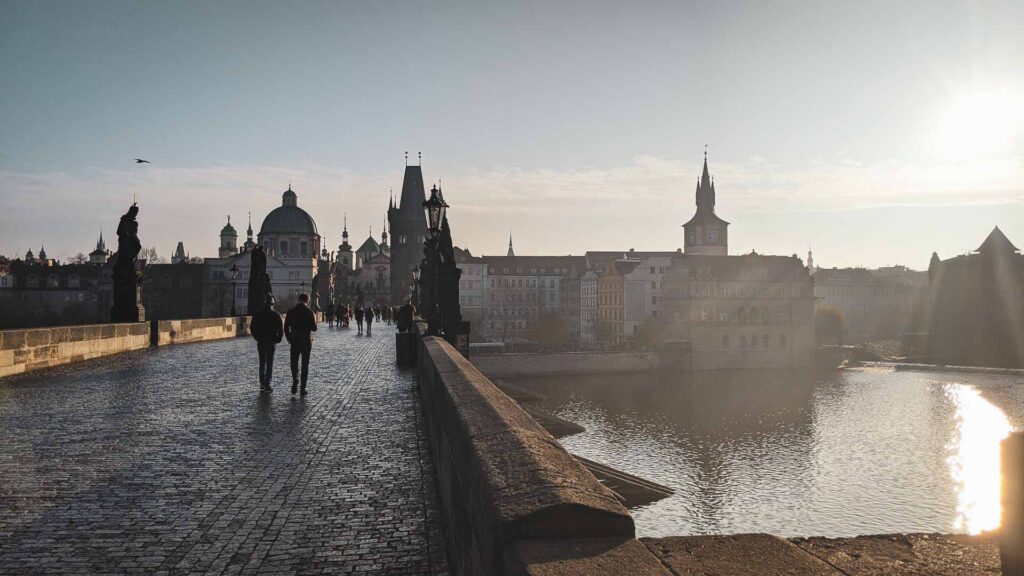 First Things First—Take A Walking Tour Of Prague
Always your best way to start in a walkable, historic European city like Prague is with a walking tour. You can find dozens of free tours any day of the week, especially during the high tourist travel seasons, all with great reviews.
You can also find more dedicated and smaller group tours like this one highlighting local "Ghosts and Legends." Regardless, if you're planning to travel to Prague, definitely start with a walking tour to get acclimated to the area and history.
READ NEXT: The Prettiest F*cking Sintra, Portugal Travel Guide Ever: Isn't It Romanti…cism?
Jaw-Dropping Images Of Pena Palace & Gardens in Sintra, Portugal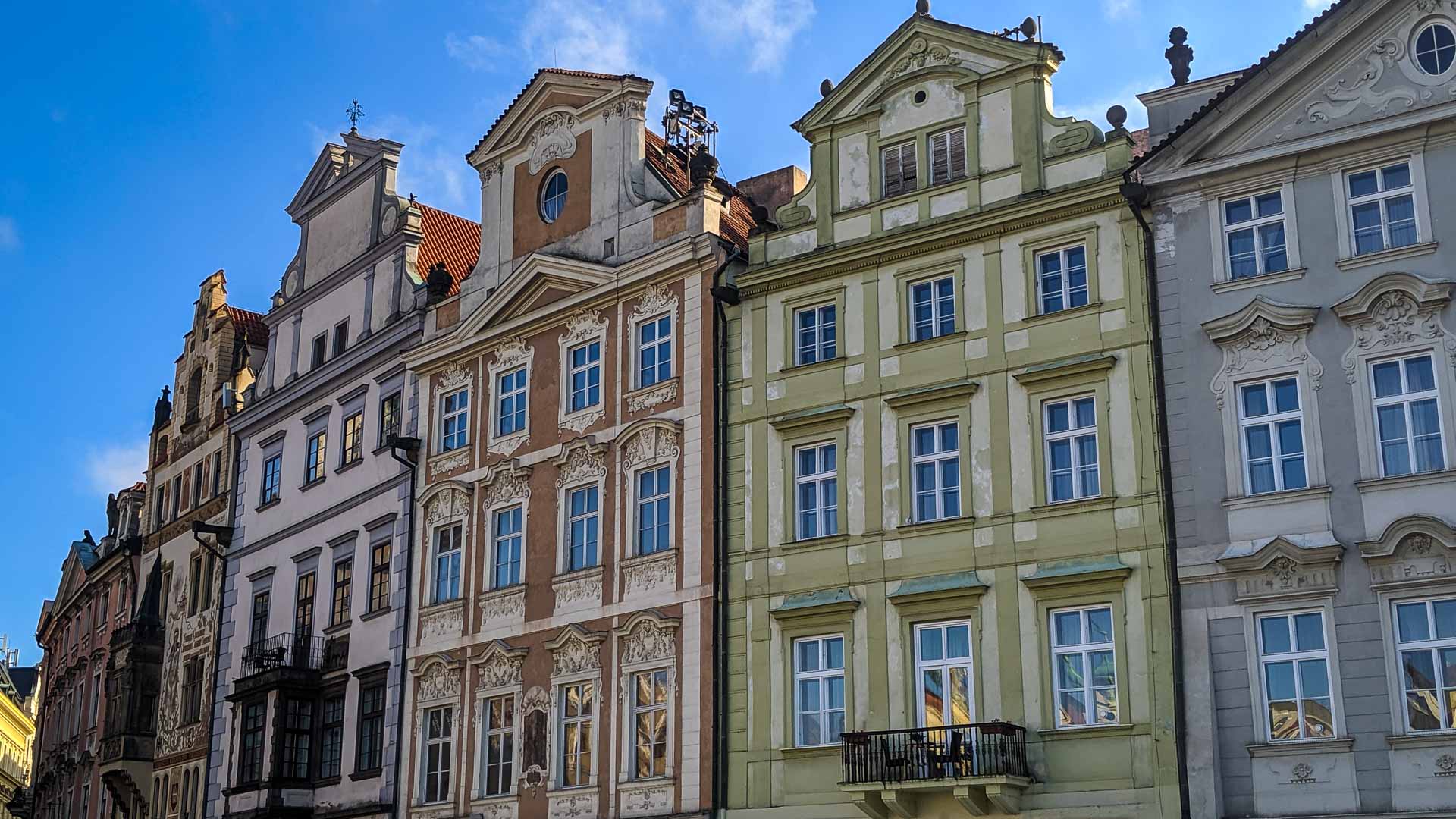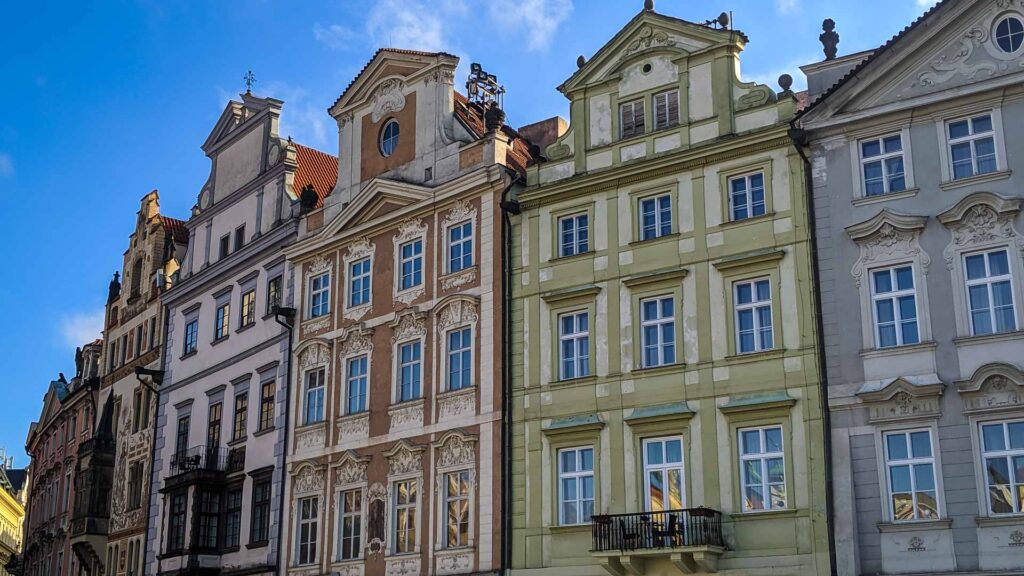 Things To Do In Old Town Prague and Old Town Square
Old Town dates back to over a thousand years ago. Old Town Prague was separated from the outside by a semi-circular moat and wall, connected to the Vltava river at both of its ends. The moat is now covered up by Revoluční, Na Příkopě, and Národní Streets, which remain the official boundary of Old Town.
Old Town Square
To further get you acclimated, Old Town Square is a historic square in the Old Town area of Prague, between Wenceslas Square and Charles Bridge. Things to see and do include the Gothic Church of Our Lady before Tyn, St. Nicholas Church, the Jan Hus Memorial Statue, and the Prague Astromonical Clock. In front of the Old Town Hall is a memorial to the martyrs beheaded during the executions by the Hapsburgs.
The Prague Astronomical Clock In Old Town Square
The Prague Astronomical Clock is a medieval astronomical clock on the southern wall of the Old Town Hall. Installed in 1410, it's the third-oldest astronomical clock in the world and the oldest clock still in operation.
Every hour on the hour, statues start moving and windows open to reveal more figures, ending with a skeleton tolling a bell. While the astronomical clock is a major tourist attraction and one of the most popular places to visit in Prague, if you're anything like me you might be a little bit underwhelmed by the payoff.
That said, it's still pretty cool, and the visual of the actual clock is gorgeous now that it's been revitalized.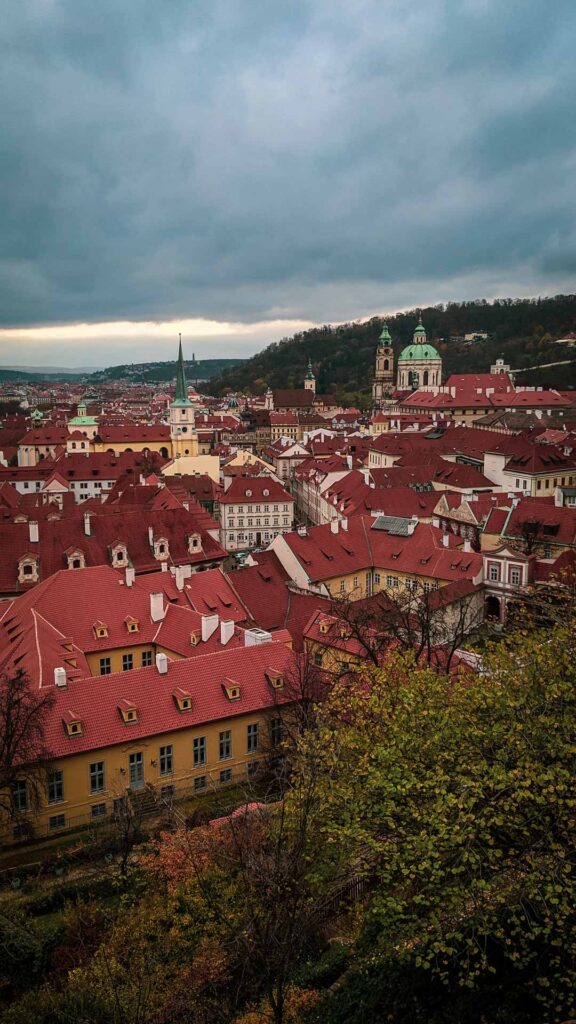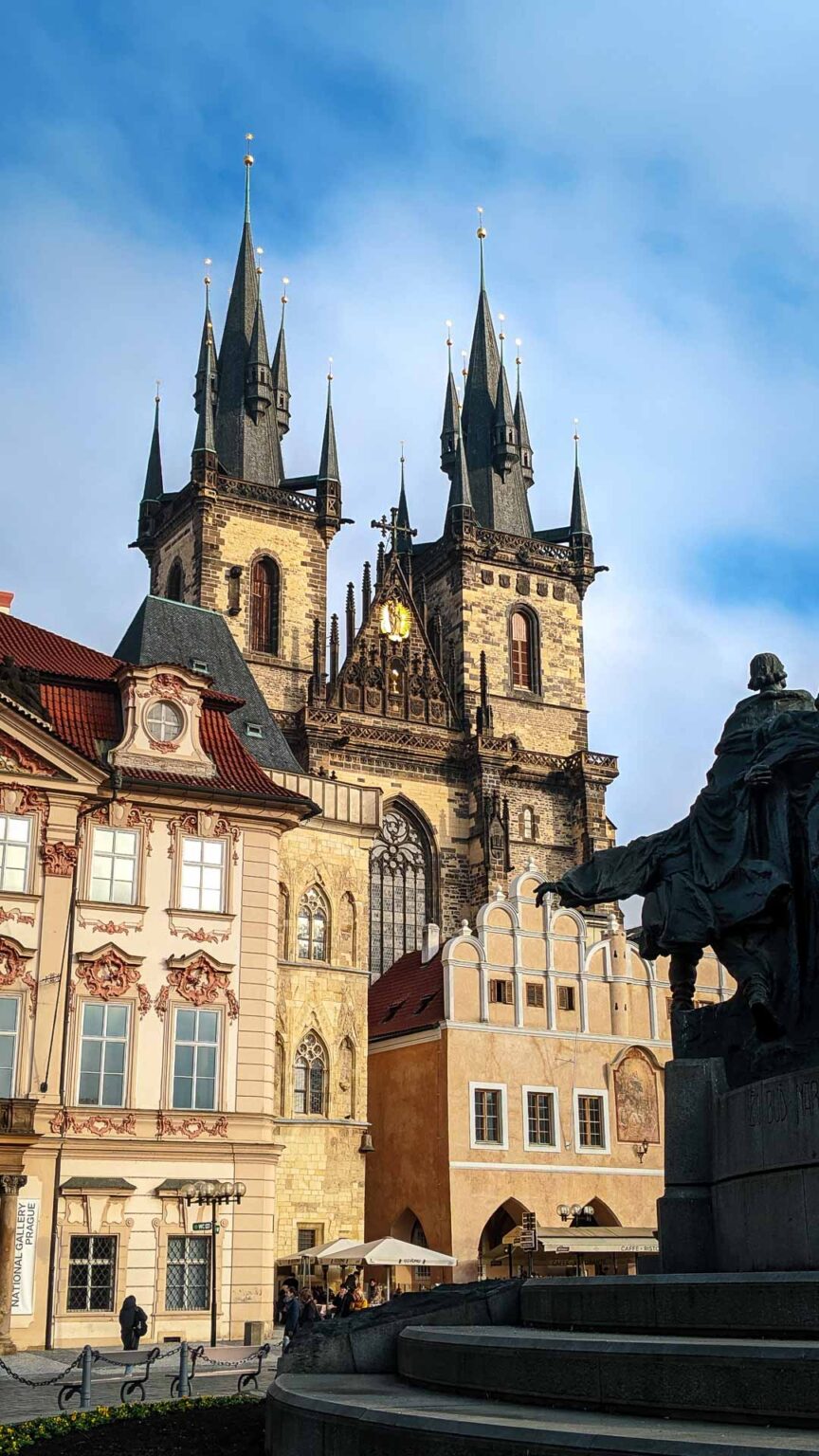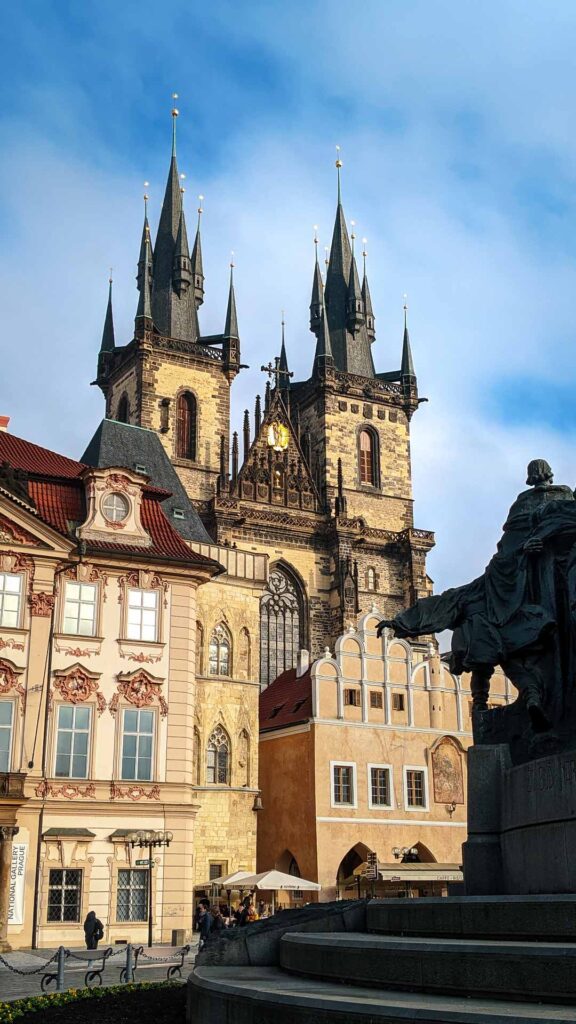 Church Of Our Lady Before Týn in Old Town Square
The Gothic Church of Mother of God before Týn is one of the key sights of Old Town Square. The cathedral is a gallery of Gothic, Renaissance, and Baroque works. The organ is the oldest in Prague, and you can also see the wooden altar of St. John, a late Gothic pulpit from the 15th century, and the tomb of Tycho Brahe.
Jan Hus Monument In Old Town Square
The Jan Hus Memorial in Old Town Square is one of the most significant Art Nouveau and Symbolist works of Czech sculpture. It portrays Hus above a burning stake, looking towards the Virgin Mary in front of The Church Of Our Lady Before Týn.
The memorial was designed by Ladislav Saloun and paid for by public donations. It was unveiled in 1915 to commemorate the 500th anniversary of Jan Hus' martyrdom.
The Jewish Museum in Prague
The Jewish Museum in Prague is one of the most frequented places to visit in Prague. Established in 1906, the museum is one of the oldest Jewish museums in Europe. It houses items from synagogues that were demolished as a result of the clearance of the Prague Jewish ghetto. Its collection is one of the largest in the world, with about 40,000 objects and 100,000 books.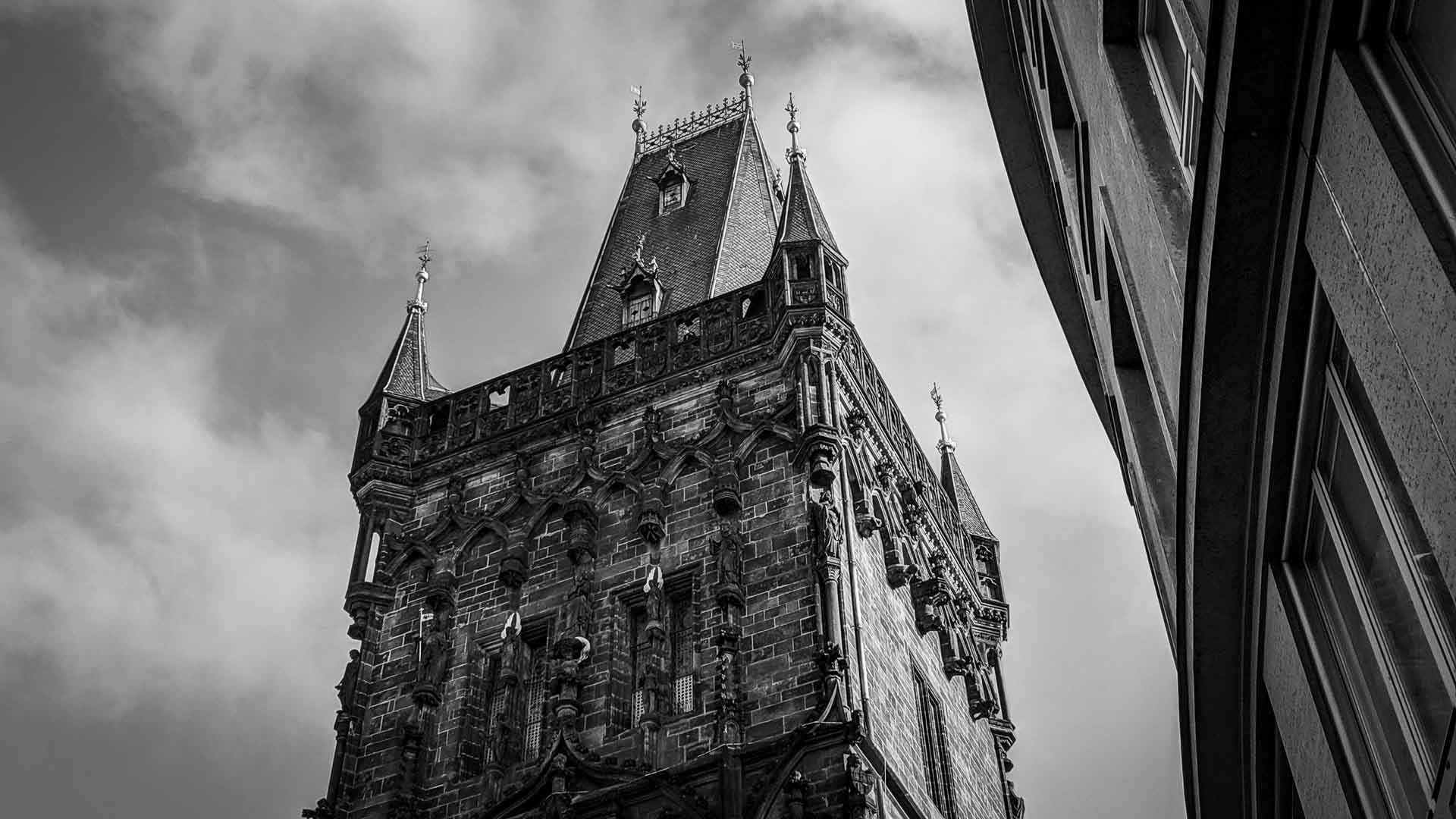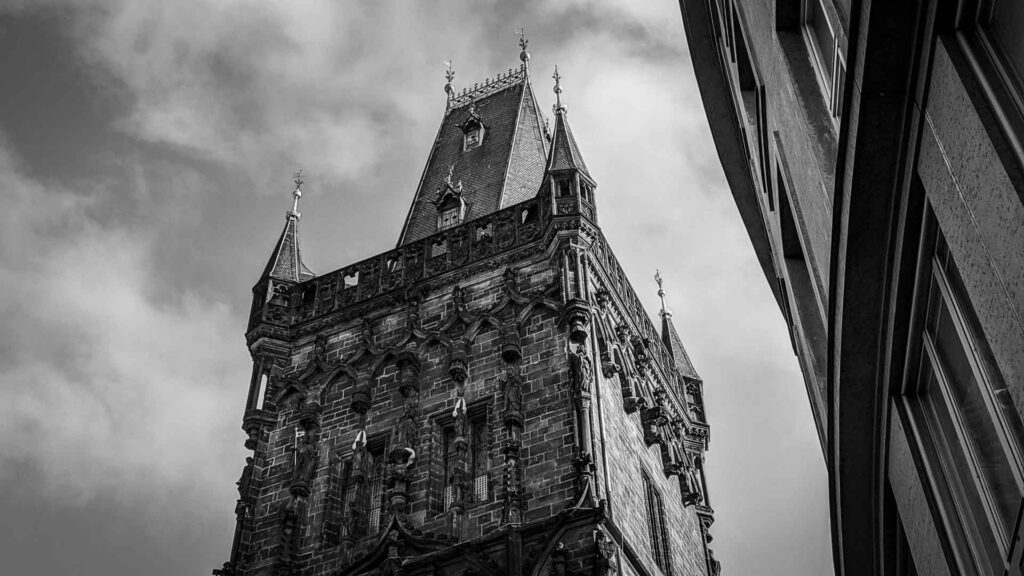 The Powder Tower (Prašná Brána)
As you walk around Prague, you'll stumble upon many old architectural behemoths like the Powder Tower. The Powder Tower (or Powder Gate) is a monumental entrance where processions of Czech kings entered the Old Town.
The Powder Gate Tower, which formerly served as a gunpowder store, is still the starting point for the Coronation or Royal Route to Prague Castle. The Powder Gate Tower is 65m high, the viewing gallery is located at a height of 44m, and the spiral staircase is made of 186 stone steps.
Join the email list to stay in the loop on new releases!
Mucha Museum In Prague
Hi. I'm Jason, and Alphonse Mucha—the father of Art Nouveau—is my favorite…artist…ever. No, I'm not joking. I literally have a tattoo on my forearm—that I got inked in Budapest, Hungary and Queretaro, Mexico—inspired by his art. So I was super-stoked to realize there is a bonafide Mucha museum in Prague.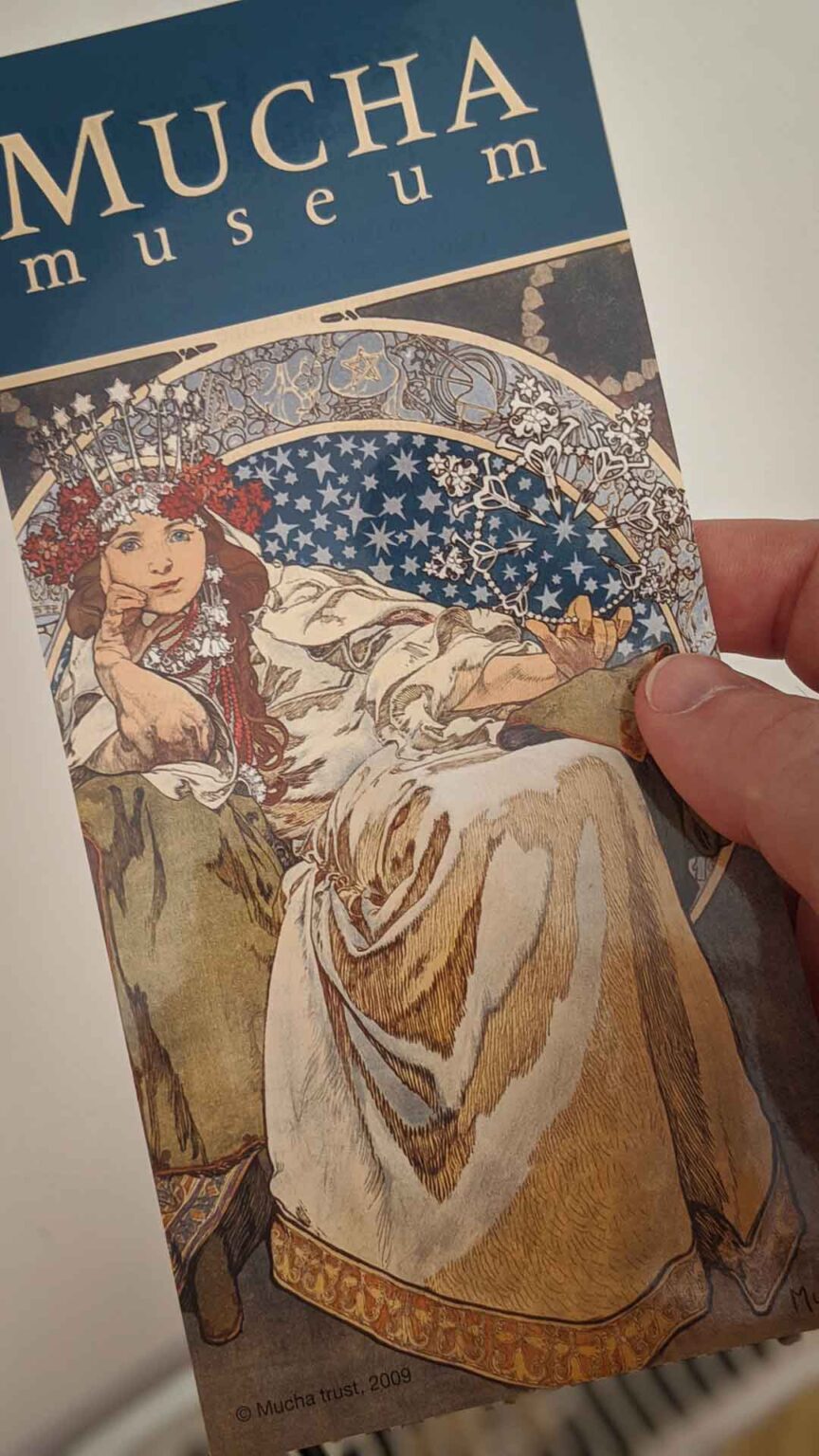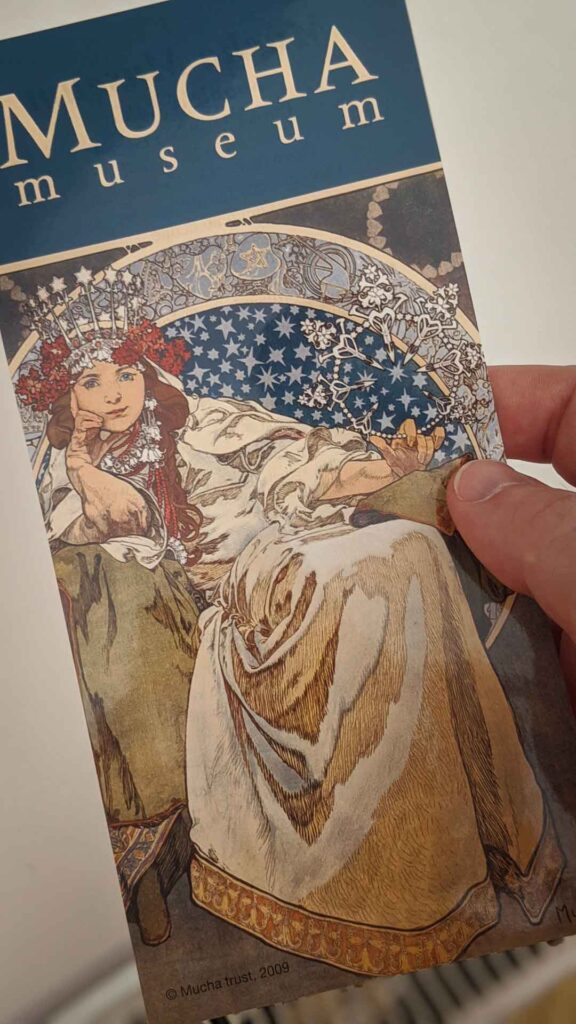 The Alphonse Mucha museum is divided into seven exhibition sections: Parisian Posters, Decorative Panels, Czech Posters, Documents Decoratifs, Drawings and Pastels, Oil Paintings, and the photographs and personal memorabilia of Alphonse Mucha.
If you love Art Nouveau or Alponse Mucha as much as I do, plan to spend an hour or two here.
The Old Town Bridge Tower And Charles Bridge
As you head out of the Old Town area, you'll likely be heading straight to one of the busiest pedestrian bridges in Prague—Charles Bridge. But before you get there, you'll have to pass through the shadows of the Gothic Old Town Bridge Tower.
The tower was commissioned by Emperor Charles IV and designed by Petr Parléř in the mid-14th century. The gate to Old Town was a symbolic victory arch through which Czech kings passed on their coronation processions.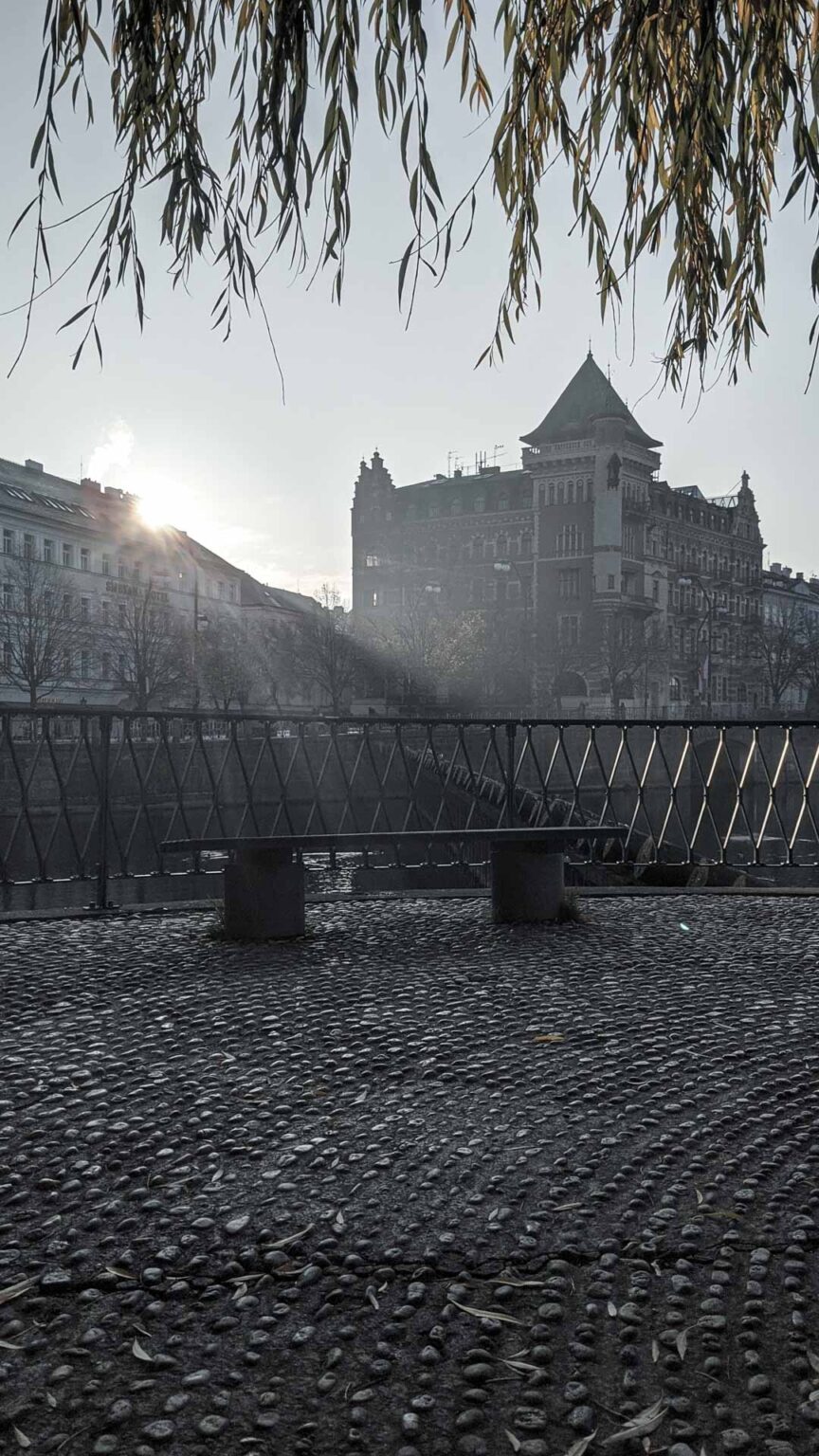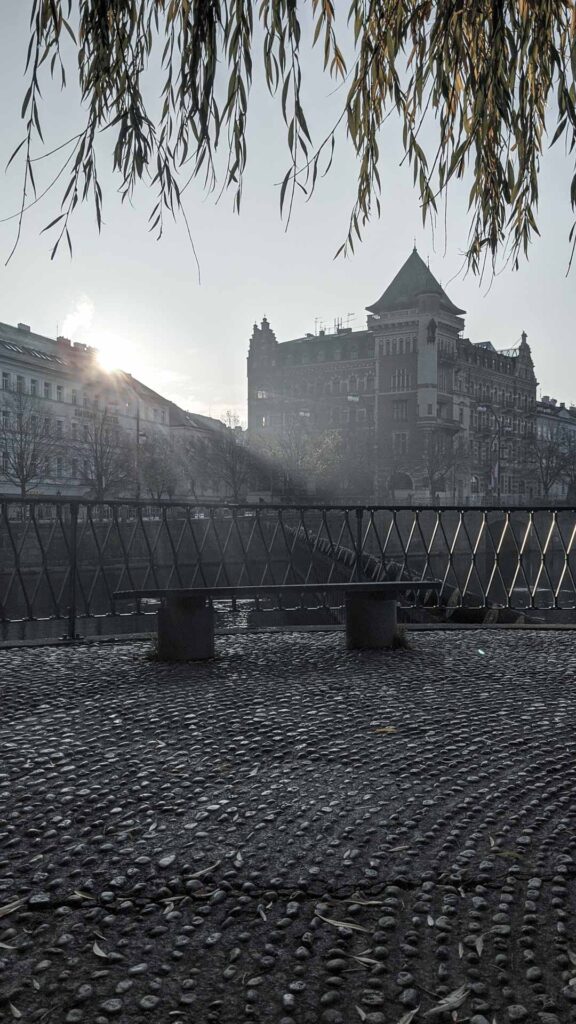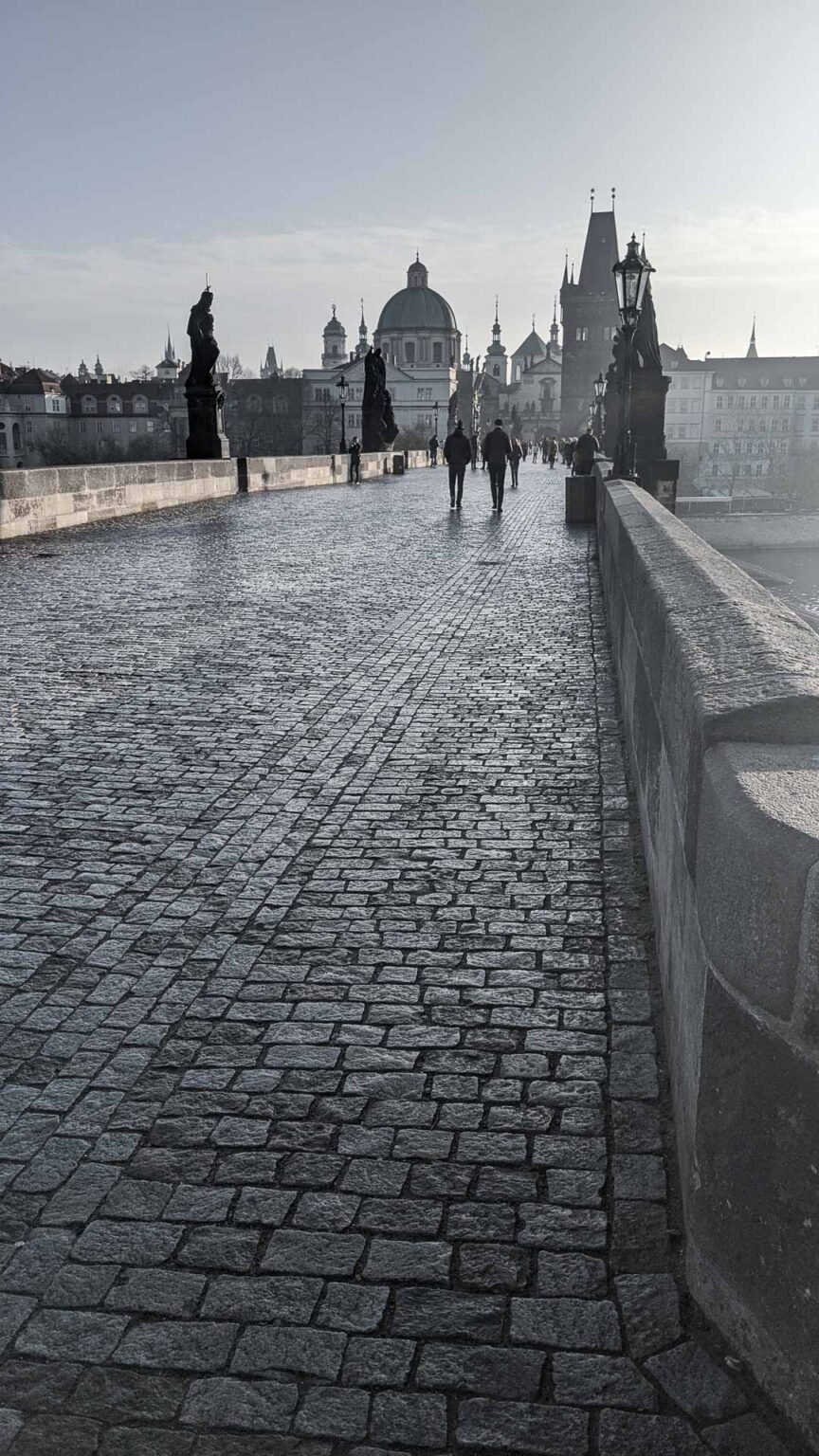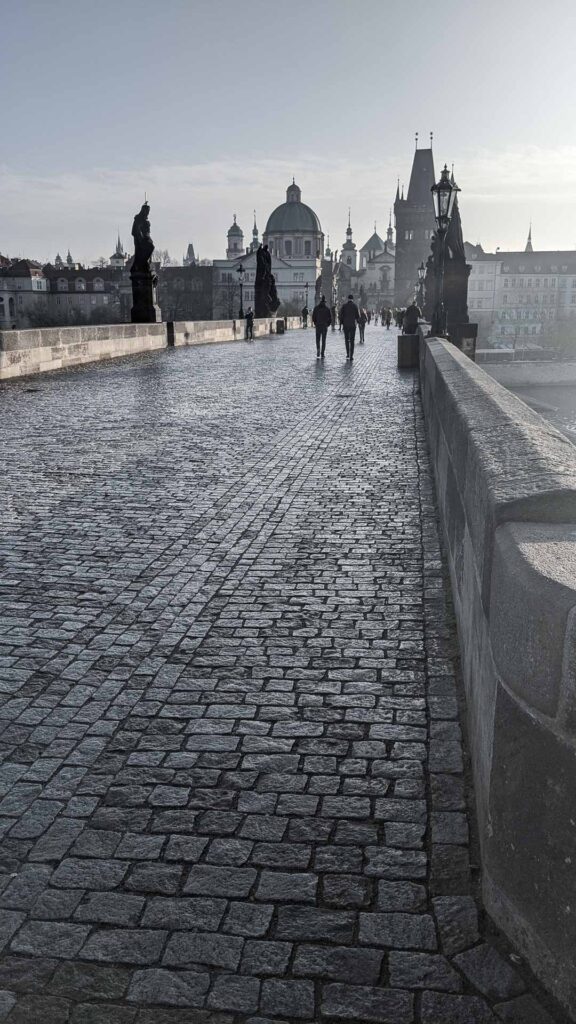 Charles Bridge
Charles Bridge is certainly an amazing spot. As a hopeless romantic, I can't understate the ambiance created while walking along its ornate statues and lights while watching the river pass underneath. But you'll do yourself a great service if you grab a cup of coffee and head out early in the morning.
Things To Do In Prague Outside Of The Old Town Prague District
Prague Castle & St. Vitus Cathedral
A trip to The City Of A Hundred Spires simply wouldn't be complete without exploring Prague Castle. It's easily one of the most packed places to visit in Prague, and rightfully so. It is the official residence of the President of the Czech Republic. The castle was a seat of power for kings of Bohemia, Holy Roman emperors, and presidents of Czechoslovakia.
You could easily spend half a day exploring the Prague Castle complex if you purchase the all-in ticket, which gives you single entries into each: St. Vitus Cathedral, The Old Royal Palace, St. George's Basilica, and Golden Lane, which includes the medieval armory exhibit…which I highly recommend.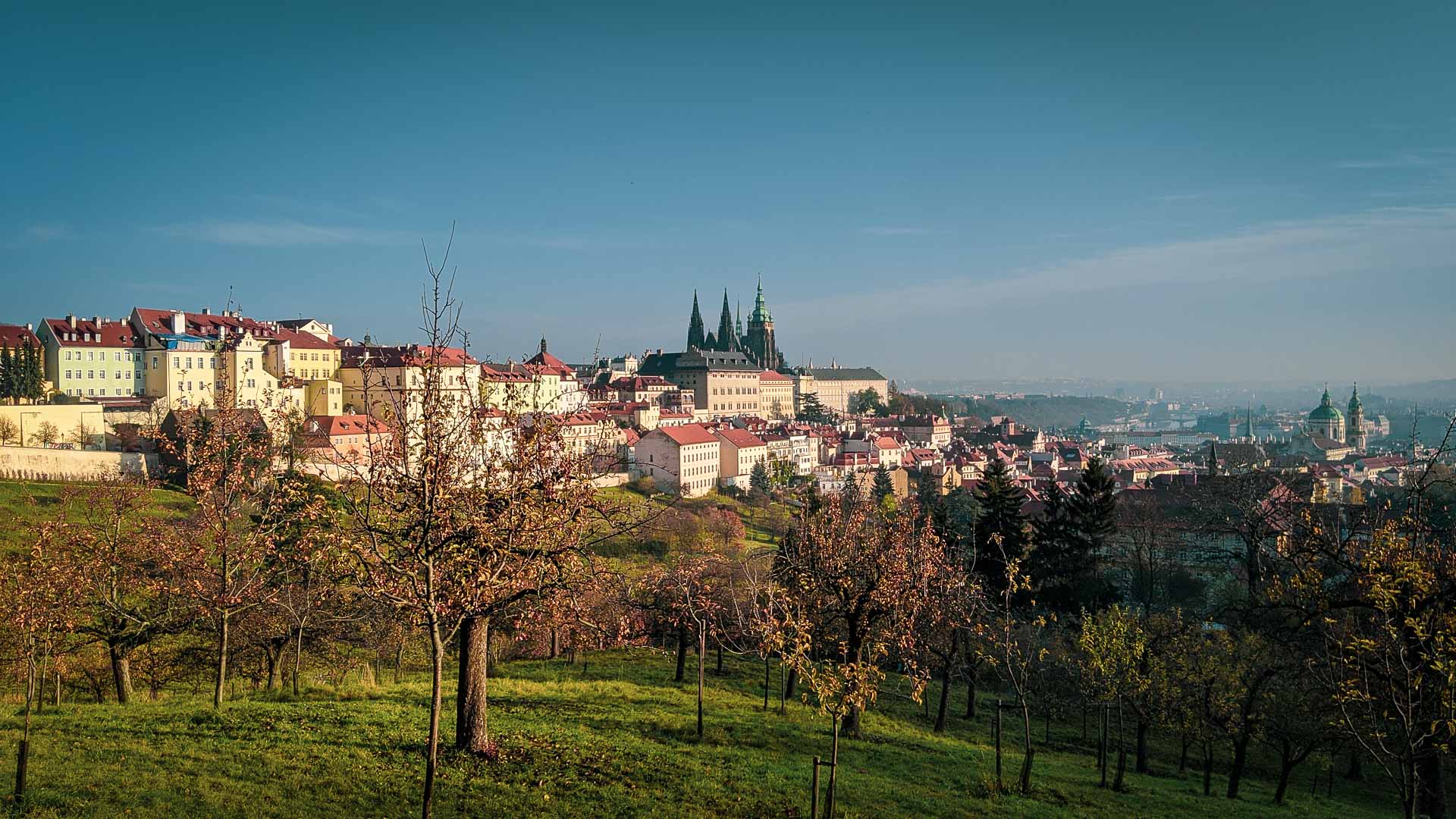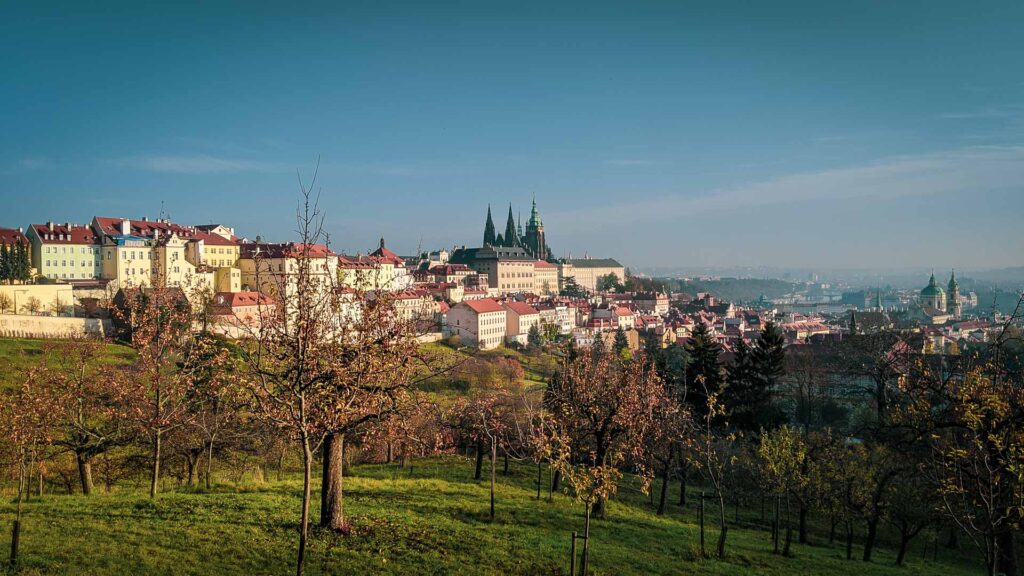 Should I Pay For A Ticket To Prague Castle?
Yes, you can enter the Prague Castle grounds for free—and even the front of St. Vitus Cathedral. But this is one ticket that's totally worth the roughly $10 ticket price in my opinion. Here's why…
Yes, it's a complex, which I didn't really understand until I visited. It's not just St. Vitus Cathedral. Prague Castle also includes palaces, historic buildings, churches, courtyards, offices, and gardens to explore.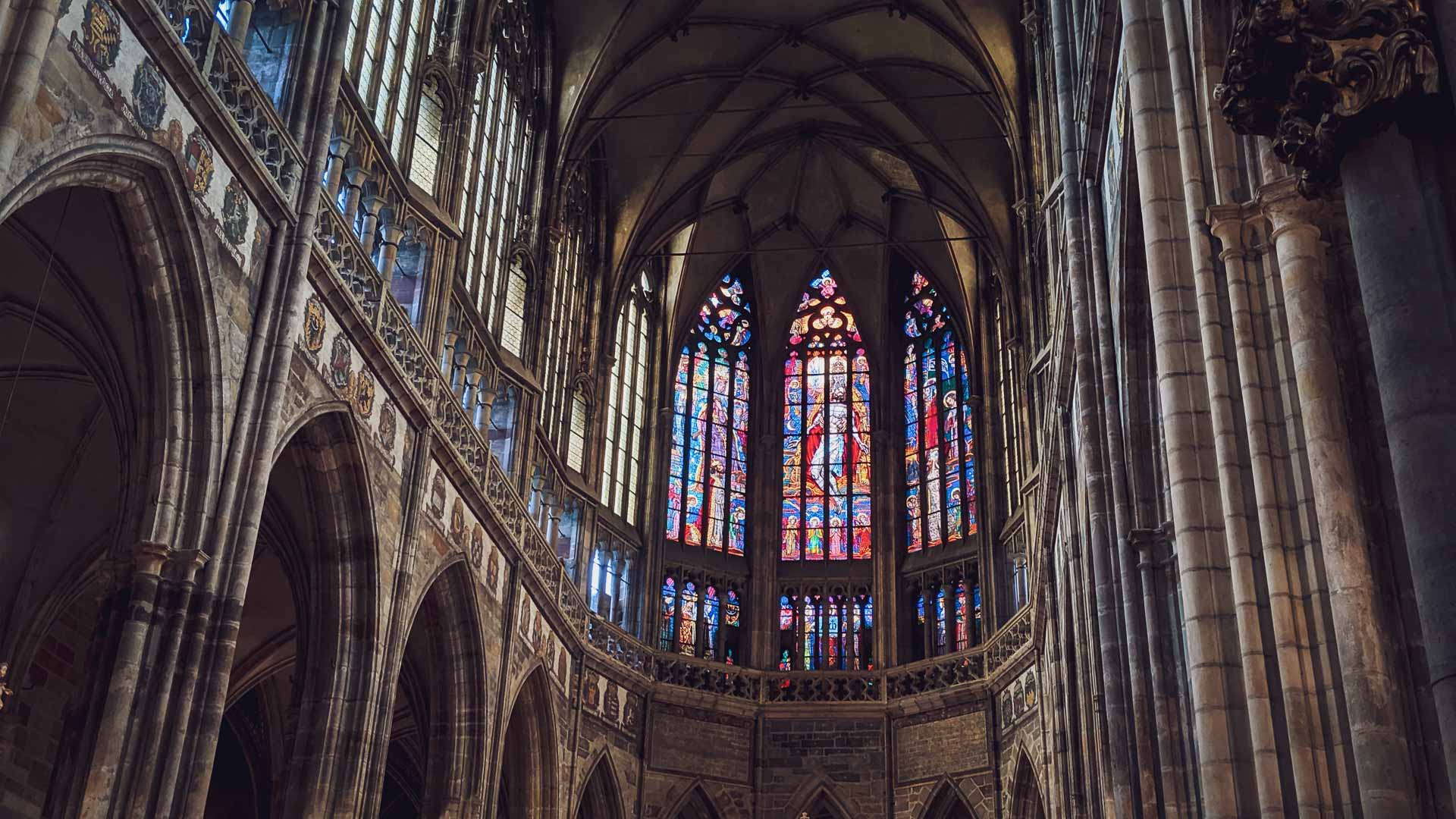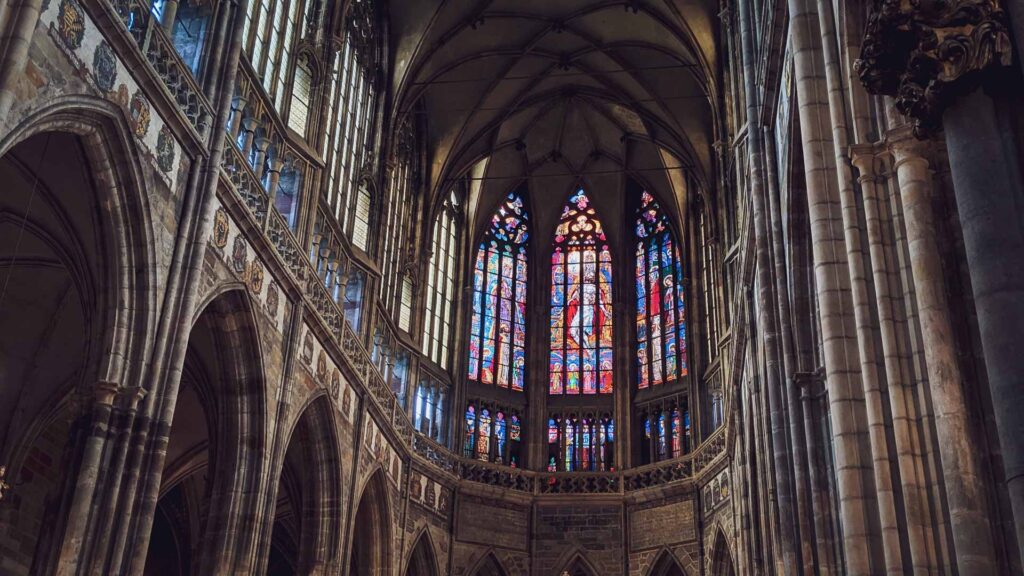 St. Vitus Cathedral
This Roman Catholic cathedral—showcasing a mix of Gothic and Neo-Gothic architecture—is the largest and most important church in the country of Czech Republic. It is stunning outside and in, and I found myself simply standing and staring for minutes on end, in awe of the tiny details of the church.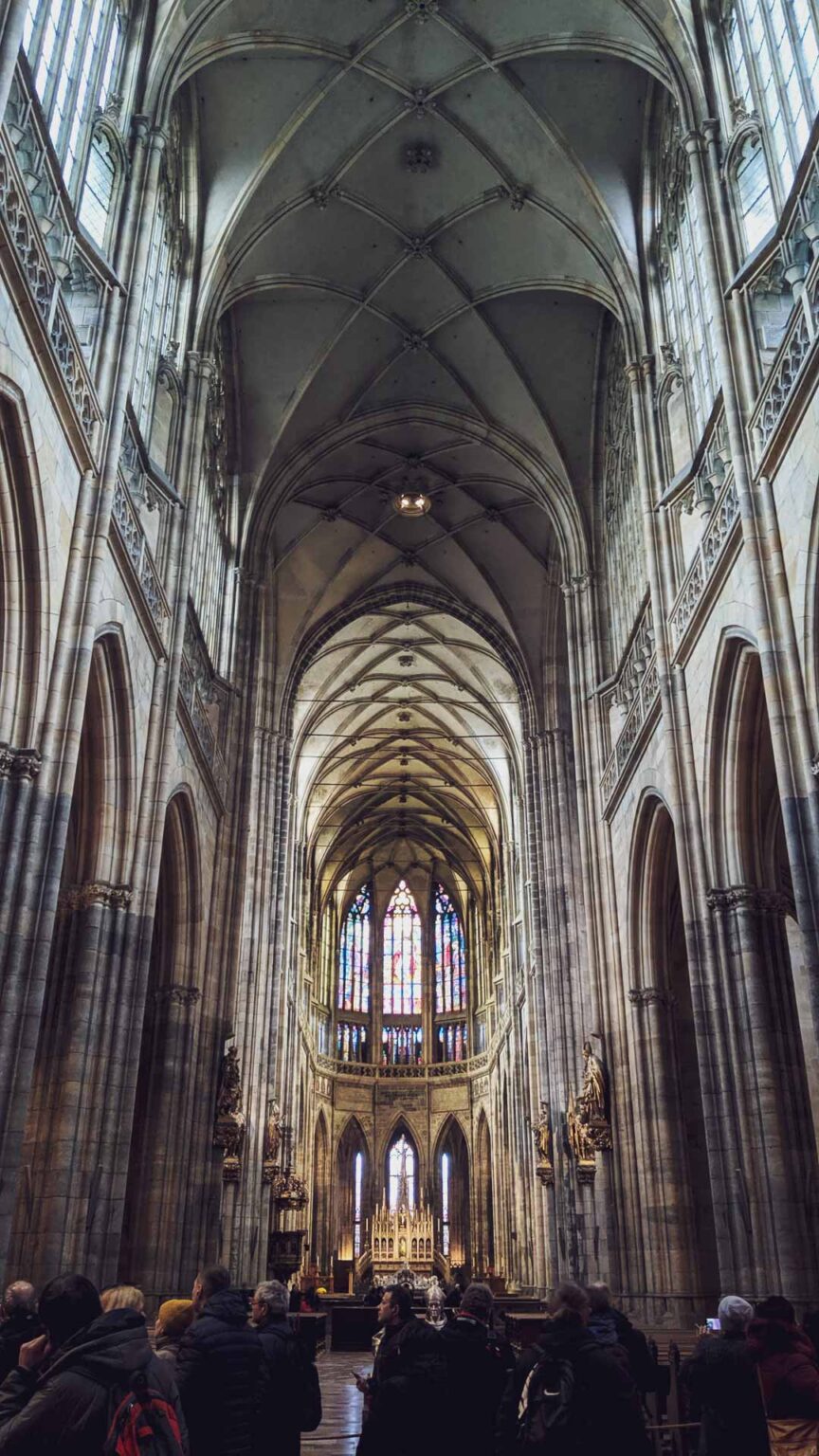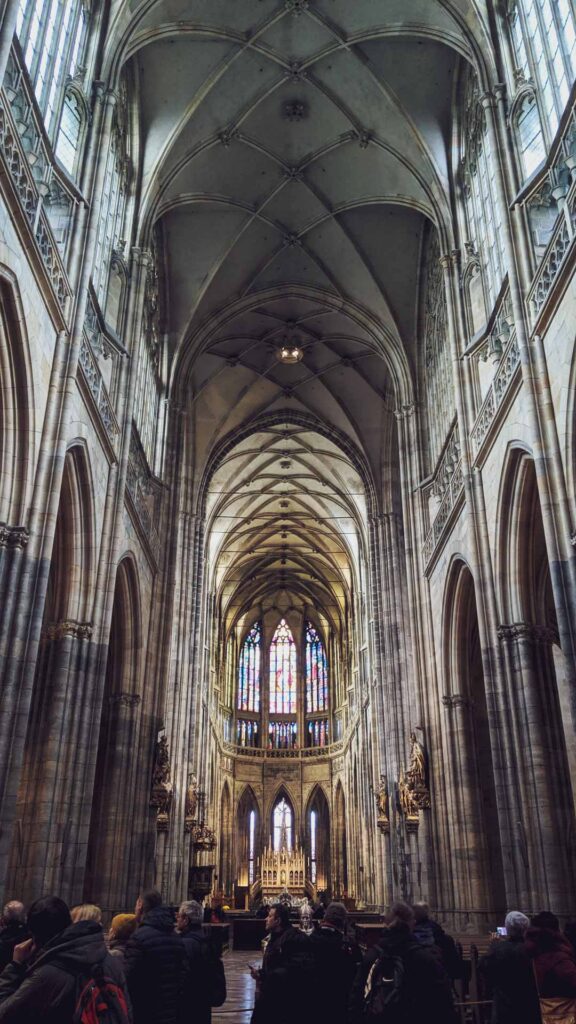 Alphonse Mucha Stained Glass – Art Nouveau In St. Vitus Cathedral
I wasn't even aware this existed until I walked into St. Vitus Cathedral and looked to the left and immediately recognized the unmistakable artistic style Alphonse Mucha wielded.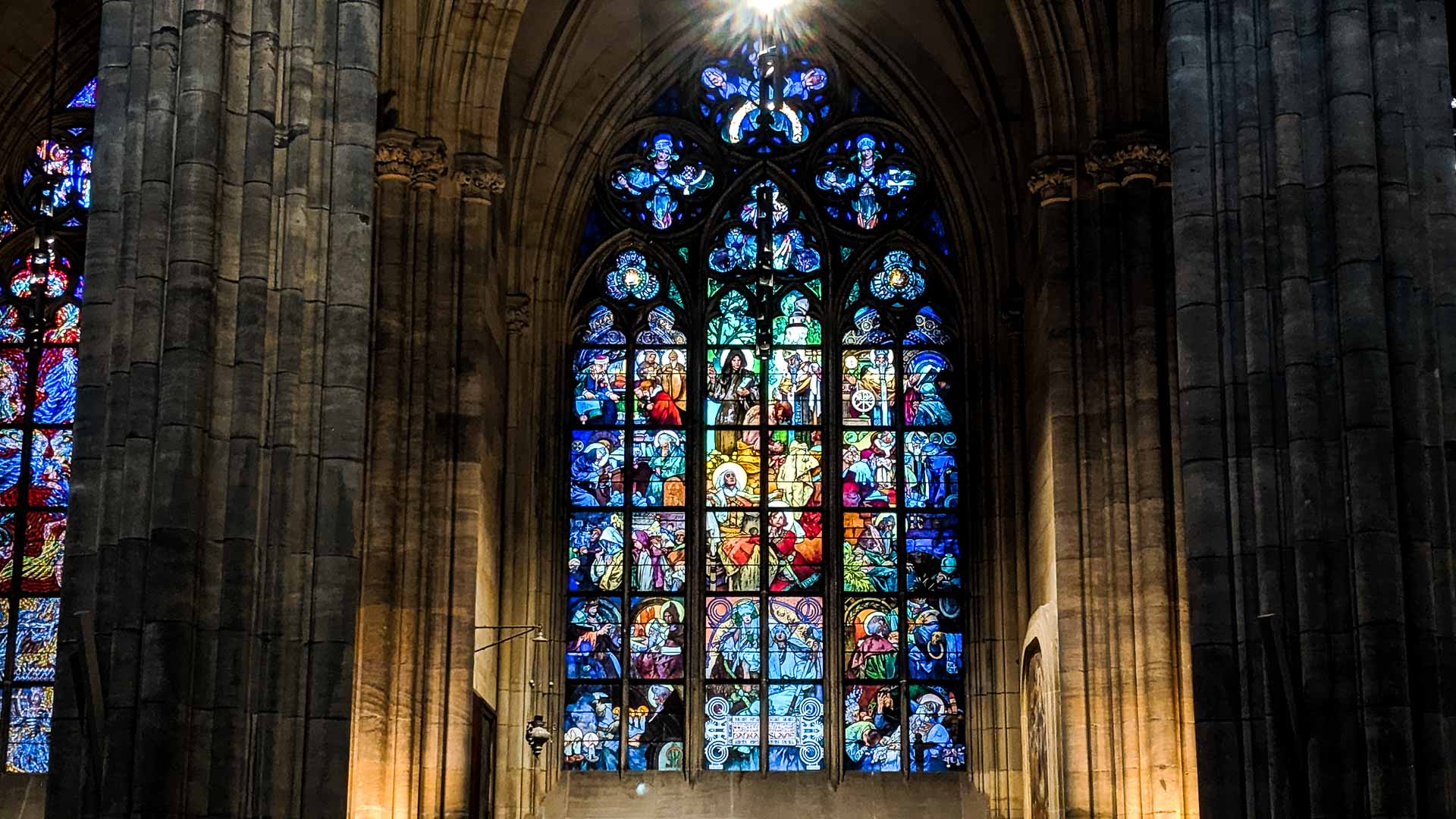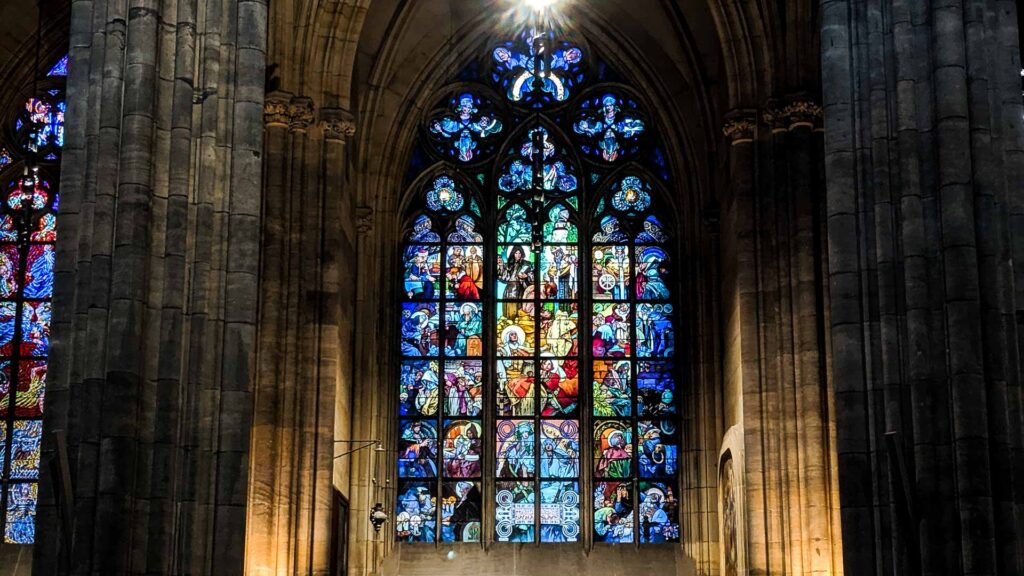 The stained glass was installed in the north nave of St. Vitus Cathedral in 1931. The window features the boy St. Wenceslas, the Czech patron saint, with his grandmother St. Ludmila in the center. It is also surrounded by episodes from the lives of St. Cyril and Methodius who spread Christianity among the Slavs.
READ NEXT: I Just Got Diagnosed With Type 1Diabetes And I'm FREAKING OUT!
Travel Medical Insurance, Pre-Existing Conditions, & Type 1 Diabetes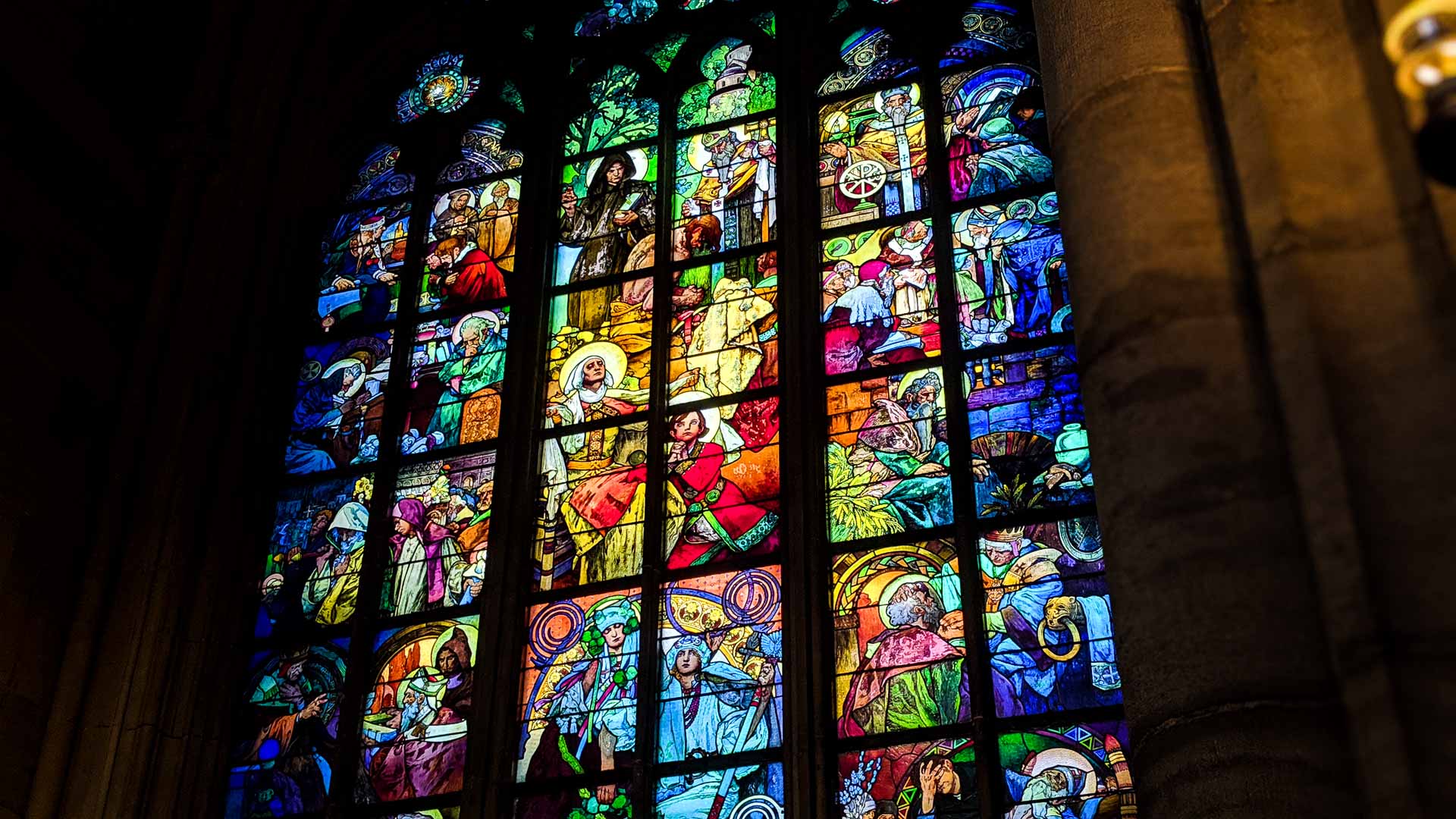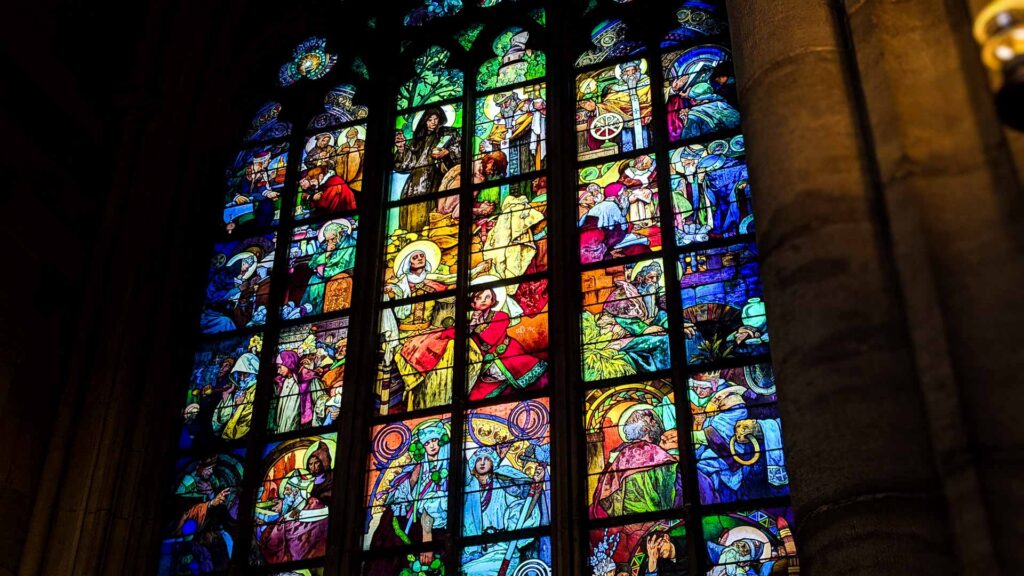 The Old Royal Palace
Part of Prague Castle—Vladislav Hall—is used for inaugurations, making it one of the most important halls in the country. The ceilings in this place are what every cool movie about medieval families and culture was borne of, with endless storyboard-styled artistic interpretations of families, fueds, and other cool medieval iconography.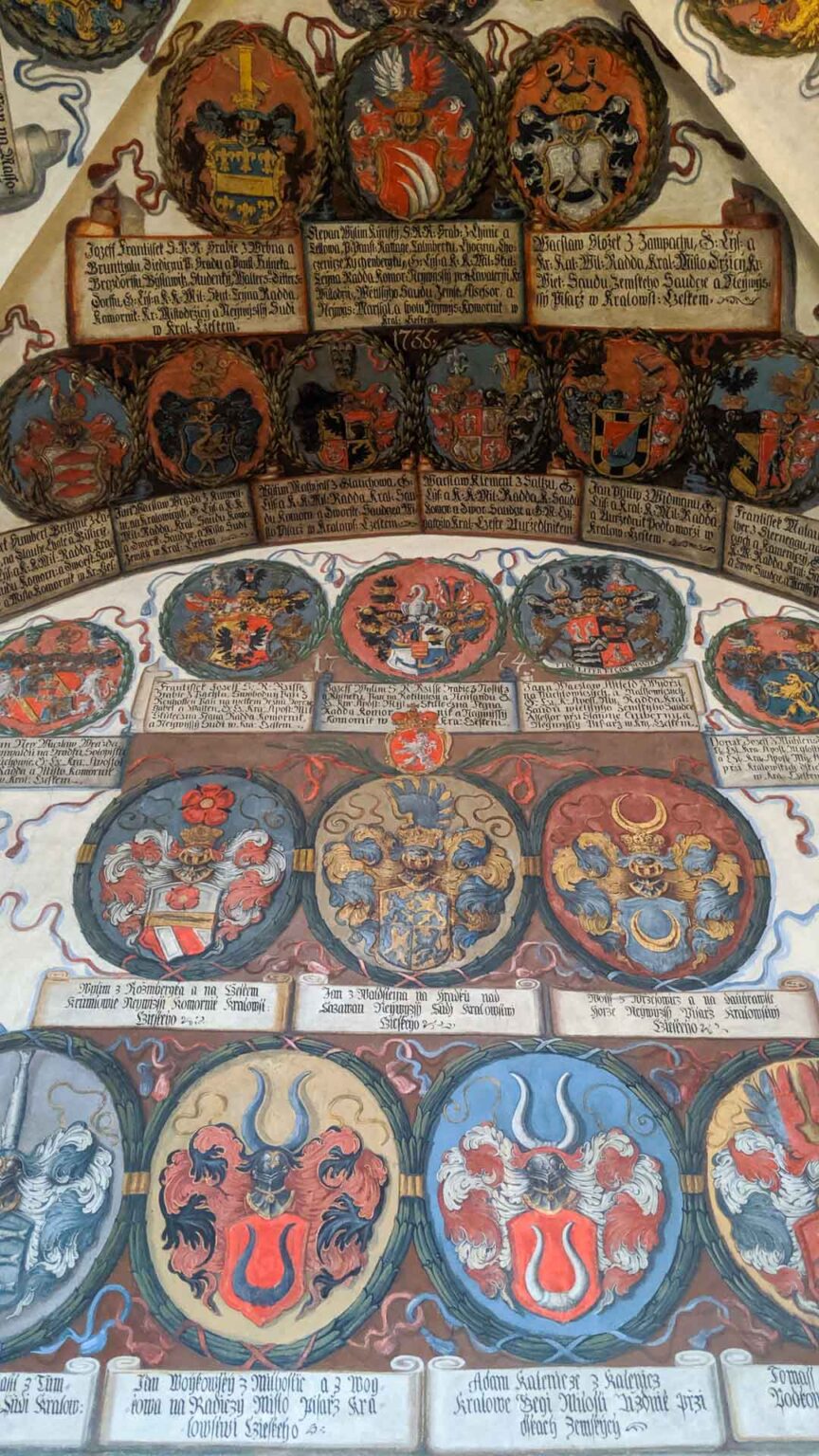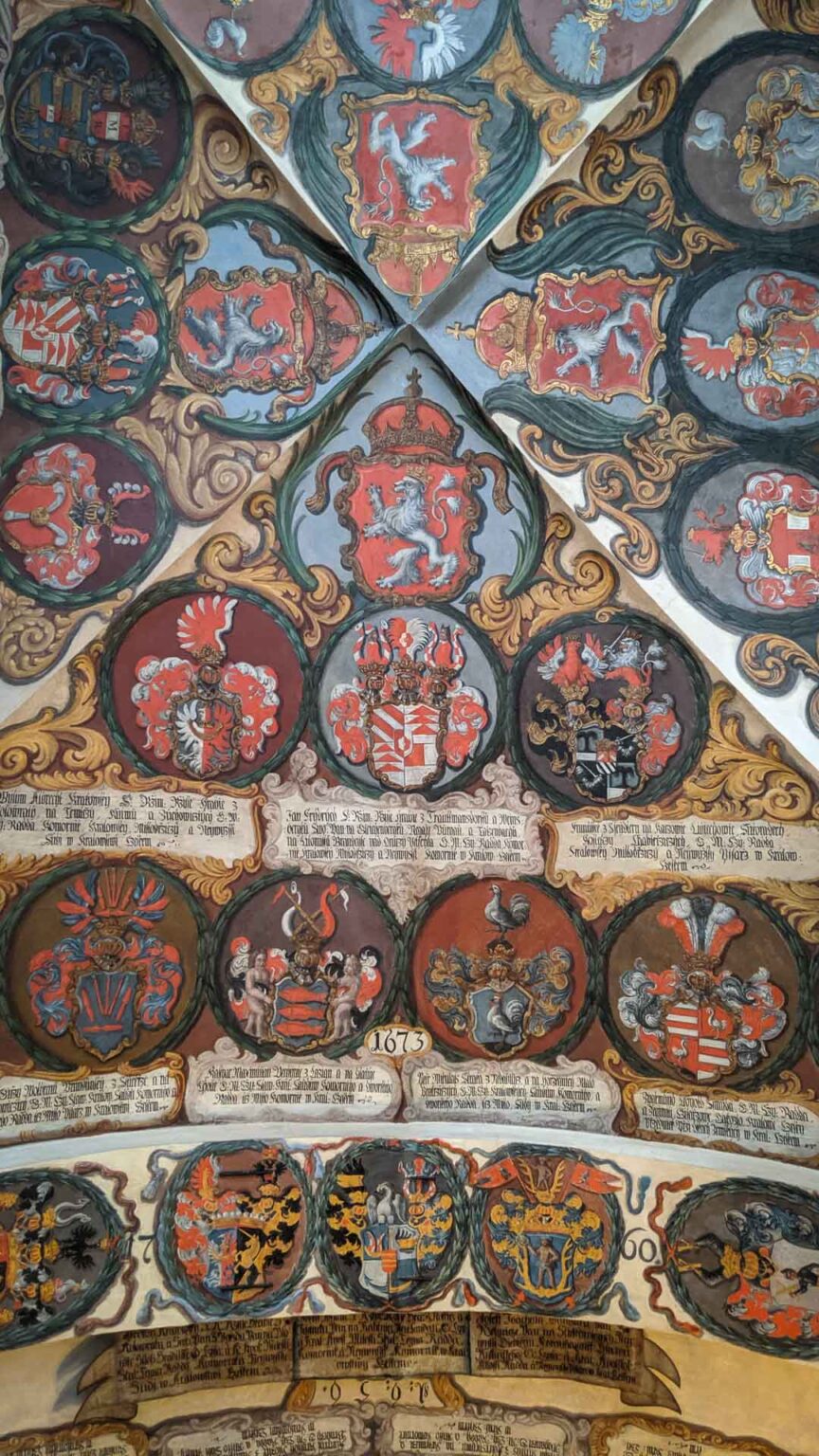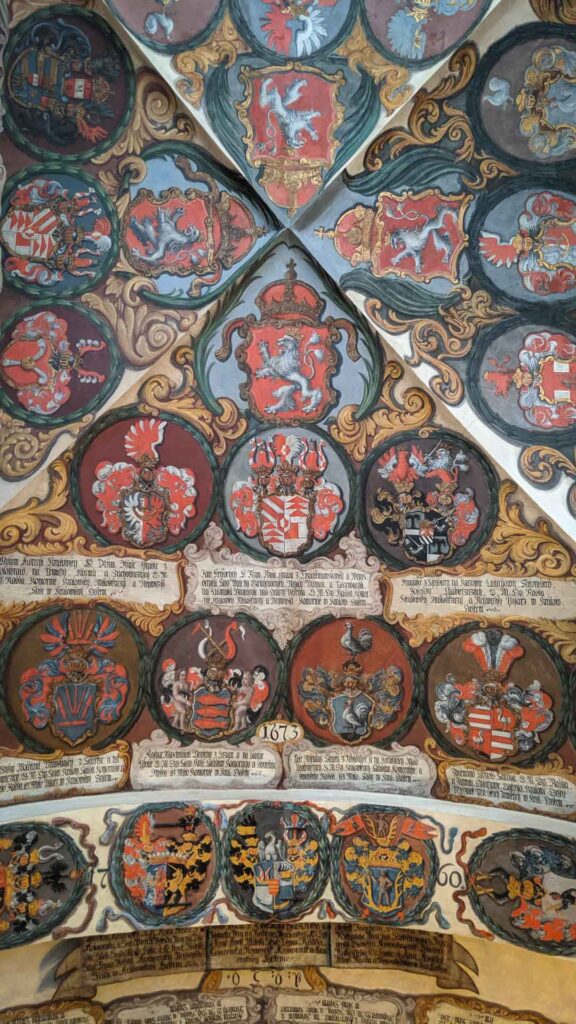 St. George's Basilica
This is the oldest surviving church building within Prague Castle. The Romanesque basilica was founded by Vratislaus I of Bohemia in 920. There's a modern simplicity in the design of this quaint little church, and the exposed wood is gorgeous.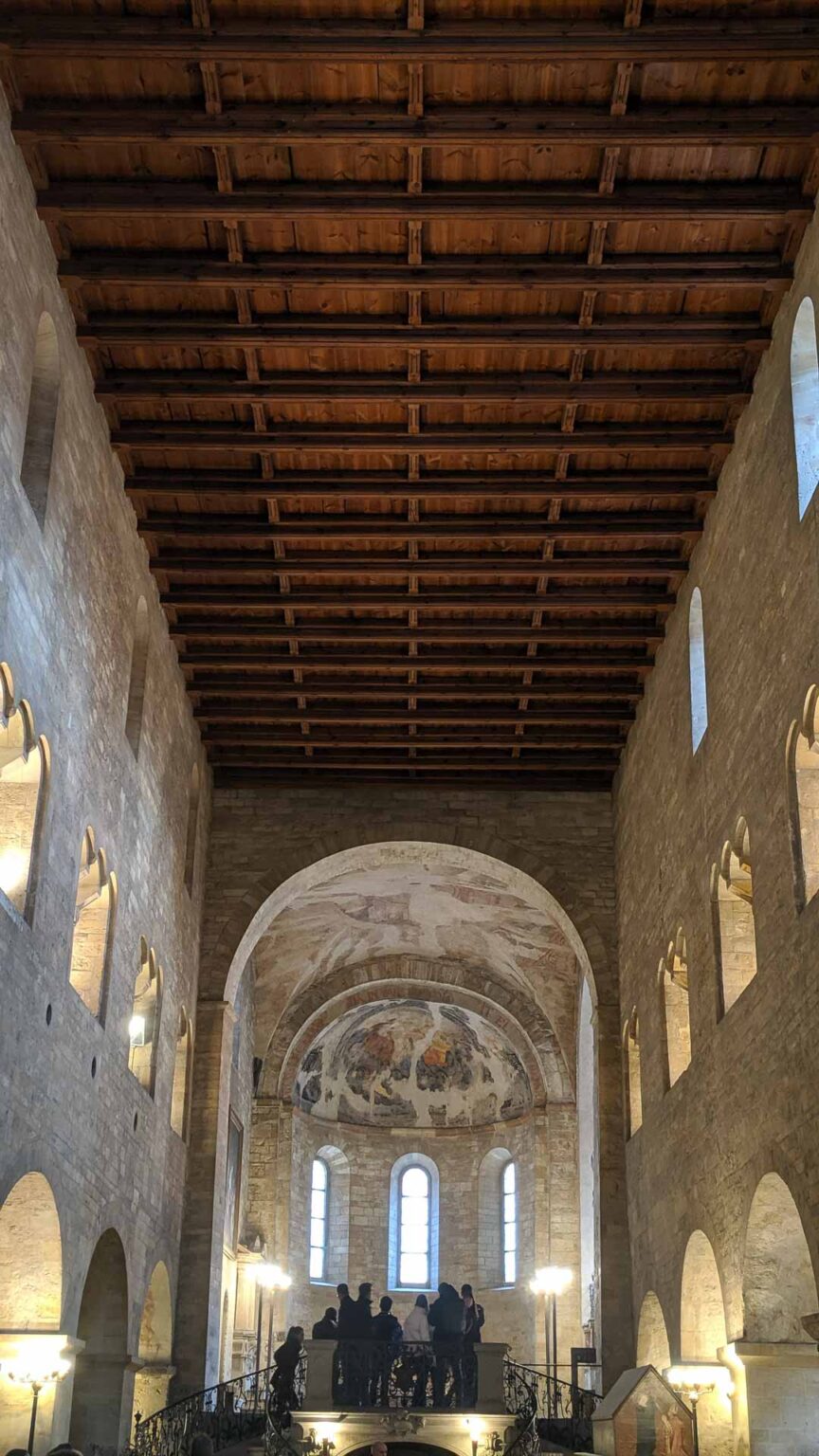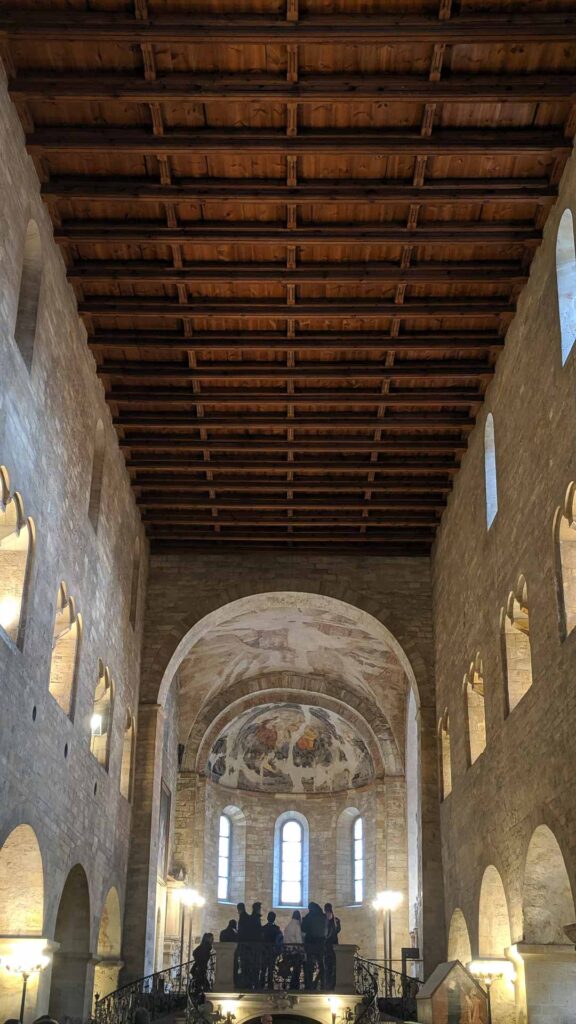 Golden Lane & The Medieval Armory Exhibit
One best things to do in Prague that doesn't seem widely publicized is the medieval armory exhibit that runs inside the upper level of the shops and storefronts of Golden Lane. The exhibit (when I saw it at least…) ended with a display of more modern weapons that were inspired by medieval weapons.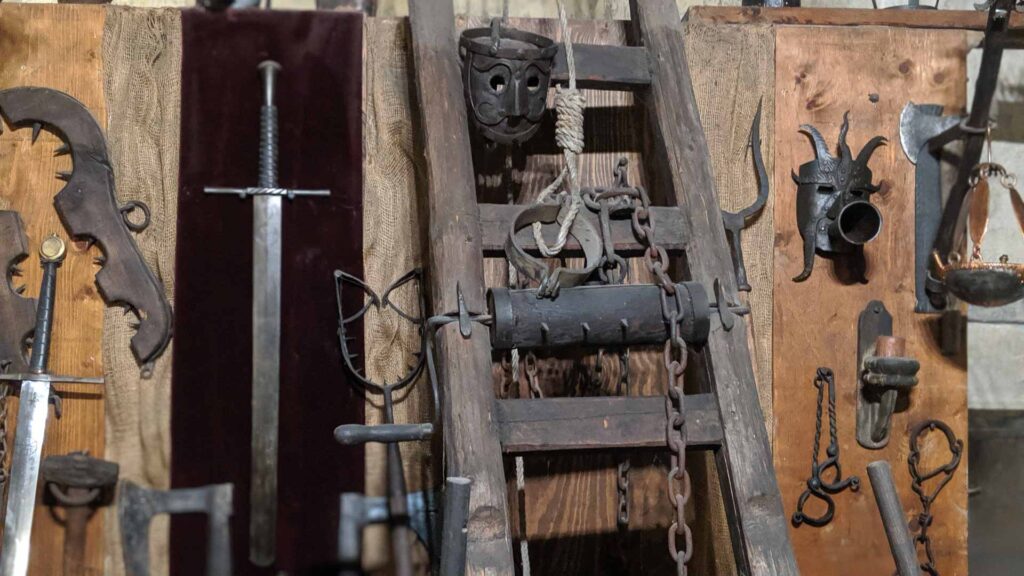 Prague Castle Tour Ticket Costs & Info
Getting into the Prague Castle grounds is free, but if you want to get into the individual buildings within the castle, you have to pay. And if you want great pictures with your DSLR while inside, you'll also want to pony up for a photography ticket.
Prague Castle Hours & Tickets
April 1-October 31 (Peak Season)
Grounds: 6 AM-10 PM / Historical Buildings: 9 AM-5 PM
November 1 till March 31 (Winter Season)
Grounds: 6 AM-10 PM / Historical Buildings: 9 AM-4 PM
Prague Castle Circuit Full Entry Ticket: +/- 250CZK (Around $10USD)
Photography Ticket (Addt'l): +/- 50CZK (around $2USD and can be bought onsite)
The Dancing House Building In Prague
The Dancing House—built in the deconstructive style—is easily one of the most recognizable buildings in Prague.
The Dancing House Building was designed by the Croatian-Czech architect Vlado Milunić in cooperation with Canadian-American architect Frank Gehry and was finished in 1996. It's another free place to visit in Prague, at least the street view and lobby, so make sure you take a walk by.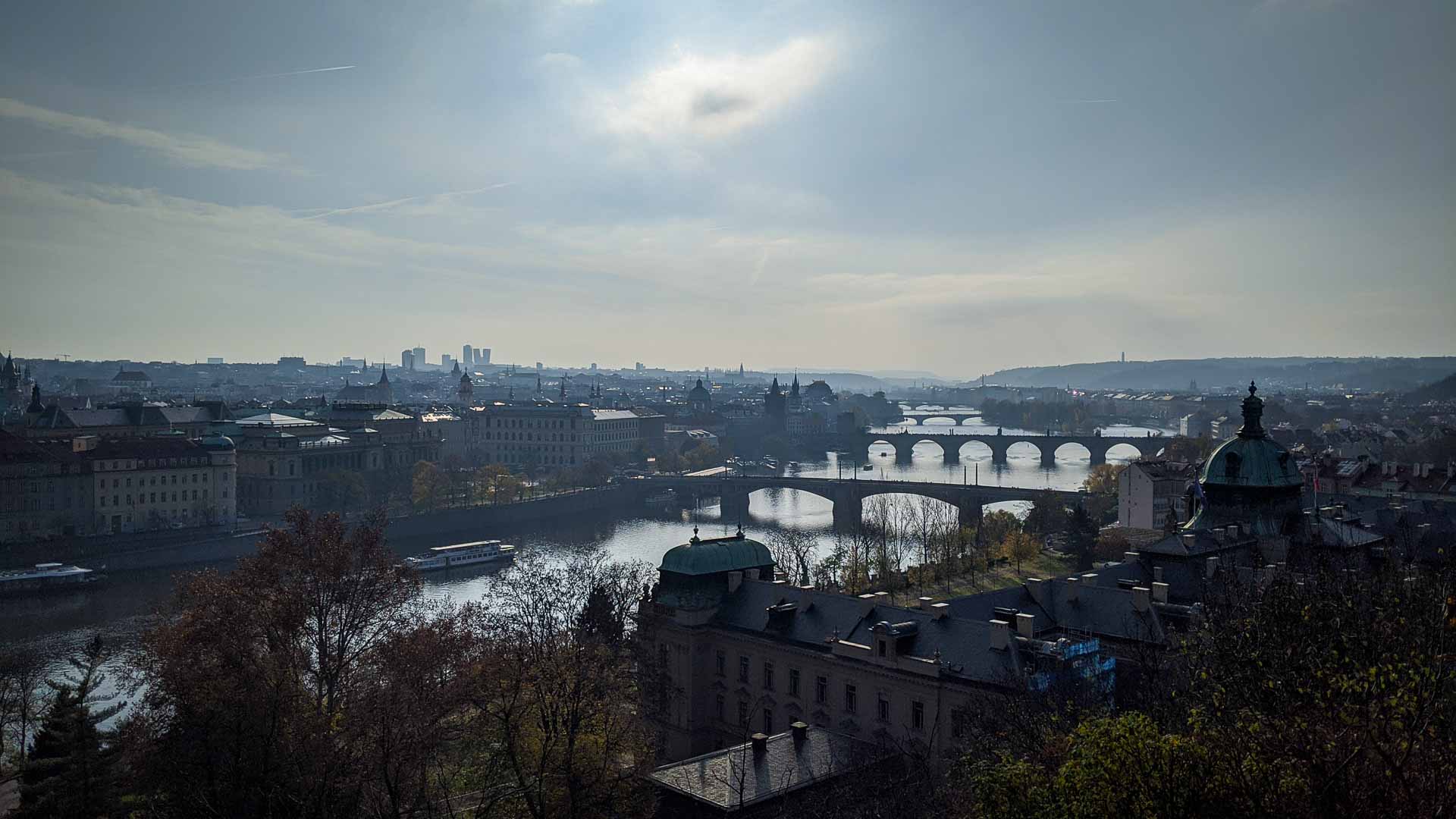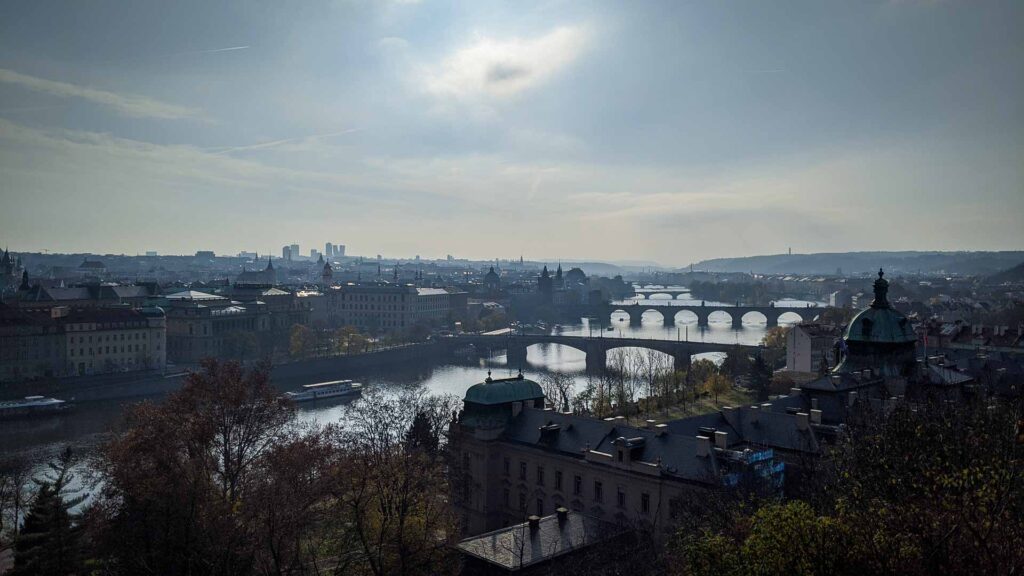 Letna Park & The Prague Metronome
If you get overwhelmed by crowds and tourist traps, the best thing to do is head for a park. That's exactly how I stumbled upon Letna Park and the Prague Metronome. It overlooks the Vltava River and the city center and Old Town area of Prague. Take your time and climb a tree in the park (like I did) as you work your way to the Metronome.
The Prague Metronome
The Prague Metronome was built in 1991 and is one of the largest metronomes in the world.
The Prague Metronome is 23 meters tall and it has a winding mechanism and a counterweight just like a grandfather clock.

The Bone Church Day Trip: Visiting Kutná Hora from Prague, Czech Republic
Kutna Hora is a small city just over an hour train ride from Prague. It's an extremely walkable and quaint town definitely worth spending a whole day exploring. Actually, I would love to go back and spend a few days in Kutna Hora.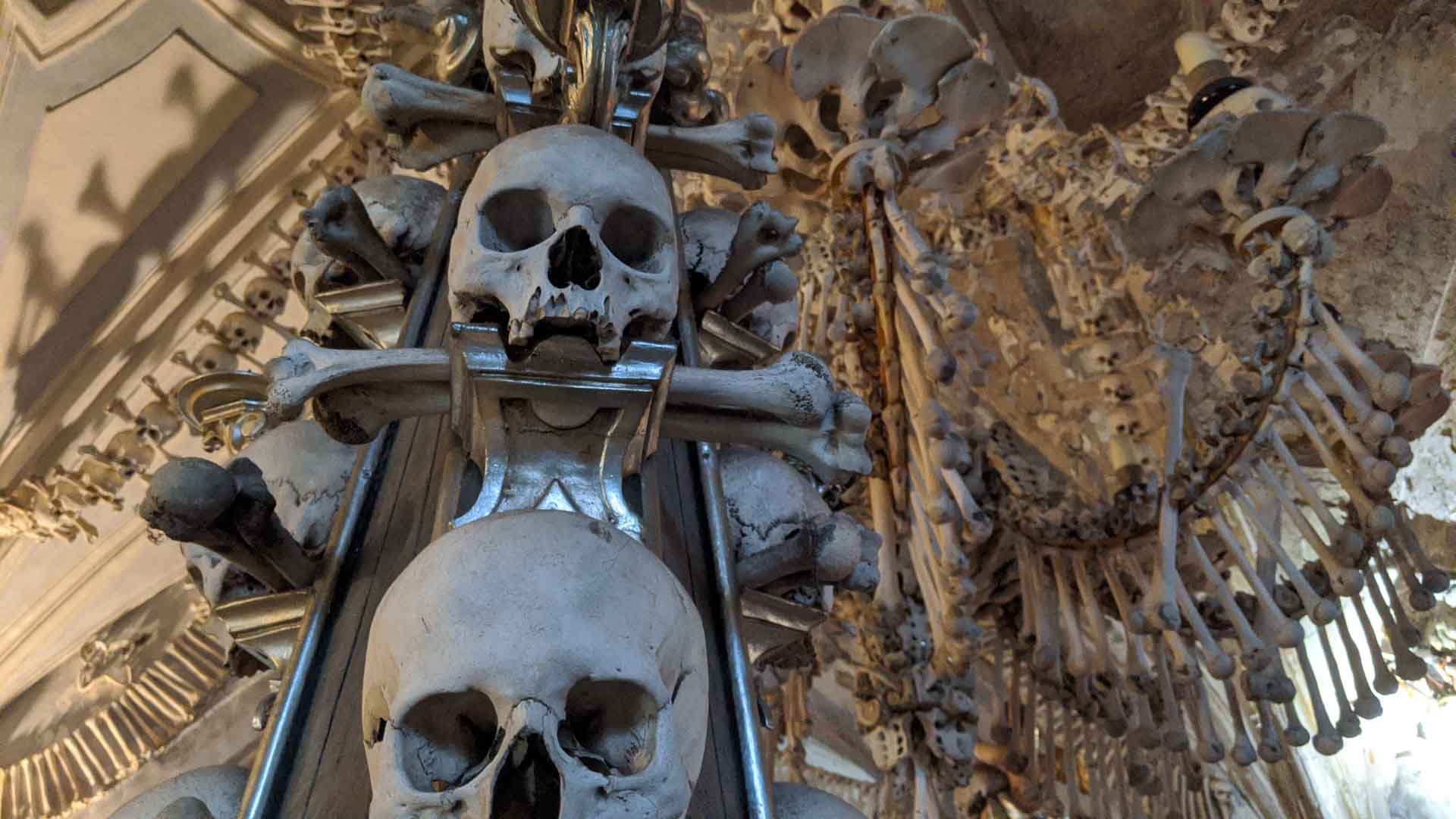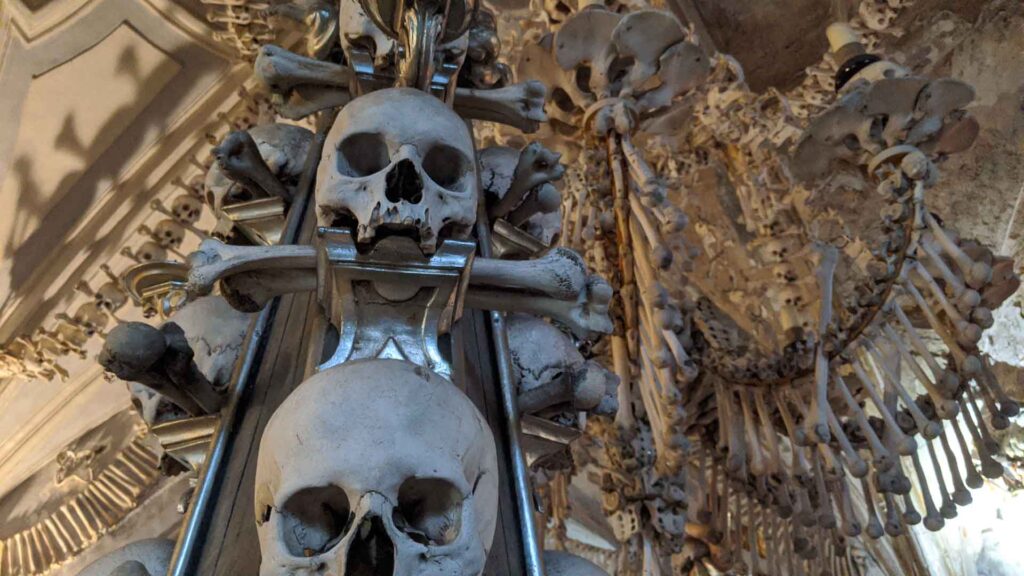 But you'll also want to visit St. Barbara's Cathedral, The Cathedral of Assumption of Our Lady and St. John the Baptist, and just explore the cute streets, alleys, shops and restaurants.
READ NEXT: Prague Day Trip: The Kutna Hora Bone Church — The Sedlec Ossuary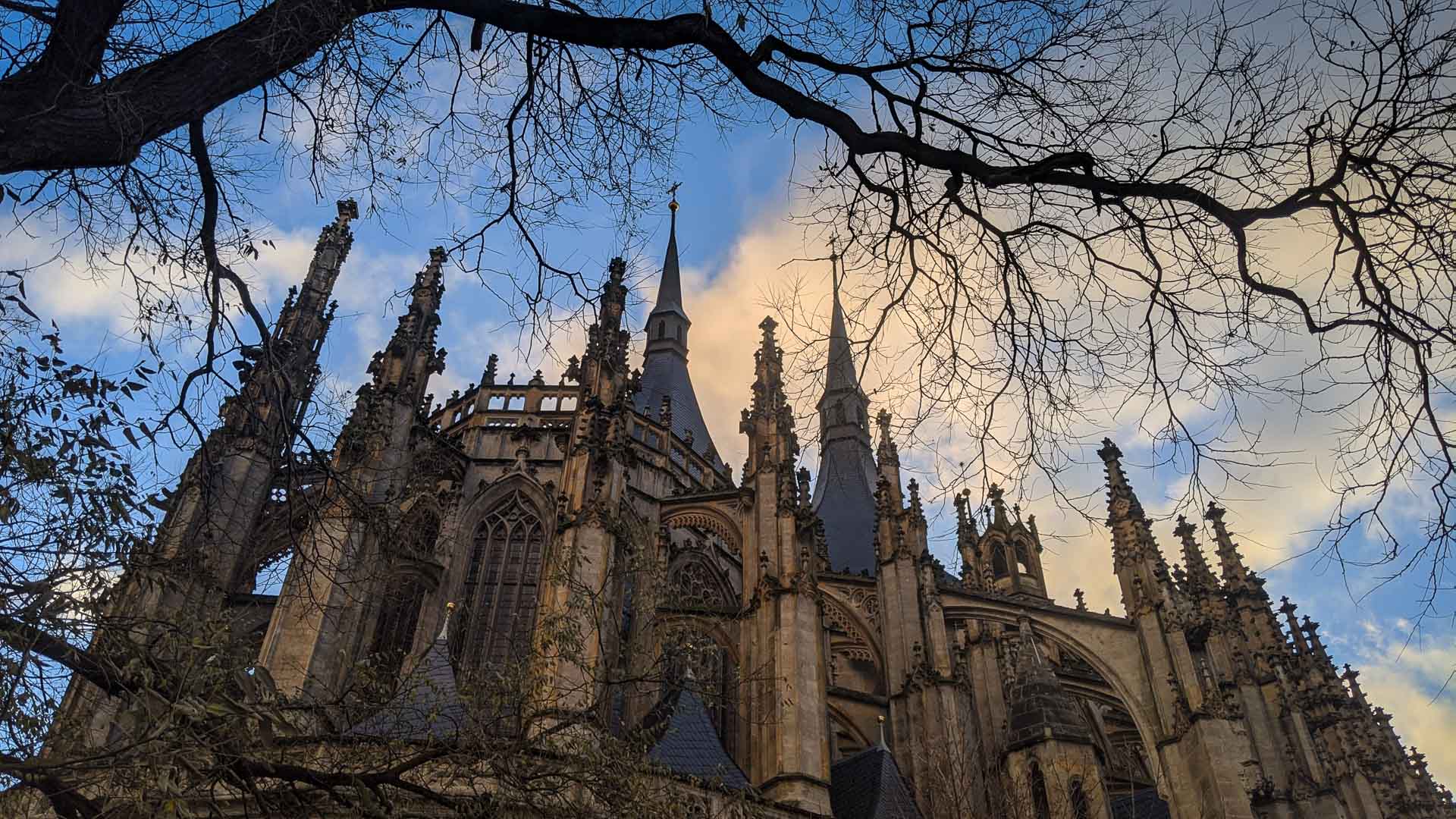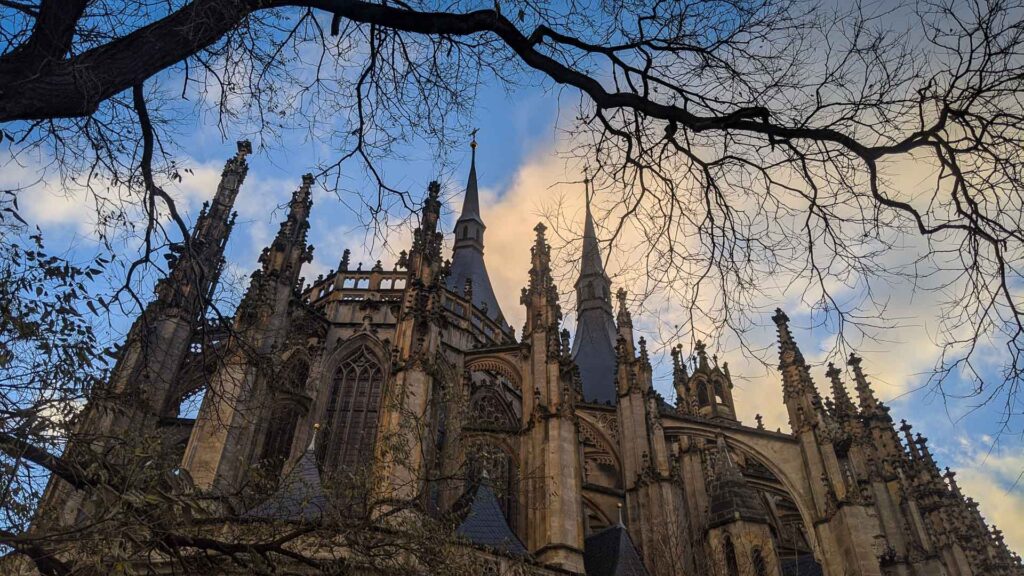 Getting To And Travel Around Prague, Czech Republic
Typical Spending Costs, Travel Styles And Budgets For Travel In And Throughout Prague
I'm a budget travel nerd and tend to target traveling internationally for an average of about $30-60 a day, all in. Of course, you can travel cheaper than that, or the sky can be the limit. I was able to average about $50-60USD a day in Prague.
Beds in a 4-6 bed hostel dorm room in Prague typically run about $15-25+. Sit-down meals at most non-bougie restaurants run $7-15+. A pint of draft beer usually starts at about $2. Credit cards are widely accepted, but carry some Korunas (CZK) for the smaller joints. Yes, you can get away with the Euro, but local cash is always king and you'll lose less in on-the-spot conversions.
RELATED: The Best Hostels I've Stayed At…& Why They Make The List
| | |
| --- | --- |
| Glass of cheap wine or beer while out in Prague | $2-3 |
| Hostel bed in 3-6 person dorm | $15-25+/night |
| Rideshare around Prague | $3-5+ |
| Simple sit-down dinner with wine/beer | $7-16 |
| Church or Museum entries fees | $3-5 (or free) |
ATMs are readily available, but make sure they're attached to a reputable bank and not a Euronet ATM. (More on that later.)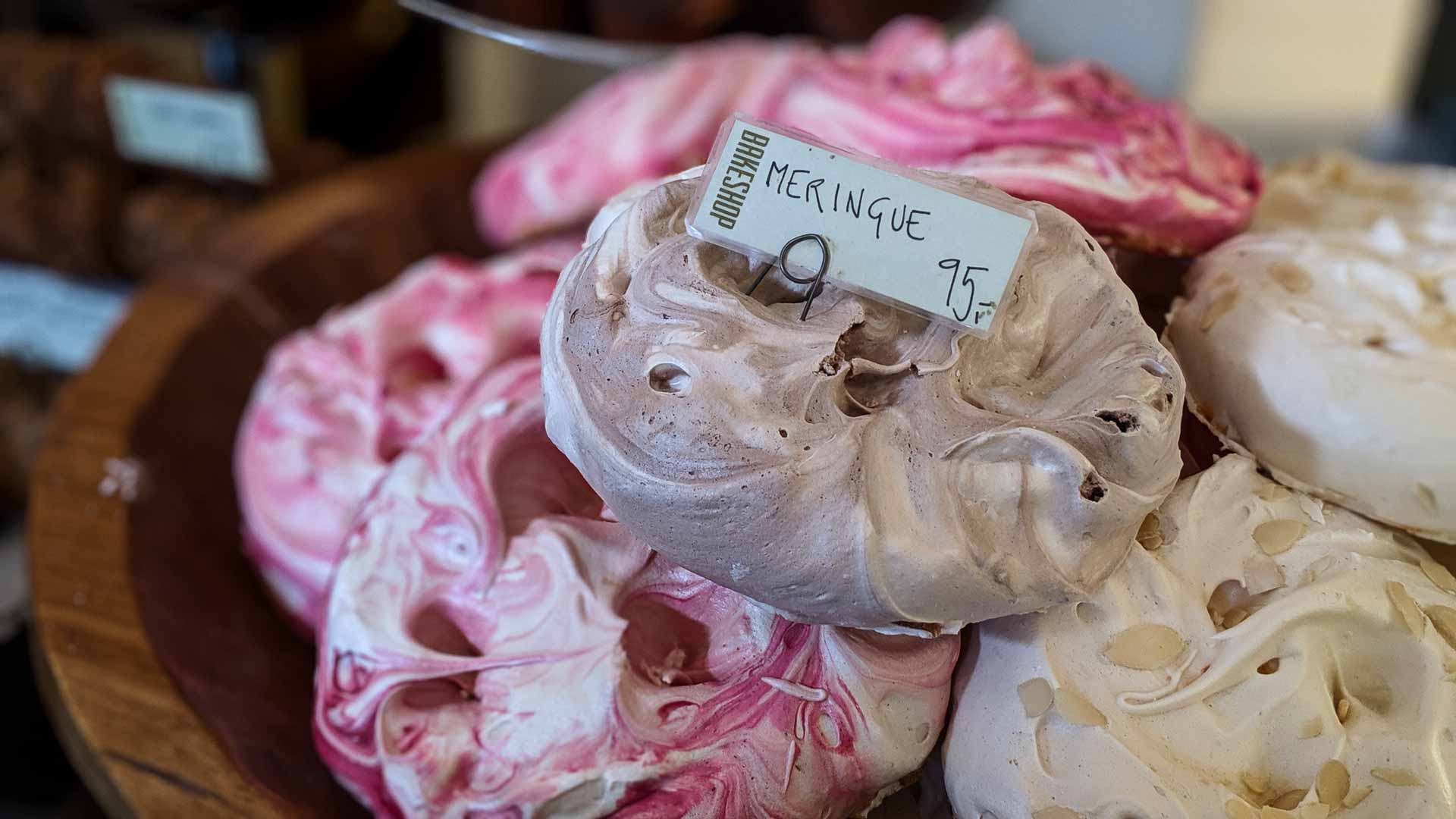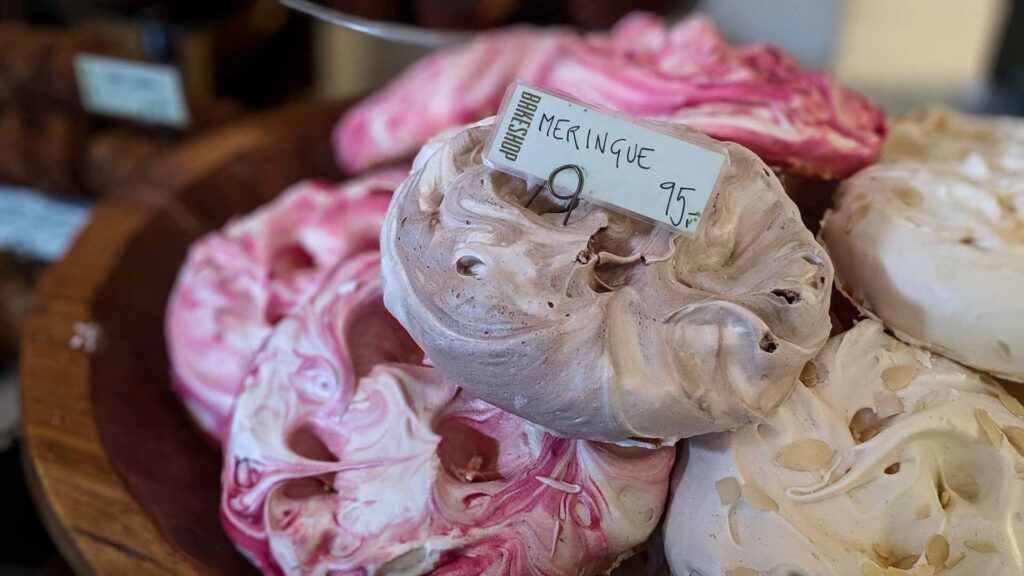 There are dozens and dozens of hostels in Prague along with plenty of other offerings. So if you prefer a specific type of hostel, from party to chill and everything in between, you'll be able to find it in Prague. Hostel beds should run you between $15-25+.
You can get a taste of the different hostels throughout Prague here: You can filter by rating, location, amenities, cost, etc.
Staying Safe While Traveling In Prague
Honestly, there wasn't a moment when I was wandering around Prague when I felt unsafe, even after dark. That said, you should always take some necessary precautions when you're traveling. Explore with a friend or two if possible, and consider staying out of the dark corridors at night if you're solo.
Essentially, use common sense and go with your gut if you feel unsafe or concerned. If possible, dress safely while not looking too much like a tourist!
Old Town Square in Prague fits firmly in that category. Just keep in mind that if someone else is an easier target than you, then your odds of trouble are reduced! (You don't have to run faster than the bear…)
IMPORTANT: UPDATED: 18 Safe Traveling Tips For Newbies
Travel Insurance & Evacuation Insurance
Always get travel medical insurance and know how to use it.
You can read all about travel insurance here, and check out evacuation insurance here, which I also highly suggest.
Common Tourist Scams In Prague
There are a few common scams that tourists should be aware of in Prague. Random, shady-looking ATMs in tourist areas will gouge you, so if you have to use them, make sure you use your bank's conversion rate when it asks.
Unlicensed taxi drivers will overcharge you for your ride, so only use licensed taxis or a rideshare (or just use the public transportation in Prague, which is super easy). If you need a taxi, ask your accommodation to call one for you.
READ NEXT: Nomad Fuel: Books for Inspiration, Motivation, & Slaying it at Adulting
The Learn To Travel Series: A Brief Apology To Fear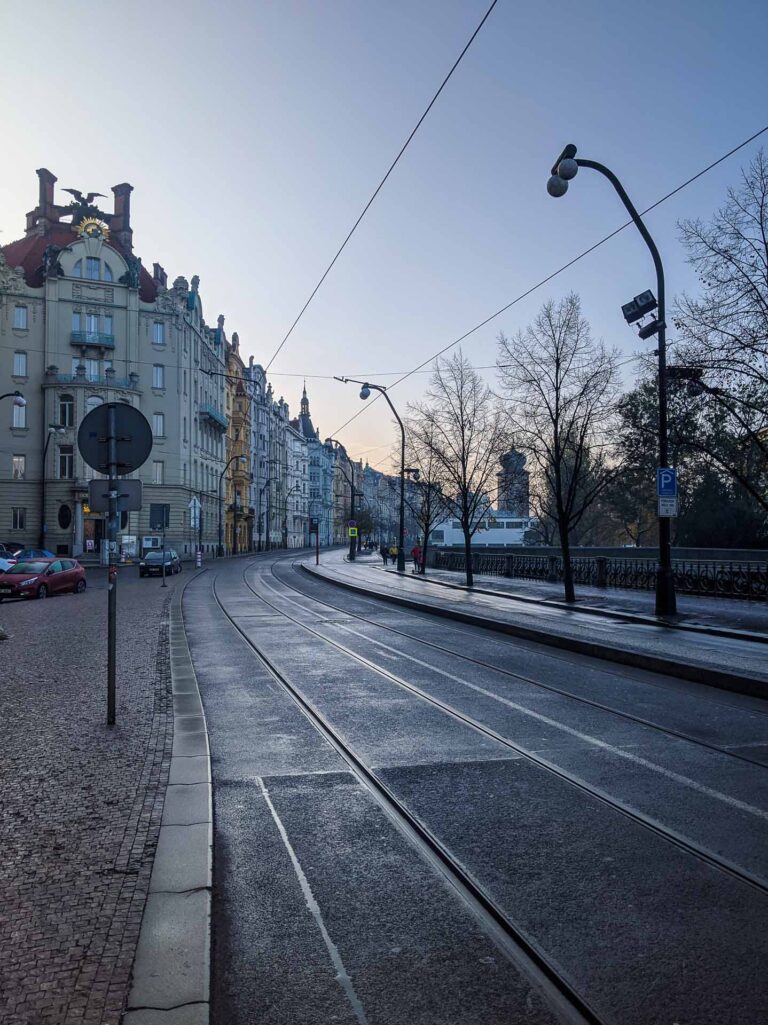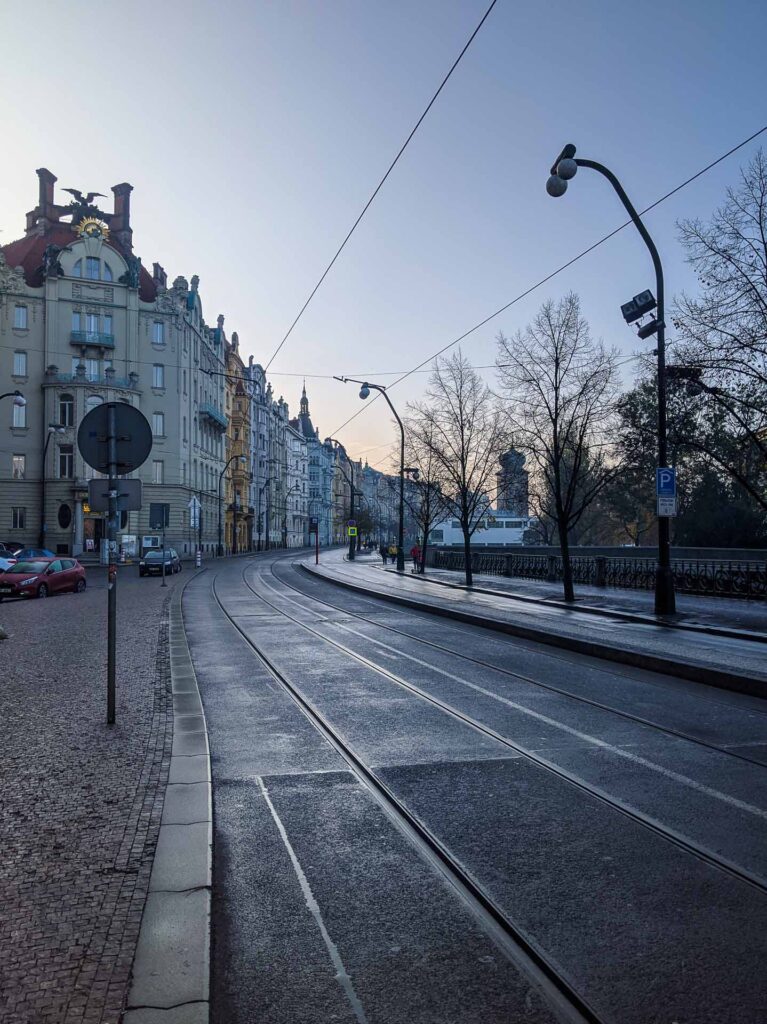 Travel To Prague And Throughout Prague: Travel Tips & Important Logistics
Here are the nitty-gritty details you need to know before you plan your trip and travel to Prague.
Where Is Prague, Czech Republic?
The country of Prague is located smack dab in the center of Europe, surrounded by other travel-worthy destinations. In under 4 hours by land you can be in Munich or Berlin, Vienna, Budapest, and more.
Prague Weather, Altitude & Relativity To The Equator
Prague is landlocked and on a similar longitude line as the US. The elevation is about 1000ft, so no issues with high elevation chills. Weather in the summer months is moderate with highs up to the mid 70°F but dipping into the 50-60° range at night. And shoulder seasons and winter gets super chilly, so layers are definitely a good bet anytime you travel to Prague.
Prague Travel Seasons & The Best Time To Visit Prague
Peak travel months in Prague, like much of Europe, are generally June-September. The travel shoulder seasons are considered April-May and October-November—sweater weather in Prague. Personally, I always shoot for shoulder seasons because the crowds are smaller and accommodations are almost always cheaper and easier to find.
International Airports In Prague
Prague is home to Václav Havel International Airport (PRG).
Travel To And Around Prague
Given the amazing train and transport systems throughout Europe, you can get to Prague very easily in just a couple of hours from neighboring countries.
While Prague is extremely walkable, passes for all form of public transit are also very inexpensive. There's a subway train (metro), bus or tram going where you need to go every few minutes for under $2USD, or you can get a 72-hour pass for under $15. Longer metro passes in Prague are also available.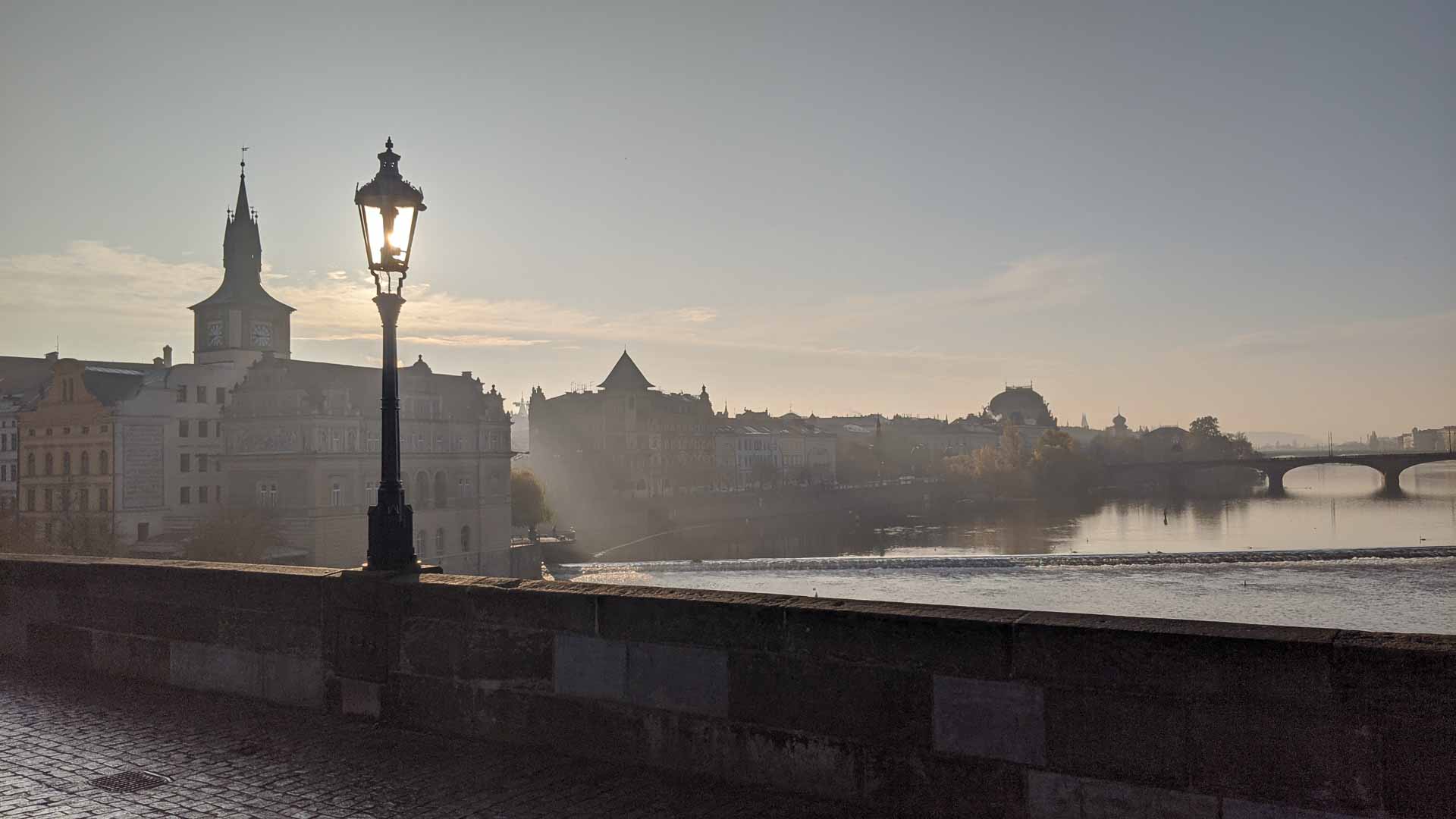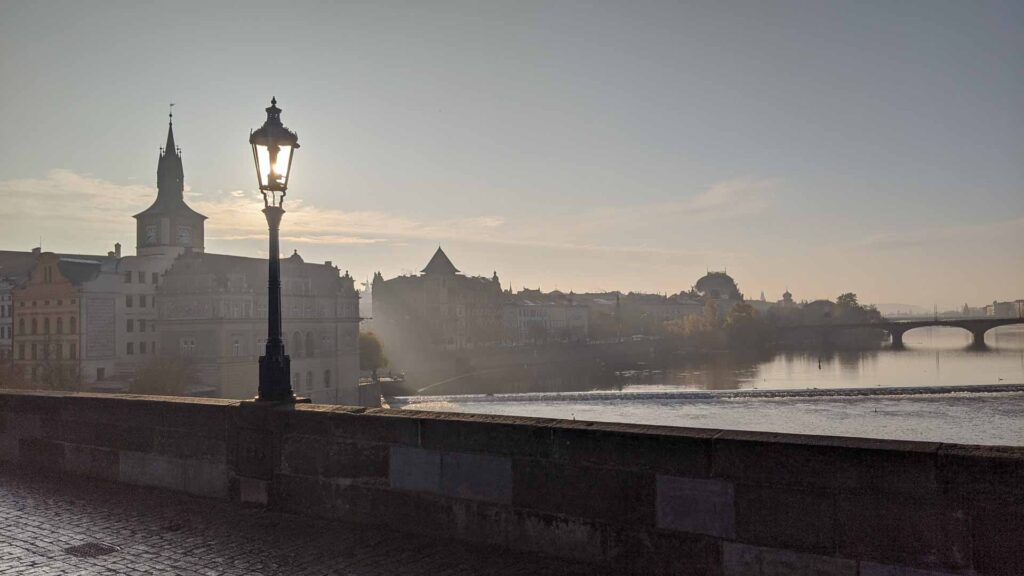 Prague Travel Guide: Plugging In, Spending Money, And Personal Concerns
Electrical Outlet/Plug Type: Type E (but C and F will likely also work) so get an international adapter like this one.
Currency: The Czech Koruna (CZK) is used throughout Prague, but most businesses are happy to take credit cards. Carry a little cash (CZK) just in case. The conversion to/from USD rule of thumb is that $1 USD is about $25 CZK. Pretty simple math.
Tipping: Tipping 10% is the norm in Prague. But as usual, if you receive kind, great service, you should give extra.
Budget Allowance For Different Traveler Types
Prague is a very comfortable and cost-conscious city, which is one of the reasons it's been a haven for digital nomads for decades now. Budget travelers (like me) can live it up in hostels for $40-60/day, which includes eating out and a few beers at modest spots. Obviously the budgets can go up from there depending on your style or if you're splitting accommodation costs.

US Passport Holder Entry Time Limits
The Czech Republic is part of the Schengen Zone, a group of European countries that allow most US passport holders to visit the country for 90 days every rolling 180 days. If you want to stay longer, you'll need to look into long-term visas.
(What Exactly Is The Schengen Zone?)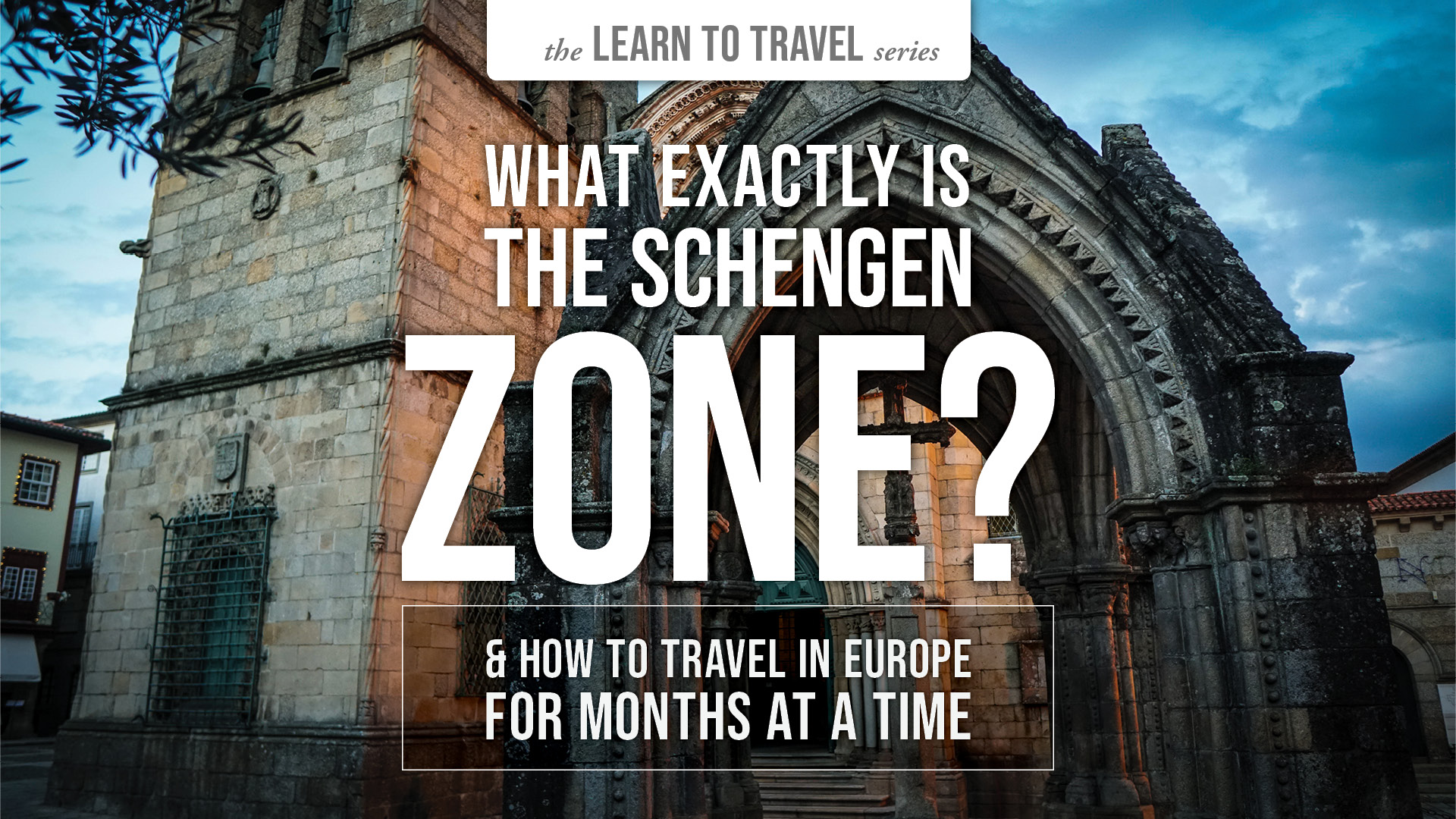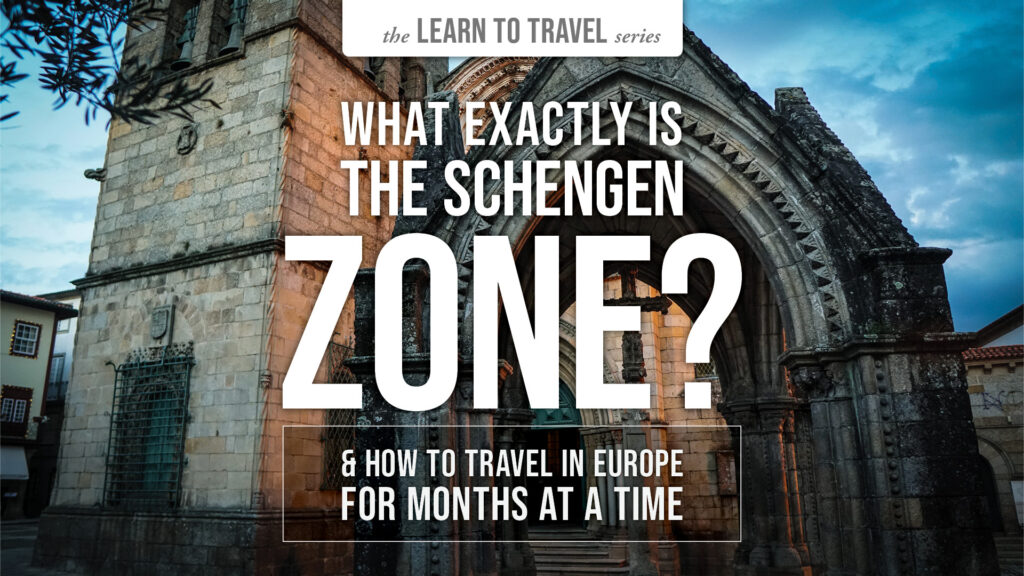 Vaccinations: You can find out more here, but there aren't any out of the ordinary for US citizens.
Can I Drink The Tap Water In Prague? Yes. It may not be the absolute tastiest, but it's definitely safe to drink.

LGBTQ+ Concerns: Prague is considered medium/high on the equality index. (rating by https://www.equaldex.com/region/czech-republic)
Join the email list to stay in the loop on new releases!
OK! You Ready To Put The Things In This Prague Travel Guide To Use?
There are so many things to do in Prague whether you're looking to explore the city's history, gorgeous art & architecture, or simply want to spend your sunrises and sunsets walking a different famous bridge every day.
Hit up the comments and let me know if you have traveled to Prague already and what your favorite thing to do is, or simply add to this list!
Also, let me know what your favorite photo is from this Prague travel guide!
Cheers!
—Jason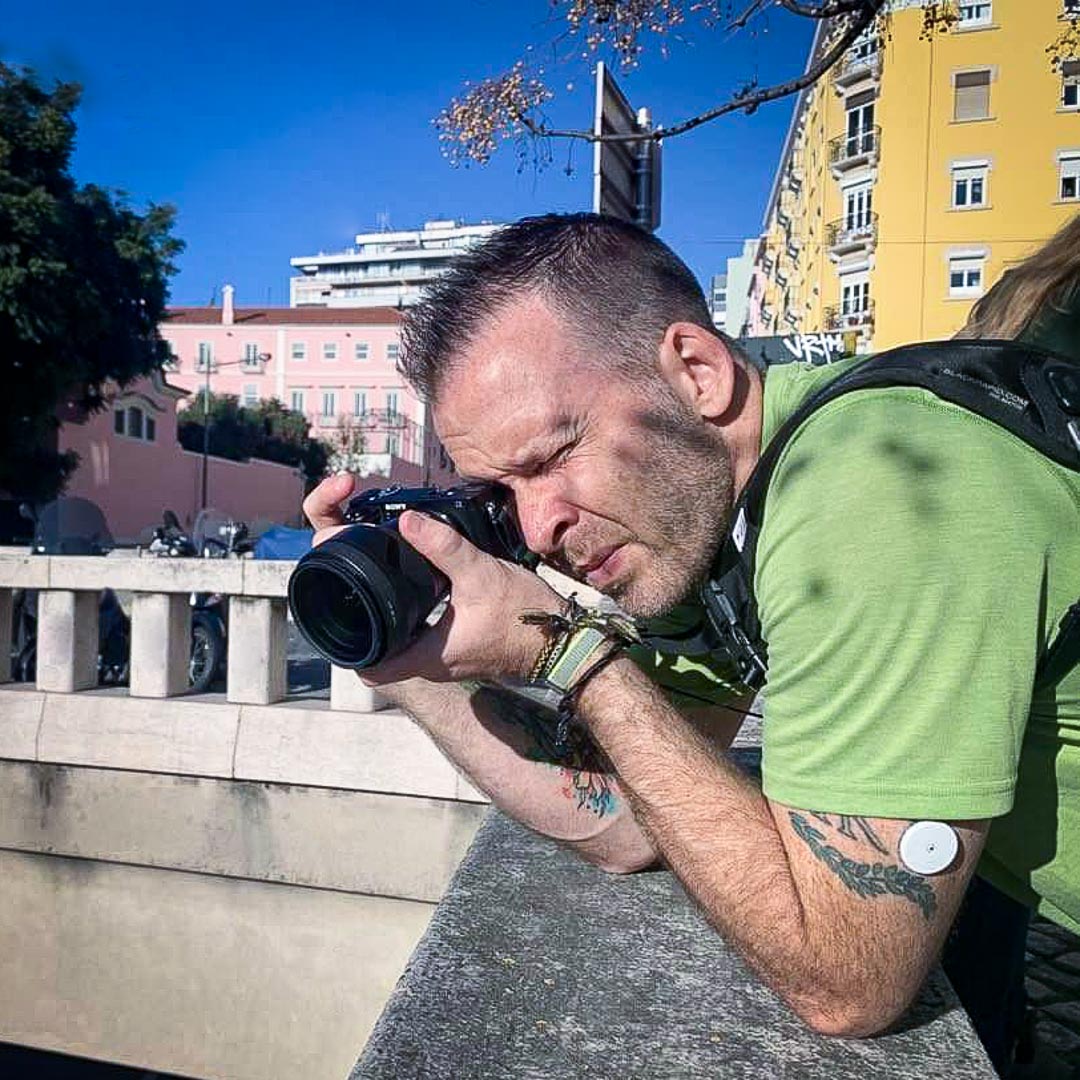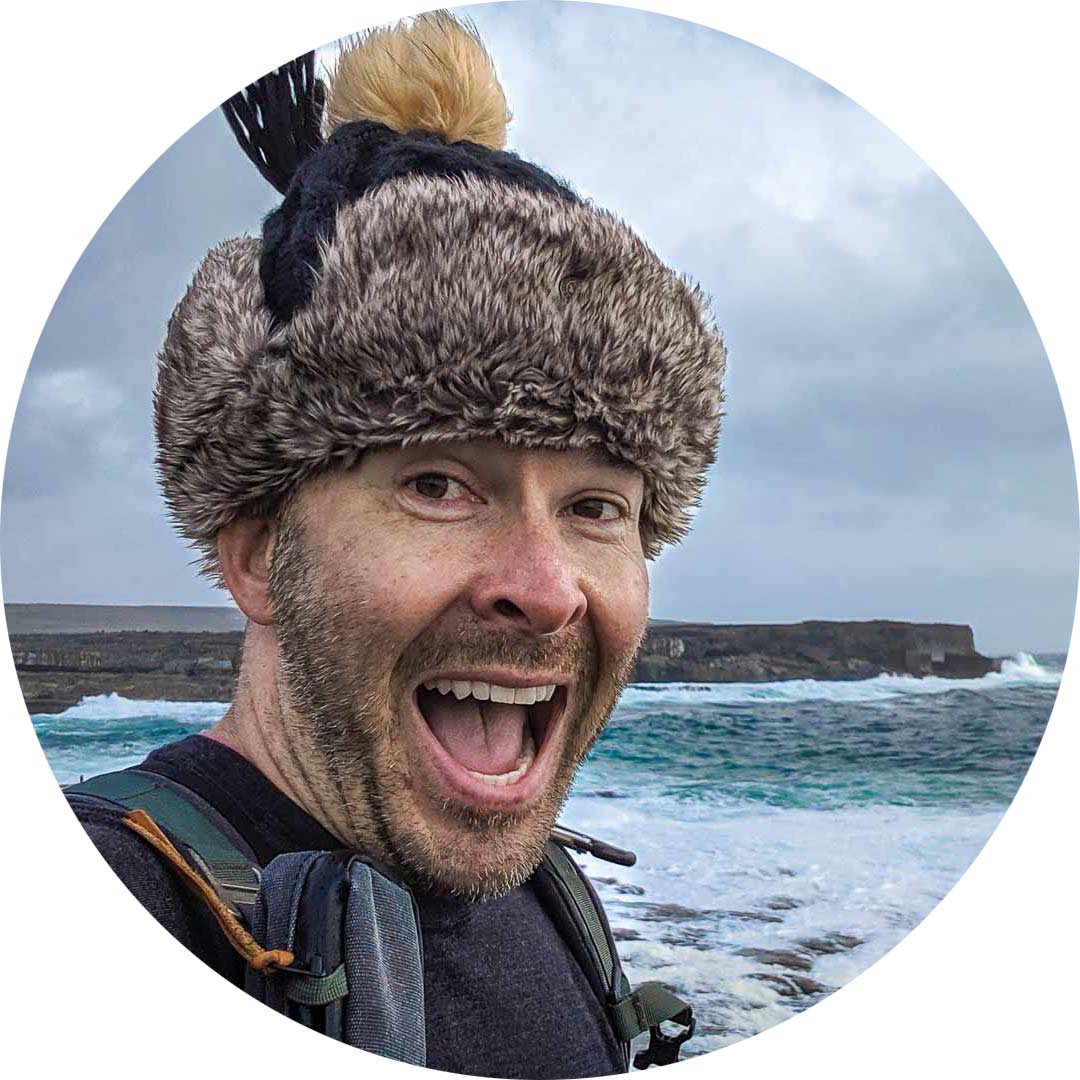 About Jason Robinson
Jason is the author of "The Beginner Traveler's Guide To Going Nomad," as well as the voice behind the words and the eye behind the lens for The Nomad Experiment. "Planning to travel at some point" wasn't actually getting the job done, so nearing 40 he decided to make it a priority, nomatter how scary that was. A few years later—through the pandemic and a type 1 diabetes diagnosis at age 42—now living a life of nomadic travel, he's speaking out to encourage others of any age, or with any serious medical diagnosis, to live an unconventional life.
Tough Love, Tips & Strategies To Help You Finally Kick-Start Your Travel Life…Or Go Full Nomad!
Been wondering how the hell all those digital nomads, location-independent travelers, and remote workers, travel "full-time?" Maybe you've thought about living that life one day, but you're really not sure where to start.
Beyond giving you the stepping stones to dive into short-term domestic and international travel, this book will show you how long-term travelers extend those tools, maximize their budgets, and turn weeks into months…or even years…of traveling the world indefinitely.
Travel Planning Tips
Figure out where you are going & how are you getting there…
I suggest using at least 2 to 3 different travel search sites. Start with Skyscanner or Orbitz or Booking …or whatever aggregator site you prefer. Then when you see what airlines to use, check their respective sites for better deals or rewards flights.
Figure out where you're going to stay…
If you're interested in hostels, search Hostelworld or Hostelling International. For longer-term or more private digs, look at Airbnb, VRBO, or you can look for hotel rooms in the links from the search engines listed above.
Get comprehensive travel insurance, or in the least, travel medical insurance if internationally…
Especially with Covid not going anywhere, get covered. Start with an insurance aggregator like Insure My Trip, or with SafetyWing, World Nomads, or another. Then decide what is important to you; trip cancellation, baggage coverage, medical, or all of the above. And get a yearly evacuation plan, since you'll have to get home after your emergency! 
Need more resources? Click here!