The Best Hostels I've Stayed At…& More Importantly Why They Make The List
I've stayed in some amazing hostels, and these are my favorites…so far…
I've now stayed at dozens and dozens of hostels in the US and internationally. And while this list of the best hostels I've stayed at will continue to flex and grow, it's important that I give love to the ones that currently rank as my favorite hostel stays! And more importantly, why they rank.
If you've stayed at hostels, I likely don't have to convince you of their merit. If you're still on the fence, and looking to try your first hostel, this article should be a great place to get a feel for all the different types of hostels and experiences you could have.
Join the email list to stay in the loop on new releases!
This site participates in the Amazon Services LLC Associates Program and other affiliate programs and may earn from qualifying purchases. You're never charged more, but it helps out little by little! Check out "Privacy" in the top menu if you need to know more!
Hostels around the world have pretty much any amenity you could wish for. From basic, backpacker hostels to trendy, boutique hostels, it really is up to you what you prefer. I've stayed at many hostels with onsite bars—including rooftop bars, swimming pools, pool tables, lounges, private rooms, surf lessons, free happy hours, ensuite bathrooms, and dorms with 3-story bunkbed rooms with like 15-20′ ceilings…in a train station! (See that one here.)
I'm primarily a solo traveler, and I have to remote work while traveling. For those reasons and more, I have some pretty specific things I look for when booking a hostel. I want to book a hostel where I feel my belongings are safe while I'm out exploring, and one that has good, quiet workspaces.
I prefer hostels that have free breakfast or an occasional free meal to make my budget go further. Small dorm rooms with beds with curtains for privacy. And the best hostels for me have active social calendars and plan events to help this solo traveler meet other travelers!
Reasons why these hostels made my best hostels list, and how I choose a hostel
These reasons why I may or may not book a hostel are in order from most important to less important…but it is a toss-up as to which is the most important when I book a hostel. Mostly because there's always some give-and-take, and just like booking a hotel, Airbnb, or VRBO, no property is "perfect." Just keep that in mind!
Security & safety while staying in hostels
If you travel with a lot of expensive technology that literally makes travel feasible (like…pays the bills), then keeping your belongings safe has to be high on your list of reasons to book a hostel or not. The best hostels have strong lockers in the rooms where you can store everything you travel with…not just a handful of electronics.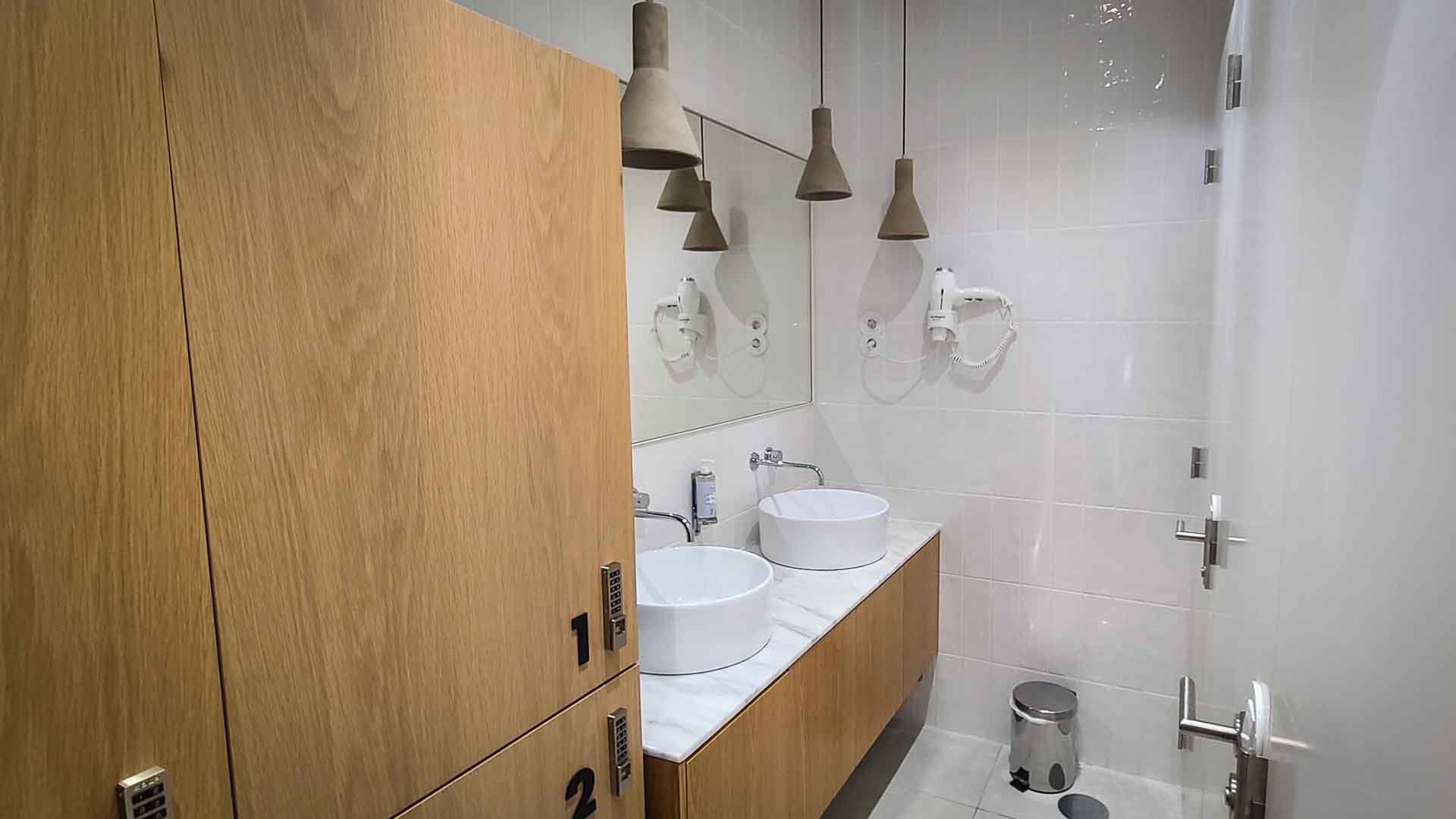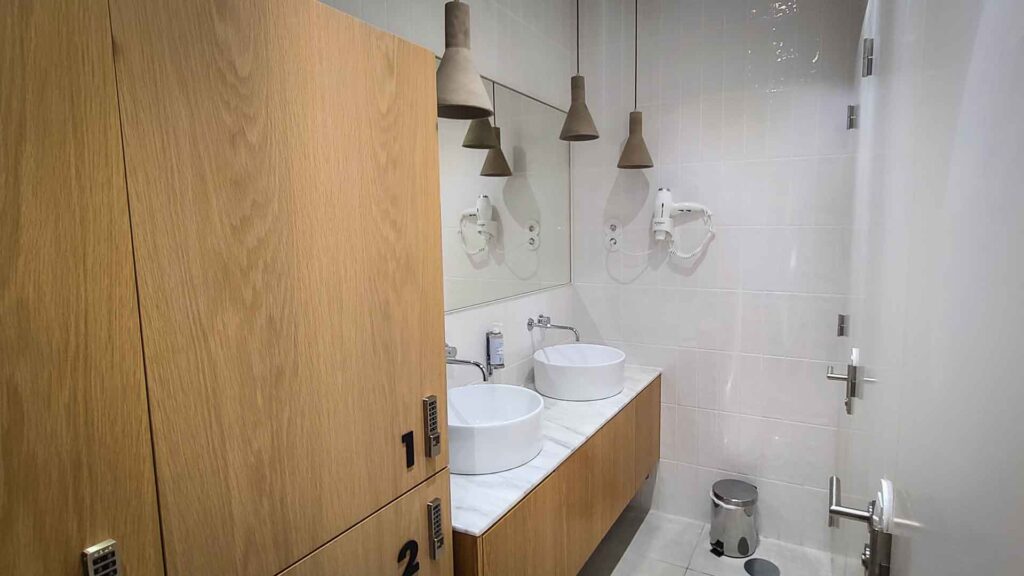 All entry doors and dorm rooms should have locks. And the best hostels have 24-hour reception and some cameras throughout the common areas to give some added security.
READ NEXT: UPDATED: 18 Safe Traveling Tips For Newbies—Keep Yourself Safe & Reduce Your Travel Anxiety
Hostel comfort, dorm room size/beds…and bed curtains!?
Let's not be naive; when you stay at a hostel you're passing on at least some of the personal comforts of having your own place to stay. Accommodations with others, whether within the same dorm room or in a hostel where you have a private room still require common space and personal space to be compromised a little bit.
The difference between staying in a 3- or 4-bed dorm and an 8- to 12+ bed dorm will make a difference in your ability to get a good night's sleep and feel secure.
My suggestion is to look very closely at the pictures in hostel descriptions and booking sites and let this weigh heavily on whether or not you book a particular hostel! There are also plenty of clues on this topic in online hostel reviews, so don't forget to look there.
Places to work remote in or around the hostel
If you'll need to work while traveling, it's a good idea to pay close attention to the common areas when booking a hostel. You may even go so far as emailing the hostel to ask if they have fast internet if you know you'll need to be on meetings or uploading/downloading a lot.
I look for at least 2-3 potential places to work in the hostel. That while still knowing that I can always go out to a coffee shop or even find a bonafide coworking space to pay for. But the best hostels will have plenty of room for this, and plenty of people remote working at all hours of the day.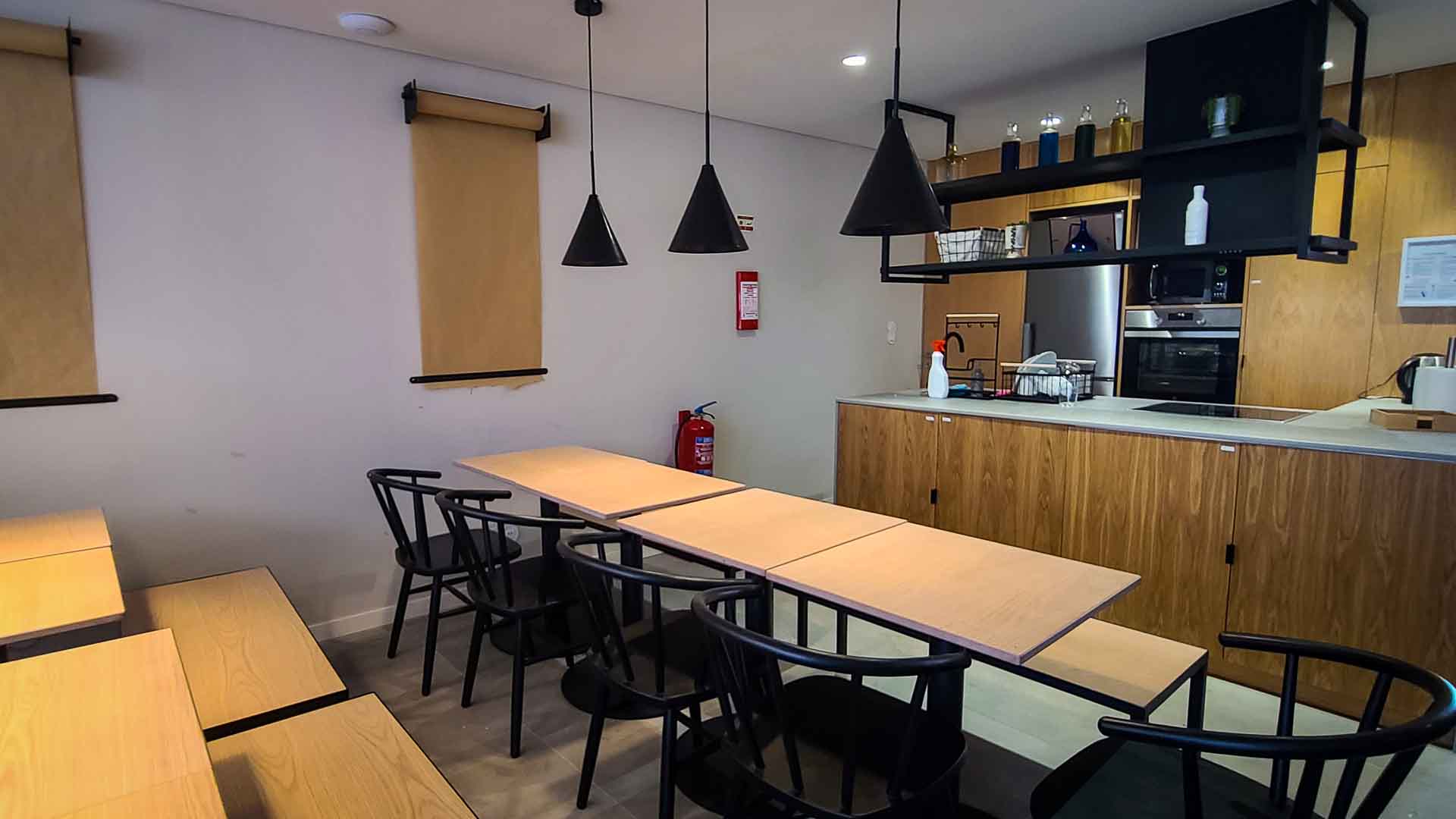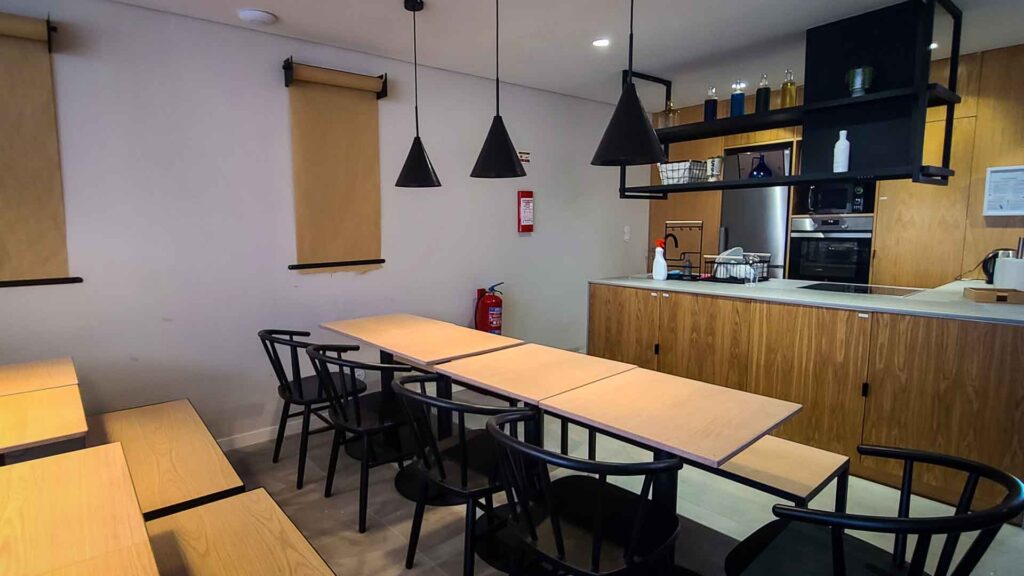 Hostel cost & value: including free breakfast & extras
Hostel cost and value don't end simply with the cost of a night of sleep. It's tricky. One hostel may cost $4 more a night but give free breakfast, whereas the one you're comparing it to is $4 cheaper and you'll need to get your own breakfast…which may cost $5-6 a day. It adds up, but it's not a black-and-white dealbreaker!
Some hostels have free happy hours where they supply drinks to help open the conversations and get solo travelers and group travelers all mixed up and friendly. And free tours, snacks, coffee, pool access, etc., can all add to the value of a hostel well beyond the cost.
Community & vibes at hostels: organized events & friendly faces
I'm a solo traveler most of the time, and a shy introvert at that. For that reason, my experience staying at a hostel can be seriously impacted by the level of community that a hostel creates for travelers.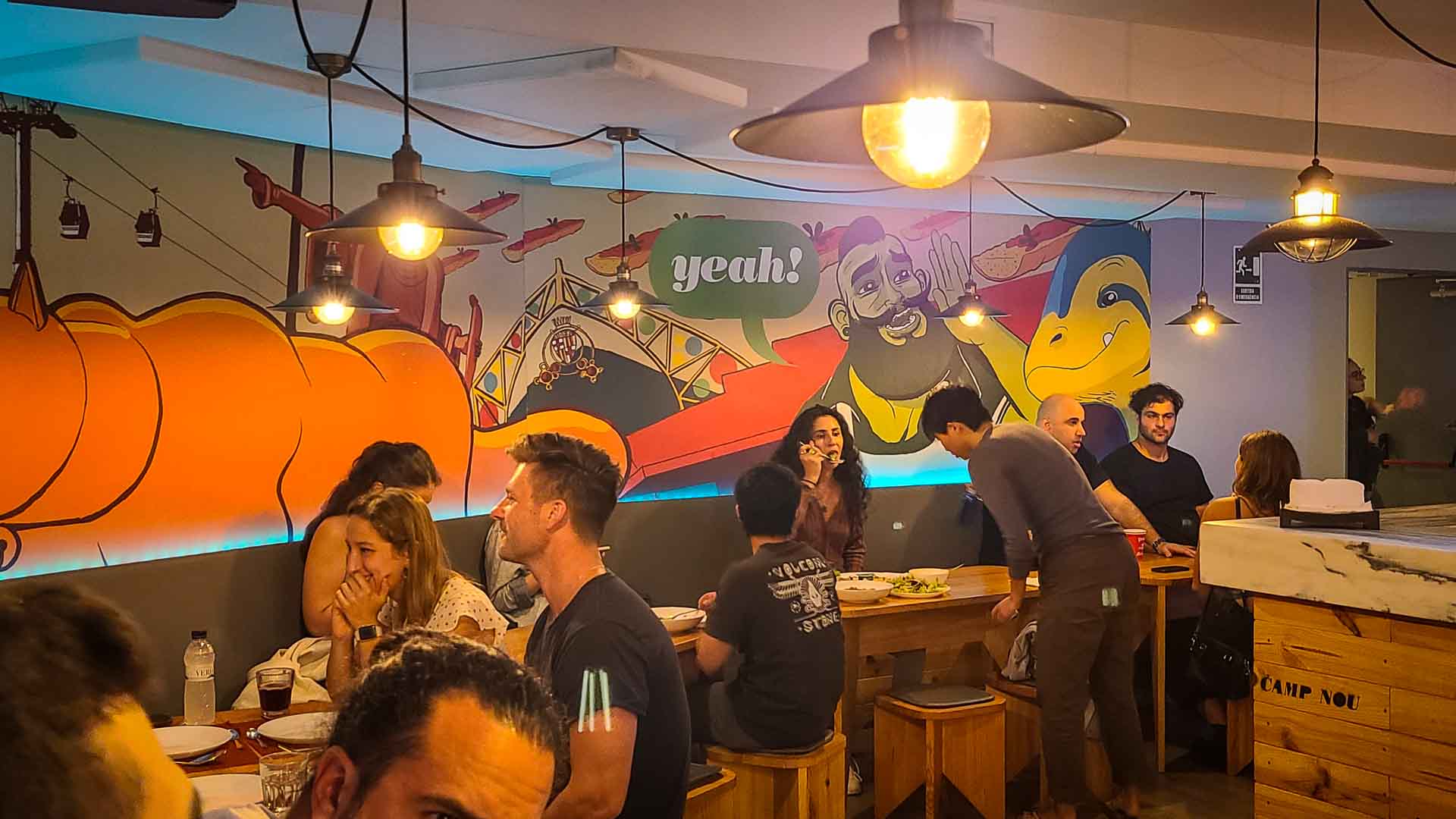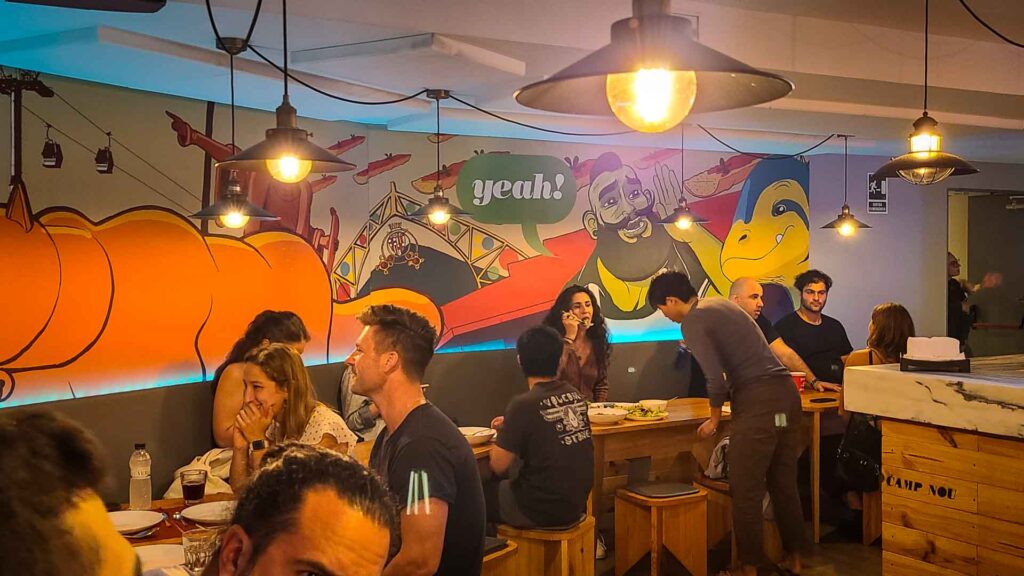 The best hostels in the world will have friendly staff encouraging you to engage with planned events and get-togethers meant to help everyone meet fellow travelers. Yes, you could skip all of this if your itinerary is completely full, but it's always nice to have the option.
I've also stayed at many expensive hostels that had great amenities and working conditions but no community vibes or programming whatsoever. I tend to really get bummed in those types of hostels and it reminds me why community is so important when booking a hostel!
CHECK OUT: Carry-On Only / Theft-Deterrent Packing Recommendations
Hostel location or access to public transit/metro stations
Be careful to look closely at where a hostel is located not only in relation to the sights and tourist attractions but also with regard to public transit, airports, bus and train stations. If you're using these types of travel, it will play into your trip and your budget.
READ NEXT: UPDATED: 18 Safe Traveling Tips For Newbies
Mexico Travel By Bus; They Could Straight-Up Leave Your Ass Behind
This is another category where an inexpensive or cheap hostel can get really expensive, especially if you choose to spend money on more expensive transit options like rideshares every time you go out.
My top 3 favorite hostels in the world…so far: Lisbon, Barcelona, & off the coast of Ireland
We Love F. Tourists Hostel in Lisbon, Portugal – One of the best hostels for solo travelers
Yes, that's the actual name of the hostel; "We Love F. Tourists." And as a branding consultant, I still find it a bit questionable. But it's also laughable and unforgettable for sure, so I guess the name is working!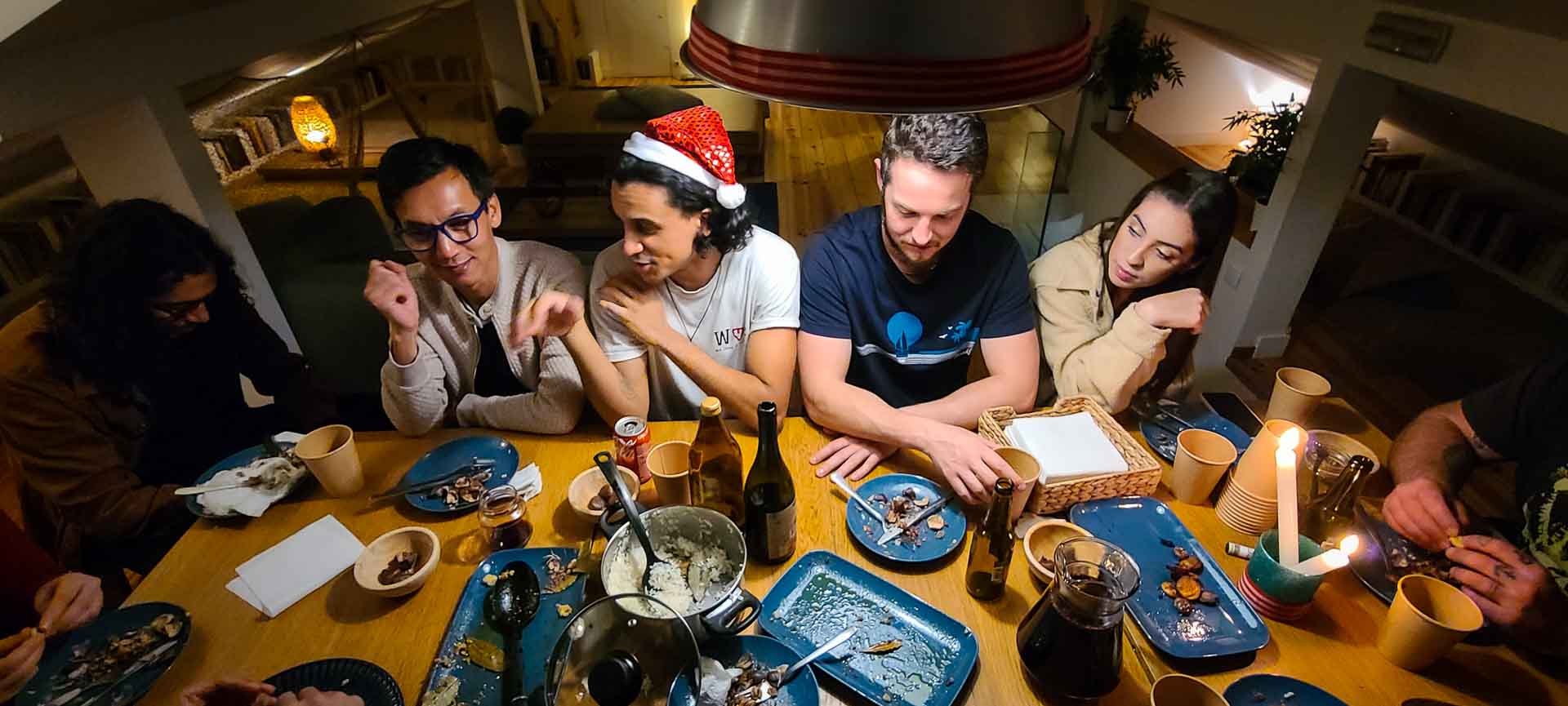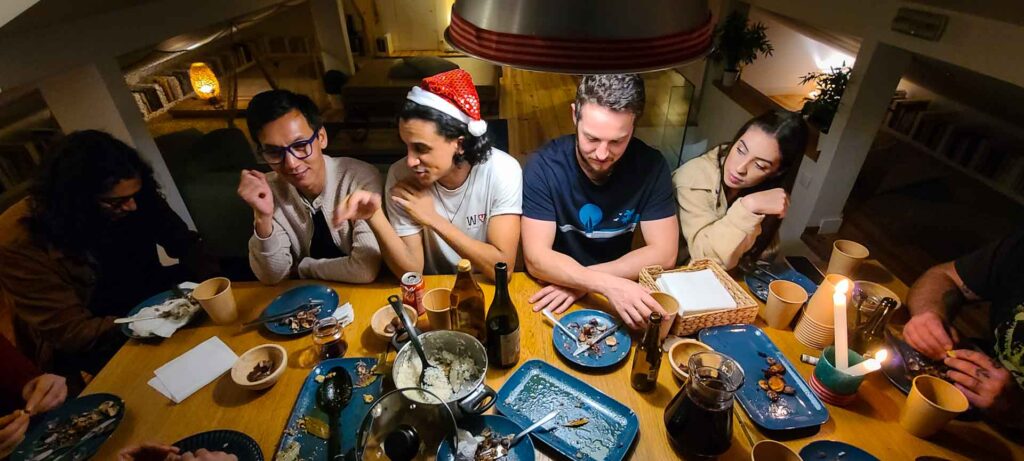 Iago—I really hope you get to meet Iago (he's in the holiday hat above)—offered up some cucumber water while I waited. Then after a couple of other new guests arrived, spent 20 minutes going over the hostel details, city maps, and everything else we needed to know about our stay.
Every evening We Love F. Tourists hostel gives the option of an inexpensive home-cooked dinner—with bottomless wine and endless conversation—in their upper floor lounge area. These dinners were literally my favorite part and the reason I came back to stay at this hostel repeatedly during my 6-weeks in Lisbon.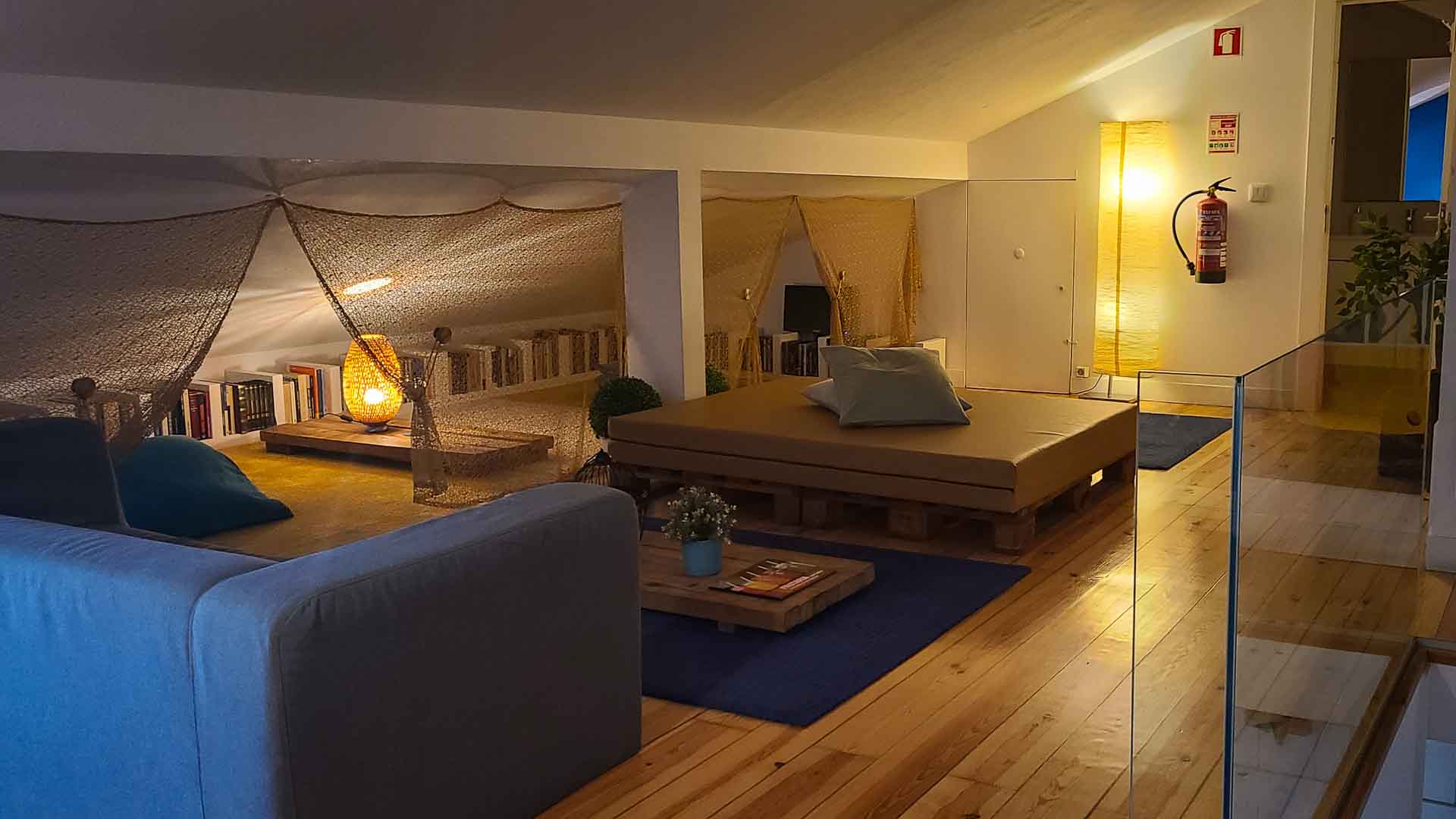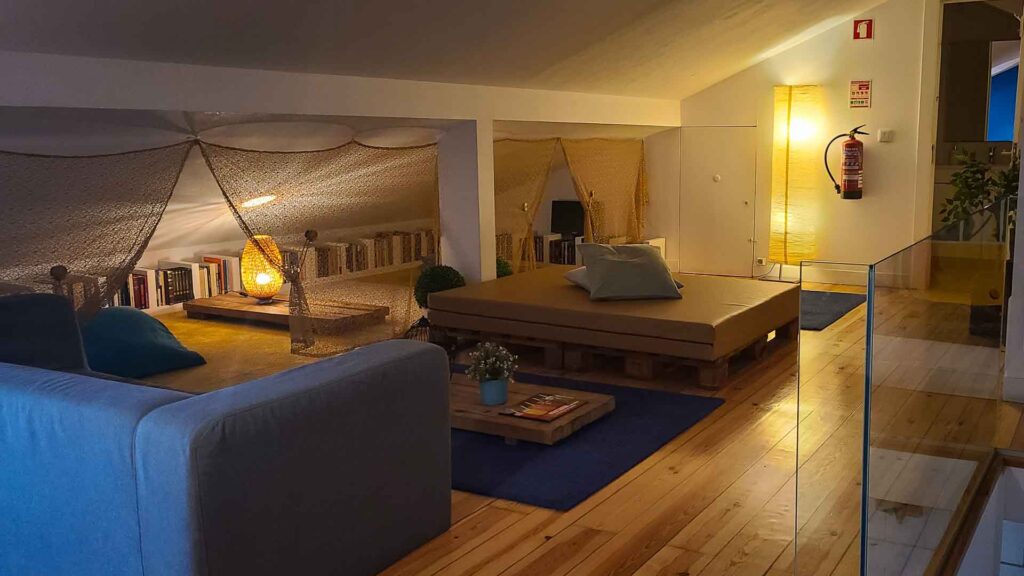 There were also Fado music bar tours, Christmas decorations, and an evening Christmas walk around the city. (Did I mention I stayed there over Christmas?) Someone would randomly come around in the afternoon with a tray of hot tea.
I also stayed in a 3-bed dorm, which is about the smallest dorm you find when searching for hostels. Yes, one less person potentially snoring through the night is a big deal!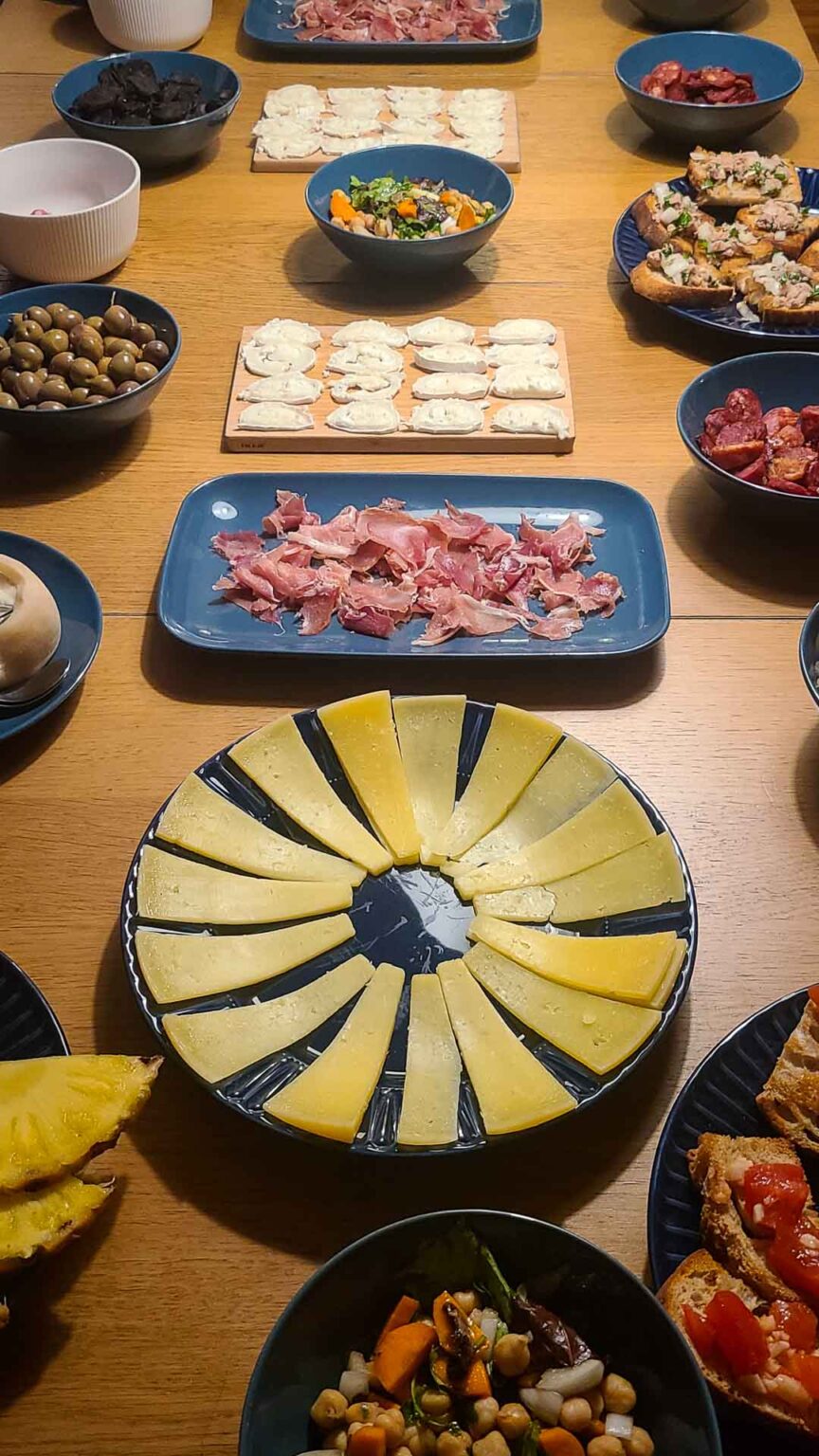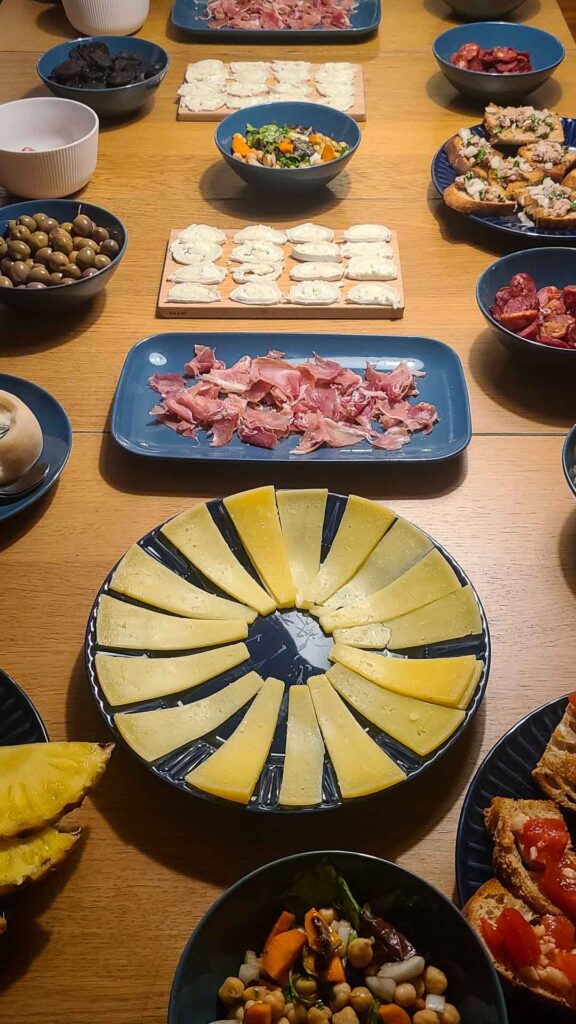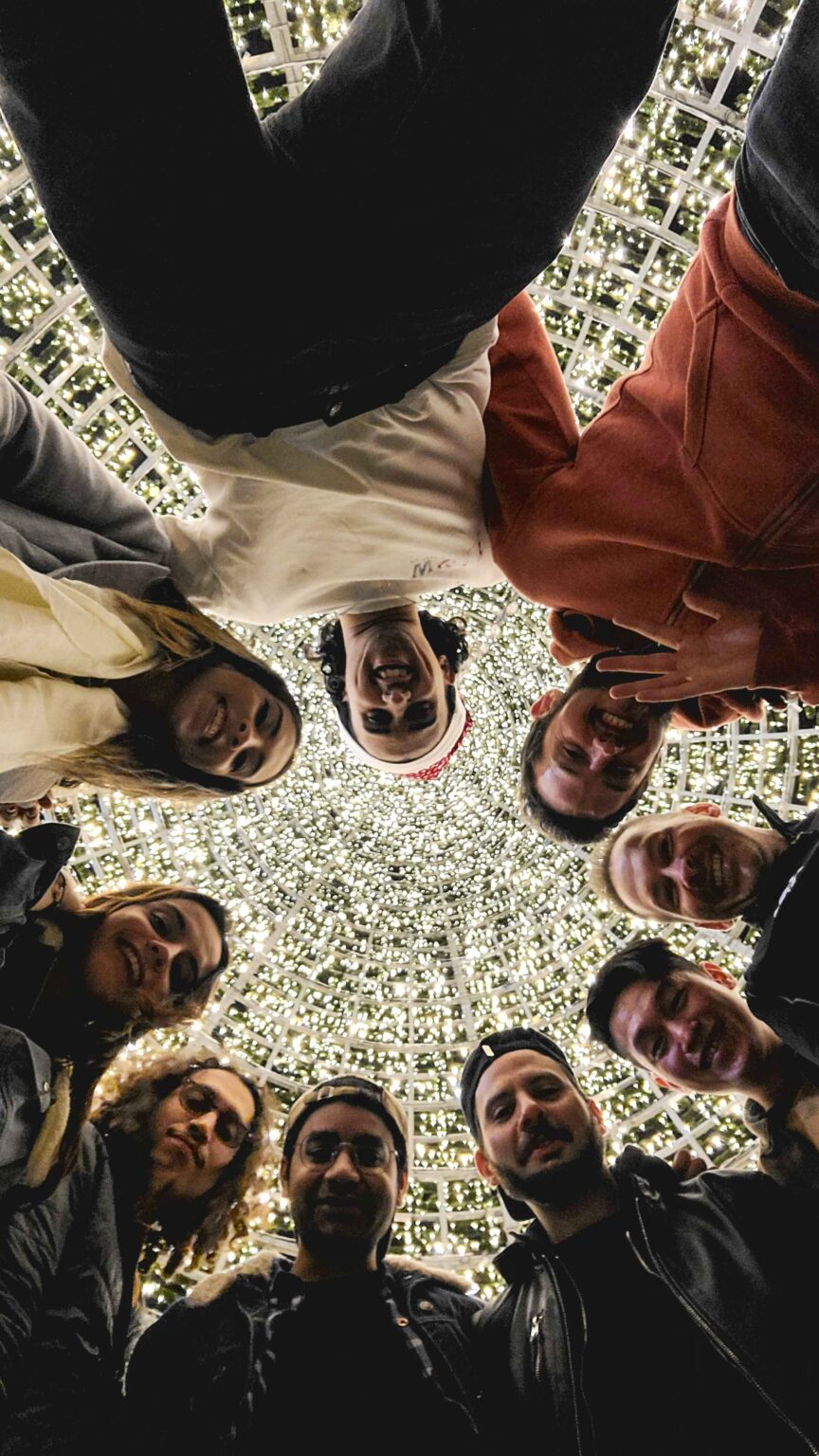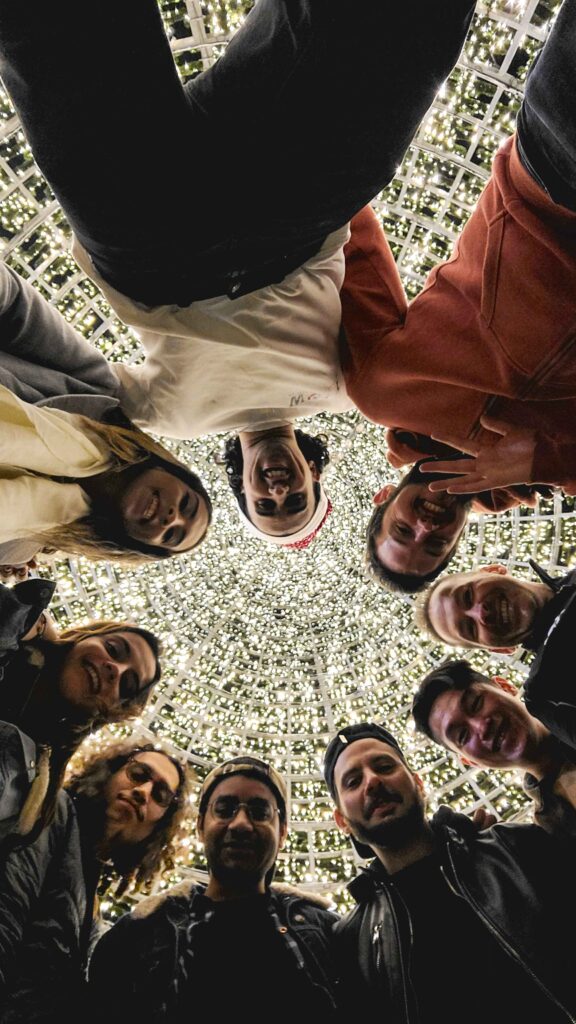 Another amazing hostel with such a good vibe and many events to get people together if needed. Yeah! hostel in Barcelona balances the chill, family vibe while straddling the line between being a party hostel.
There are tons of common areas, including a lounge with tables for working and a spacious king-size bed to chill on, a 7th-floor terrace with a rooftop pool, a huge kitchen with tons of fridge space, and a bar and dining room that can sit about 40-50 people. Dorm rooms have huge lockers for luggage and even another in the bunk for small things.
Common area bed at Yeah! Hostel Barcelona

The downstairs bar and dinner area at Yeah! Hostel Barcelona

Hostel mates enjoying dinner at Yeah! Hostel Barcelona
The food here was amazing! Literally the best dinners I've had at any hostel I've ever booked. And they make special dishes for anyone that eats vegetarian or even vegan.
Amazing paella dinner prepared by the chef at Yeah! Hostel Barcelona

Amazing paella dinner prepared by the chef at Yeah! Hostel Barcelona

The chef at Yeah! Hostel Barcelona making dessert
Combine these things with an extremely welcoming staff and nightly pub crawls. Daily walking tours, happy hour at the rooftop bar with $2 sangrias or drafts, huge lockers, and electronic locks on room and hostel doors. It's easy to see why Yeah! Hostel has repeatedly been named one of the top hostels in Barcelona.
They've also been named one of the best hostels in Europe and one of the best hostels for solo travelers many times over the years. Popular hostels in Barcelona aren't cheap, but at around $30-40/night for all of this in a 6-bed hostel dorm room, it is one of the best options in town.
The Kilronan Hostel on the Aran Isles in Ireland
This is a tricky one, and unfortunately this hostel is most likely to eventually drop out of my top 3 favorite hostels I've stayed at around the world. Sometimes the best hostel doesn't include amazing programming or community building, or many other amenities. They're just OK.
But if a said hostel is located in one of the most beautiful and interesting places you've ever visited—during a time when nobody else is visiting—then it has a chance to make the list.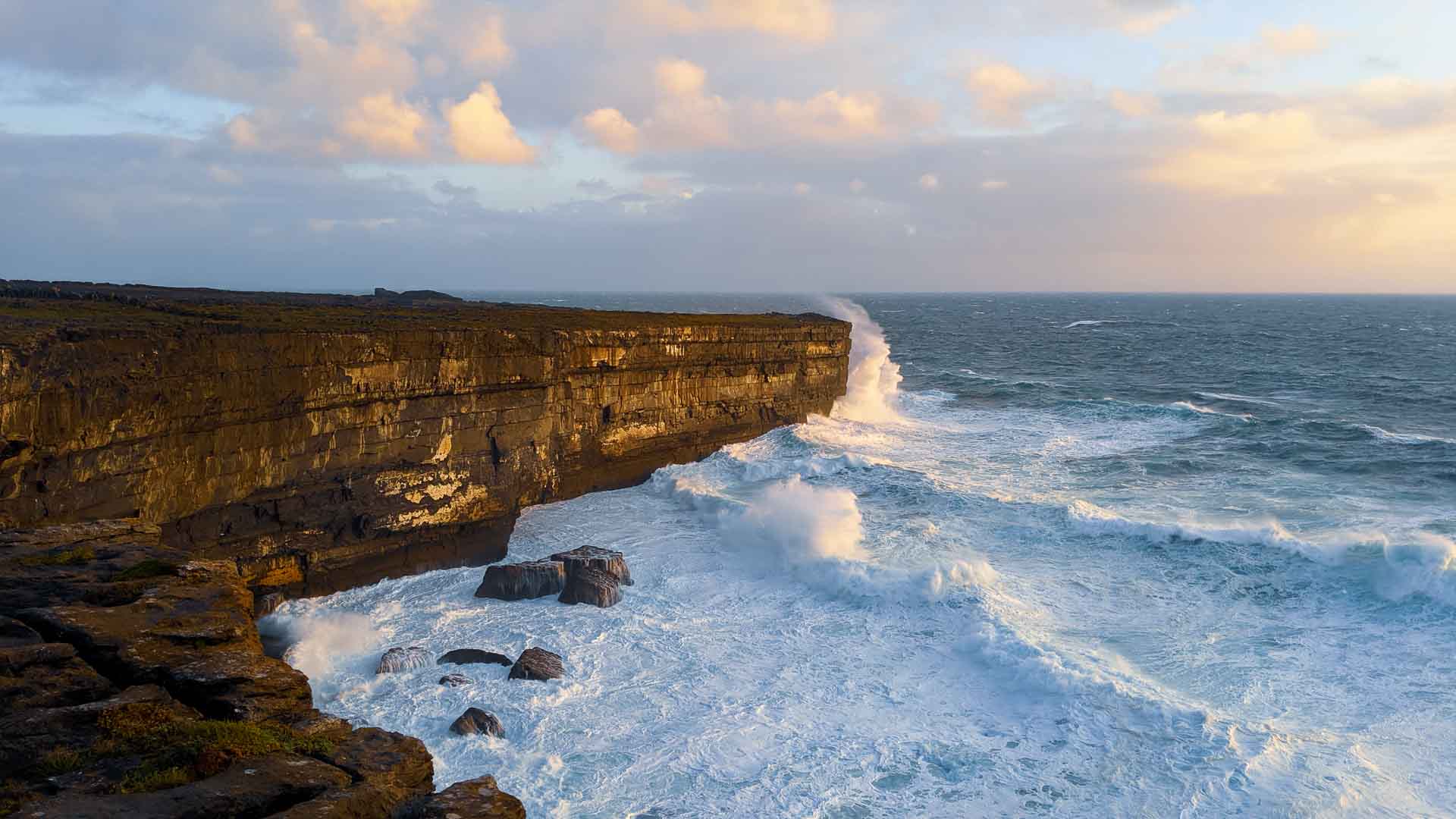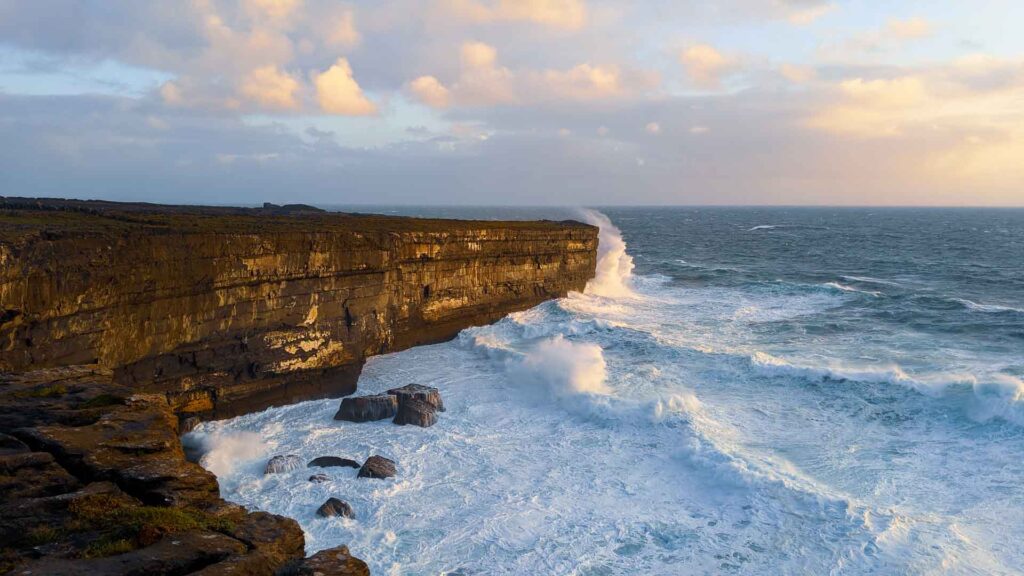 Cliffs after a little rain on Inishmore on the Aran Isles in Ireland

The coast on the way to The Wormhole on Inishmore on the Aran Isles in Ireland

Irish countryside road on Inishmore on the Aran Isles in Ireland
Backstory: Shoulder season travel, typically Oct-Dec and Mar-May (give or take), almost always has smaller crowds and cheaper accommodations and tourist attractions. I traveled to Inis Mór (Inishmore) in early October when the typical ferries of travelers were carrying a couple of hundred people daily to the island as opposed to a couple thousand during the high season.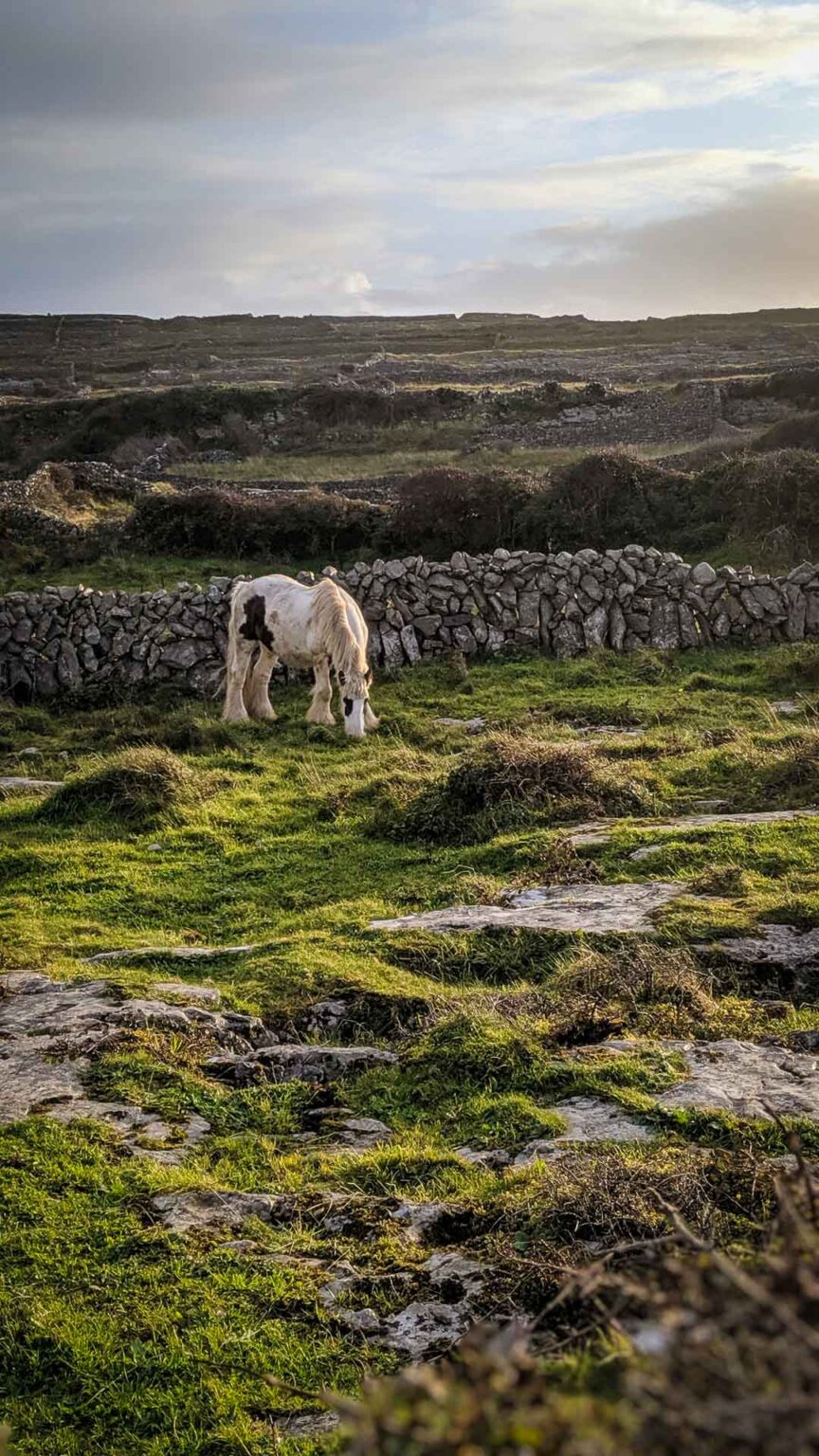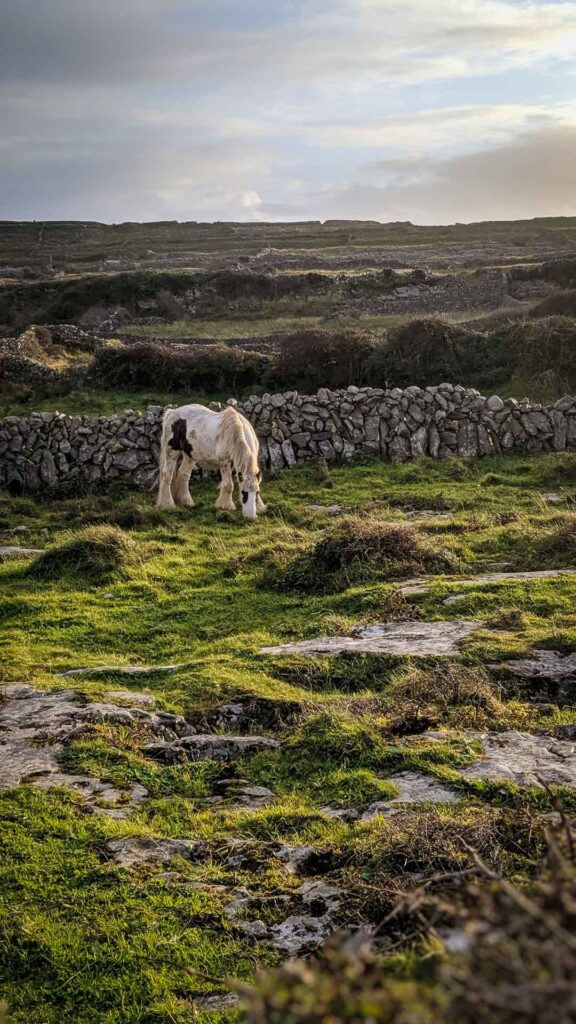 The hostel was small, quaint, and pretty bare. The 5-bed hostel dorm room—that I had to myself every night—was small and would be cramped if full. The free breakfast was minimal but adequate. But this is one time when location, location, location was everything.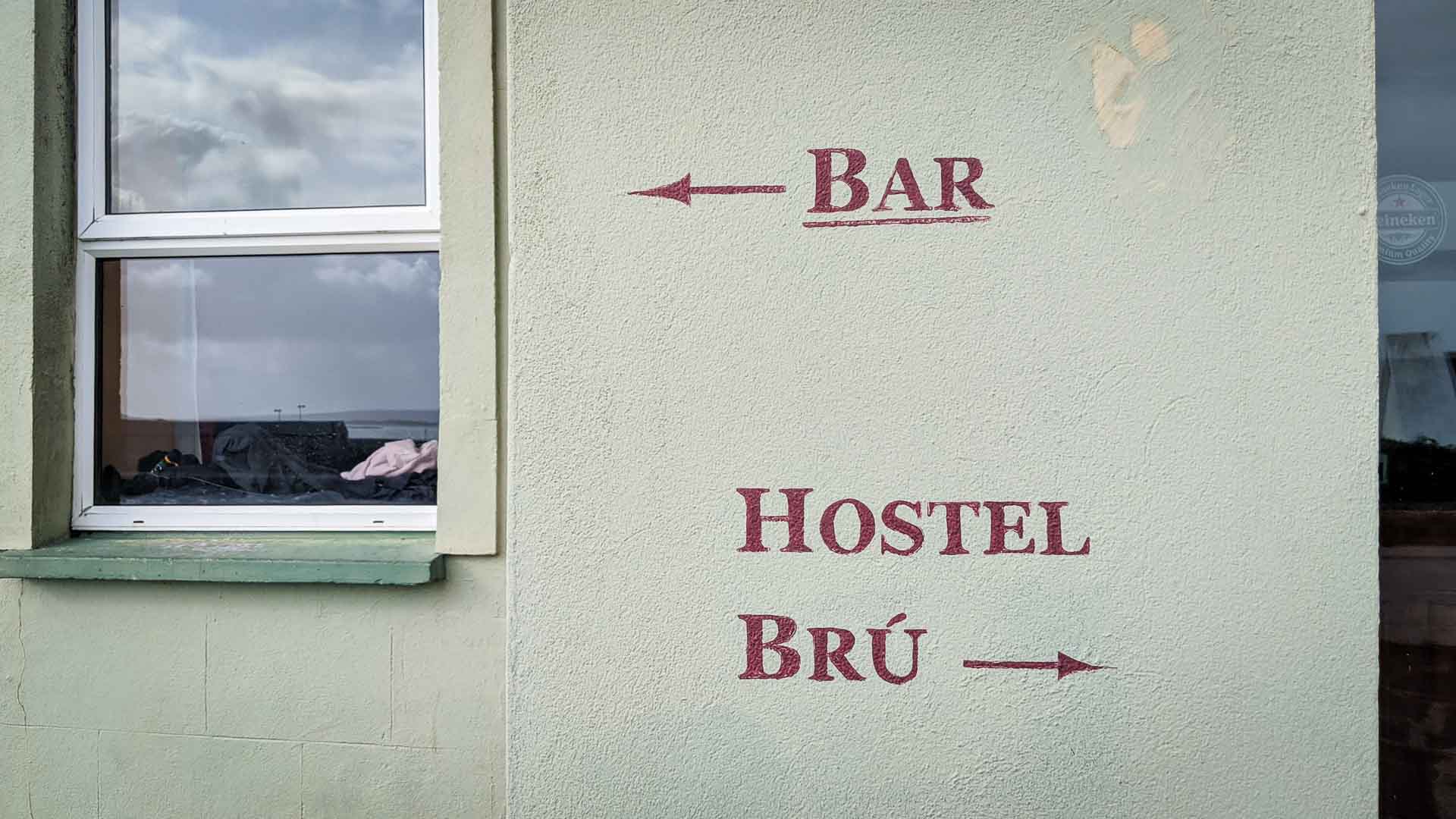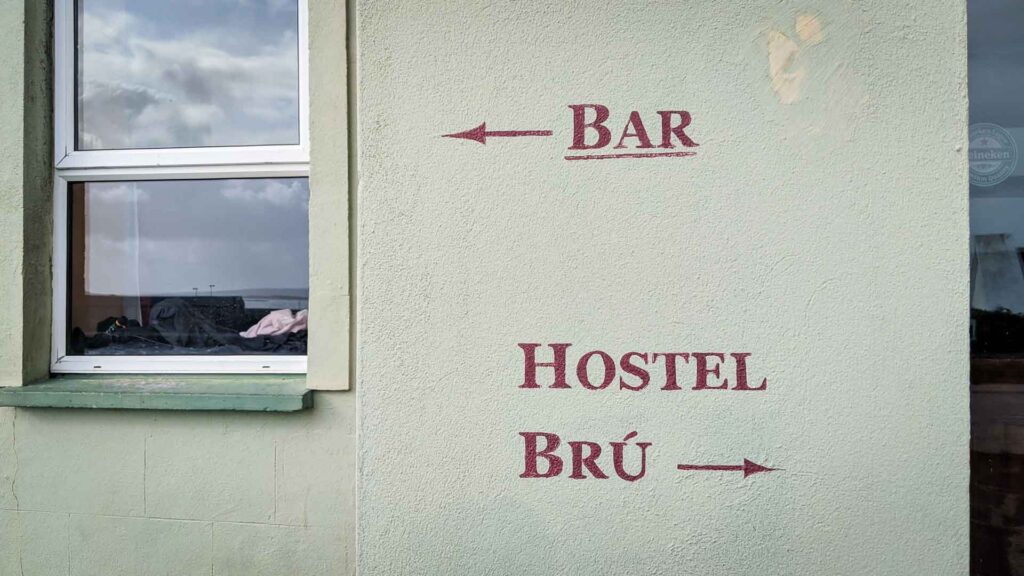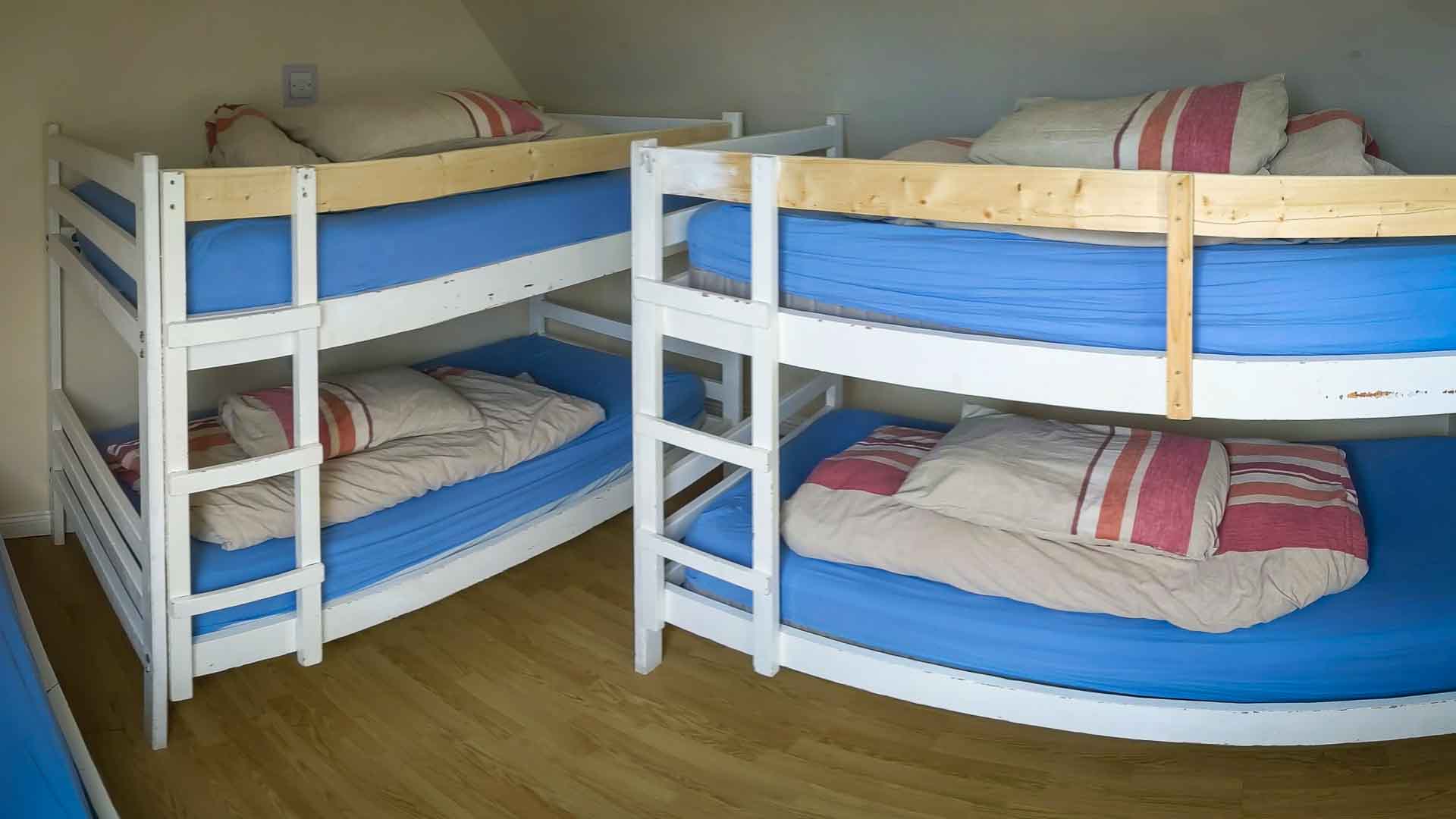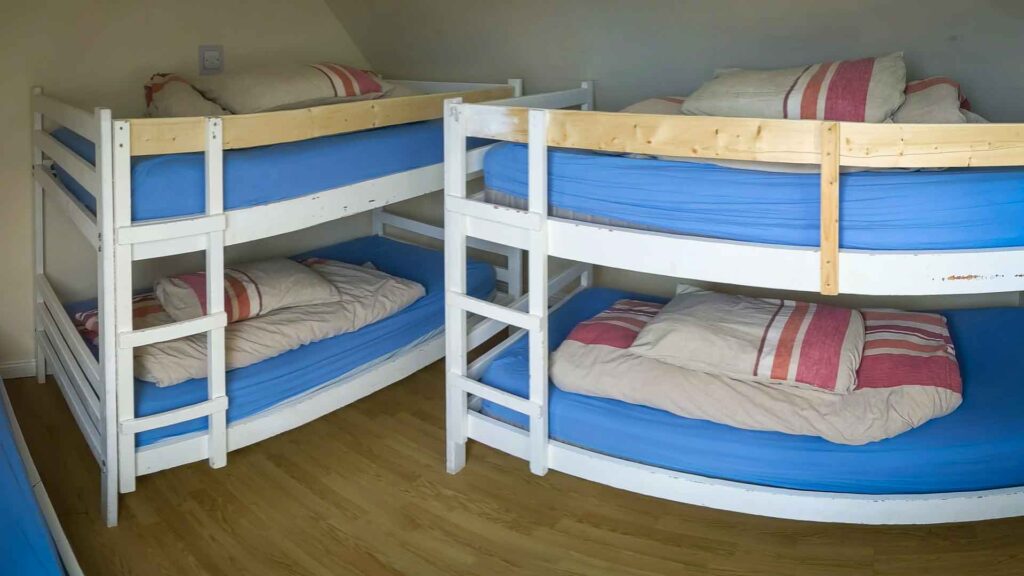 I truly hope this hostel can weather the storm of pandemics and slow seasons so you can experience everything that the Aran Isles has to offer—for under $25/night. Protip: You can rent a bike nearby to get around the island early and late before and after the ferries drop off so that you can have these stunning places all to yourself!
Azul Cielo Hostel in Oaxaca City, Mexico
Oaxaca, Mexico is blowing up recently as a very trendy travel destination. So it should come as no shock that they have some great hostels. Azul Cielo hostel in Oaxaca is another hostel that has a great vibe that overcomes some of its potential deficiencies. No huge programming calendar, and the dorm rooms had more beds than I typically tend to prefer—and with no privacy curtains.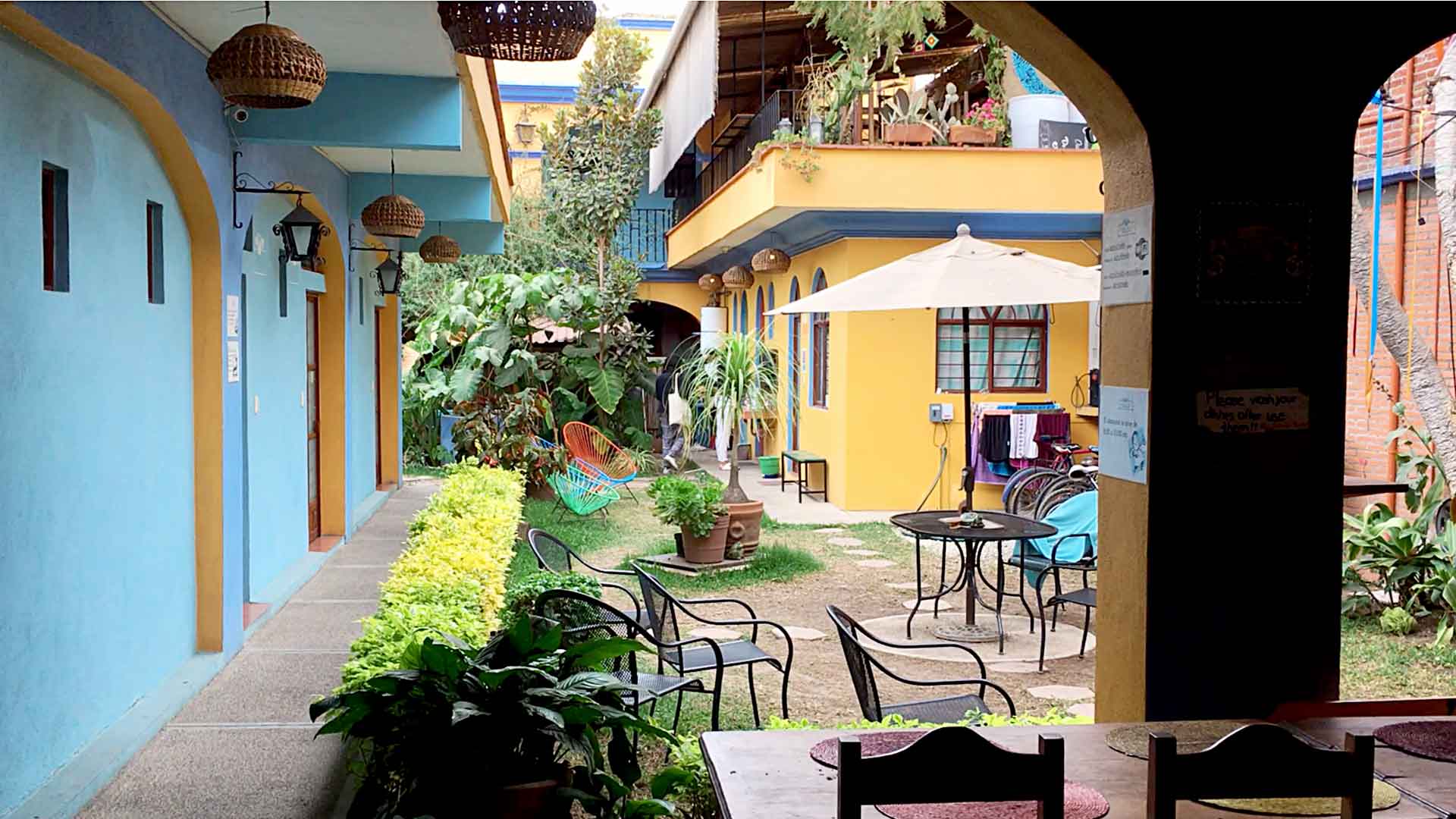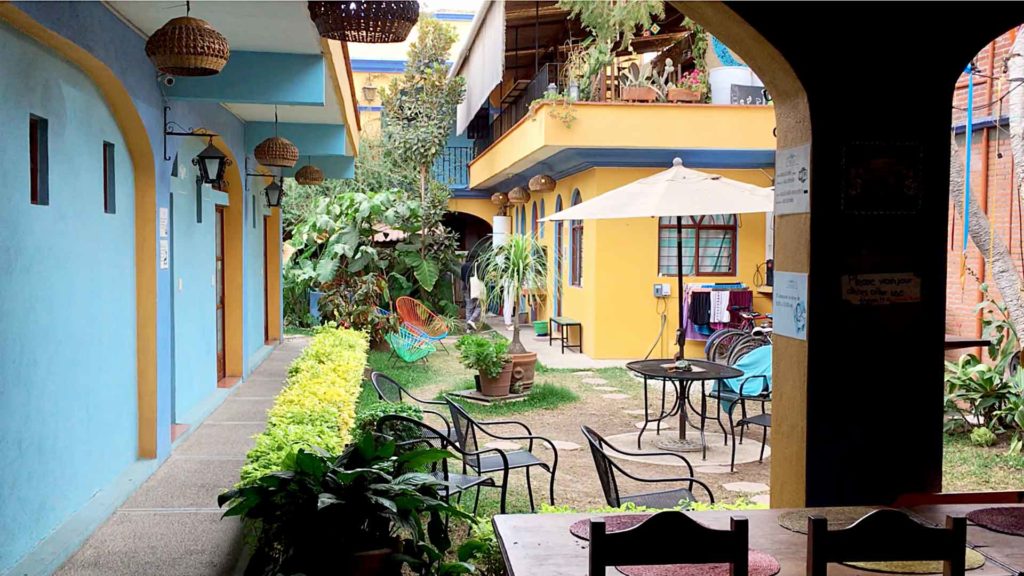 READ NEXT: Mexico: Murals & Street Art of Oaxaca, Mexico: The Colors of Oaxaca
Full Hostel Review: Oaxaca, Mexico – Azul Cielo Hostel
Combine those things with the fact that Oaxaca, Mexico is an absolutely quaint and welcoming Mexican city, and it deserves a place on this list. Having met 6-7 people in the morning at the freshly prepared breakfast, then exploring together for a few days, we all decided to travel 6 hours south to Puerto Escondido to meet up again. Over 2-3 days we all met back at another hostel and continued to make memories.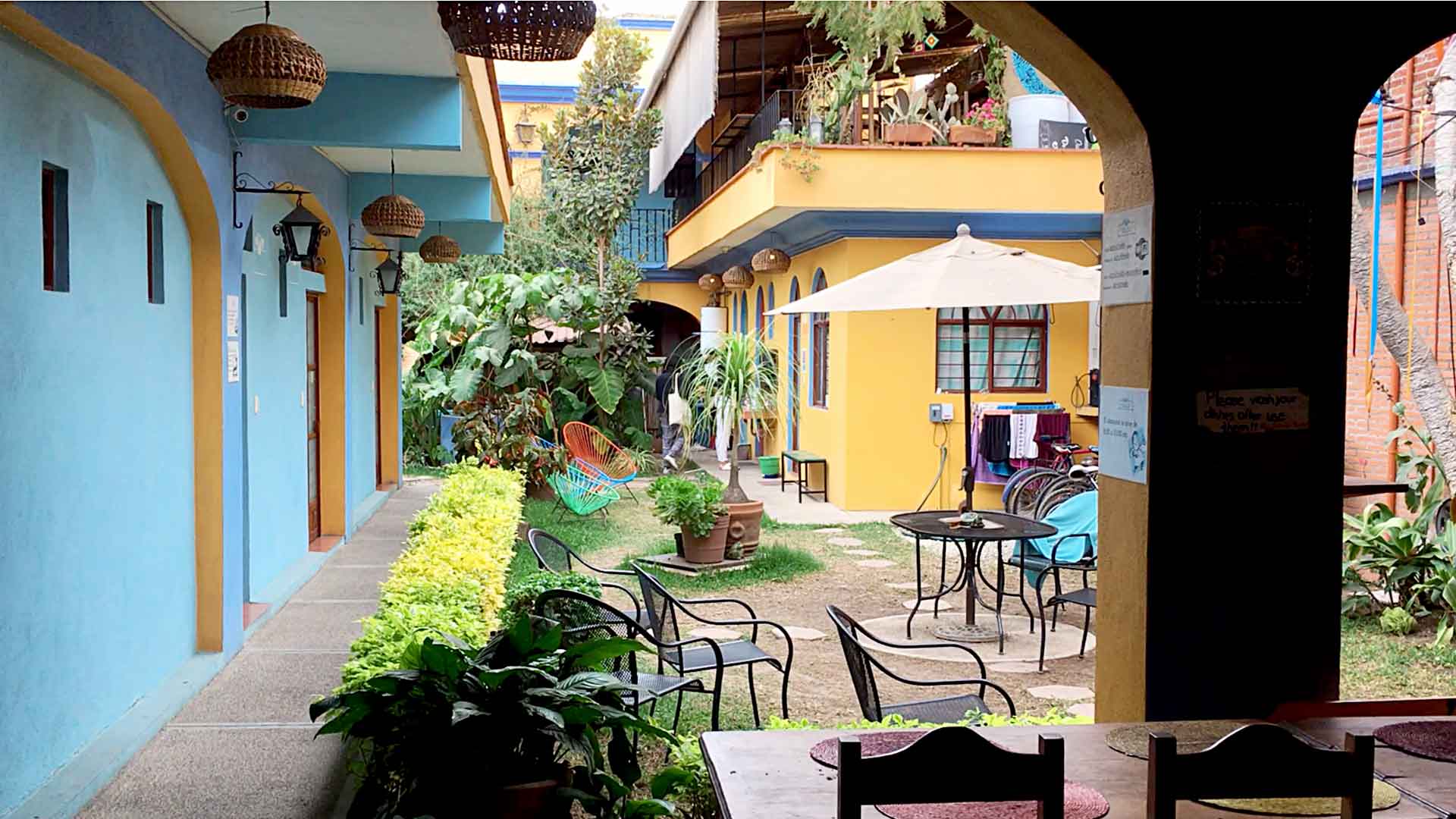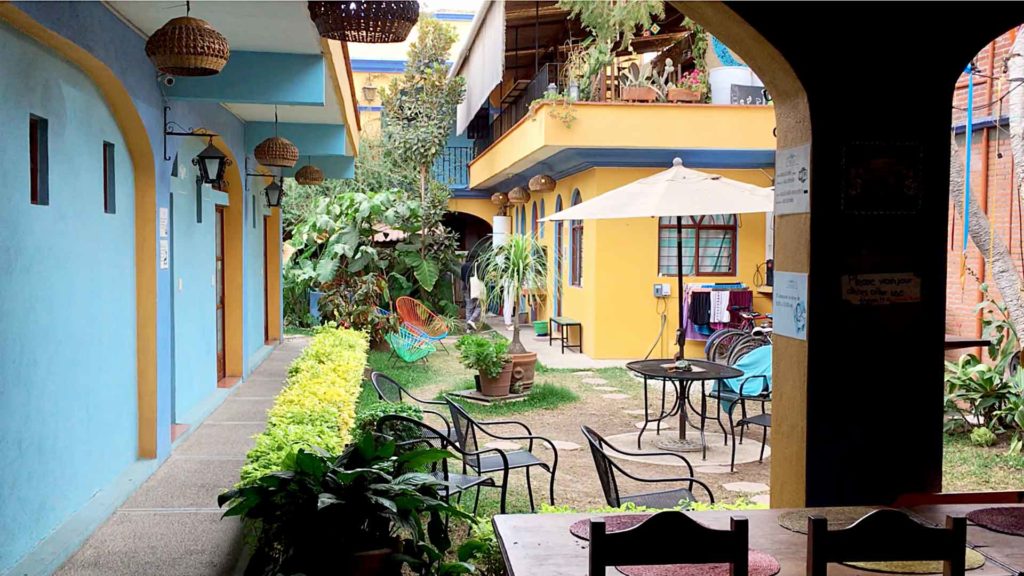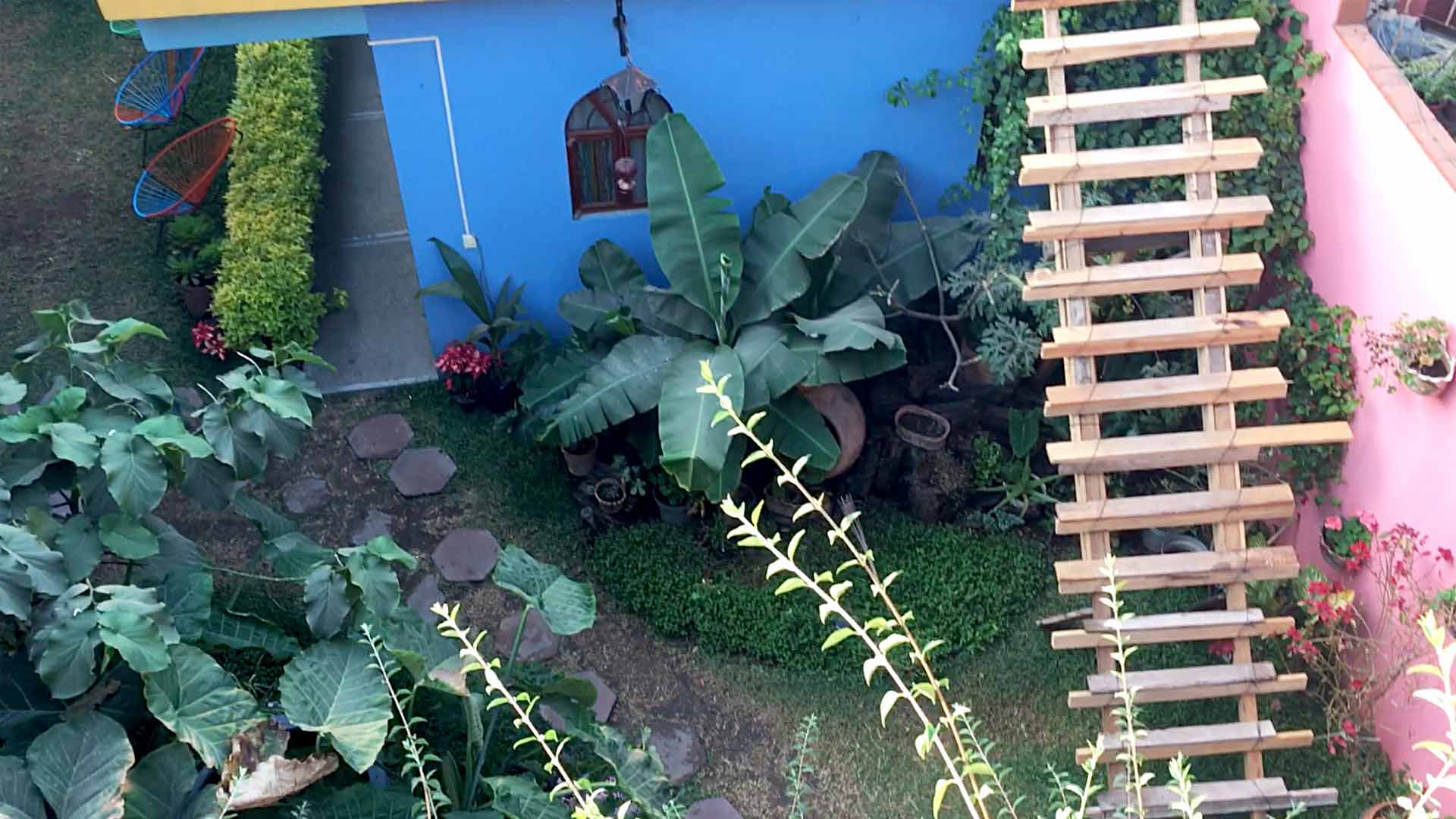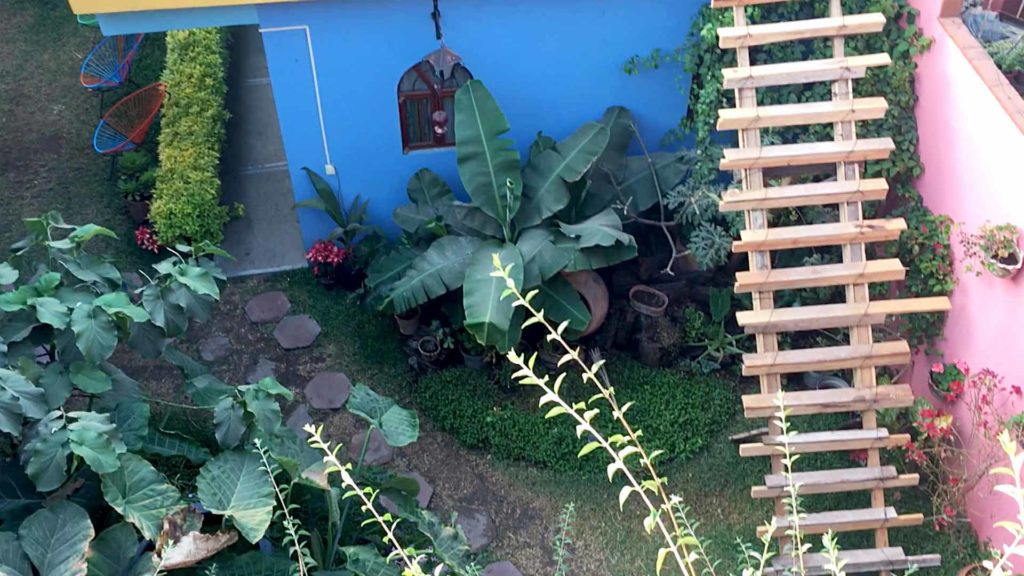 Oh, and Azul Cielo hostel is about $10/night but also has options for private rooms for a little more. One of the best budget hostel options on this list.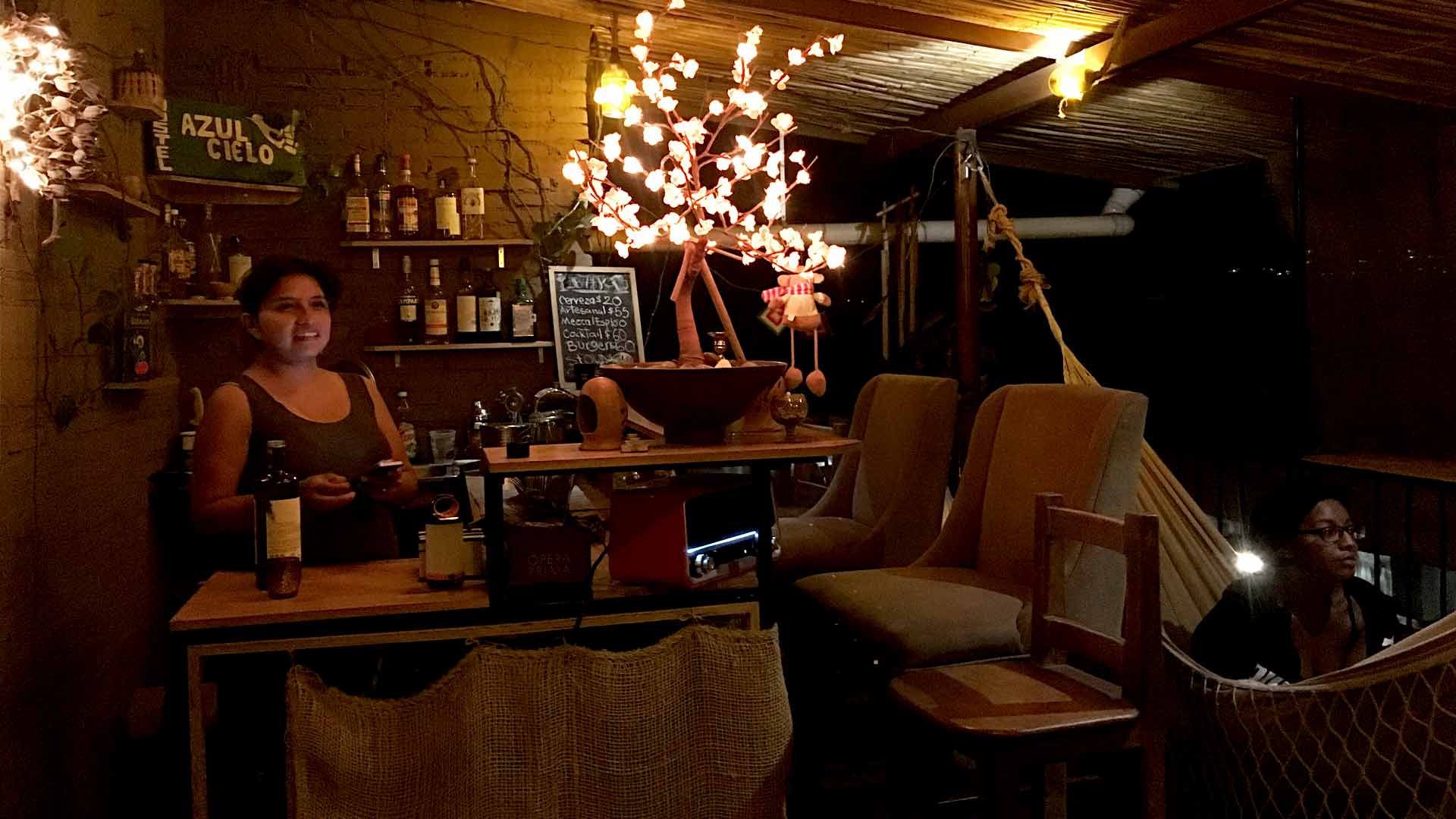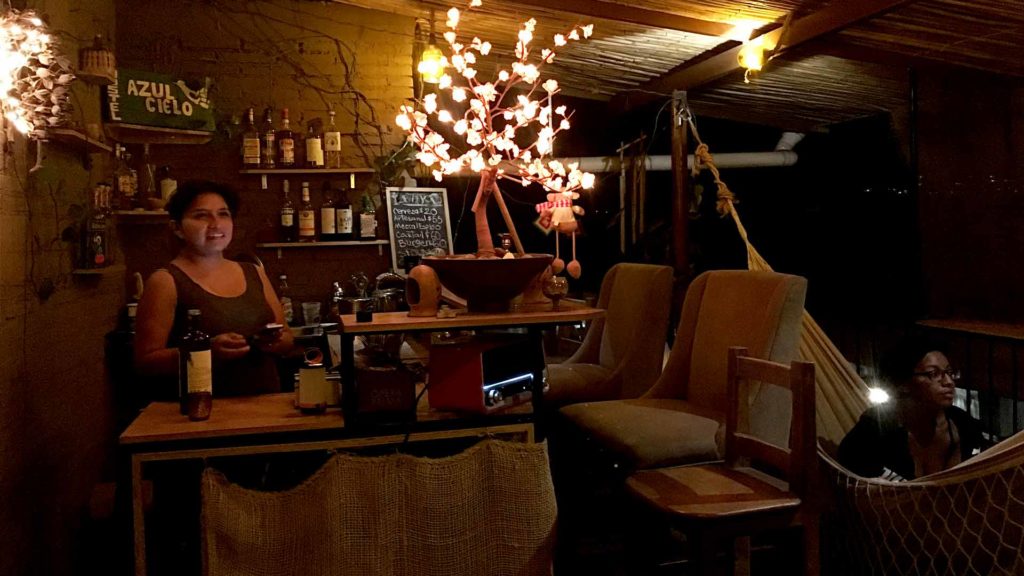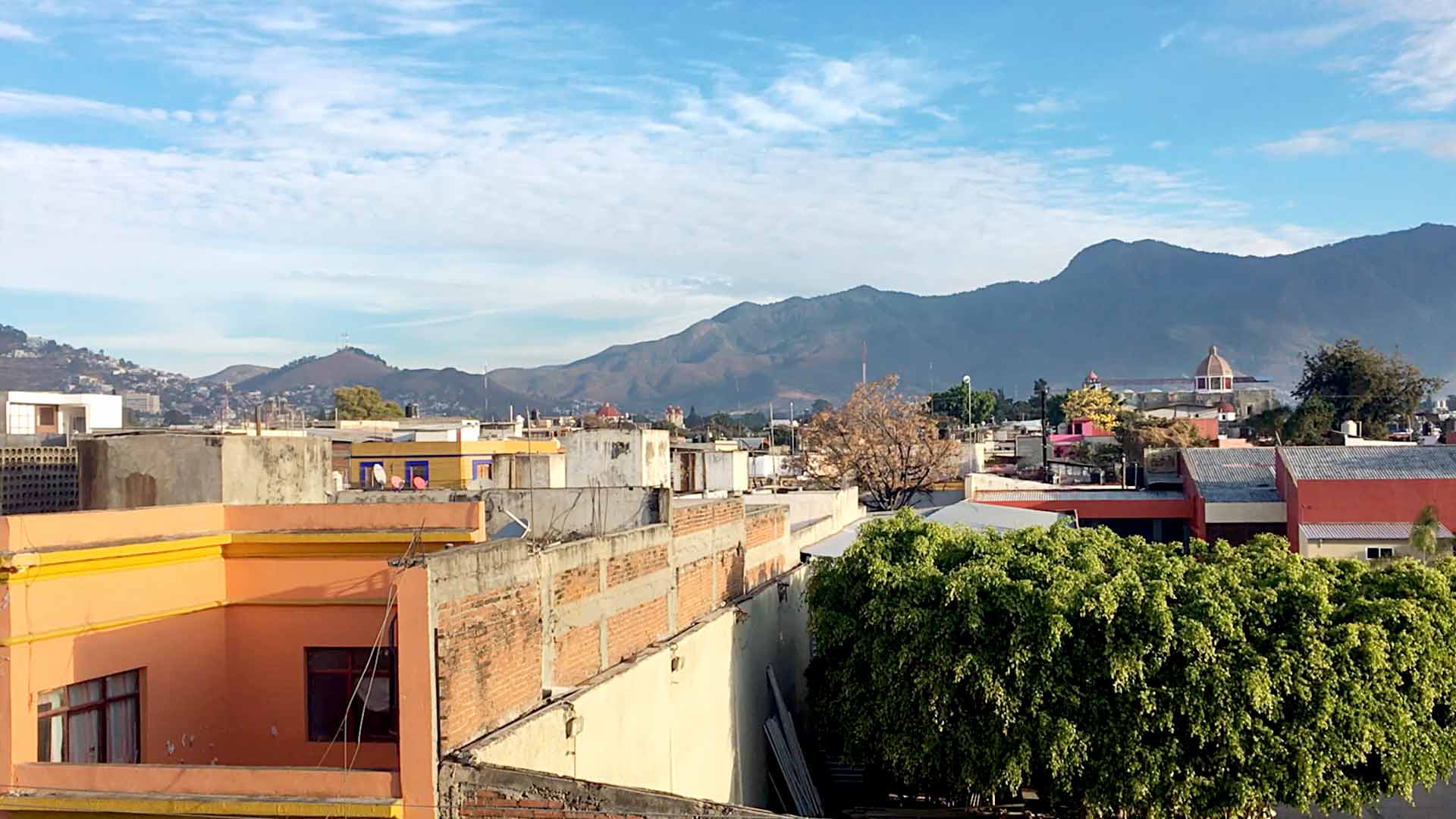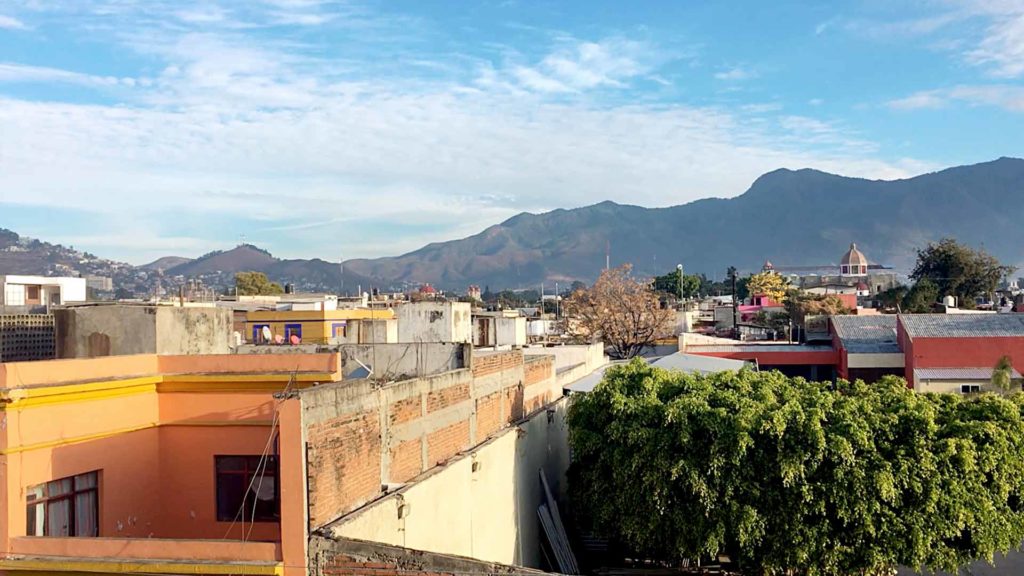 USA Hostels for the win: Portland & Philadelphia
HI Portland Northwest Hostel in Portland, Oregon
I've stayed at the HI Portland Northwest hostel on three different occasions over the past 5 or so years. Every time I'm amazed by this massive hostel property, full of hidden little spaces to get away, have a beer, or even smoke a little…you know.
This hostel is made up of like 2-3 buildings and can hold a lot of travelers, but it never felt too crowded in the common areas.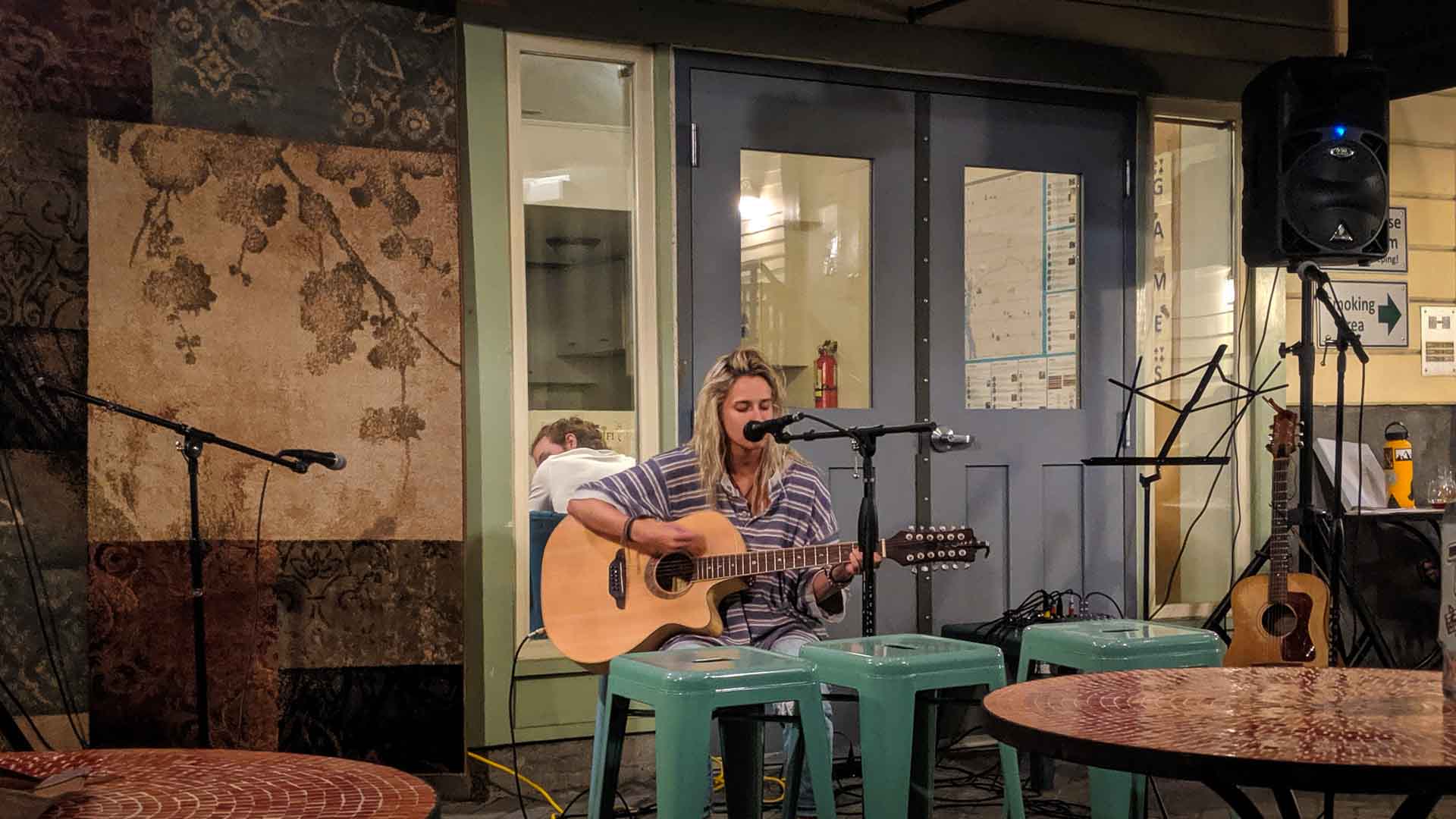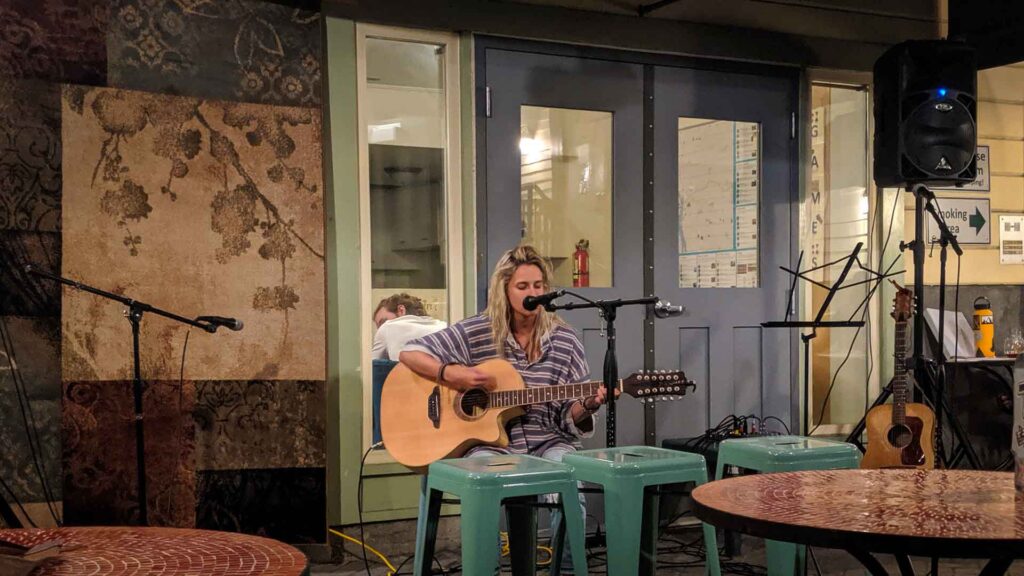 The rooms were clean and secure, with really nice bathrooms and shower areas. There are at least 2-3 patio areas—make sure you find the "secret garden"—and a small coffee shop/bakery shopfront that welcomes people that live in the neighborhood to patronize.
The HI Portland hostel has beers on tap for the evening and plenty of live music programming throughout the warmer months.
While $40/night for a 4-bed dorm may not sound inexpensive, it's on par for hostels in the US.
Apple Hostel in Philadelphia, Pennsylvania
The Apple Hostel in Philadelphia was a very pleasant surprise. Partly because everyone around me was kind of a d*ck about my choice to go to Philly, and partly because USA hostels can be pretty hit or miss.
Apple Hostel has a huge remodeled kitchen to cook in, but they hosted dinners some nights so that you didn't have to worry about a thing.
And I still remember the first night when someone who worked at the hostel came in and dropped two cases of beer in the middle of the room, by the pool table, and told us all to get to know each other. Then we hit the town to talk about ghosts, beer makers past, and of revolutions.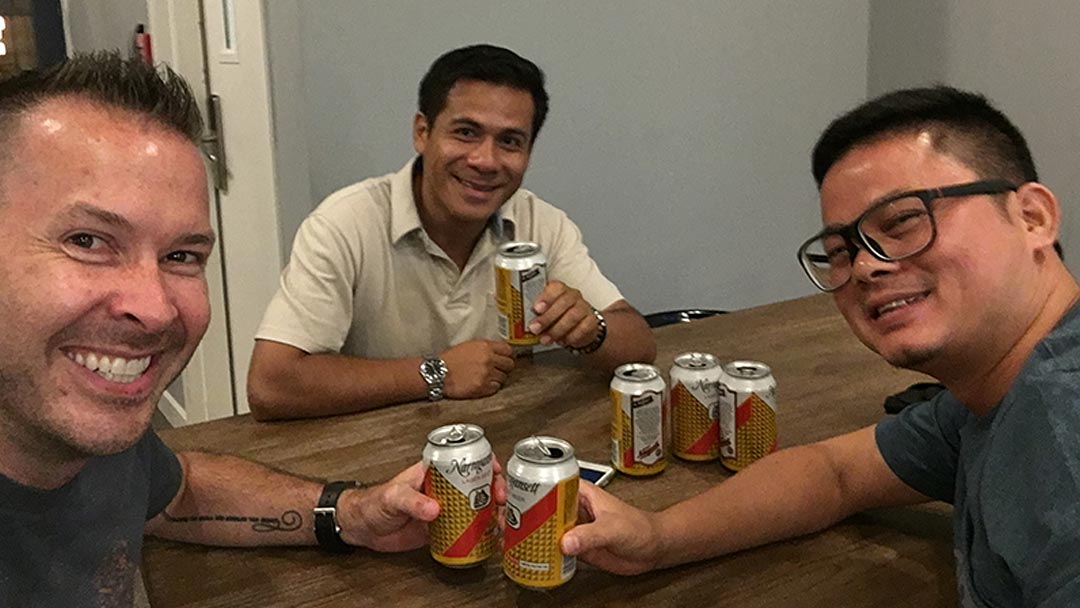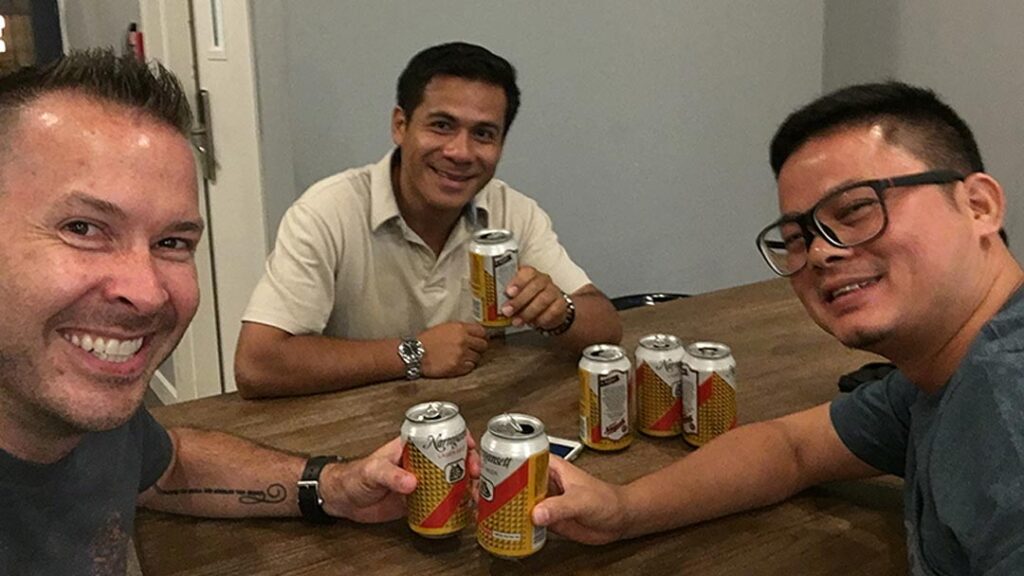 4-bed hostel dorm rooms at the Apple Hostel in Philly start at around $45, or you can get a dorm bed with 17 other people in a room for $35. I suggest you go with the first option.
The Ballyhoura Boutique Hostel in County Limerick, Ireland
So I accidentally ended up at the Ballyhoura Luxury Hostel when on a 2-week stopover in Ireland. I say accidentally because as a fairly new traveler, I didn't realize that county Limerick means something quite different than city Limerick. And by not paying attention, I actually ended up in Kilfinane Ireland…in county Limerick instead of the city of Limerick.
…what did work out was that the Balyhoura Luxury Hostel ended up being the bomb. (Pretty sure nobody says "the bomb" anymore, but Ima try to bring it back.) It was the offseason and the hostel was fairly empty, so my luxury bed, pillows, and 8-bed dorm room all to myself was a treat.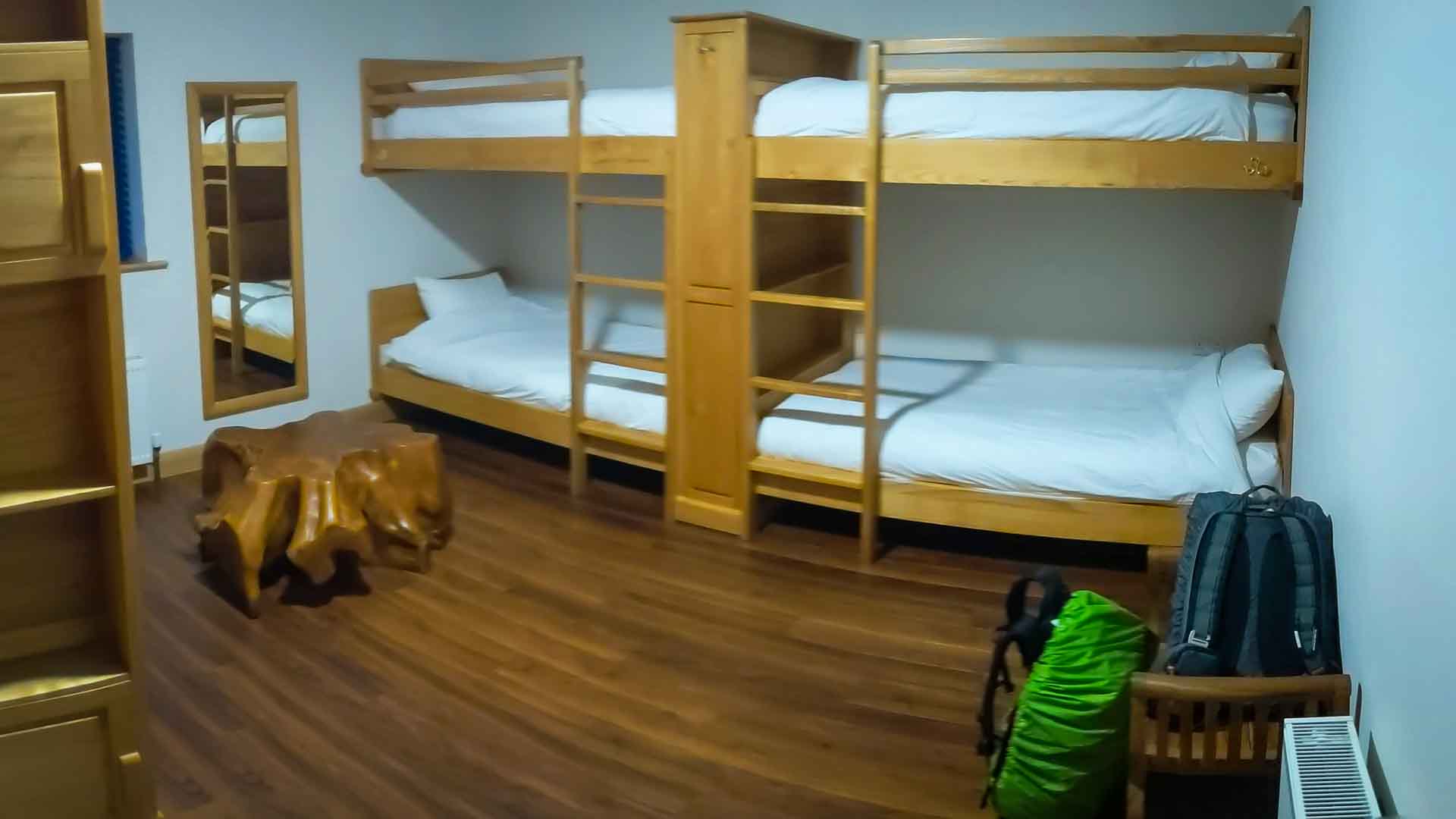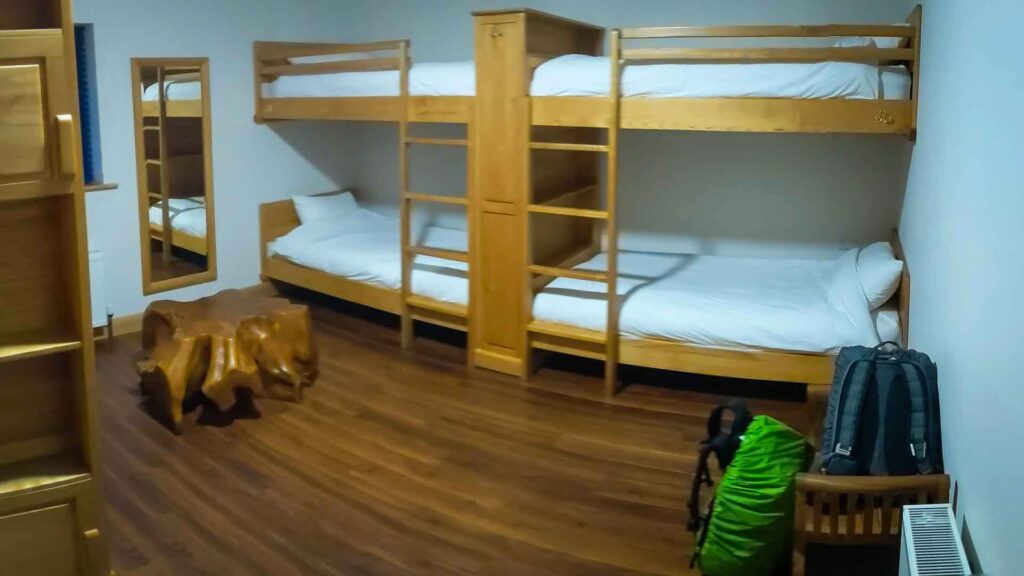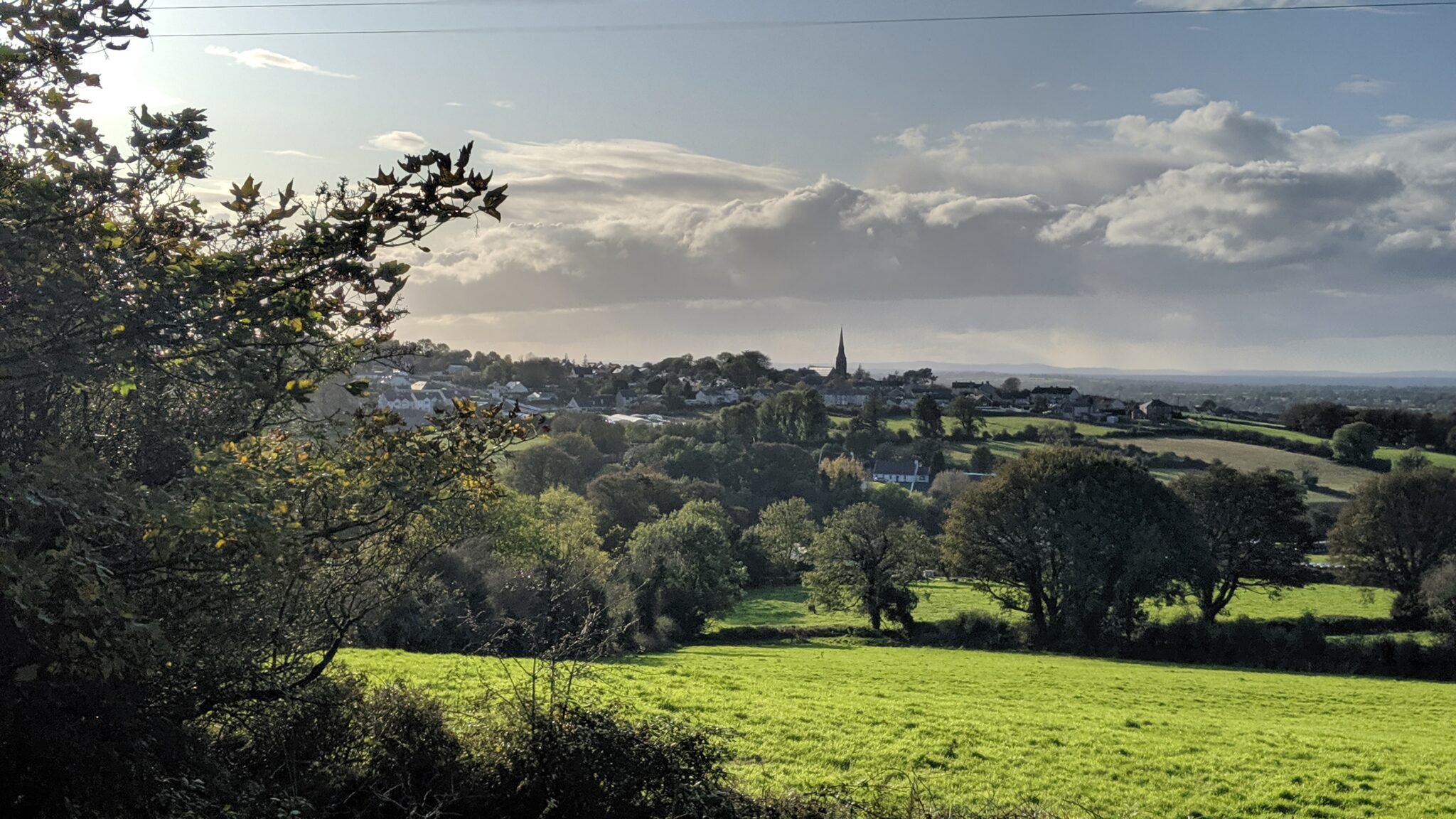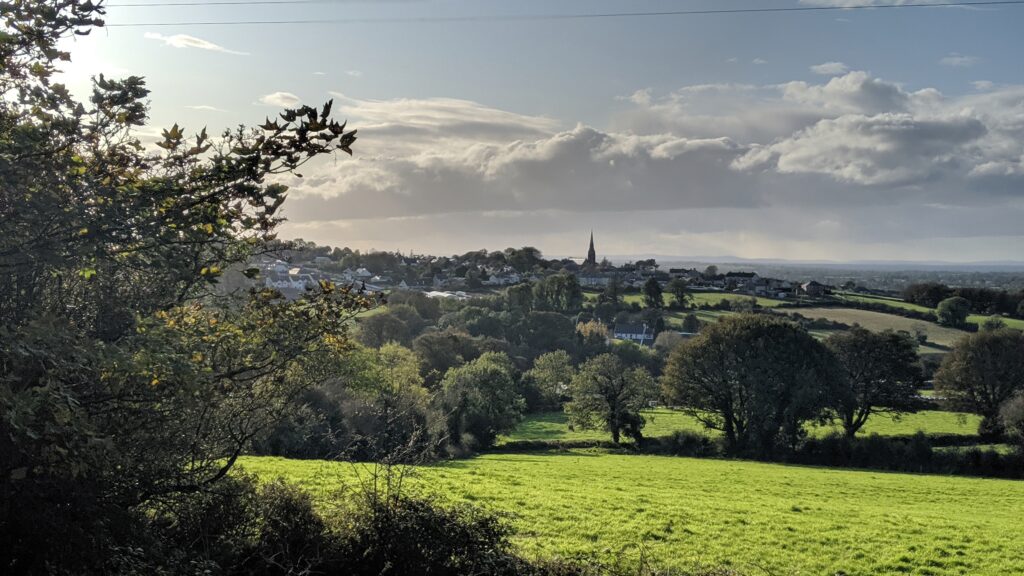 Join the email list to stay in the loop on new releases!
The owners (Seamus & Teresa) and I talked nerdy about how they designed and had everything in the hostel built custom. From the dorm beds to the massive 20'+ wood slab dining table, to the sauna and the fireplace room.
The Ballyhoura Luxury Hostel dorm bed I stayed in was only $25/night during the travel shoulder season in October.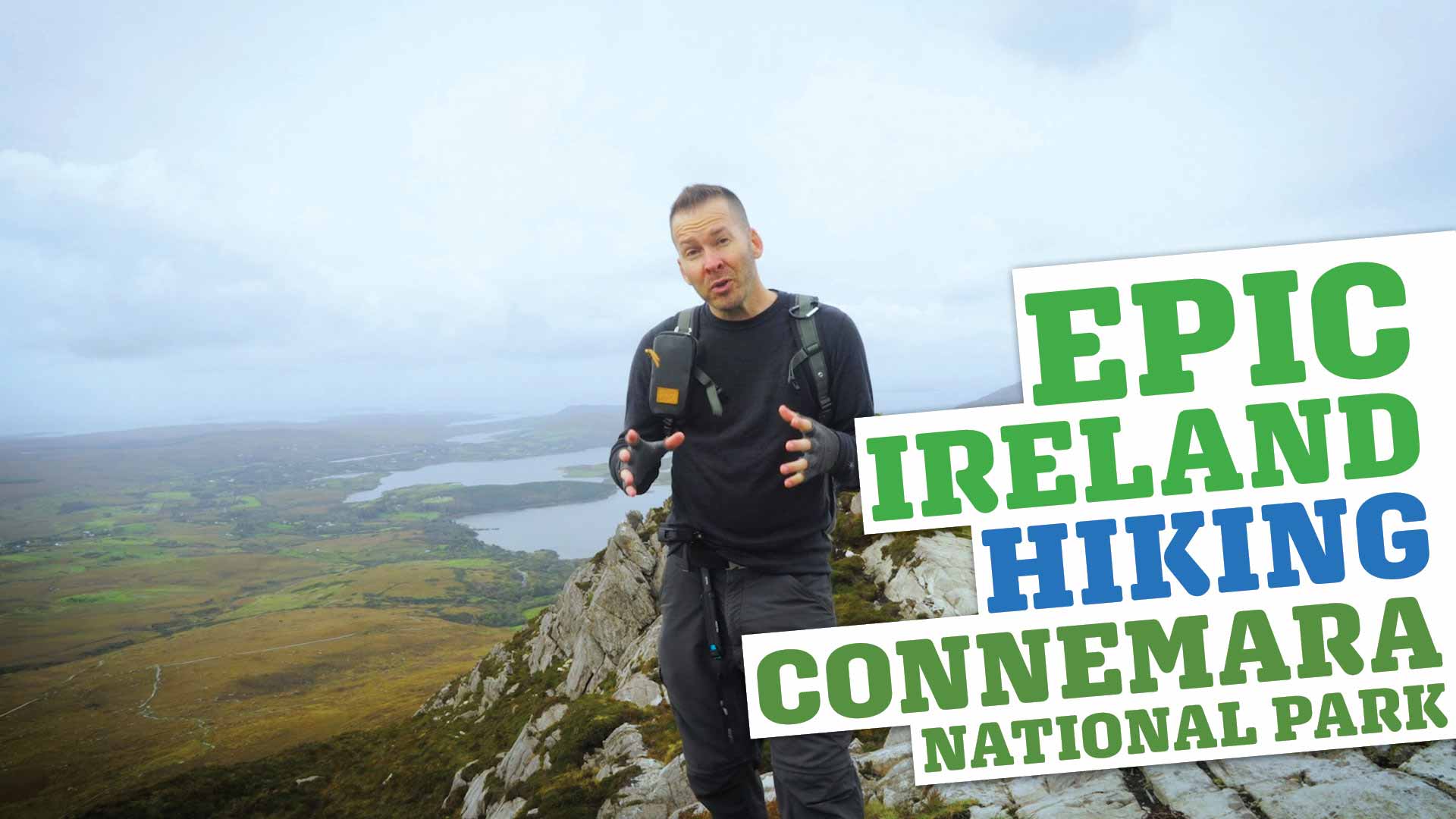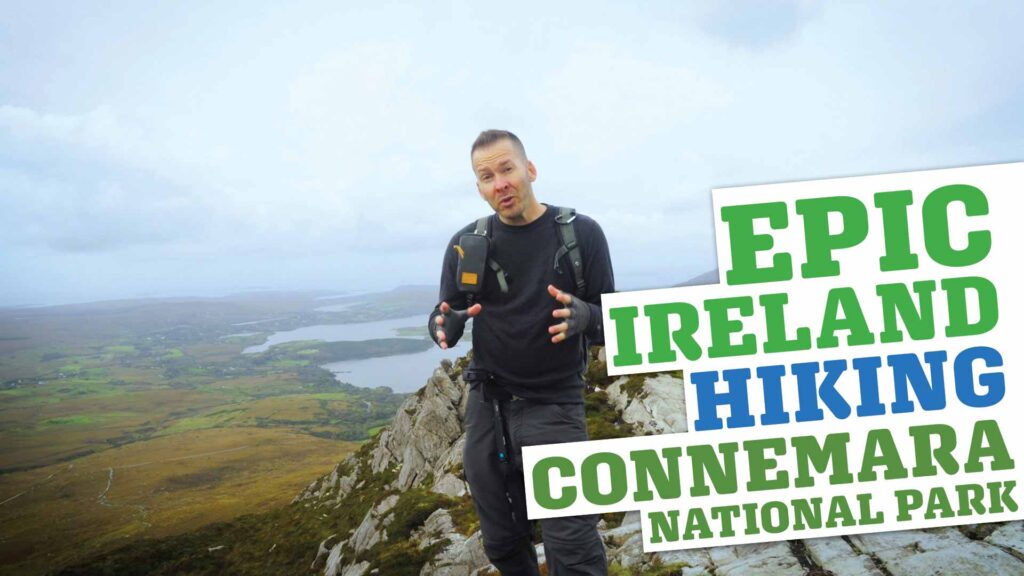 WATCH NEXT: Lost in Limerick, Ireland. Thinking About The Little Adventures In Life
The WORMHOLE…Epic Ireland: 3 days on the Aran Islands / Inis Mor
Porto, Portugal Hostels: The Porto Wine Hostel & The Gallery Hostel
Since I spent about 3 months hopping around Portugal, I stayed at a lot of different hostels. Here are a couple more that I absolutely loved. That said, these hostels are all completely different from each other! 
The Porto Wine Hostel
The Porto Wine Hostel is another one of those great hostels that gets much of its charm because of the visible love and dedication put into it by the owners. The owners (she was Serbian, and he Portuguese I believe) were always milling about smiles on their faces, making sure guests were happy.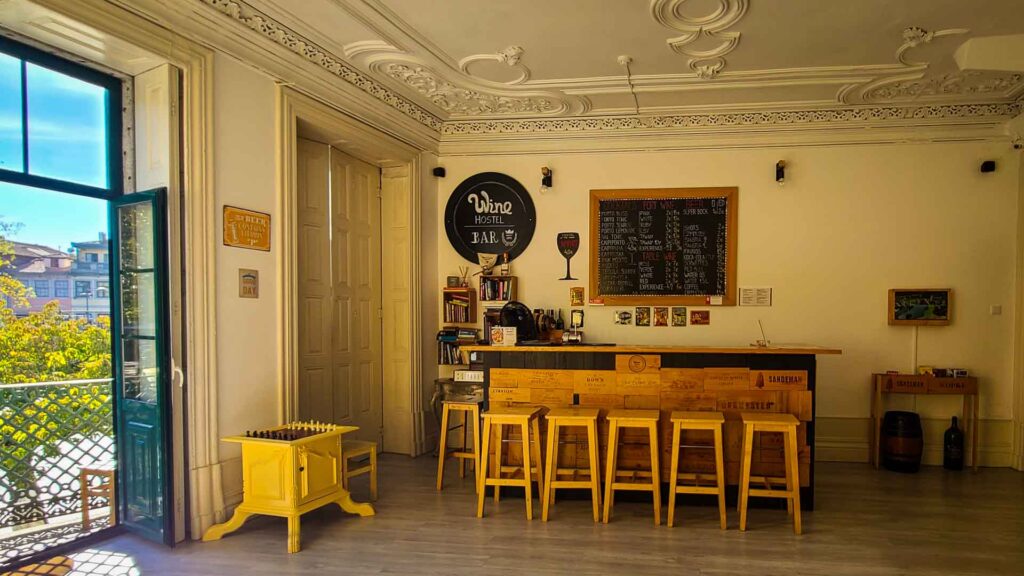 There was a small but adequate communal gathering level which had a kitchen for cooking and a large common room with a wine bar. The stairwells and colors in this hostel were gorgeous. The rooms were modest, but I believe they were all ensuite, which was nice.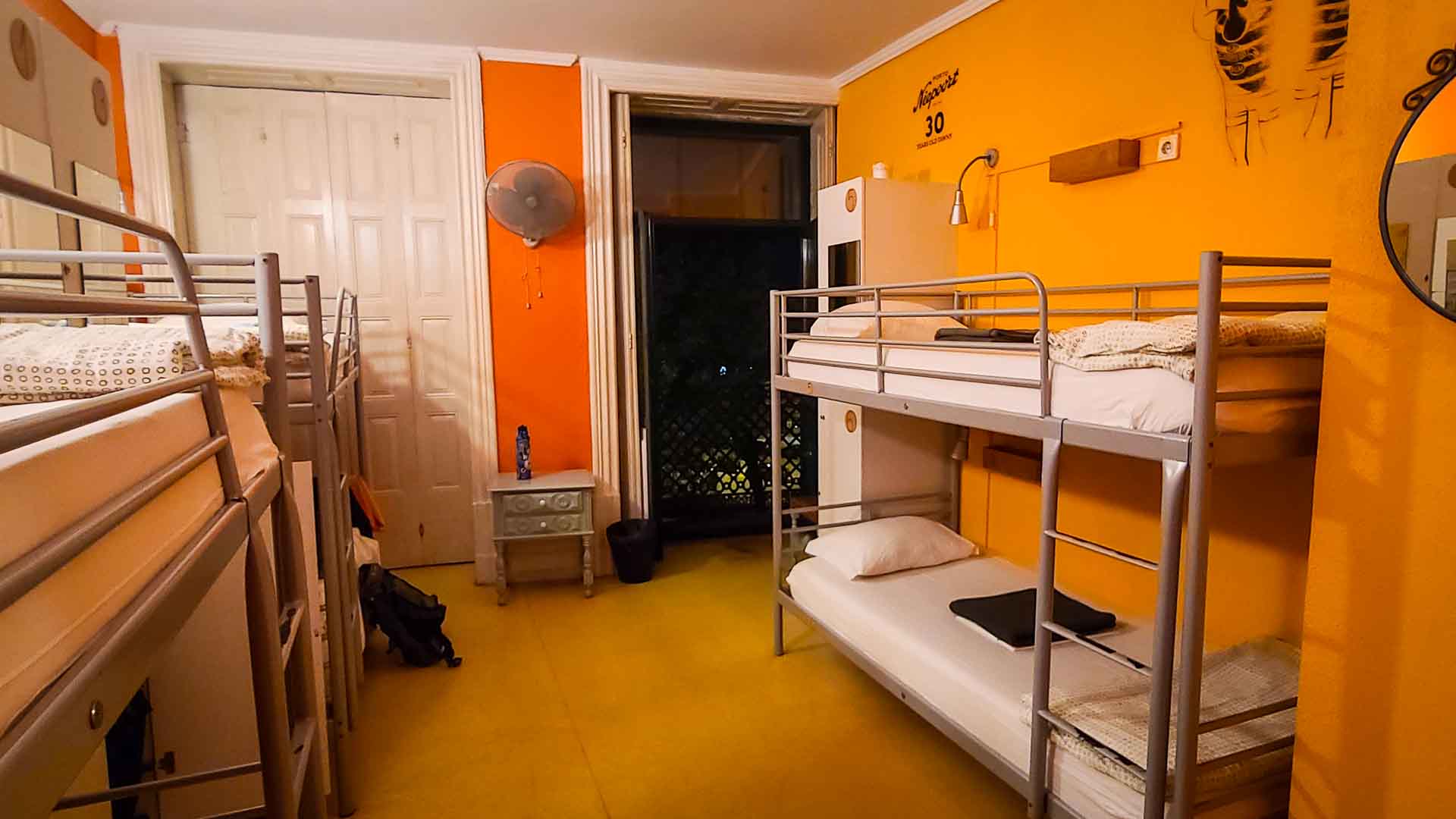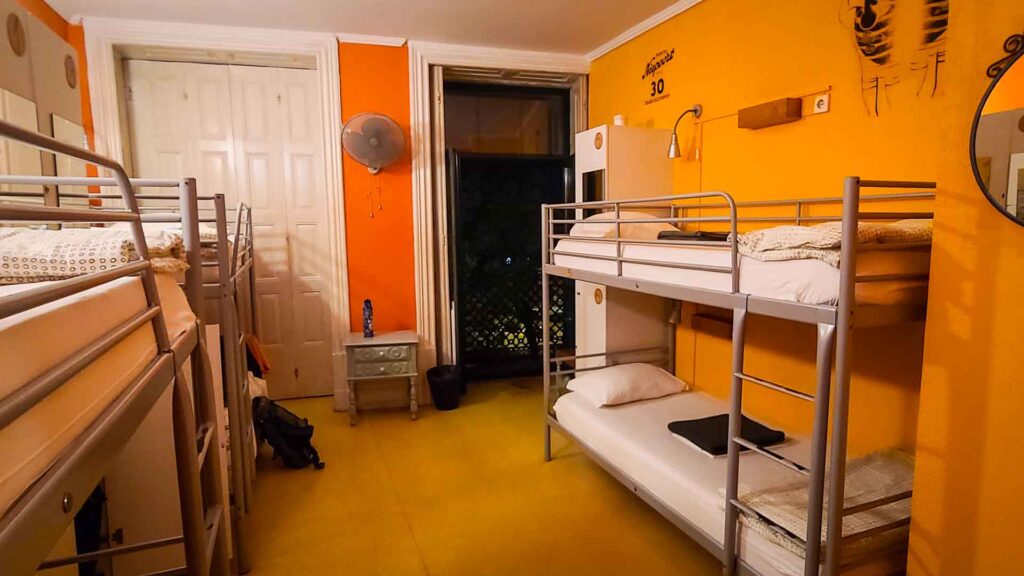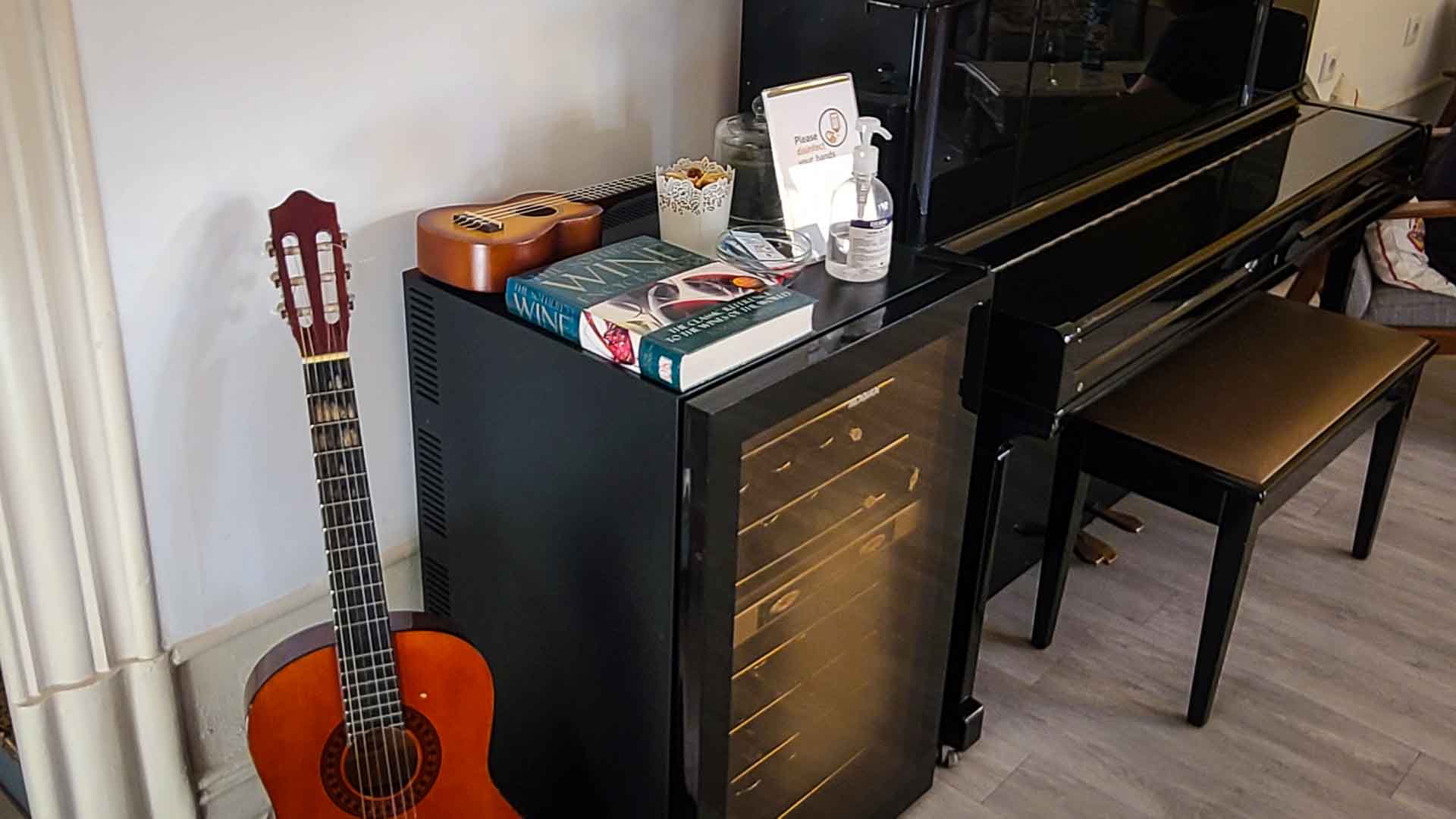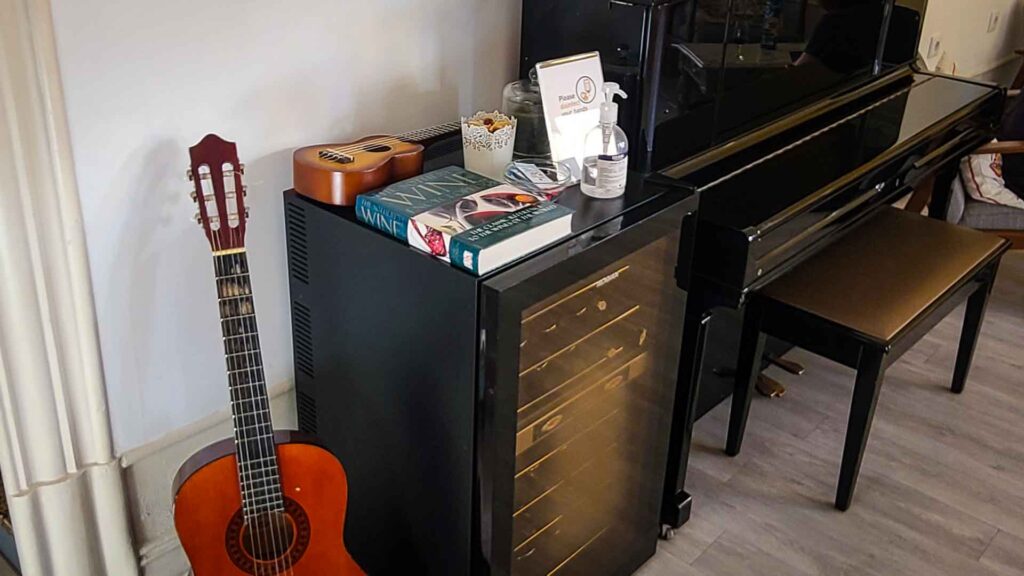 The Portuguese people are late-night partiers, so the big, beautiful city square in front of the hostel was loud late into the morning. But that just added to the atmosphere. My bed in a 6-bed hostel dorm room at The Porto Wine Hostel was about $20/night.
The Gallery Hostel in Porto
This hostel was anything but homey and quaint. The Gallery Hostel was exactly the opposite; more like a hotel than a hostel, complete with a baller restaurant on the lower level and a small but swanky bar right off the street.
Super clean and comfy dorm rooms at The Gallery Hostel in Porto, Portugal

Looking down on the kitchen and dining room at The Gallery Hostel in Porto

The kitchen, dining and my remote work spots at The Gallery Hostel in Porto, Portugal
The hostel vibe was…well…kind of sterile, but the people running the hostel and restaurant were super friendly. Had one of the most epic dinners with friends in the restaurant…when the power went out. Story for another time.
The wifi was fast, and the small but capable kitchen had huge tables for working at…all day if necessary. The beds were crazy comfortable and tucked and made "like new" every day at cleaning. The ensuite bathrooms were pristine, along with mechanical, code lockers to keep things safe.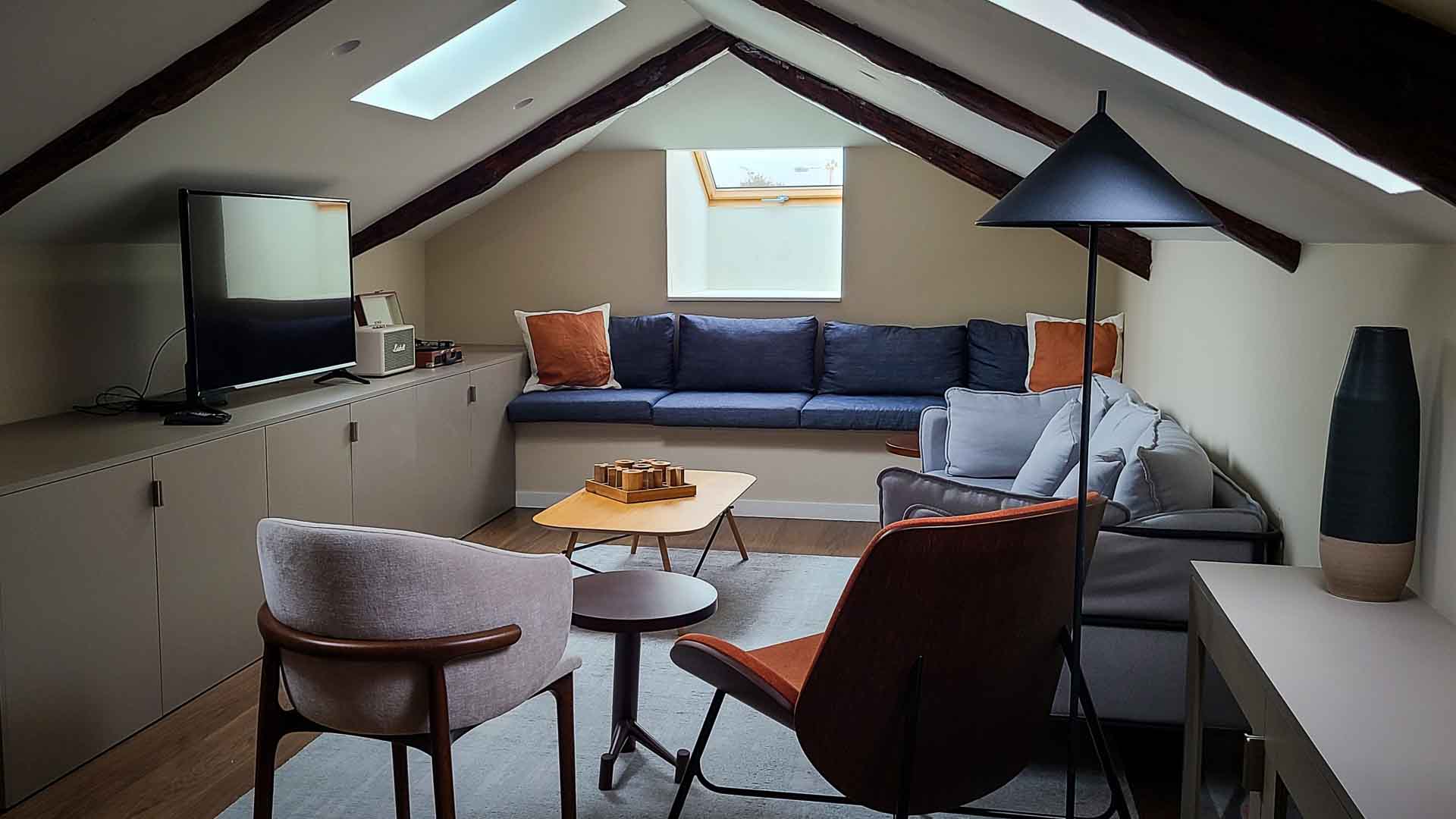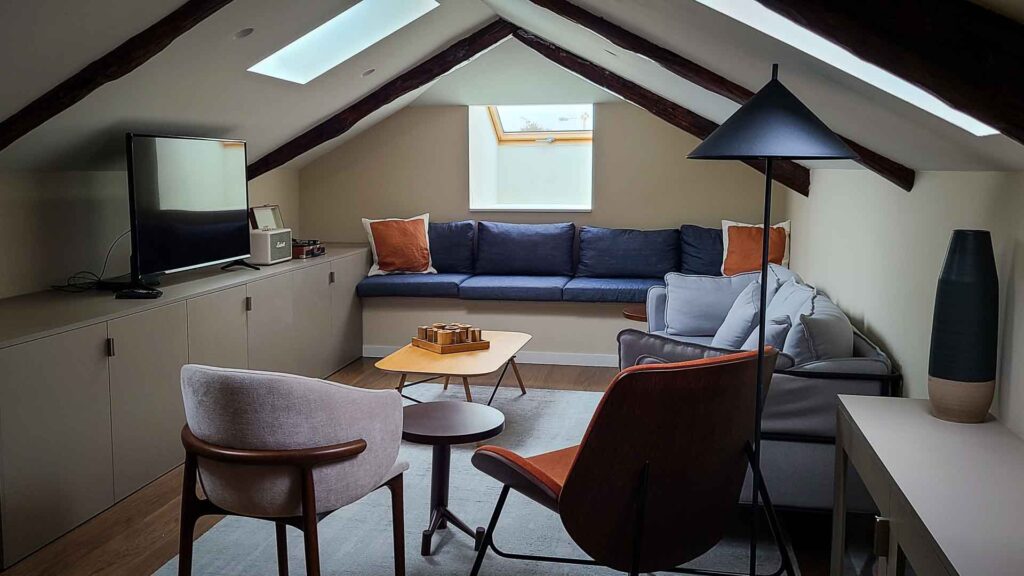 I stayed in dorm rooms at times, and another stay booked a 3-bed dorm with 2 friends, so we had it to ourselves. Highly recommend you bring friends or be outgoing, because there isn't much programming or community-building here.
My bed in a 6-bed ensuite dorm at The Gallery Hostel in Porto was about $24/night. That's not cheap for Portugal, but given the level of this hostel, it's way more bang for the buck than most backpacker hostels or more standard hostels.
READ NEXT: UPDATED: 18 Safe Traveling Tips For Newbies
The Lost Inn Lisbon Hostel
The Lost Inn Lisbon (and many other Lisbon hostels) was at home in an absolutely beautiful old building with easily 14-foot—often vaulted—ceilings throughout. Beautiful stairwells, hallways and dorm rooms. While the dorms were simple (hence no pics) most had curtains and they were filtered from street noise since it's on a side street away from the crowds.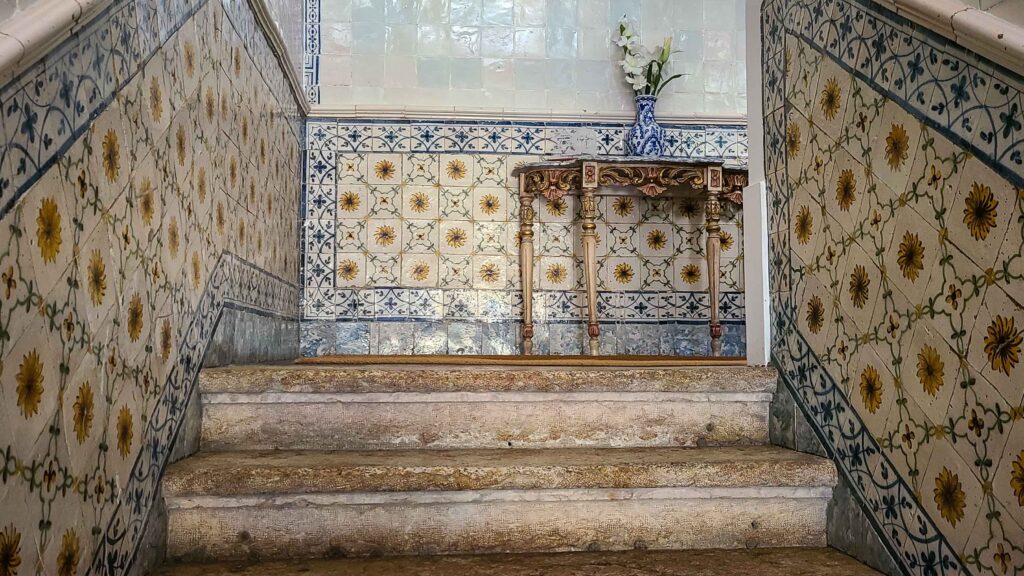 Each night there was free sangria for two hours at the small first-floor bar/check-in common area. After that, there was typically a soup dinner. Free breakfast each morning got the day started with a full stomach.
And no. Don't ask me to describe the ruckus. All things considered, The Lost In Lisbon was a really great hostel. Beds in a fairly basic 4-bed mixed hostel dorm room (with privacy curtains) start around $20/night.
READ NEXT: The LX Factory Lisbon: Epic Street Art, Murals, Sunday Markets, Music & Brunch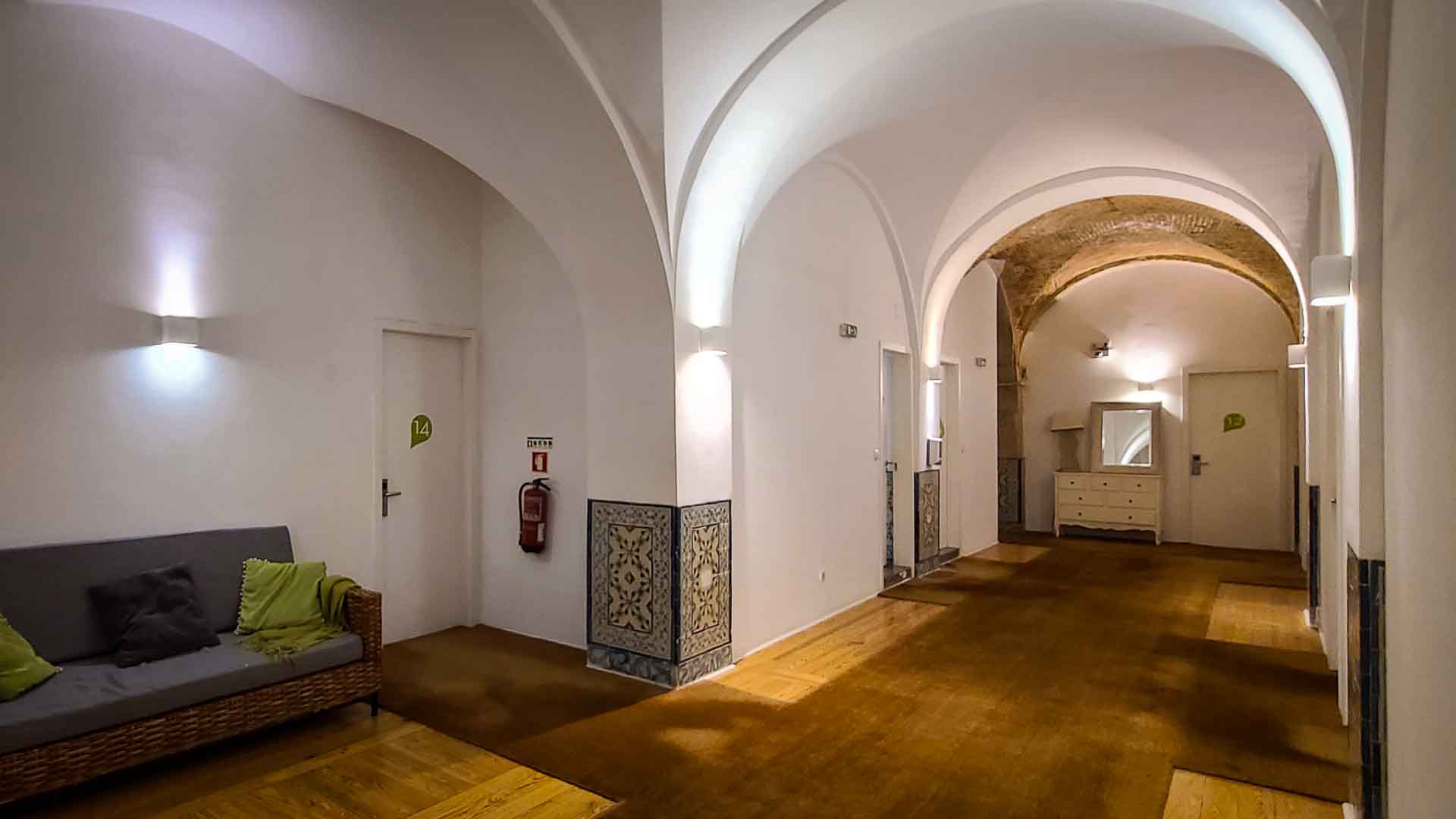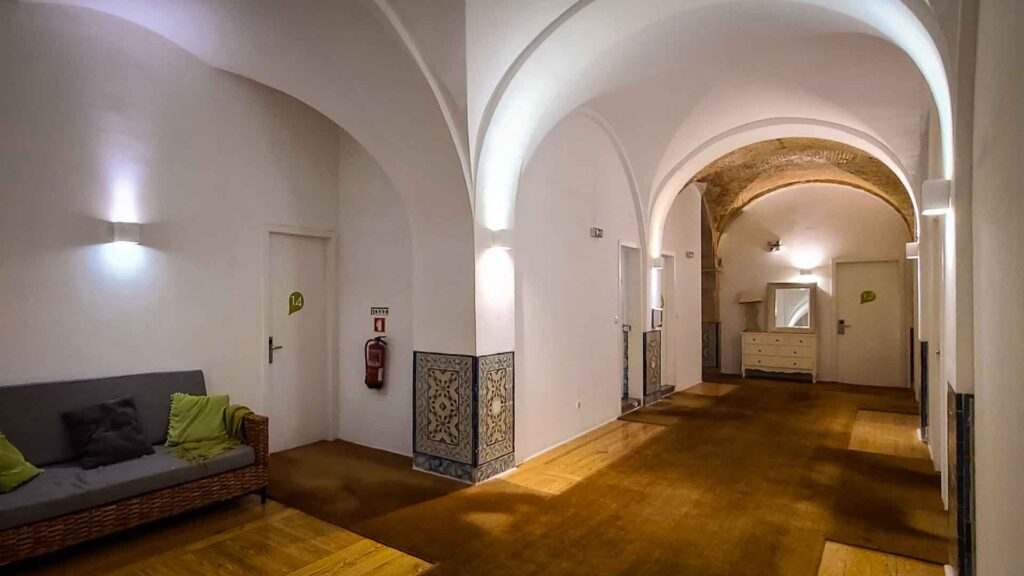 OK. Make sure you're subscribed to the newsletter to be notified when I update this list, as I'm sure there are loads more amazing hostels in the world to visit!
Cheers!
— Jason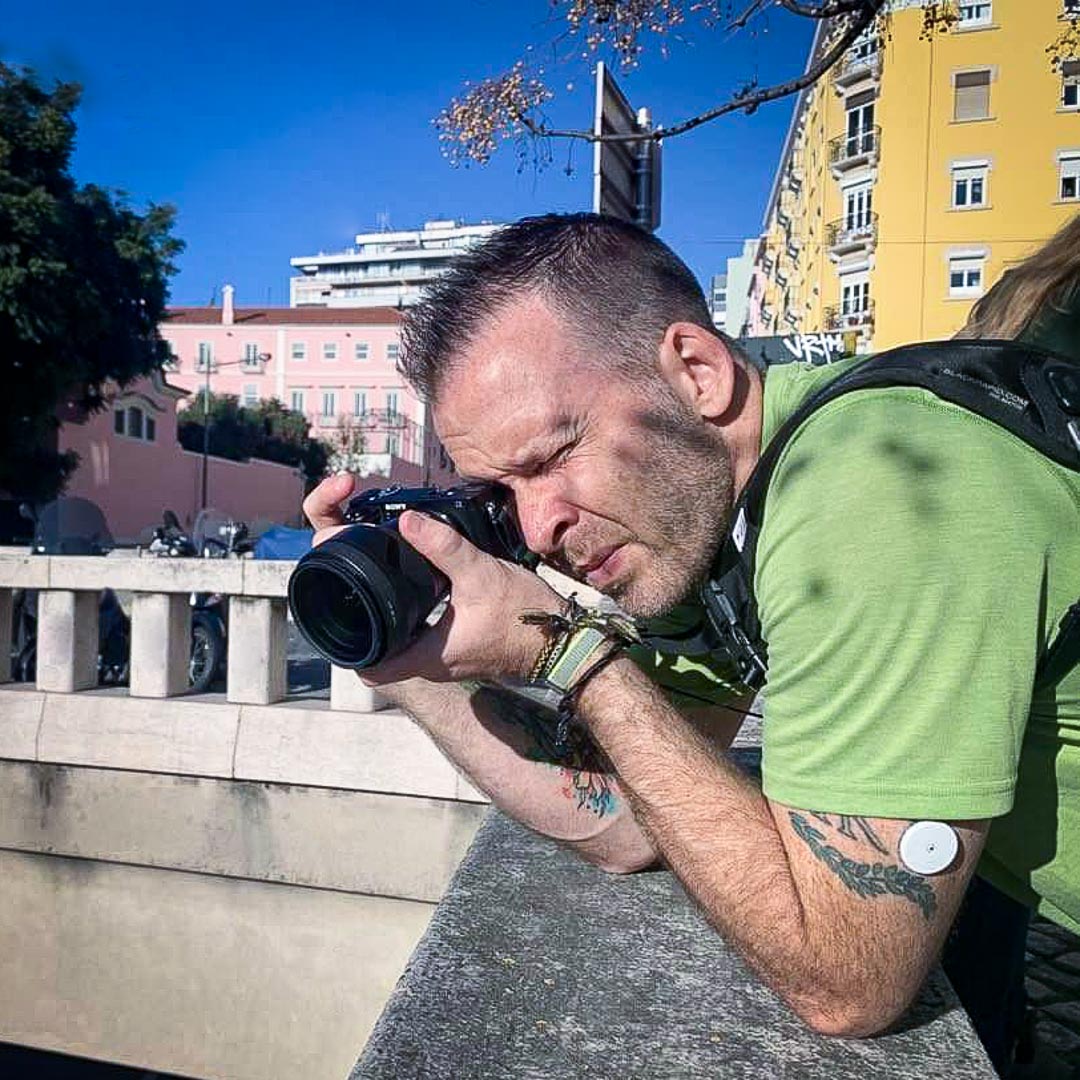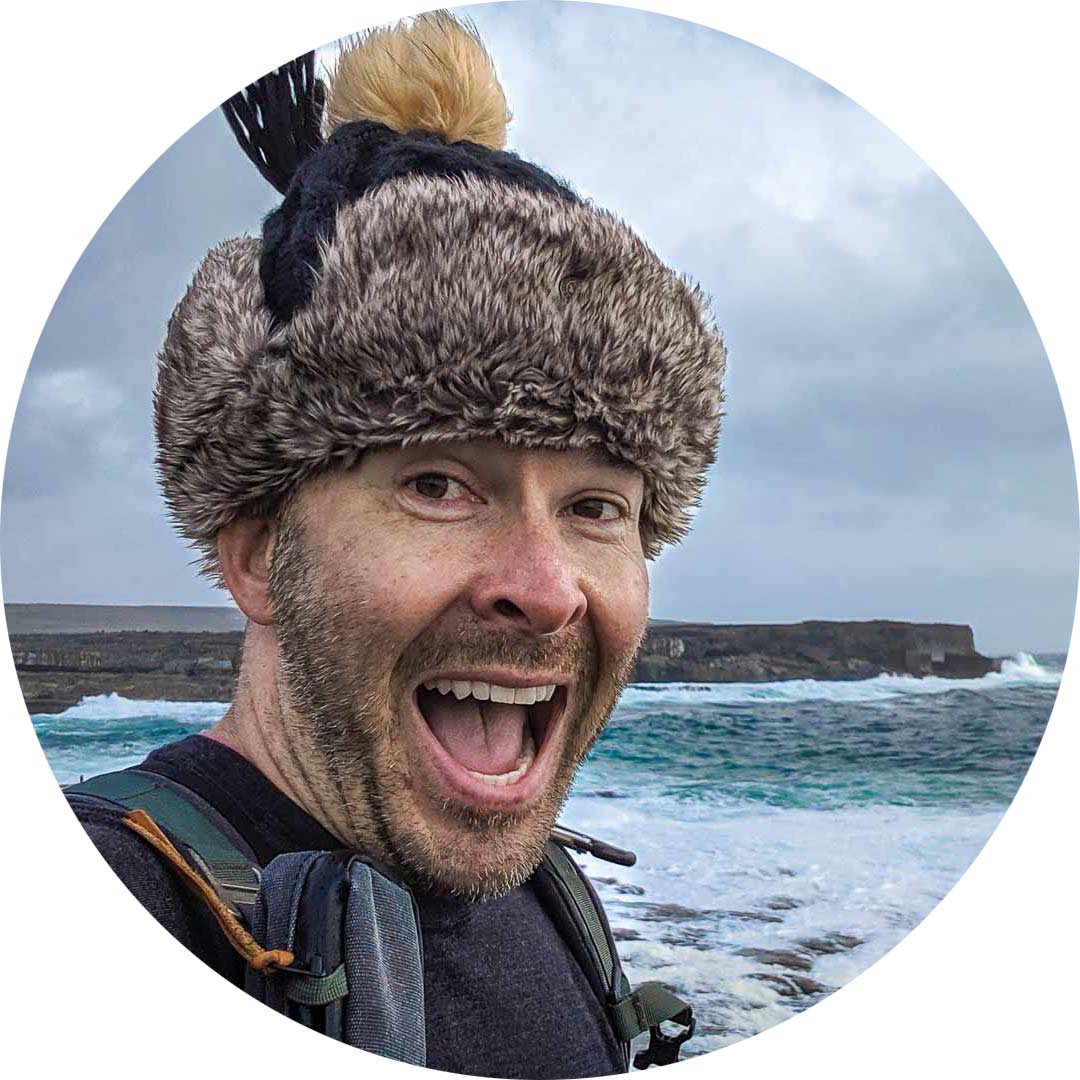 About Jason Robinson
Jason is the author of "The Beginner Traveler's Guide To Going Nomad," as well as the voice behind the words and the eye behind the lens for The Nomad Experiment. "Planning to travel at some point" wasn't actually getting the job done, so nearing 40 he decided to make it a priority, nomatter how scary that was. A few years later—through the pandemic and a type 1 diabetes diagnosis at age 42—now living a life of nomadic travel, he's speaking out to encourage others of any age, or with any serious medical diagnosis, to live an unconventional life.
Tough Love, Tips & Strategies To Help You Finally Kick-Start Your Travel Life…Or Go Full Nomad!
Been wondering how the hell all those digital nomads, location-independent travelers, and remote workers, travel "full-time?" Maybe you've thought about living that life one day, but you're really not sure where to start.
Beyond giving you the stepping stones to dive into short-term domestic and international travel, this book will show you how long-term travelers extend those tools, maximize their budgets, and turn weeks into months…or even years…of traveling the world indefinitely.