Romantic Guimaraes: Things To Do, See, And How To Travel In Guimaraes, Portugal
Guimaraes, Portugal: Slowing Down & Relaxing
If you're looking for a bit of a breather after visiting the bigger…and busier...city of Porto, then make sure you spend a couple of days and travel to Guimaraes. In Guimaraes, the city's charming "old town" centerpiece is nearly traffic-free. It's mostly accessible by alleys and walkways from the busier streets of the city outside. You won't find a free travel guide tour like in the bigger cities of Porto or Lisbon…but you won't need it in Guimaraes.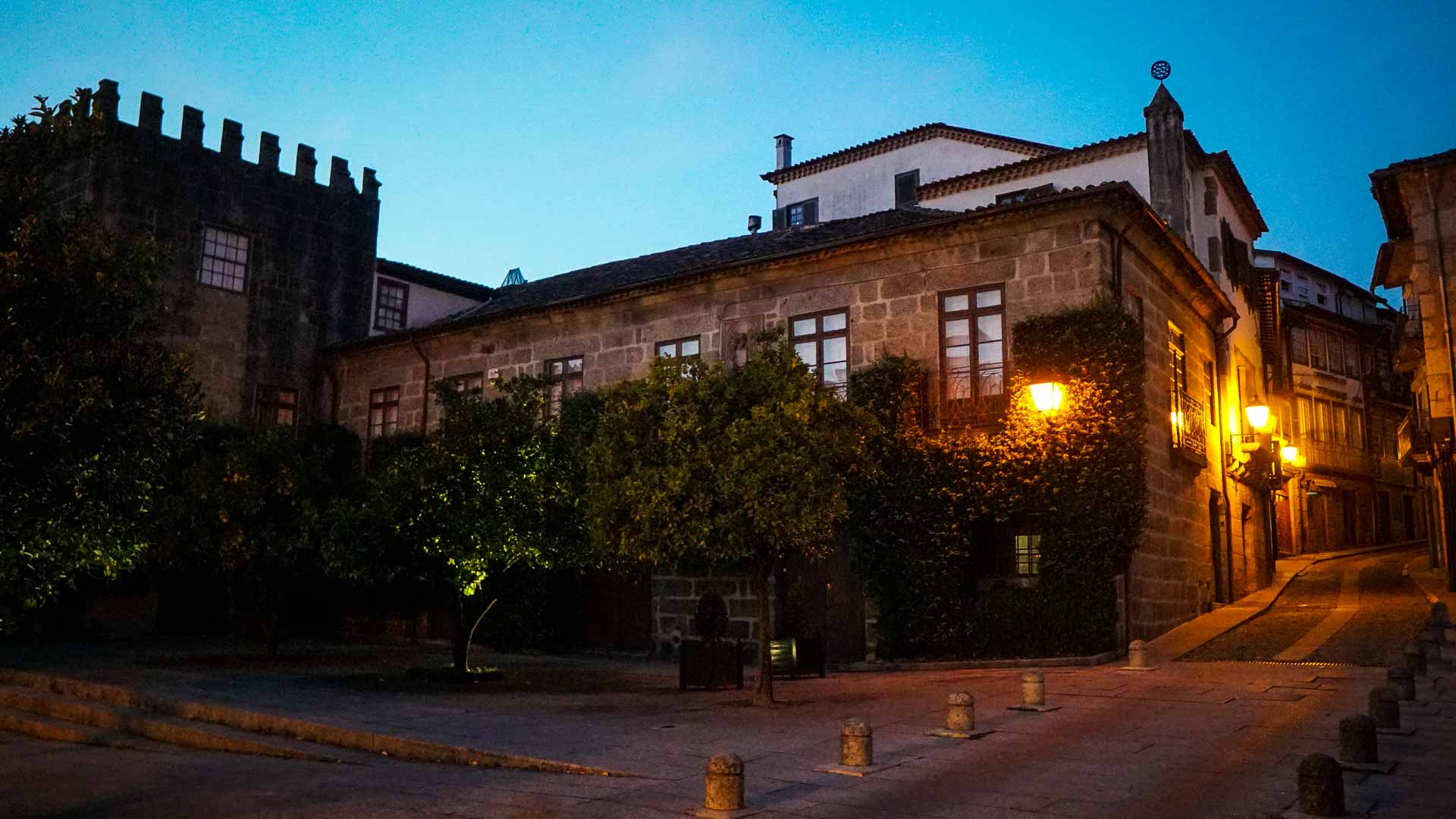 This site participates in the Amazon Services LLC Associates Program and other affiliate programs and may earn from qualifying purchases. You're never charged more, but it helps out little by little! Check out "Privacy" in the top menu if you need to know more!
The alleyways empty and the street lamps come on. Their reflections in the fountains and the shop windows change at night. Wandering through the historic stone walls of the city while reading the inscriptions on the monuments scattered throughout takes on a different tone.
Guimaraes has been listed as a UNESCO World Heritage site since 2001. It's often considered the birthplace of Portugal because the country's first king is believed to have been born there. From the churches and castles in and around old town Guimaraes to the unexpected footpaths surrounding the mountaintop Penha Sanctuary, you could easily spend 2-3 days…and nights…slowing down and taking it all in.
The Best Things To Do In Guimaraes, Portugal – My Top 5 Recommendations
Spend A Couple Hours Walking The Streets Of Old Town Guimaraes At Night
I know, I know. This seems obvious…but it's different here. Guimaraes is so charming and unique with something of a "self-contained" old town area. It feels quite different than others in Portugal and even throughout Europe. The narrow cobblestone alleyways, warm street lamps, echos from the church bells, and simplicity of the setting really do lend to just having a glass of wine and then wandering.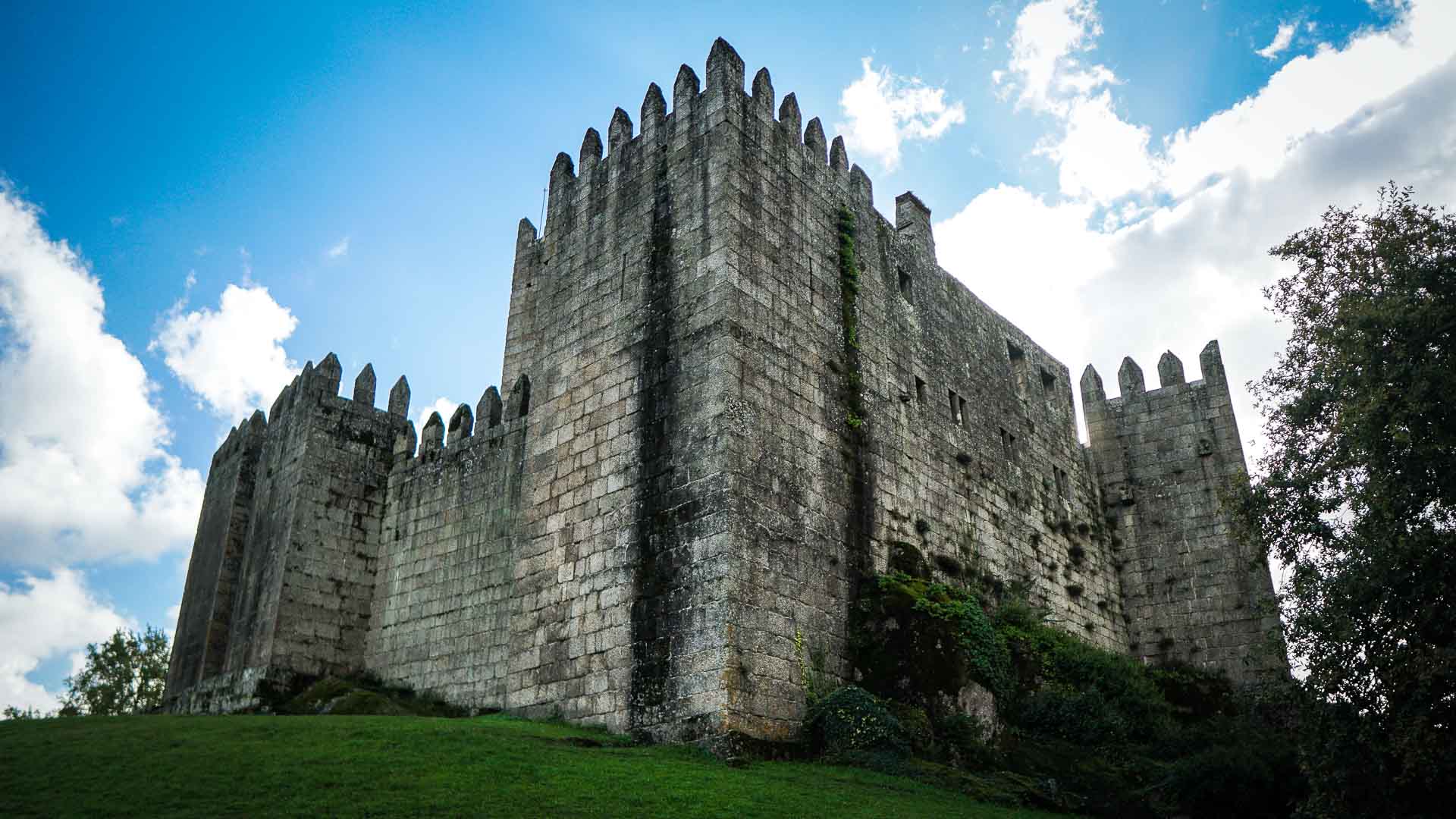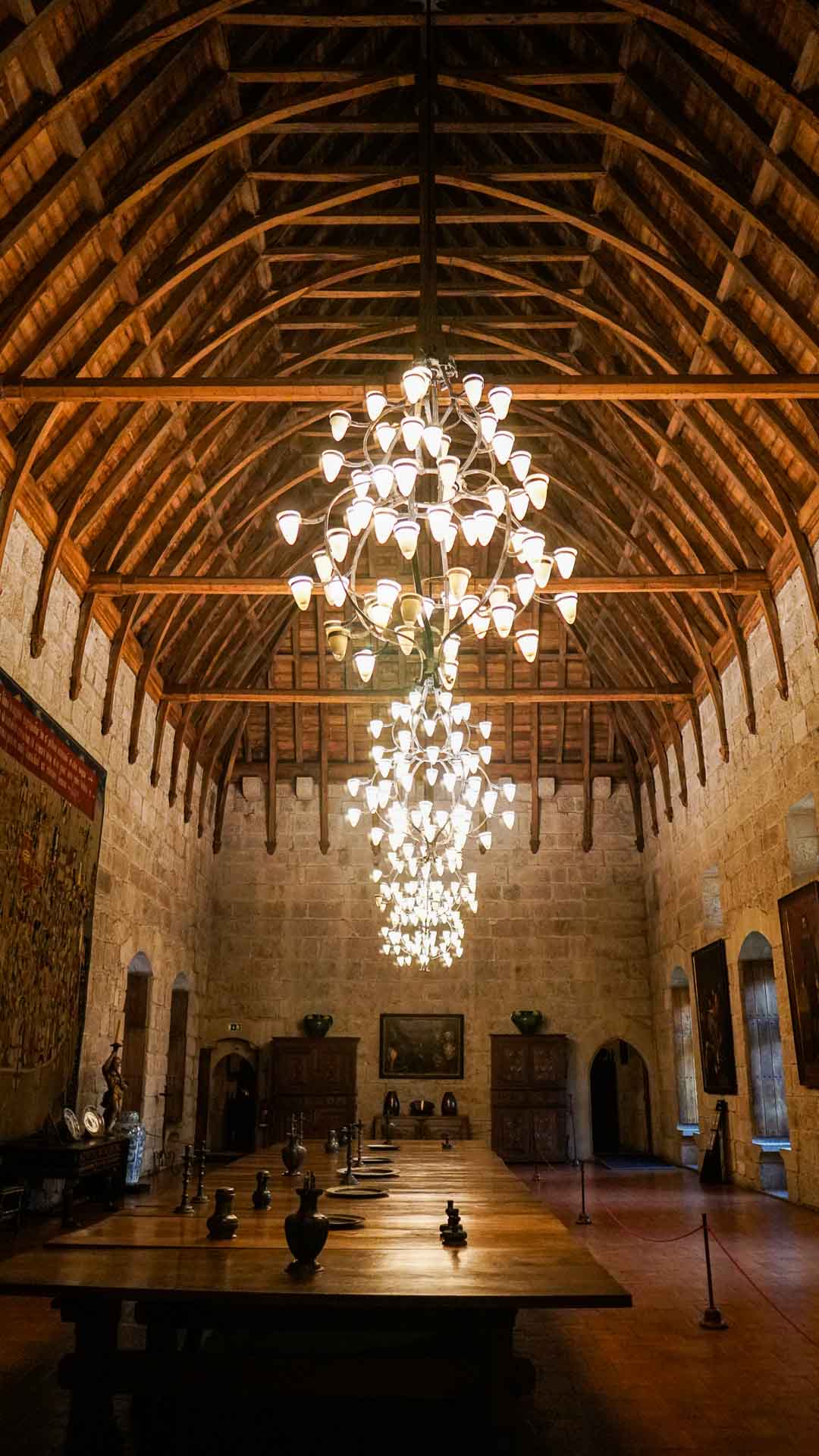 Visit Guimaraes Castle And Palace Duquesne De Branganca Museum
Perched on a hill overlooking the old town are the Guimaraes Castle remains and the contrasting, well-maintained Palace Duquesne De Branganca Museum. Exploring the castle remains might have you feeling like you've been transported to one of your favorite scenes in Braveheart or Game of Thrones. And the views of the city during golden hours are beautiful.
Stepping inside the museum you're greeted with epic wooden ceilings and structural components that are simply amazing. I know, you're probably all like "umm…really? Wood ceilings and structural components? WTF Jason!?" But trust me, when you imagine sitting at a giant wooden table made for 20-30 under that grand ceiling 30-40ft above you, you're transported.
I suggest buying the €8 combined ticket for these two and the Museu de Alberto Sampaio in old town. Or get a full "skip the line" tour with pickup and a guide!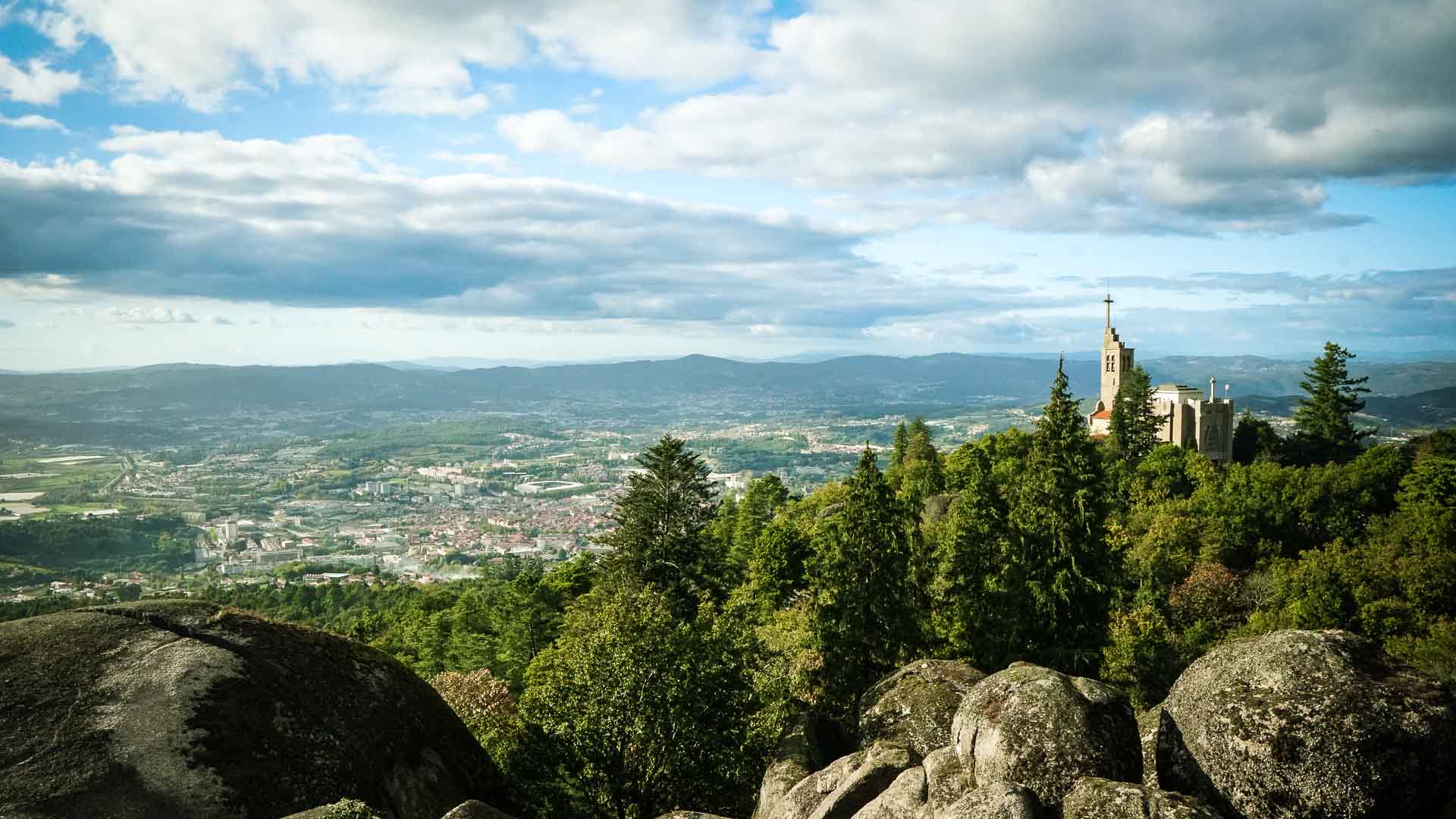 Ride The Penha Cable Car To The Penha Monastery And Walk The Unexpected Labyrinth Of Trails In The Parque Campismo Da Penha
This was a surprise. I had seen images of the modest monastery on the top of the hill, but it's what surrounds it that I wasn't expecting. Surrounding the monastery is a huge, meandering network of trails, picnic tables, and roads called the Parque Campismo Da Penha.
This is another place to take your time to enjoy. Work your way up to the top of the trails for the most epic view of Guimareas. The cost for the Penha cable car is €7 round-trip, but make sure you check the hours so you don't get stuck up top!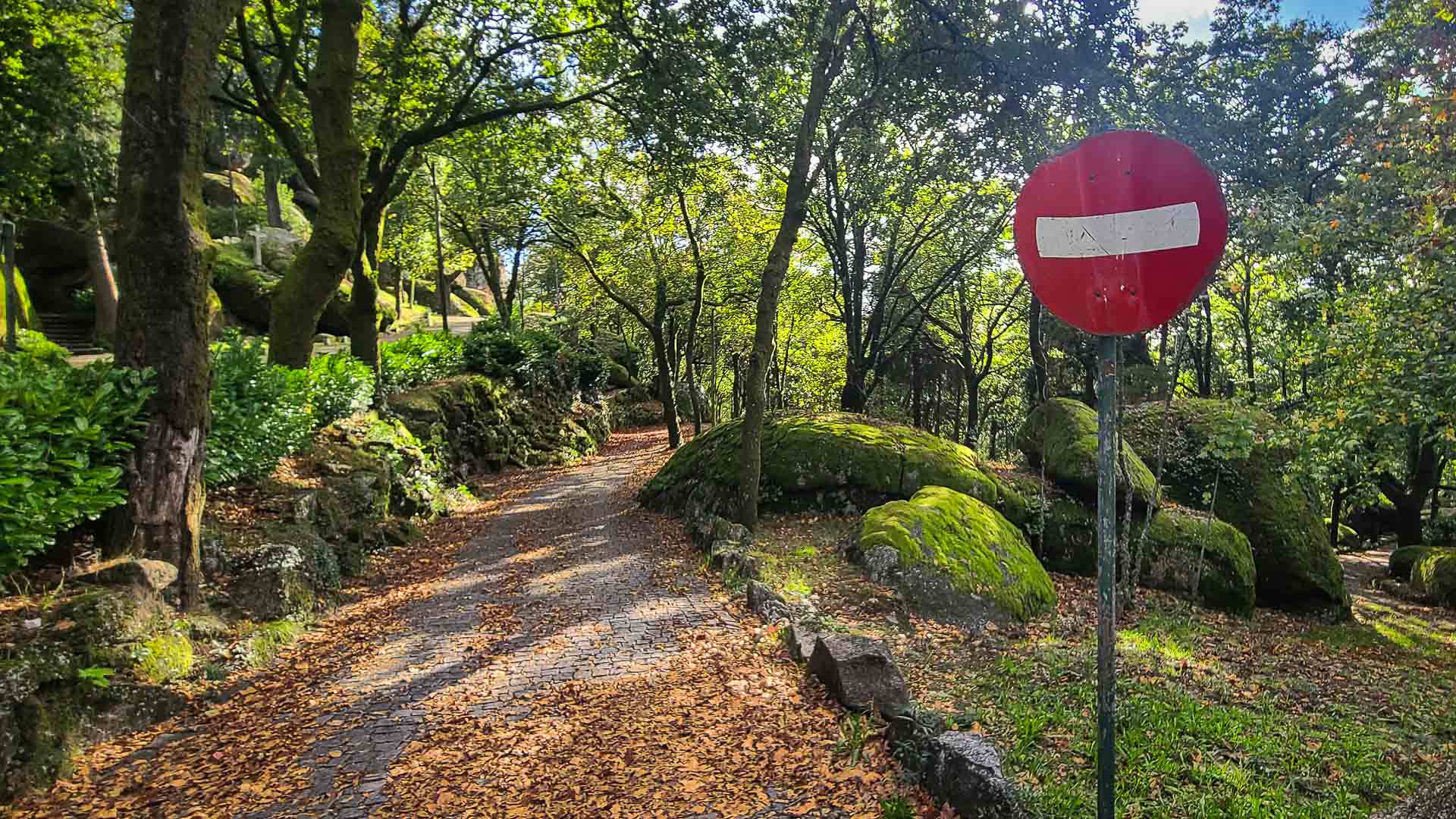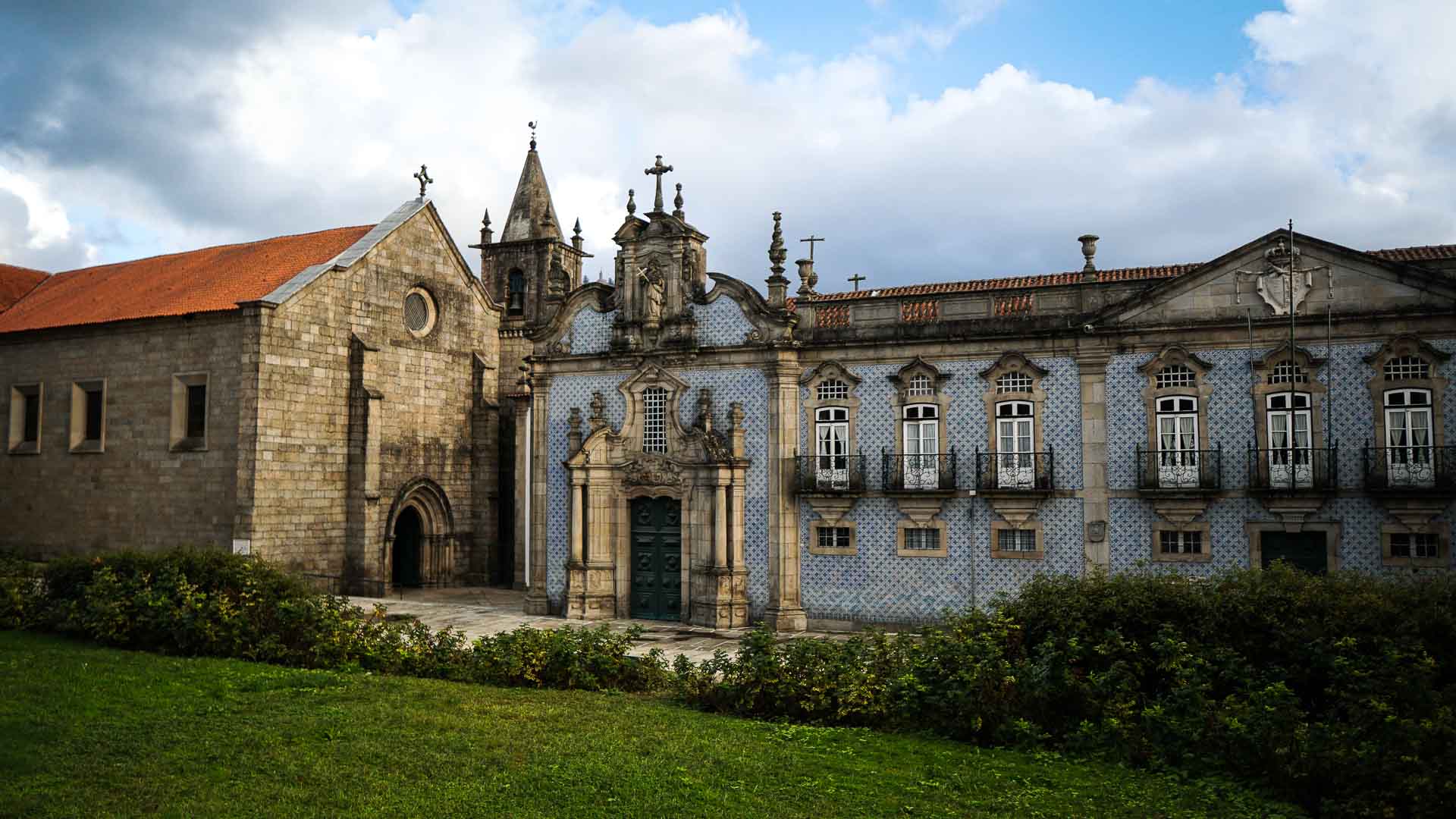 Take In The Beautiful Blue Azulejo Tiles Of The Capela De Sao Francisco
The building next to the church has one of the most beautiful blue azulejo exteriors I've seen in Portugal, and that's a high bar. But stepping through the gothic gateway into the church introduces you to a beautiful mixture of wood and gold balanced by blue and white azulejo tiles. Intricate is too simple of a word to use. It's overwhelmingly complex in appearance, which seems to elevate the emotion of taking it all in.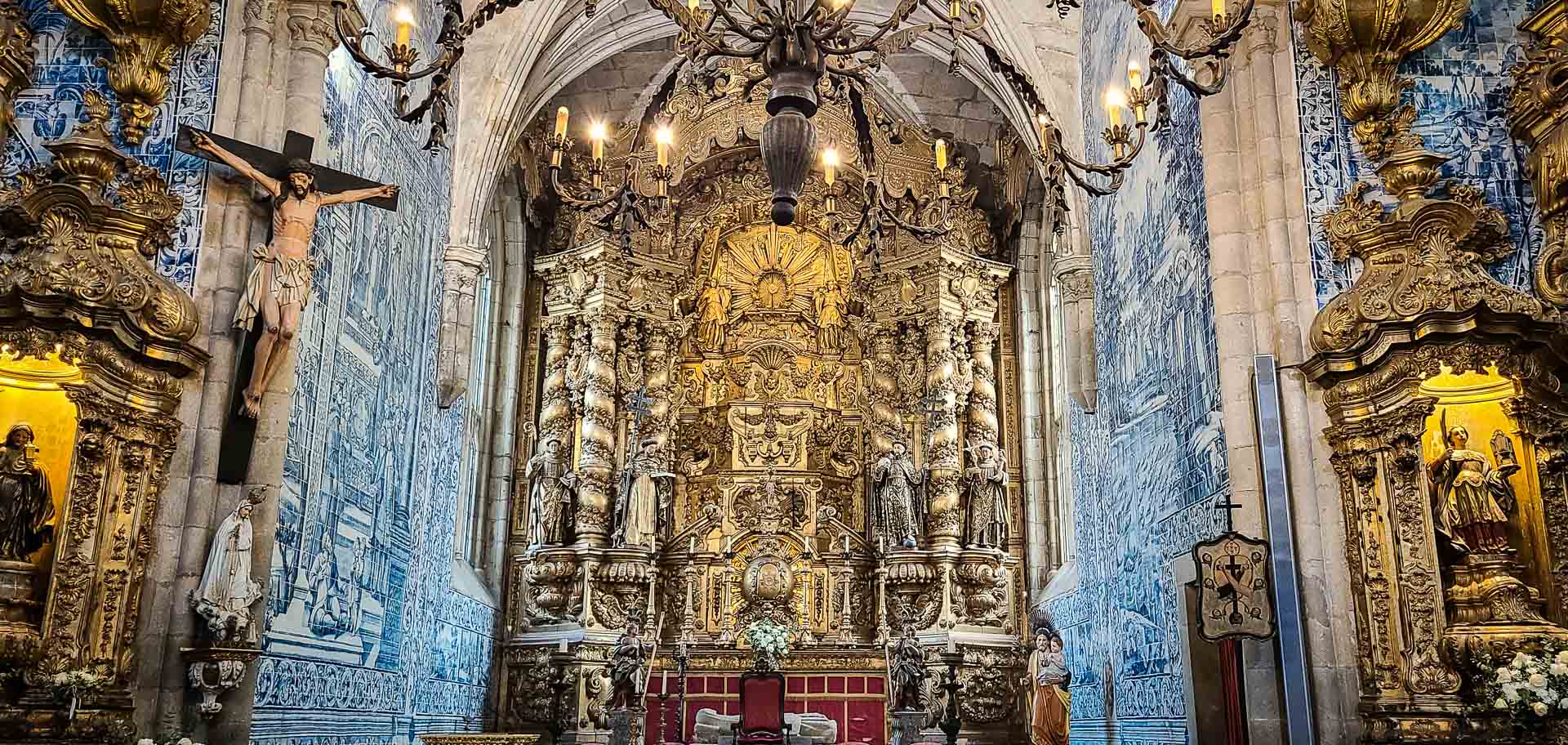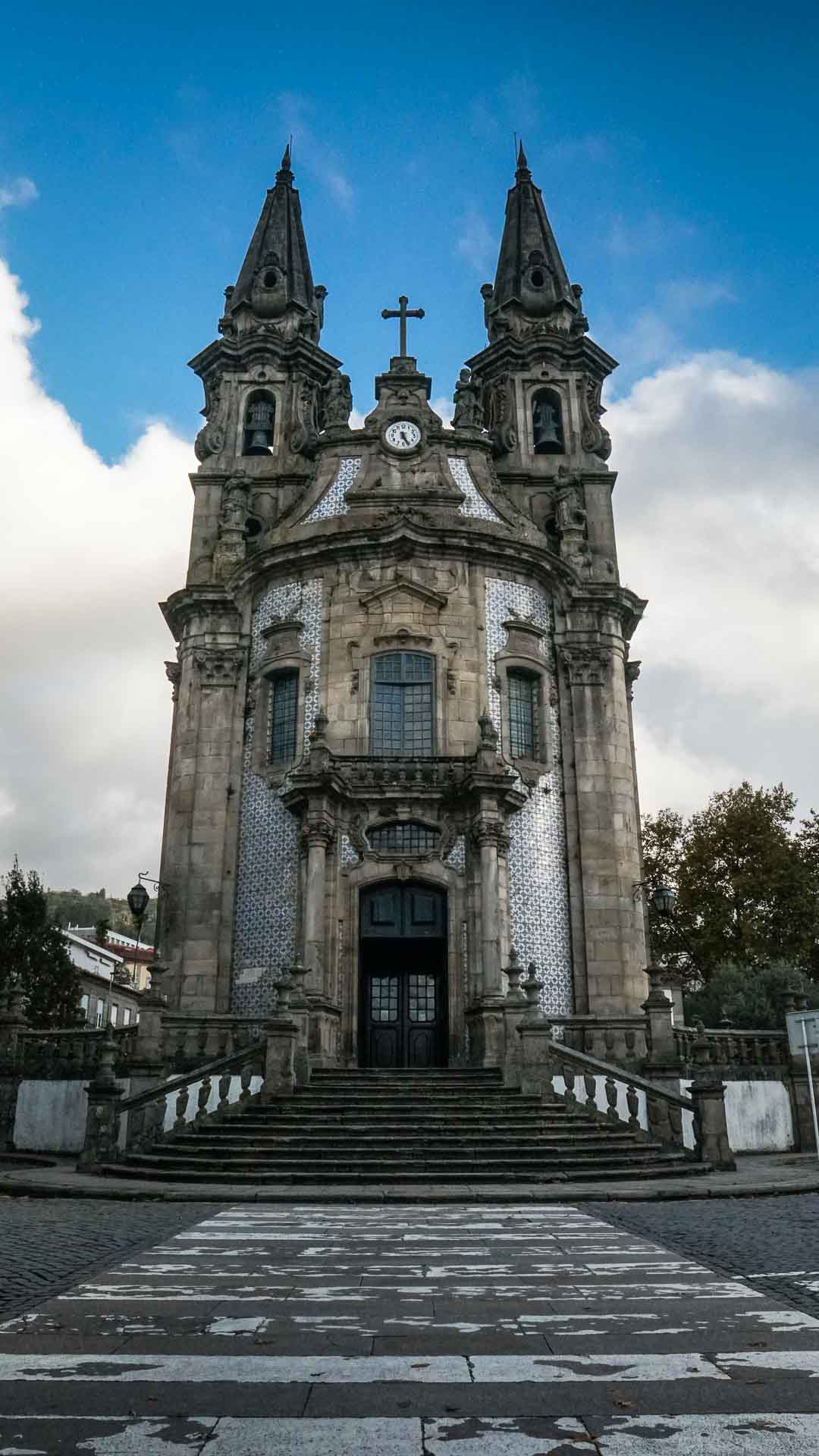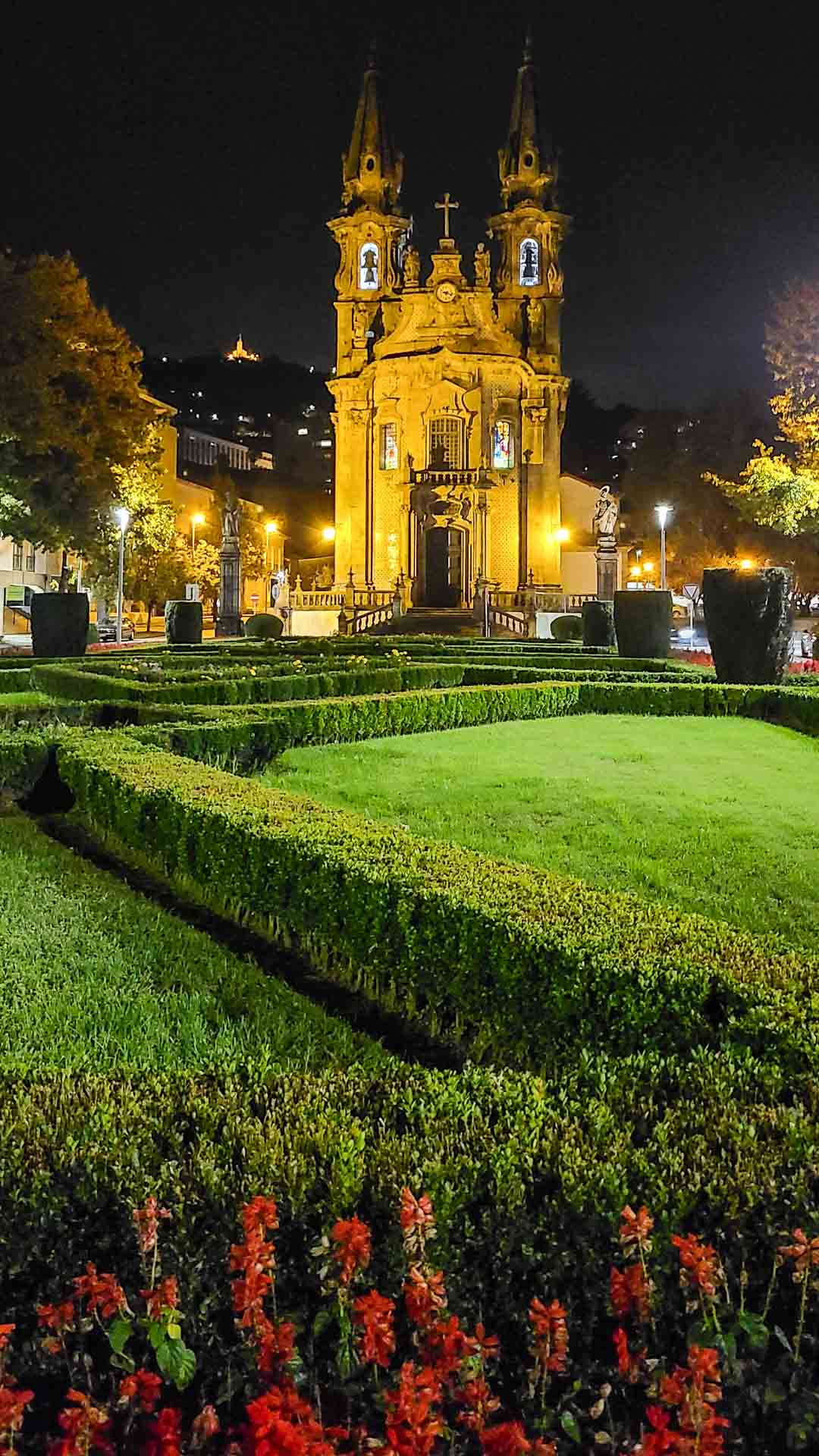 Photograph The Jardim Do Largo Nissan Sephora Do Brazil And Igreja E Oratorios De Nossa Senhora Da Consolacao E Santos Passos
If you visit in the summer or warmer shoulder seasons, you'll be treated to the beautiful gardens in front of the church. Take a moment at the top of the gardens near the fountains and then walk down to see the church up close. 
It's all gorgeous whether day or night, but if you don't like dodging cars, you must visit in the evening. After 7/8pm, traffic dies and the lights pop on the church. Bonus points…and epic pics… if you travel to Guimaraes during a full moon cycle like I did!
Guimaraes Travel Guide – Other Things To Do In Guimaraes, Portugal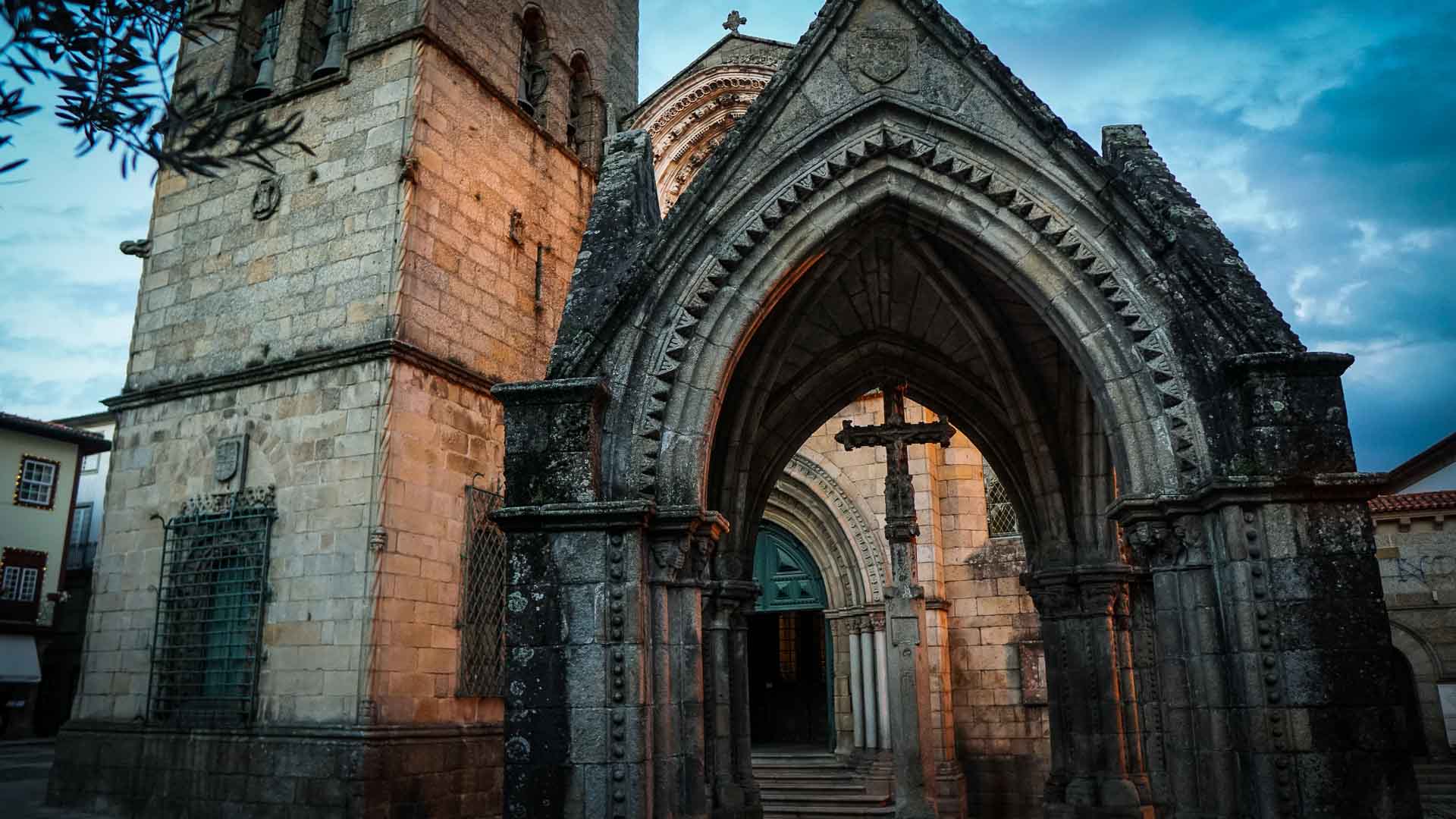 Walk Underneath Padrao Do Salado And Glance Inside Of Igreja De Nossa Senhora Da Oliveira
Don't worry, it's impossible to miss this if you're in old town Guimaraes. It's literally in the center of old town where loads of (touristy) restaurants flood the square with outdoor seating. But it's pretty rad to be able to be so close to a piece of history—built to commemorate battle victories—that seems just randomly dropped in the middle of daily life.
Glance inside the church, and if you bought the combined ticket for Guimaraes Castle and the Palace Museum, you can visit the Museu de Alberto Sampaio just around the corner. That's where you can see this small courtyard behind a beautiful Art Nouveau inspired iron gate:
Explore Behind The Palace Duquesne De Branganca Museum
This is another one of those stumble-upon moments you aren't going to find in any old Guimaraes travel guide. As usual, I was searching for the magic spots. Banking on forgiveness instead of permission if I took an errant turn. But where I ended up was completely open to the public, but just off the beaten path enough to not have a soul in sight. If you're facing the entry to the Palace, simply walk around the back and start exploring.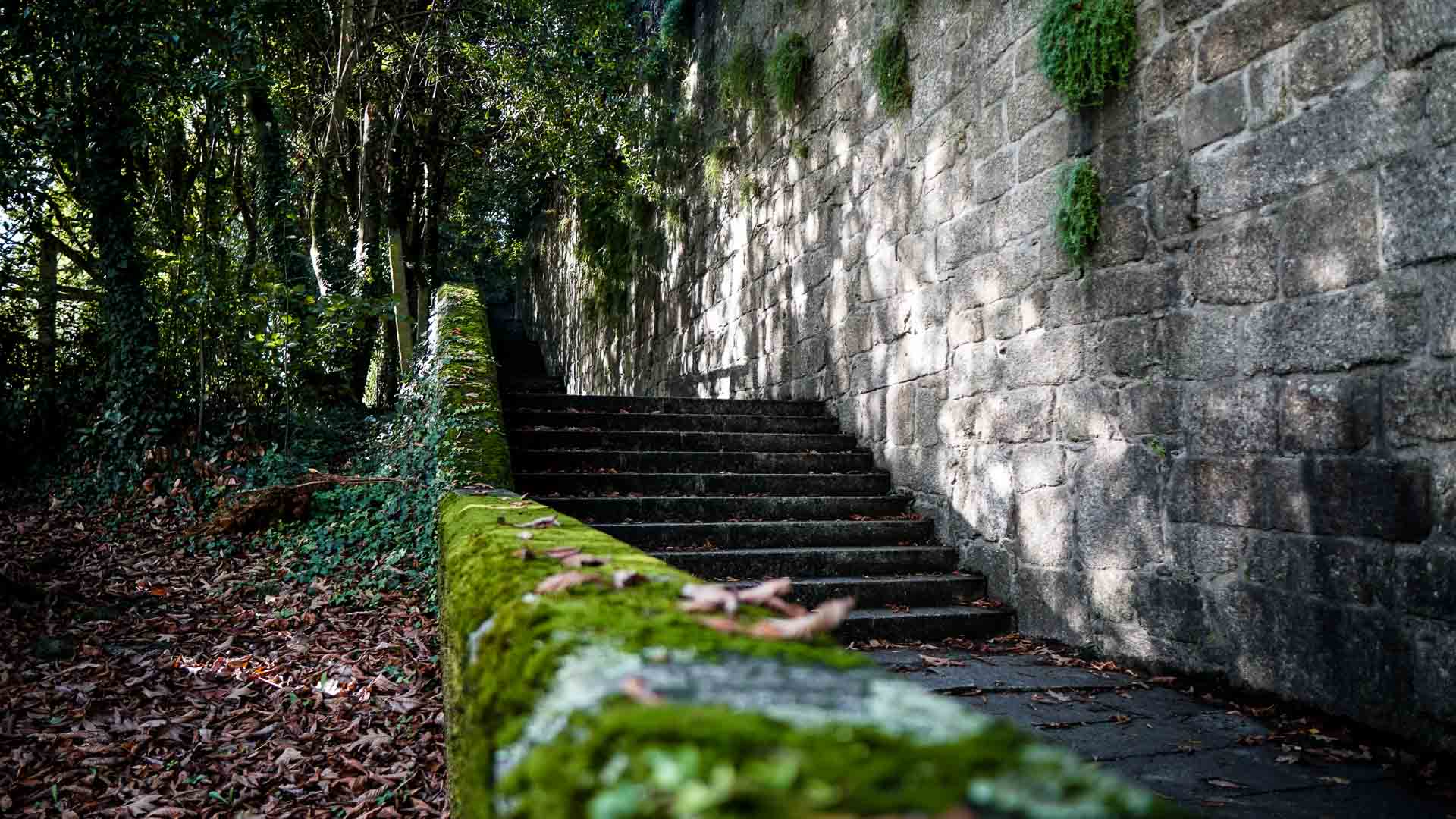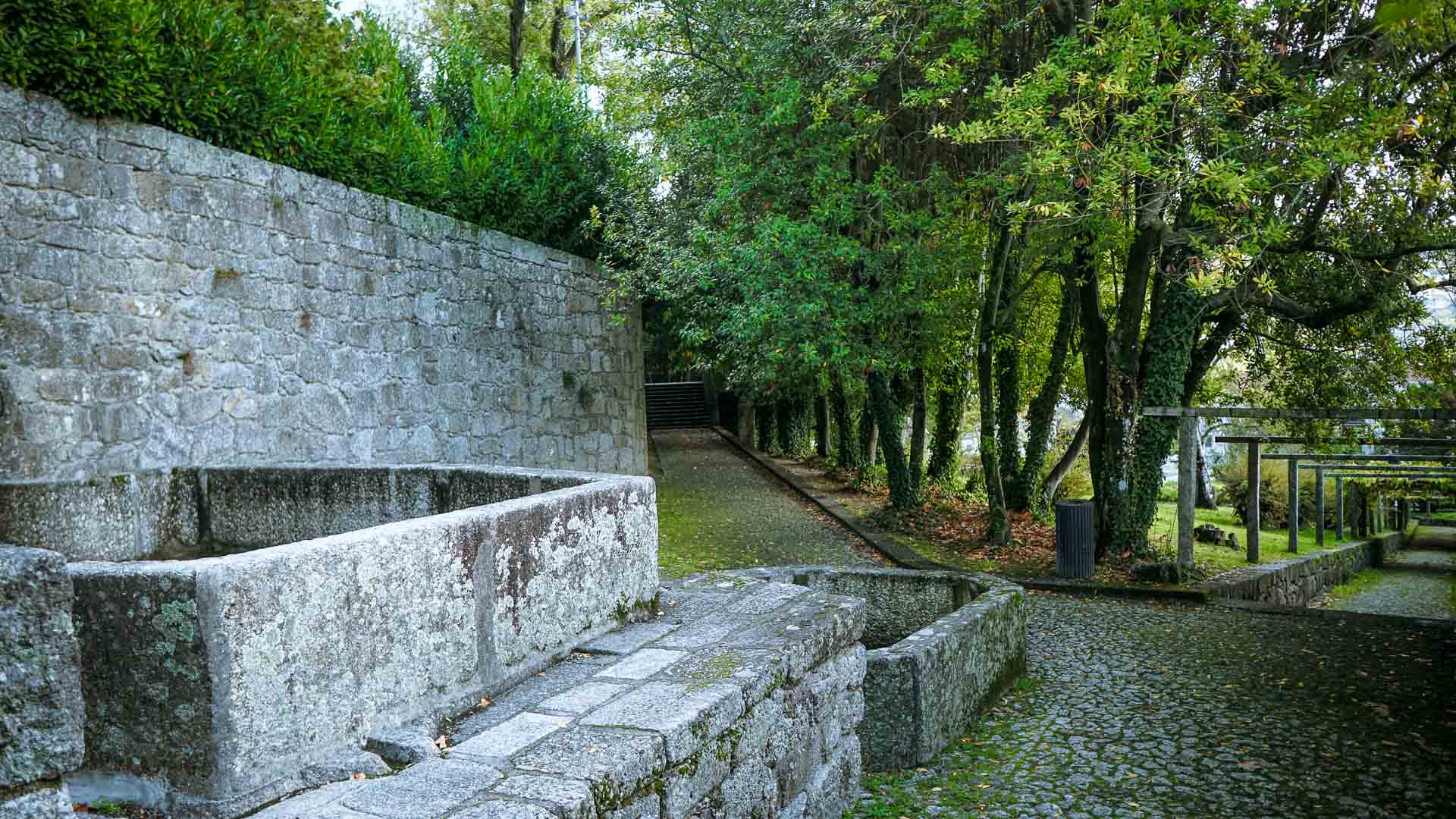 Search For The Five Remaining Chapels Of The Steps Of The Passion Of Christ Oratories In Guimaraes
Up for a bit of a religious scavenger hunt? Tucked into five small cabinet-styled oratories throughout Guimaraes are devotions to the Passion Of The Christ. If you're not looking for them, you might miss them. But they're quite unique to spend a few minutes appreciating, regardless of your religious beliefs.
Go Shopping In Old Town Guimaraes
Just like most old town tourist centers throughout Europe, there is some serious shopping to be done in Guimaraes. If that's your jam, you won't be disappointed. Even if you're not looking to spend, there are some great places to window-shop or just peruse the goods. Do make it a point to patronize the small bakeries while you're making your rounds though.
Check Out A Bad-Ass T-Shirt / Pop Culture Shop
If you need a nerd fix comprised of wookies, Scranton references, legos, or wizard's wands, check out Tee Legend – "T-Shirts for Geeks, Nerds & Jedis." They also have a shop in Porto. If I didn't travel carry-on only, I would have bought all the things…

Getting Around Guimaraes And Traveling Around Portugal
Guimaraes is extremely walkable, and the old town is small and flat. Outside of old town it gets a little hillier. And there are cobblestones galore, so I suggest leaving your stilettos at home. Ubers are available, as are taxis and even scooter sharing from companies like Bird and Circ. The buses are also very clean, safe, and cheap. Countrywide, the Comboios De Portugal trains are simple between big cities, and everything else is connected by multiple bus routes. All are usually very inexpensive for standard fairs.
Typical Spending Costs, Travel Styles and Budgets for Guimaraes
I'm a budget travel nerd and tend to target traveling internationally for an average of about $30-60 a day, all in. Of course, you can travel cheaper than that, or the sky's the limit. I was able to average about $50-60 a day in Portugal, and Guimaraes was no different. Actually, things were definitely slightly cheaper in Guimaraes than Porto, in my opinion.
A bed in a 4-6 bed hostel dorm runs about €15-25. (Never stayed in a hostel? Read this!) Fantastic sit-down meals at most non-bougie restaurants run €7-15+. And a glass of good port, table wine, or draft beer at those restaurants usually starts at about €2. Credit cards are widely accepted, but carry some cash for the smaller joints, especially in Guimaraes. ATMs are readily available, but make sure they're attached to a reputable bank and not a Euronet ATM.
| | |
| --- | --- |
| Glass of cheap wine or beer while out in Guimaraes | €2-3 |
| Hostel bed in 4-6 person dorm | €15-20/night |
| Local bus or around Guimaraes | €1-3 |
| Simple sit-down dinner w/ wine/beer | €7-16 |
| Church or Museum entries fees | €3-10 (or free) |
The Hostels In Guimaraes
The hostel offerings in Guimaraes are slim compared to many of the bigger cities in Portugal. I stayed at the Santiago 31 Hostel, a small, quaint spot right in the center of old town Guimaraes. While it's a fairly basic hostel, they have a well-equipped kitchen, clean and spacious bathrooms, a relaxing common area, and they supply a simple continental breakfast. Santiago 31 Hostel also has many private rooms available beyond the dorm options. And the folks that run the hostel are truly kind and helpful.
There are hundreds of hostels throughout Portugal. You can filter by rating, location, amenities, cost, etc., here.
RELATED: The Best Hostels I've Stayed At…& Why They Make The List
Travel To And In Guimaraes, Portugal: Travel Basics & Important Logistics
Most of these topics are covered in depth later in this travel guide. But here are the nitty-gritty details you need to know before you plan your trip and travel to Guimaraes, Portugal.
Where Is Guimaraes, Portugal? The country of Portugal is located on the western coast of Europe. Well, more specifically it's kind of tucked into the western coast of Spain. It's one of the closest European countries to the US while only a couple hundred miles from Africa. Guimaraes, Portugal is 30+ miles from both the Atlantic coast and Porto, which is likely your starting point to get to Guimaraes.
Weather, Altitude & Relativity To The Equator: Guimaraes is only about 30+ miles from the Atlantic coast at around 550-650ft above sea level, on a similar longitude line as the US. But Guimaraes is actually located in a valley, so temps can swing cooler. Average highs and lows throughout the year are between 40-80°F.
Portugal Travel Seasons: Peak travel months in Portugal are generally June-September. The travel shoulder seasons are considered April-May and October-November. January-March are considered the low/slow season for travel to Portugal, but it's still sunny, just a bit chilly for the beach or a dip in the ocean.
International Airports In Portugal: Lisbon, Porto, and Faro are the most frequently used, but there are also international airports on the islands of Madeira and Ponta Delgada.
Travel To And Around Guimaraes: The closest main city to Guimaraes is Porto, a simple and cheap train ride away. Guimaraes itself is extremely walkable, but there are also public buses, taxis, and ride shares available.
Plugging In, Spending Money, And Personal Concerns
Electrical Outlet/Plug Type: Type F "Schuko," so get an international adapter like this one.

Currency: The Euro is used throughout Portugal, and most businesses are happy to take credit cards for anything over €5. But carry cash just in case, especially in smaller cities like Guimaraes. Some of the best places are small, off-the-radar mom and pop spots, and they'll sometimes need to take cash to avoid the excessive fees of accepting cards. (You might want to ask before ordering!)
RELATED: UPDATED: 18 Safe Traveling Tips For Newbies
Tipping: Tipping at restaurants is not expected throughout Portugal. But as usual, if you receive kind, great service, you should give a little extra.
Budget Allowance For Different Traveler Types: Portugal is the least expensive country in western Europe. Budget travelers (like me) can live it up in hostels for €50-60/day, which includes food, tours, etc. Obviously the budgets can go up from there depending on your style, and if you plan to drop mad coin hitting up bars and clubs at night.

US Passport Holder Entry Time Limits: Portugal is part of the Schengen Zone, a group of European countries that allow most US passport holders to visit the country for 90 days every rolling 180 days. If you want to stay longer, you'll need to look into long-term visas.

Vaccinations: You can find out more here, but there aren't any out of the ordinary for US citizens.

Can I Drink The Tap Water In Portugal? Yes. It may not be the absolute tastiest, but it's definitely safe to drink.

LGBTQ+ Concerns: Portugal is considered medium/high on the equality index. I can happily say that free love and expression were obvious with both locals and tourists as I traveled throughout Portugal. (rating by https://www.equaldex.com/)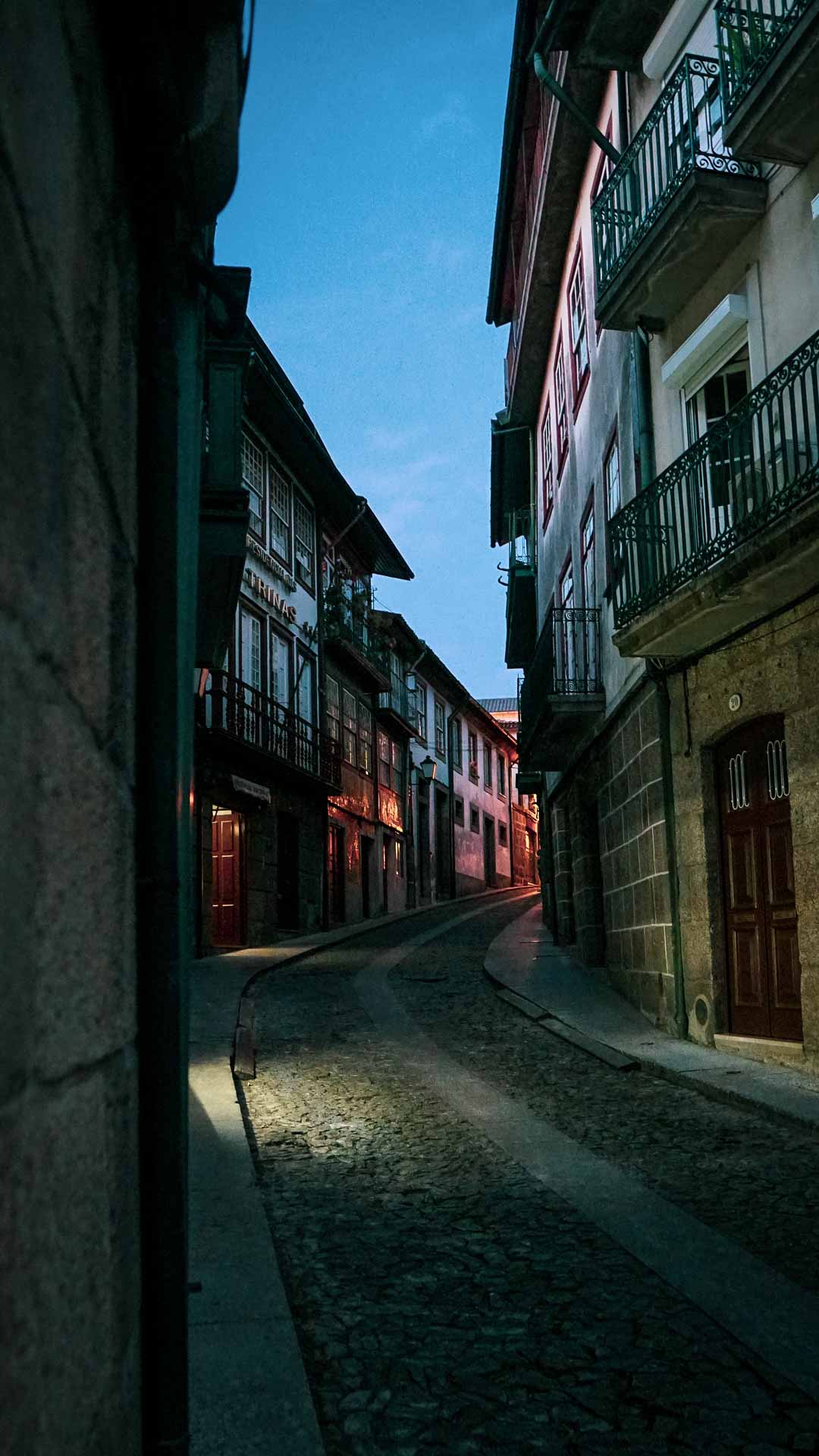 Staying Safe While Traveling In Guimaraes…Or Portugal In General
Honestly, there wasn't a moment when I was wandering around Guimaraes when I felt unsafe, whether day or night. That said, you should always take some necessary precautions when you're traveling. Explore with a friend or two if possible, and consider staying out of the dark corridors at night if you're solo. Yes, they're kind of magical at night, but just be cautious.
Essentially, use common sense and go with your gut if you feel unsafe or concerned. I also suggest wearing clothing that allows you to zip or button up your wallet, phone, etc., as most of the time the biggest concern in bigger, tourist-heavy cities is pickpockets in dense areas. If someone else is an easier target than you, then your odds of trouble are reduced! (You don't have to run faster than the bear…)
Share This Guimaraes Travel Guide With A Friend!
If you're wanderlusting about travel to Guimaraes, Porto, or anywhere in Portugal, please share this article on social and with your travel ride-or-dies. Then connect with me over on Instagram or subscribe on YouTube, since I talk about a lot of these logistics and how things are going along the way!
Happy Travels. Cheers!
—Jason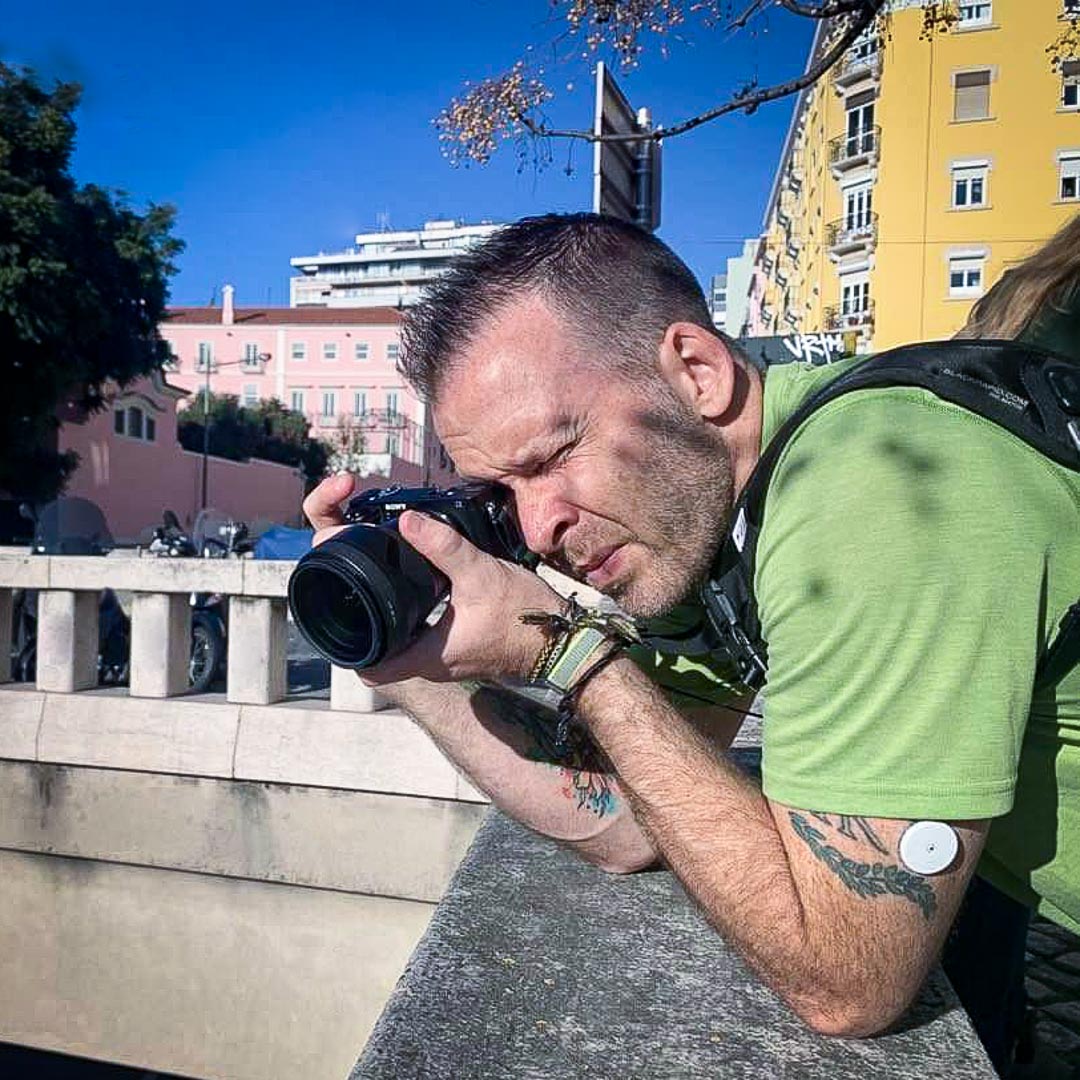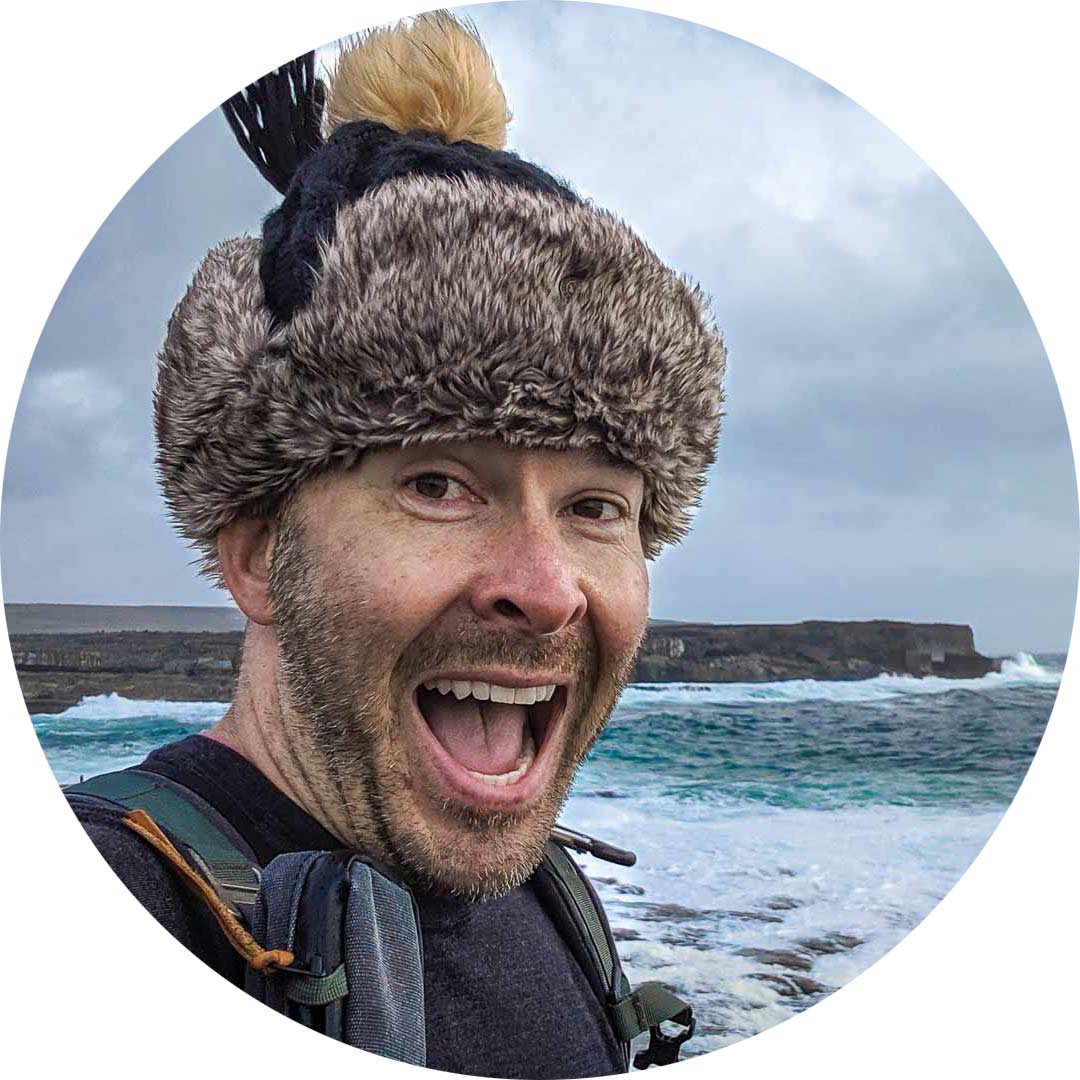 About Jason Robinson
Jason is the author of "The Beginner Traveler's Guide To Going Nomad," as well as the voice behind the words and the eye behind the lens for The Nomad Experiment. "Planning to travel at some point" wasn't actually getting the job done, so nearing 40 he decided to make it a priority, nomatter how scary that was. A few years later—through the pandemic and a type 1 diabetes diagnosis at age 42—now living a life of nomadic travel, he's speaking out to encourage others of any age, or with any serious medical diagnosis, to live an unconventional life.
Travel Planning Tips
Figure out where you are going & how are you getting there…
I suggest using at least 2 to 3 different travel search sites. Start with Skyscanner or Orbitz or Booking …or whatever aggregator site you prefer. Then when you see what airlines to use, check their respective sites for better deals or rewards flights.
Figure out where you're going to stay…
If you're interested in hostels, search Hostelworld or Hostelling International. For longer-term or more private digs, look at Airbnb, VRBO, or you can look for hotel rooms in the links from the search engines listed above.
Get comprehensive travel insurance, or in the least, travel medical insurance if internationally…
Especially with Covid not going anywhere, get covered. Start with an insurance aggregator like Insure My Trip, or with SafetyWing, World Nomads, or another. Then decide what is important to you; trip cancellation, baggage coverage, medical, or all of the above. And get a yearly evacuation plan, since you'll have to get home after your emergency! 
Need more resources? Click here!