Beautiful Porto: Things To Do, See, And How To Travel in Porto, Portugal
Ahhhh, Porto. Cobblestone Streets, Historic Architecture, and Gorgeous Azulejo Glazed Ceramic Tiles
Sunsets on the Luis I Bridge over the Douro River…or oceanside where the river meets the Atlantic. Romantic alleyway dinners followed with a €2 glass of sweet Port wine, born in the Douro Valley upriver. This city of around 230,000 people is large enough to captivate for days…or weeks…on end. A It's a city small enough to feel quaint and approachable, but there are still plenty of things to do in Porto.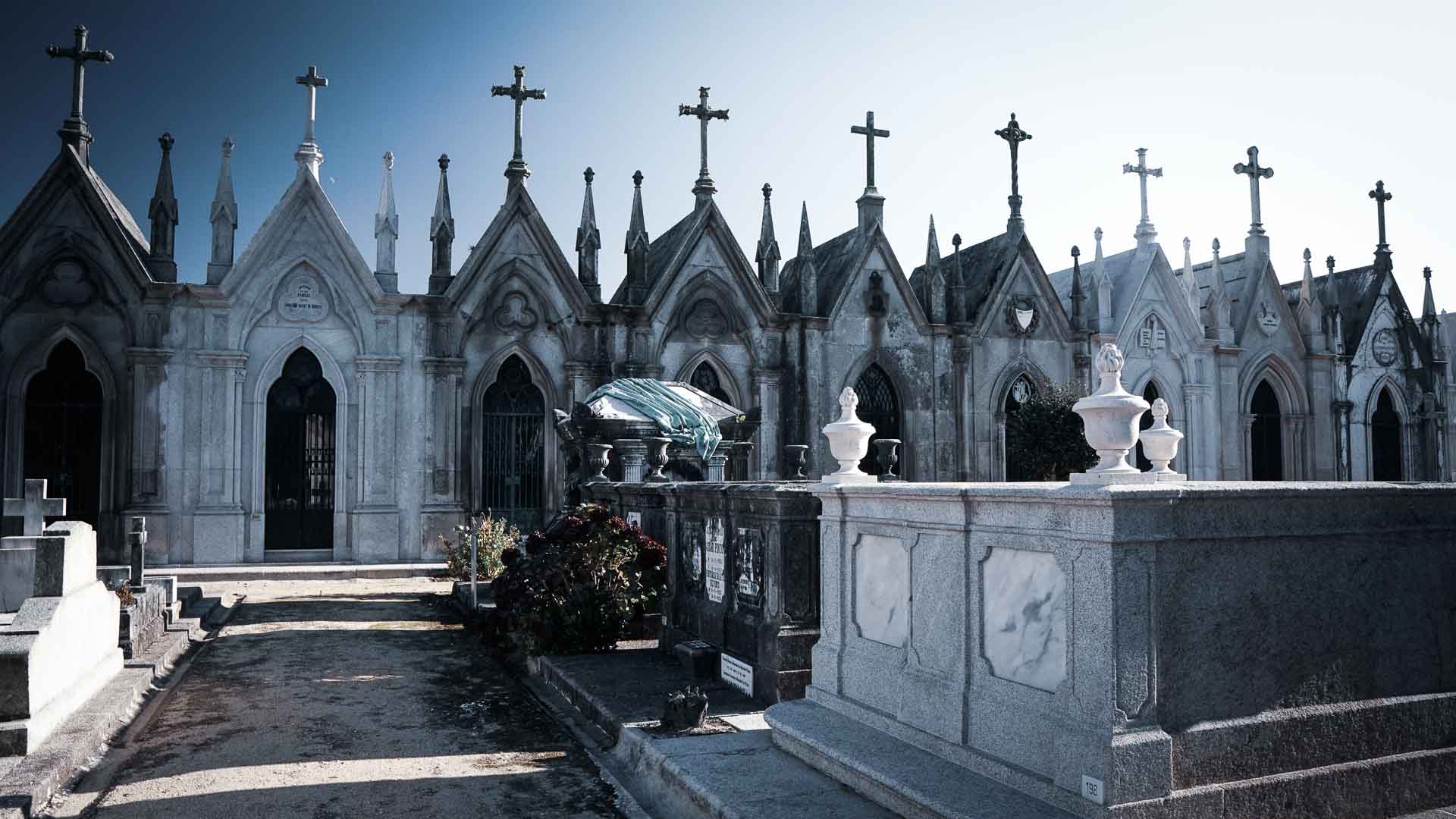 This site participates in the Amazon Services LLC Associates Program and other affiliate programs and may earn from qualifying purchases. You're never charged more, but it helps out little by little! Check out "Privacy" in the top menu if you need to know more!
Of course Porto can be taken in quickly, but if you have the opportunity to stay longer, I highly suggest you do. There are just so many things to do in Porto. I spent 10 days on my first visit to Porto, slowly exploring the many different areas of the city—much outside of the historic center and what is considered the "old town."
This Porto travel guide will help you explore not only the things to do in Porto's old town, but also many of the offbeat places worth getting to by walking or taking one of the extremely clean and easy city buses. Gorgeous botanical gardens, the mouth of the ocean, and even an amazingly haunting cemetery seemingly plucked from an Edgar Allan Poe story.
First Things First…Take A "Free" Walking Tour Of Porto
I have to begin here, as it's literally the most important thing I do in every new city I visit. Porto is nowhere near the size of Lisbon, but regardless, taking a free walking tour is by far the cheapest and fastest way to get your bearings. Two to three hours with a knowledgeable Porto travel guide showing you paths to most of the "tourist spots," food and drink spots, and other things to do along the way.
I recommend Porto Walkers as they employ locals that truly understand the history. And make sure to tip your guide, as that's how they earn a living. But if you want to do an inexpensive paid tour and learn about the Portuguese Age of Discovery and why the city was given the UNESCO World Heritage status, check this one out.
The Best Things To Do In Porto, Portugal – My Top 5 Recommendations
I know why you're here…you want the visual sexiness and the "must-see" spots for when you travel to Porto. Trust me, there are plenty that fit that bill. I could give you the low hanging fruit and tell you to visit one of the many Port wine manufacturers or to take in some live Fado music, but those are pretty easy recommendations.

Keep in mind though that I tend to explore not only the "must-see" spots, but also try to let the universe guide me to the places that feed my soul. Finding those places often only requires picking a direction and walking. Some of the best moments in travel…and life…are the unplanned ones. That's where some of these recommendations come from; simply walking aimlessly and turning a corner to have my fire ignited by an unexpected gem.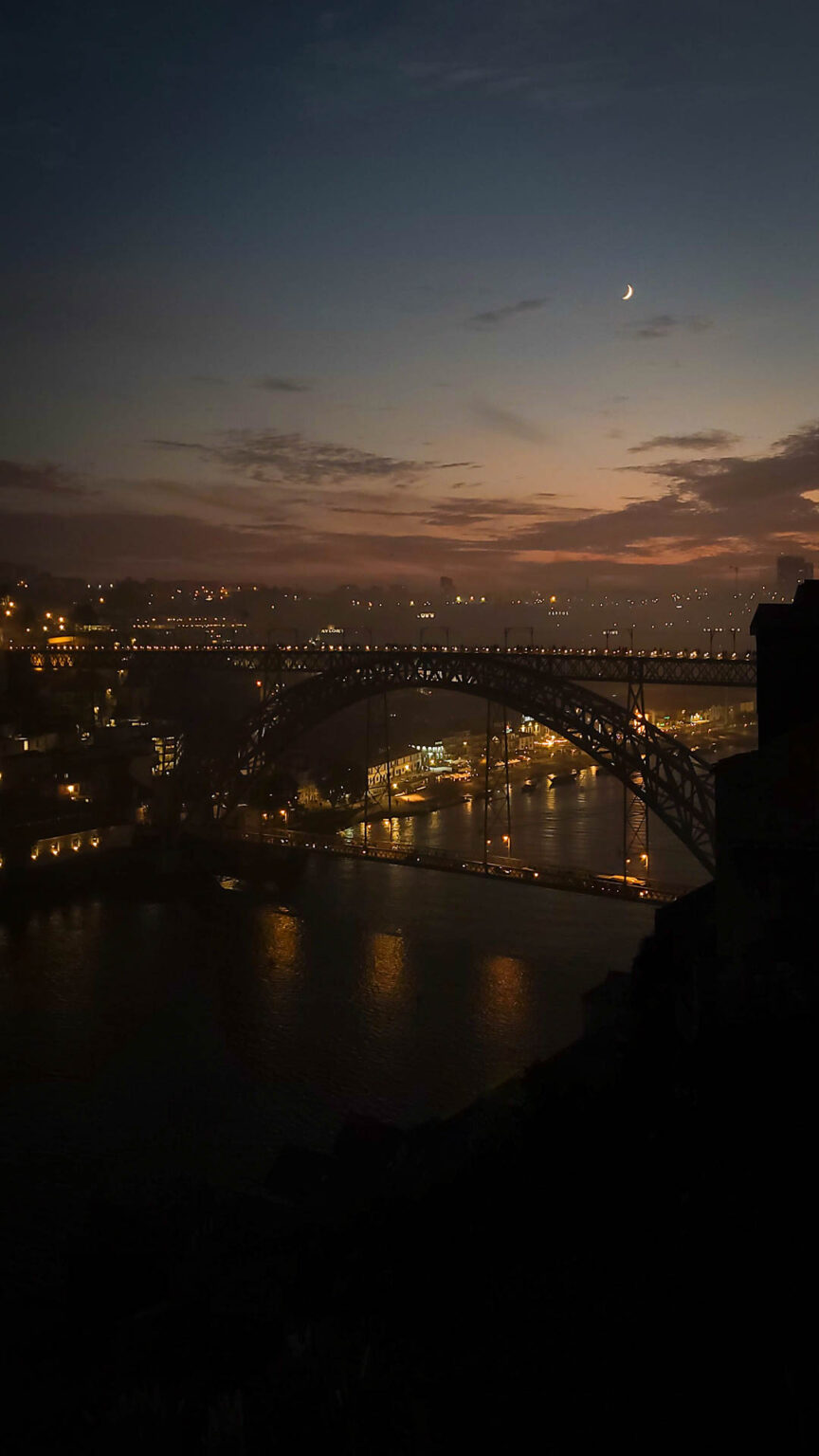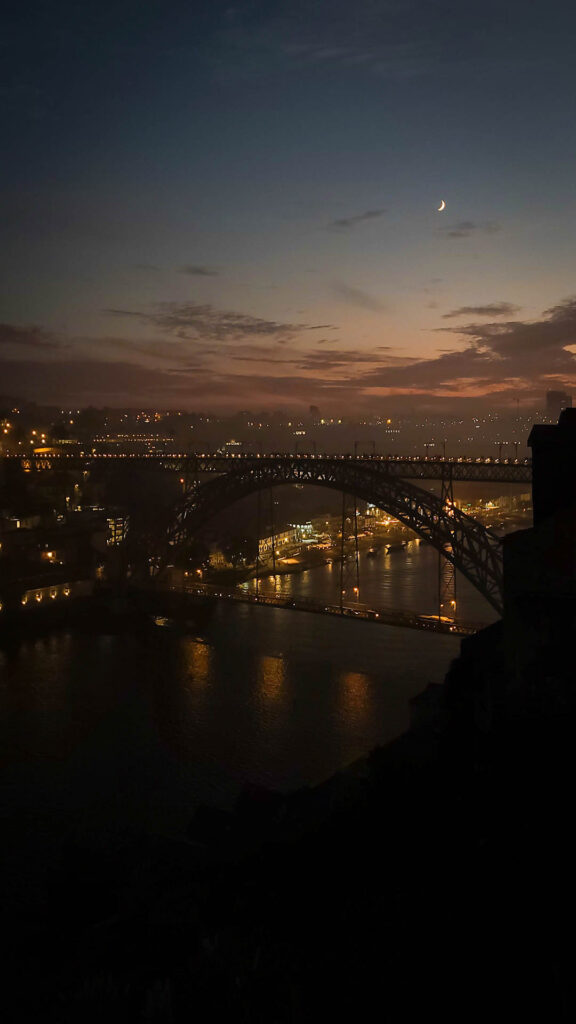 Take A Port Wine Tour On The Gaia Side Of The River
If you're in the birthplace of port wine, you must learn about and sample the goods. Not gonna lie, I'm not too big on spending money on touristy things, and I'm often thrilled to simply walk around and be in awe of my new surroundings. But the €35 wine tour by Porto Walkers was absolutely the most fun I had while in Porto.
Our group of about 15, with our Porto travel guide Alex (ask for him if possible!), learned, drank, and laughed for over three hours. Then I went with a group of new friends and kept things going at dinner based on his recommendations. Journey through the wine-making process, sample no less than 7 glasses of different styles of ports, and make new friends. What's not to love?
Take In A Sunset At The Many Amazing Sunset Spots In Porto
Seriously, there are so many amazing places to see the sun set over the Douro River that it needs an entire article dedicated to it! Easily one of the best things to do in Porto—and it's free! My favorite…by a very close margin…was from the viewpoint of the Ponte Luis I bridge. It's much less crowded and gives a view of the beautiful bridge that's often wildly crowded at sunset.
Other spots worth catching a sunset from are literally in the middle of the Ponte Luis 1 bridge or on the Jardim Do Morro Park on the Gaia side of the river. With a drink and locals at Parque das Virtudes, Miradouro da Vitória, at the Porto Cathedral, or immersed in the lush Jardins do Palácio de Cristal.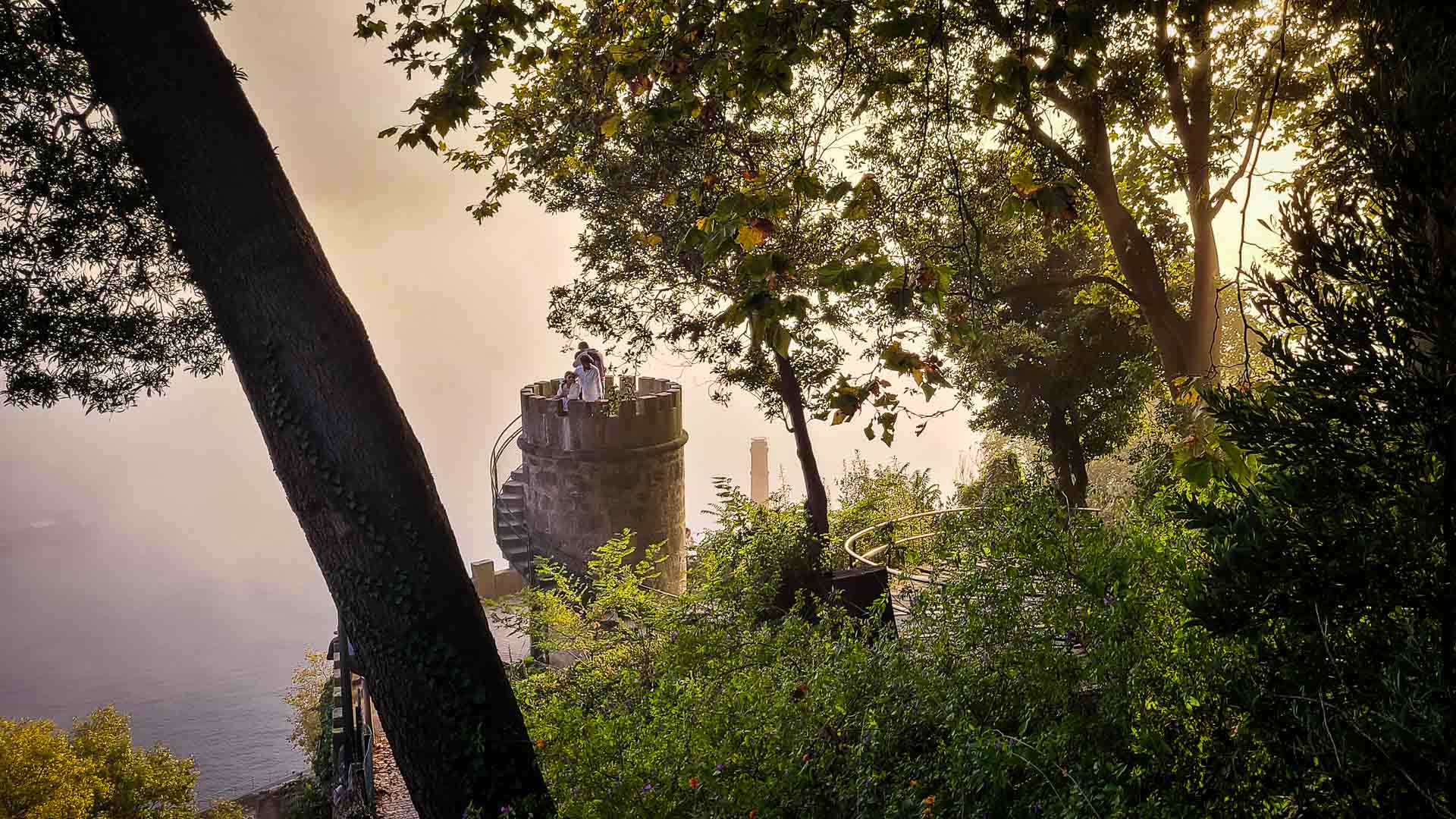 Visit The Jardins Do Palácio De Cristal
If you long for green spaces and sometimes need to "escape the city" to get grounded—like I do—you must spend an hour or two at the Jardins do Palácio de Cristal. Winding trails through fairy-tale-like landscapes complete with koi ponds, castle-like towers to explore, and actual live…like for real…peacocks roaming the grounds.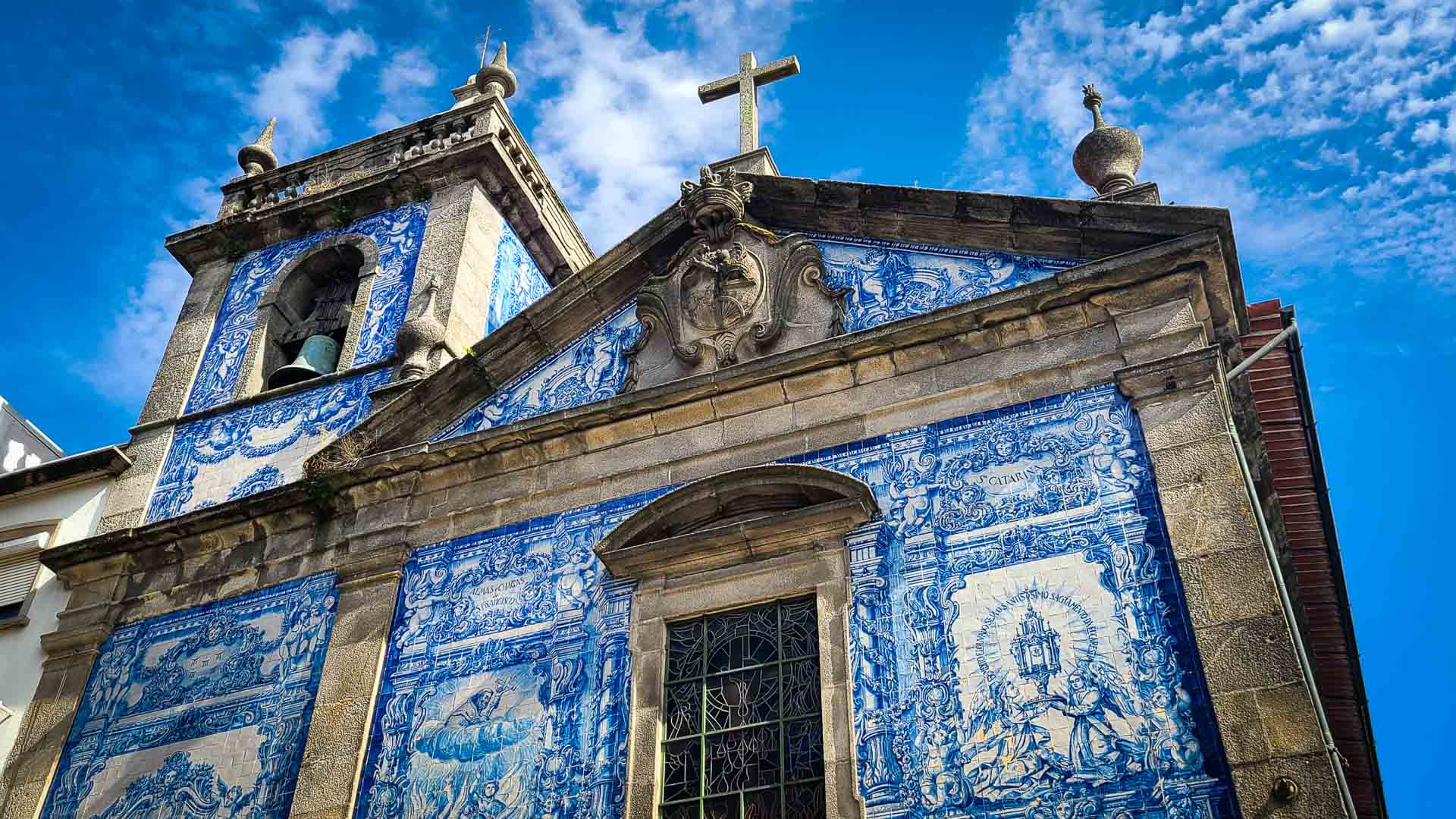 Photograph The Beautiful Azulejo Tiles Of Porto
Throughout Porto…and all of Portugal…you'll experience the beautiful glazed blue "azulejo" tiles. While the blues are gorgeous, you'll also find that many residential buildings are clad with tiles in all colors of the rainbow. But if you want to see some of the best examples of blue azulejos on the exteriors of buildings, check out: Parish Church of St. Nicholas, Church Santo Ildefonso, Igreja do Carmo, Capela das Almas (The Chapel of Souls…shown above), or Igreja de São Martinho de Lordelo.
Sample Pasteis De Nata…After Watching Them Being Made
They're delicious…and totally fat and sugar-free…wink. One thing you must do in Porto, or in Portugal in general, is to try a warm pastel de nata. But to add to the fresh-baked deliciousness, start your morning by watching them be made in the windows of Manteigaria- Fábrica de Pastéis de Nata.
Once you're done watching and purchasing a few, take a stroll up the bustling shopping street of Rua De Santa Catarina and check out the blue azulejo (glazed tile) exterior of the Capela das Almas (Chapel of Souls).
Porto Travel Guide – Other Things To Do In Porto, Portugal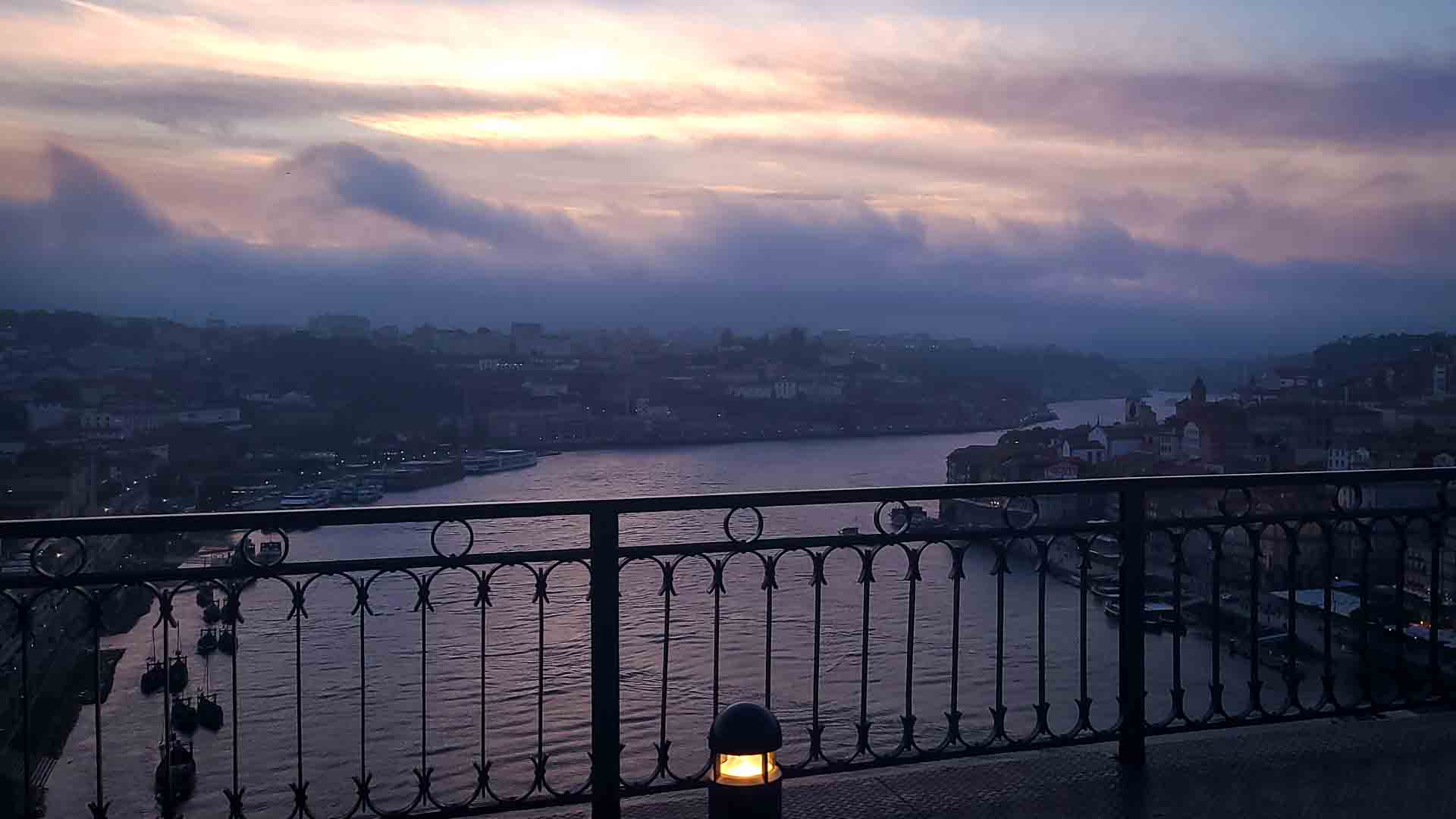 Walk Across The Luís I Bridge
This is a no-brainer for things to do in Porto. Better views of the Douro River, or the Porto (north) and Gaia (south) sides of the river will be hard to find all from one viewpoint. Add to that the crowds of onlookers and the regular passing trains and depending on the time of day it can be pretty magical. Nearby are the Porto Cathedral and the Mosteiro da Serra do Pilar, also worth spending some time taking in.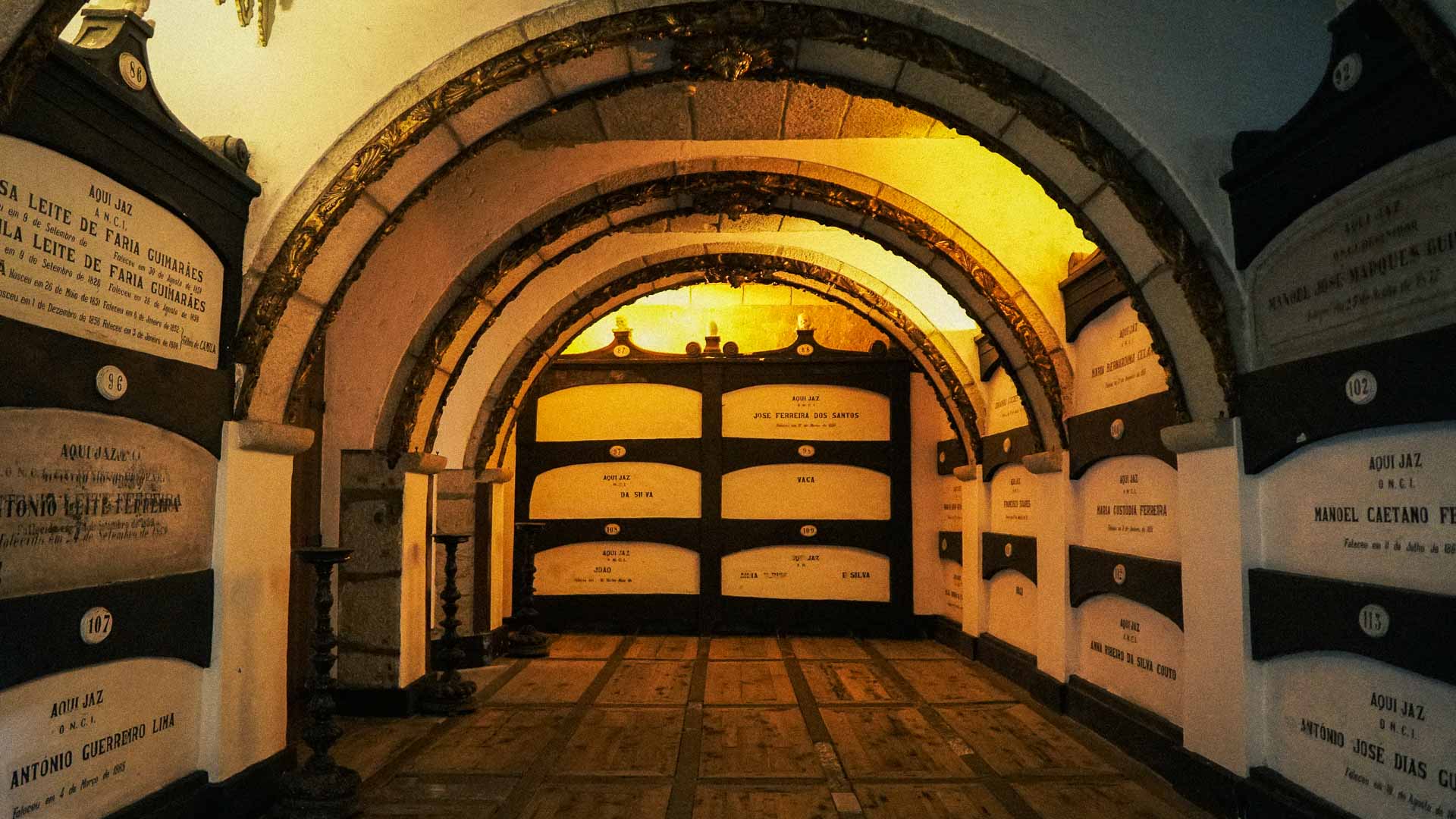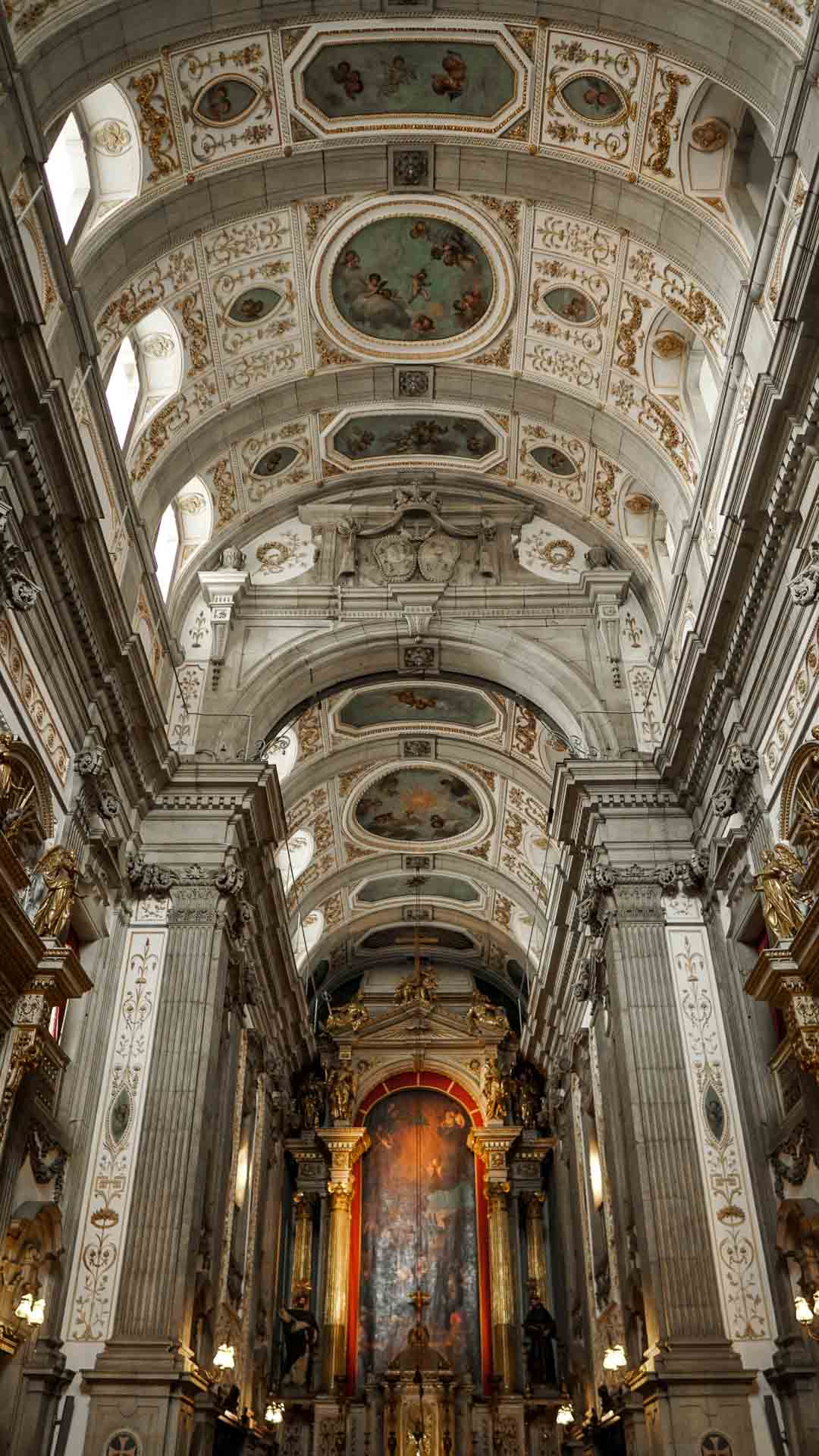 Explore The Church Of São Francisco…And The Catacombs Underneath (above)
Spending the €8 or so to tour this beautifully gilded church and its catacombs is well worth the cost. If you get all dreamy about Gothic Architecture…like I do…this is one of the best representations for you to see in Porto. The bonus is that this spot is a little off of the tourist path, so crowds inside can be less than other more touristed spots, even on the weekends.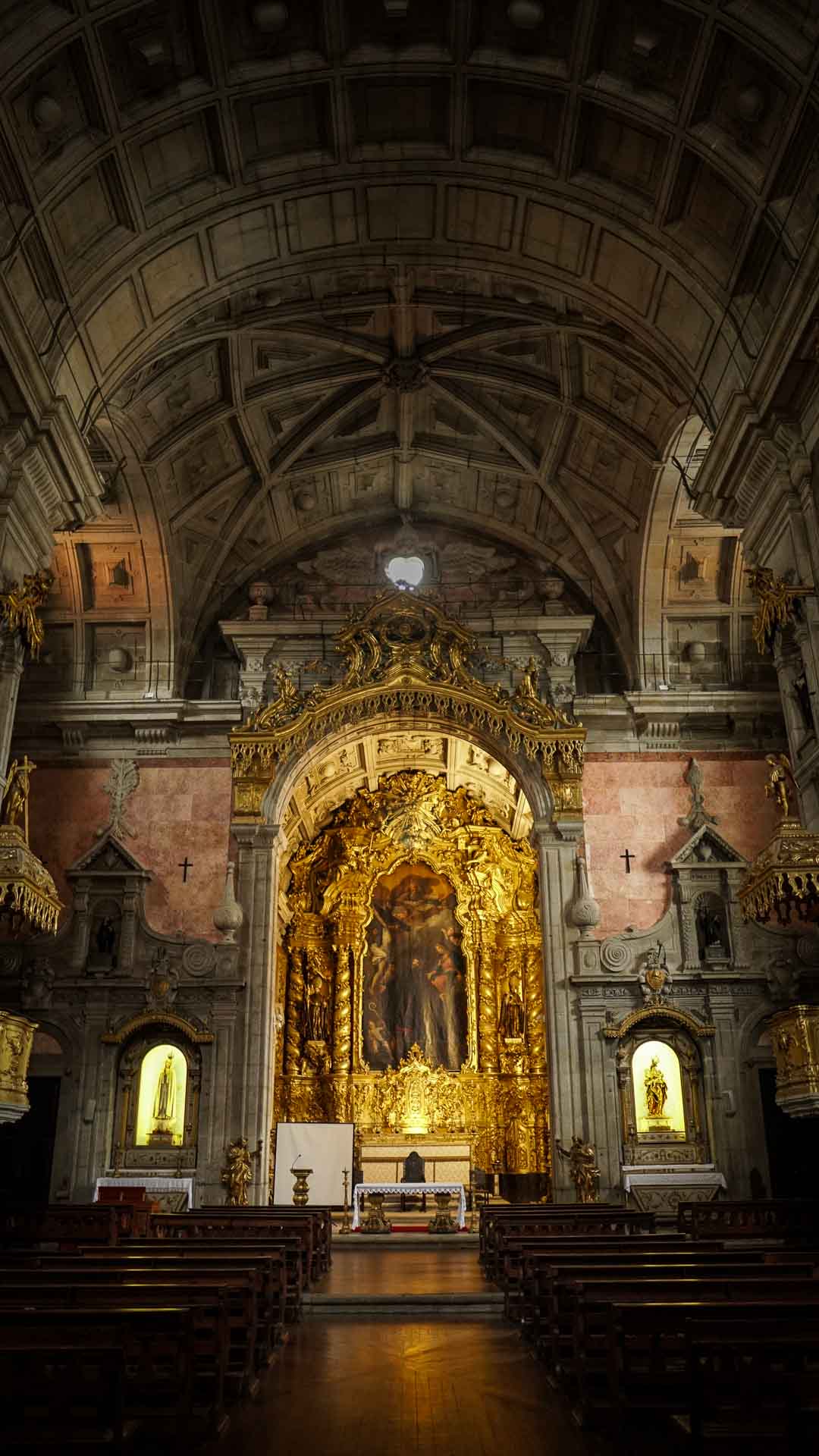 Step Inside Igreja de S. João Novo (above)
Another church that seems to go under the radar, Igreja de S. João Novo is absolutely stunning inside. On a Saturday morning, I stumbled on this church and literally the only (visible) soul inside was the man tuning up the organ. Again, go where the crowds aren't and you'll often be pleasantly surprised with what you find.
Check Out Some Bad-Ass T-Shirt Shops
Yep. I'm throwing this in here because they're freaking awesome. Typographia has local artists, as well as commissioned international artists, designing their shirts. They're sold in very few select locations in Porto, Lisbon, and a few other spots around western Europe. And if you need a nerd fix comprised of wookies, Scranton references, legos, or wizards wands, check out Tee Legend – "T-Shirts for Geeks, Nerds & Jedis."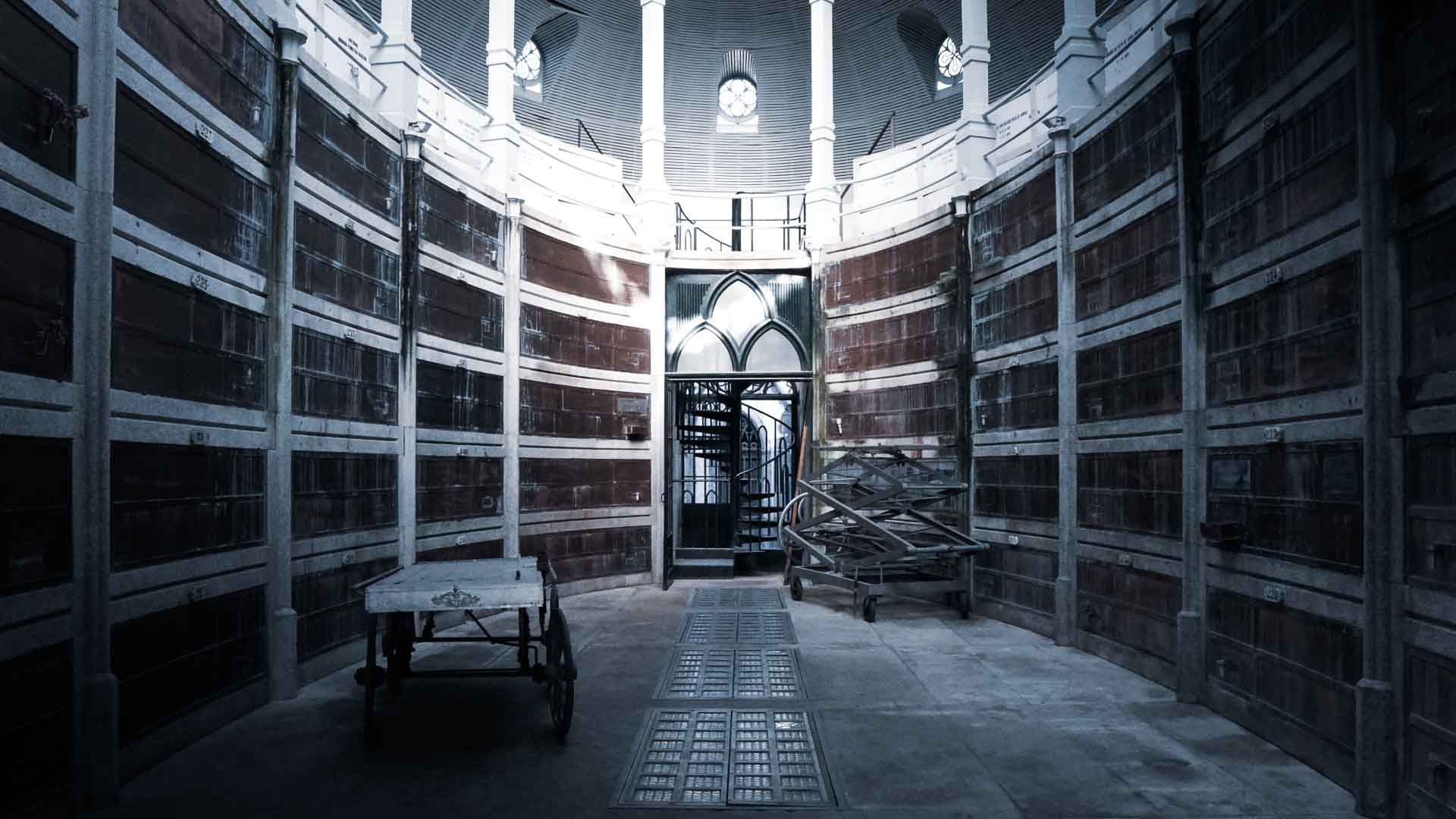 Explore The Tombs & Chapels Of Cemitério de Agramonte
Planted amidst a backdrop of Porto's more modern 20th-century architecture, in the more corporate part of the city, is this homage to the past. I've seen a lot of cemeteries, but this one tops the list as one of the most elaborate and decorative in such a dense space.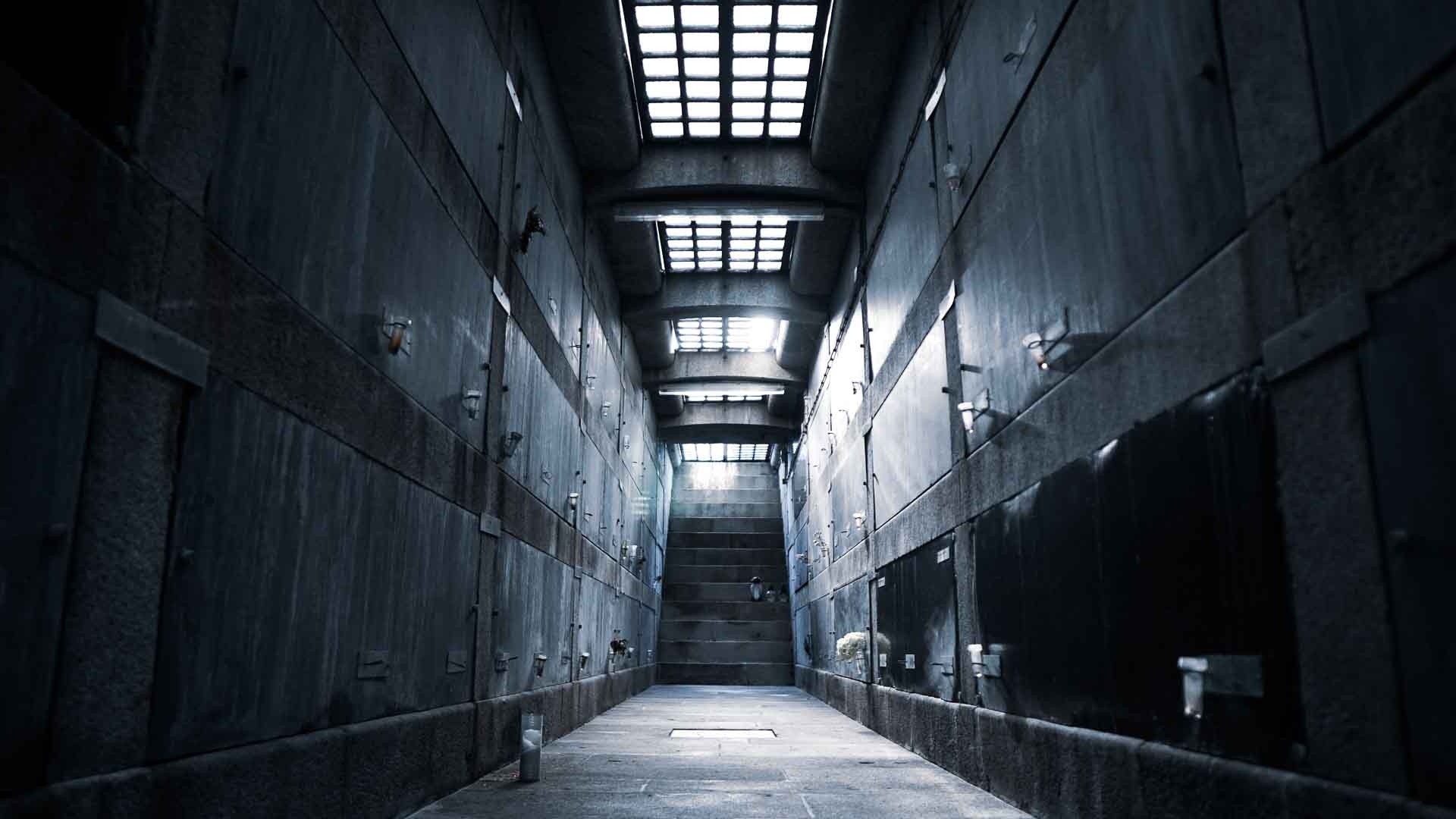 The fact that you can enter one of the two-story tombs…and walk the hall of the catacomb underneath…is worth the trip. One of the truly odd but epic things to do in Porto. But an hour or two could easily be spent here taking in the history of souls. Oh, and it's free to enter…please, just be respectful.
Tour Balsa Palace In Porto (AKA The Old Porto Stock Exchange)
There are few buildings this beautiful inside that aren't churches in Porto. I had seen some images online, but they did absolutely no justice to seeing the Porto Stock Exchange with my own eyes. Entry is around €10, but it includes a guided tour that takes 30-45 minutes with plenty of history. Even if you dropped that coin just to see the Arab room for 5 minutes, it would be worth it. Oh, and you have to pay for a guided tour as they don't let anyone in without a guide.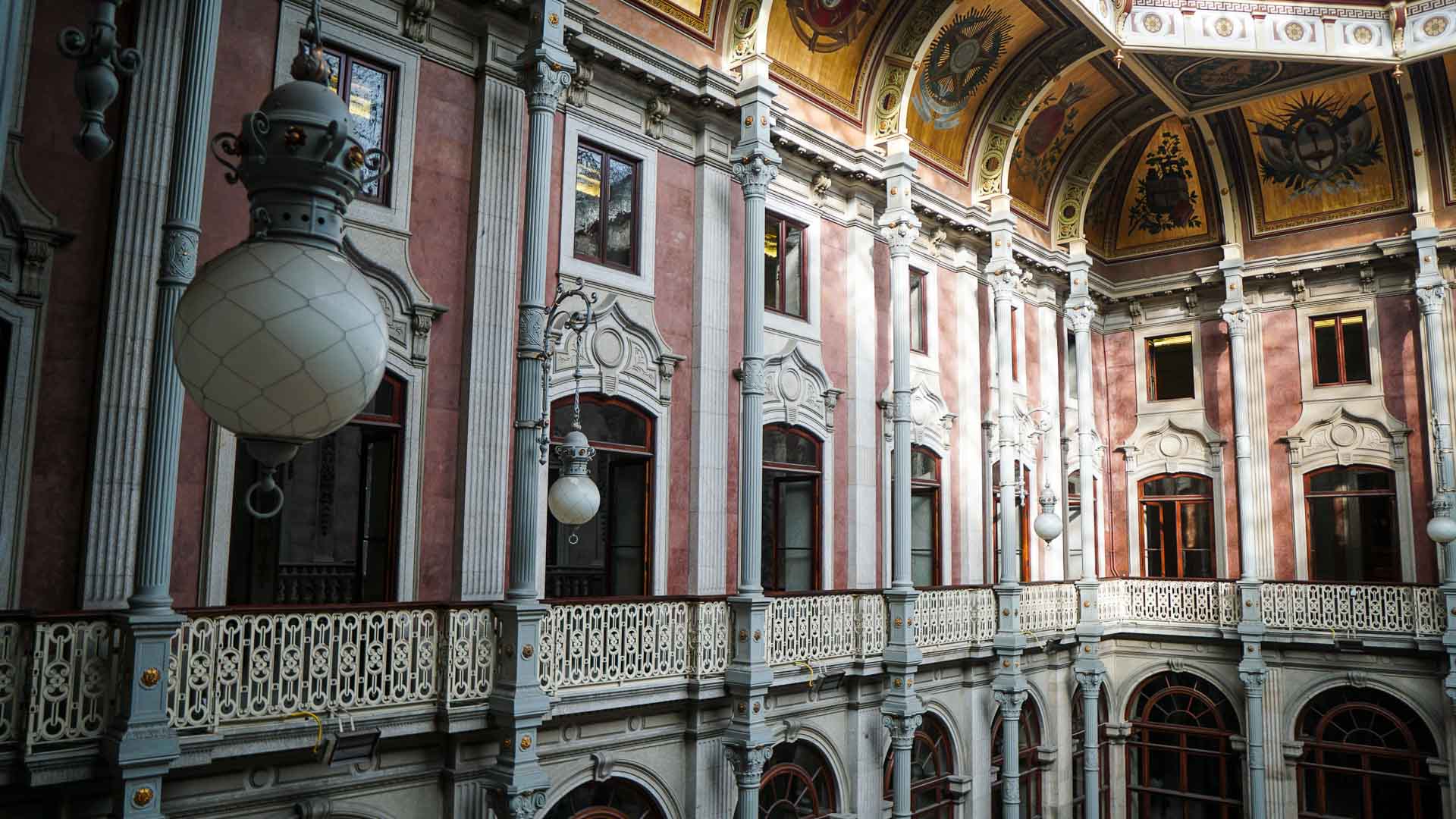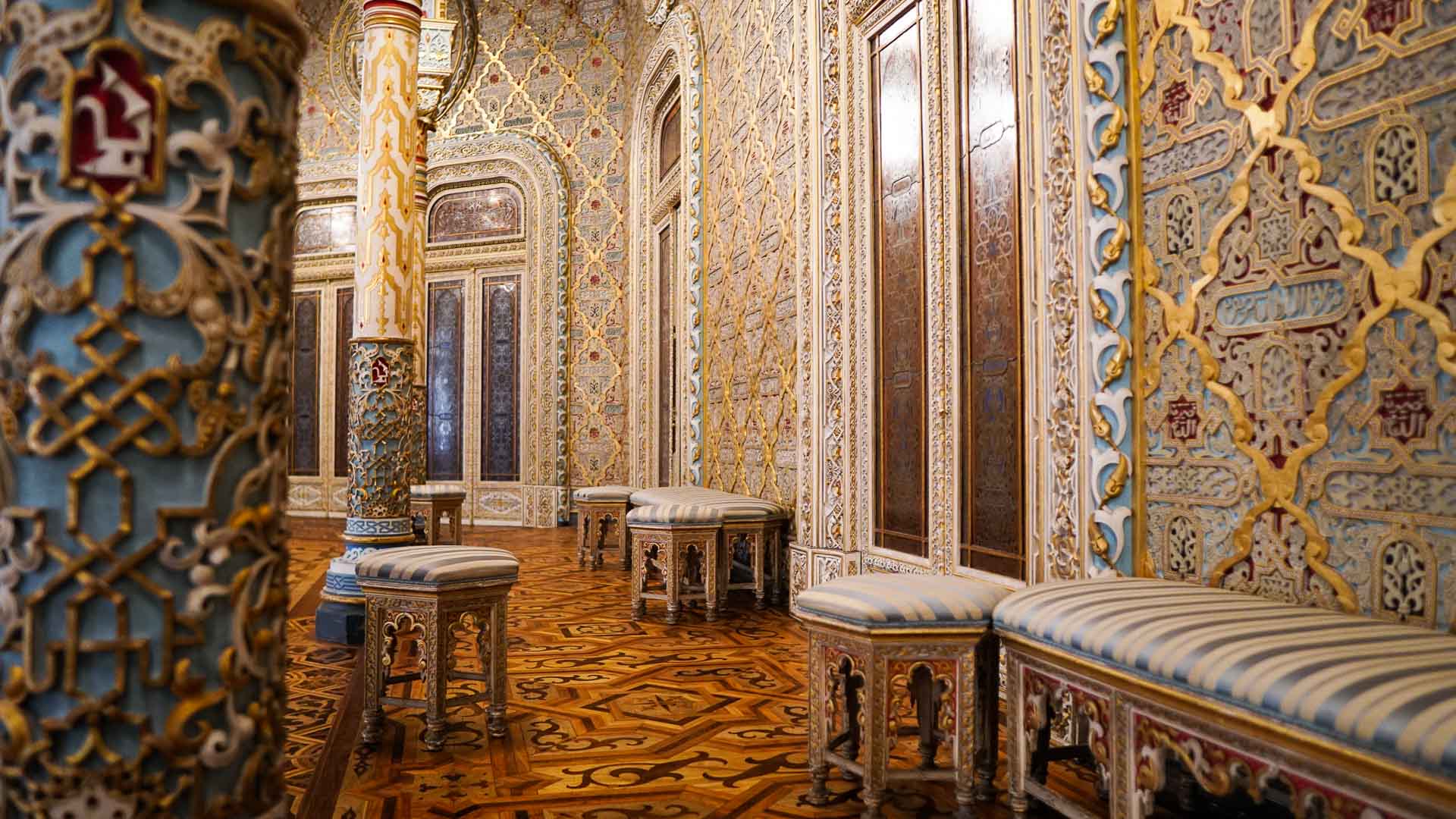 Honestly, It was really hard not to keep The Bolsa Palace / Porto Stock Exchange out of my top things to do in Porto. Protip: Go early, and if you're really there for photos and less interested in the history, just ask which is the smallest tour. I took the tour in English, and the history is fascinating…but this is your show! Get your ticket here, then go early to choose the time and what language of tour you prefer.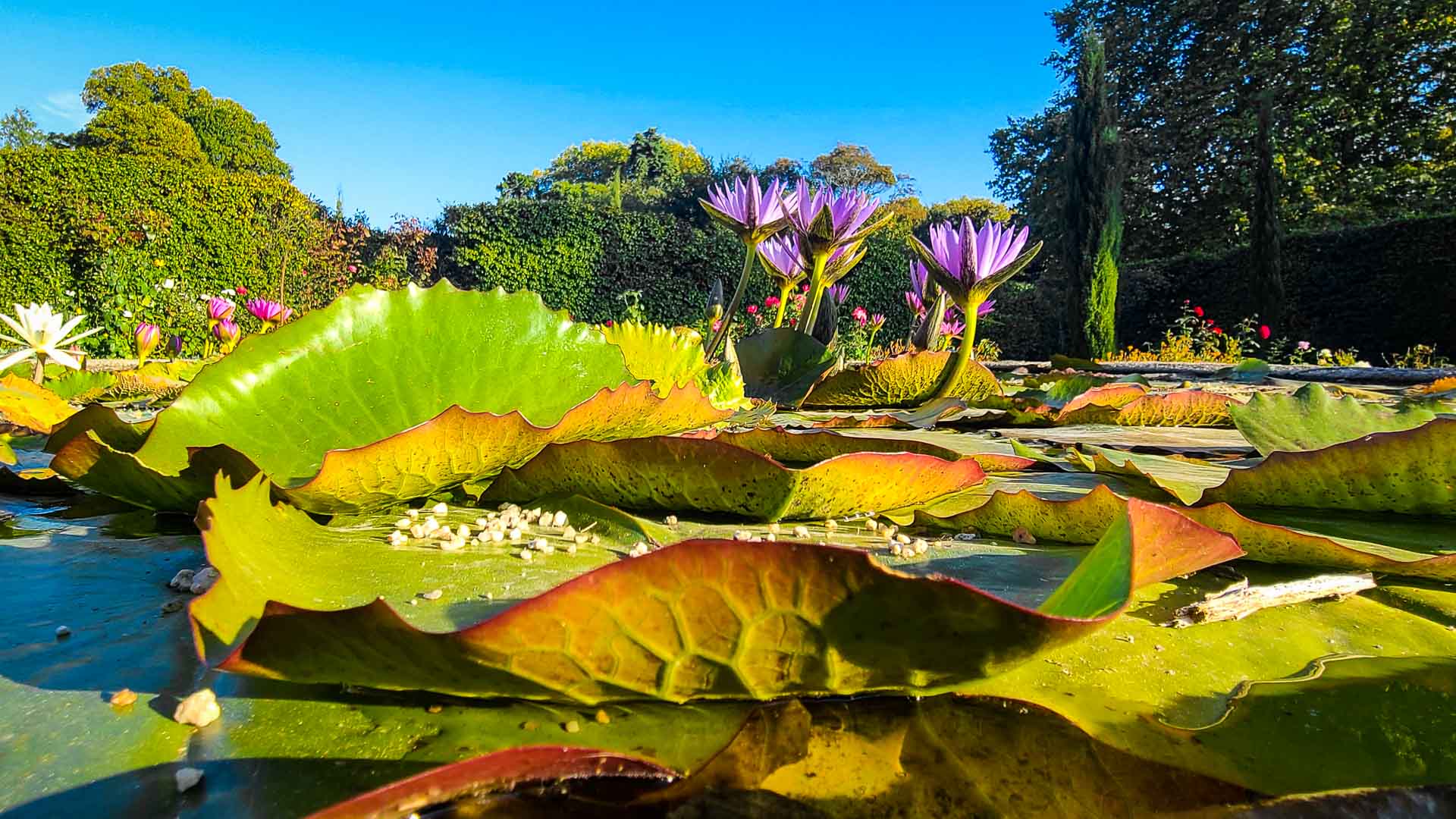 Walk Through The Trees And Blooms At The Jardim Botânico do Porto
This was an unplanned treat for this botanical garden lover. One of the benefits of not over-planning is that it gives you the chance to just stumble upon things. That's what happened with Porto's Jardim Botanico as I wandered from Cemiterio de Agramonte towards the coast for sunset. Serendipity.
When I visited there was an amazing illuminated installation throughout the grounds—breathtaking after dark. And that photo above of the lily pool is real and not tweaked for color. Amazing…and it's free.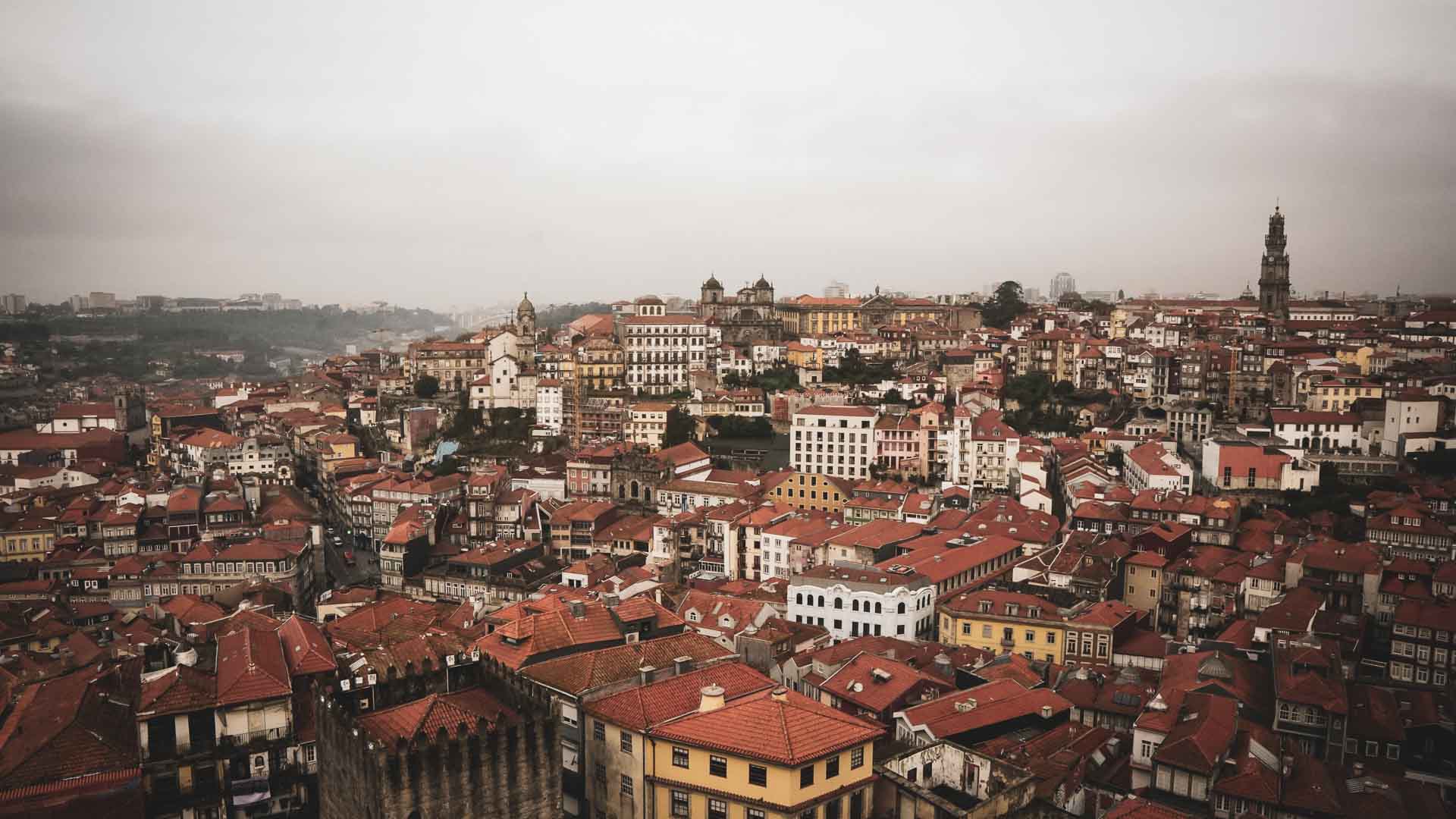 Look Out Over The Rooftops From the Tower Of The Porto Cathedral
Perched on one of the highest spots in the city, the view from the top of the tower is pretty epic. Whether it's rainy and foggy or blue skies with sunshine, it's worth the trip. The blue azulejos (glazed tiles) inlaid amongst the gray stone halls of the cathedral are also beautiful in contrast. And entry is only €3. Go early on a weekday to beat the crowds if possible.

Getting Around Porto And Traveling Around Portugal
Porto is extremely walkable, assuming you can handle the hills and cobblestones that make up old town. (I suggest leaving your stilettos at home.) If you like a good wander-about, it's perfect. But if that's not your jam, Ubers are available, as are taxis and even scooter sharing from companies like Bird and Circ.
The metro and buses are also very clean, safe, and cheap. Want to check out the sunset at the Atlantic coast? Grab the 500 bus for only €2 one way and enjoy. Countrywide, the Comboios De Portugal trains are simple between big cities, and everything else is connected by multiple bus routes. All are usually very inexpensive for standard fairs.
Typical Spending Costs In Porto
I am definitely classified as a budget travel nerd and tend to target traveling internationally for an average of about €30-€60 a day, all in. Of course, you can travel cheaper than that, or the sky's the limit. But I was able to average about €50-€60 a day in Porto, and that was with a couple of baller hostels and plenty of money spent on good food, tours, and attractions.
A bed in a 4-6 bed dorm runs about €15-€30. (Never stayed in a hostel? Read this!) Fantastic sit-down meals at most non-bougie restaurants run €7-€15+. And a glass of good port, table wine, or draft beer at those restaurants usually starts at about €2. Credit cards are widely accepted, but carry some cash for the smaller joints.
| | |
| --- | --- |
| Glass of wine or beer while out in Porto | €2-€3 |
| Hostel bed in 4-6 person dorm | €17-€25/night |
| Local bus or subway ride around Porto | €2-€3 |
| Simple sit-down dinner w/ wine/beer | €8-€20 |
| Church or Museum entries fees | €3-€10 (or free) |
I stayed at three great…but very different…hostels while in Porto. The Passenger Hostel in Porto is literally in a historic train station and has over 100 beds. It's been ranked one of the best hostels in Portugal, literally. The bathrooms look more like spas, and the top floor common space is epic.
The Gallery Hostel is what a hostel would look like if it were birthed from a hotel that hooked up with an art museum. Super-thick mattresses, spacious private bathrooms, and a restaurant in the bottom that will cook you a full breakfast each morning for about €4.
The Porto Wine Hostel was like coming home. A small hostel with lovely owners on hand to chat and help with anything, and a fantastic wine bar in the heart. A smaller hostel with fewer high-end amenities than the others, but it makes up for any of that with heart and soul. I'm actually heading back there in a few days (as I write this) since I need some chill time in a happy place to recharge.
There are dozens of other hostels in Porto and hundreds throughout Portugal. You can filter by rating, location, amenities, cost, etc., here!
RELATED: The Best Hostels I've Stayed At…& Why They Make The List
Travel in Porto, Portugal: Travel Basics & Important Logistics
Here are some of the nitty-gritty details you need to know before you plan your trip and travel to Porto, Portugal.

Where Is Porto, Portugal? The country of Portugal is located on the western coast of Europe. Well, more specifically it's kind of tucked into the western coast of Spain. It's one of the closest European countries to the US while only a couple hundred miles from Africa. Porto, Portugal is the largest northernmost city in Portugal, and is less than 100 miles south of the border of Spain. The country is only about 350 miles N/S and 100 miles E/W as the crow flies, depending on where you look.

Altitude & Relativity To The Equator: Porto is right up against the Atlantic, essentially at sea level, and on a similar longitude line as the US. Expect summer heat and humidity and comfortable temps even in the cooler, shoulder travel seasons in Porto.

Portugal Travel Seasons: Peak travel months in Portugal are generally June-September. The travel shoulder seasons are considered April-May and October-November. January-March is considered the low/slow season for travel to Portugal, but it's still sunny, just a bit chilly for the beach or a dip in the ocean. Protip: If you're traveling in the low season, check ahead to see if establishments close during that time!


International Airports in Portugal: Lisbon, Porto, and Faro are the most frequently used, but there are also international airports on the islands of Madeira and Ponta Delgada.

Travel In Porto And Around Portugal: Regional flights are plentiful and fairly inexpensive, but you can get to most places on the mainland cheaper and in a similar timeframe with the extensive train and bus options. Porto's metro (subway) and bus lines are fantastic; clean and inexpensive. But you can walk most places, assuming you don't mind some pretty wicked hills.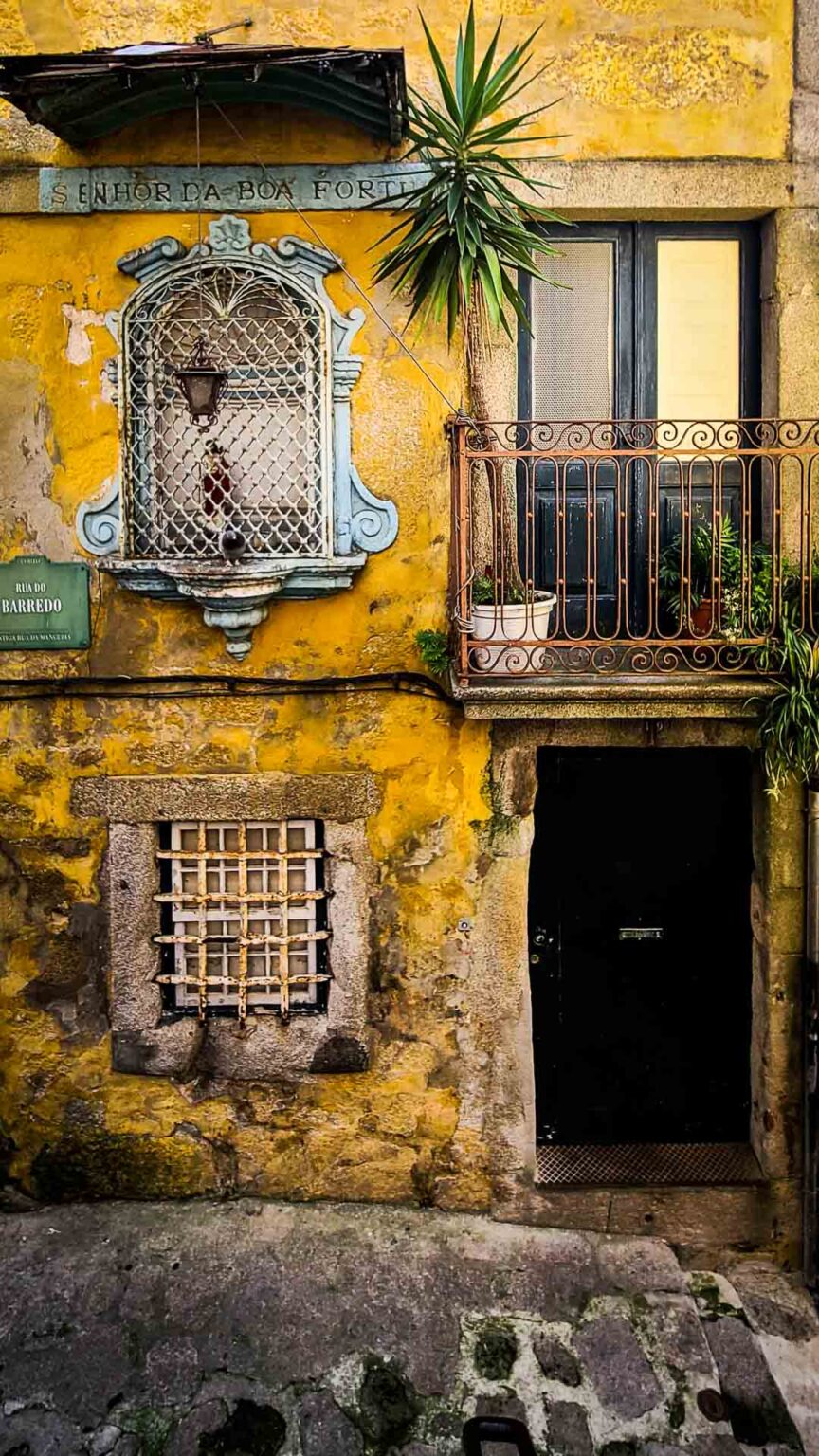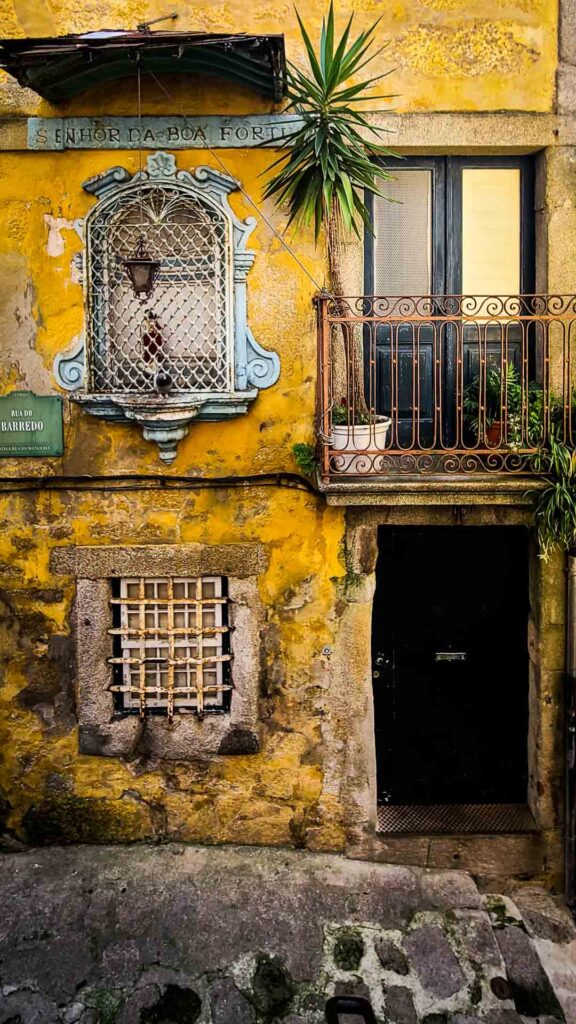 Plugging In, Spending Money, And Personal Concerns
Electrical Outlet/Plug Type: Type F "Schuko," so get an international adapter like this one.

Currency: The Euro (€) is used throughout Portugal, and in most bigger cities like Porto, businesses are happy to take credit cards for anything over €5. But carry cash just in case, since some of the best places are small, off-the-radar mom and pop spots, and they'll sometimes need to take cash to avoid the excessive fees of accepting cards. Note, as of this writing, the exchange rate is about $1.25USD = €1.00, so while it's close, that disparity can add up quickly if you're not paying attention!
Tipping: Tipping at restaurants is not expected throughout Portugal. But as usual, if you receive kind, great service, you should give a little extra. Personally, as a digital nomad exploring places where the USD goes further, I think it's a great reason to give a little more regardless of what's expected!
RELATED: UPDATED: 18 Safe Traveling Tips For Newbies

Budget Allowance For Different Traveler Types: Portugal is the least expensive country in western Europe. Budget travelers (like me) can live it up in hostels for $50-60/day, all-in. Obviously the budgets can go up from there depending on your style. 

US Passport Holder Entry Time Limits: Portugal is part of the Schengen Zone, a group of European countries that allow most US passport holders to visit the country for 90 days every rolling 180 days. If you want to stay longer, you'll need to look into long-term visas.

Vaccinations: You can find out more here, but there aren't any out of the ordinary for US citizens. 

Can I Drink The Tap Water In Portugal? Yes. It may not be the absolute tastiest, but it's definitely safe to drink. 

LGBTQ+ Concerns: Portugal is considered medium/high on the equality index. I can happily say that free love and expression were obvious with both locals and tourists as I traveled throughout Portugal. (rating by https://www.equaldex.com/) 
Staying Safe While Traveling In Porto…Or Portugal In General
Honestly, there wasn't a moment when I was wandering around Old Town Porto when I felt unsafe, whether day or night. Obviously, as you get away from the well-presented tourist center, that can change. That said, you should always take some necessary precautions when you're traveling.
Explore with a friend or two if possible, and consider staying out of the dark corridors at night if you're solo. Yes, they're kind of magical at night, but just be cautious. Ubers are fairly available in Porto, as are Taxis, but they're a little more expensive.
Keep an eye on your drinks if you're into the nightlife, and let people know where you're going if you're concerned at all. Don't buy drugs off the streets—yes, you will get asked when on most busy tourist corners at night. Essentially, use common sense and go with your gut if you feel unsafe or concerned.
I also suggest wearing clothing that allows you to zip or button up your wallet, phone, etc., as most of the time the biggest concern in bigger, tourist-heavy cities is pickpockets in dense areas. If someone else is an easier target than you, then your odds of trouble are reduced! (You don't have to run faster than the bear…)
Share This Porto Travel Guide With A Friend!
If you're wanderlusting about travel to Porto, or anywhere in Portugal, please share this article on social and with your travel ride-or-dies! Then connect with me over on Instagram or subscribe on YouTube, since I talk about a lot of these logistics and how things are going along the way!
Happy Travels. Cheers!
Jason
Travel Planning Tips
Figure out where you are going & how are you getting there…
I suggest using at least 2 to 3 different travel search sites. Start with Skyscanner or Orbitz or Booking …or whatever aggregator site you prefer. Then when you see what airlines to use, check their respective sites for better deals or rewards flights.
Figure out where you're going to stay…
If you're interested in hostels, search Hostelworld or Hostelling International. For longer-term or more private digs, look at Airbnb, VRBO, or you can look for hotel rooms in the links from the search engines listed above.
Get comprehensive travel insurance, or in the least, travel medical insurance if internationally…
Especially with Covid not going anywhere, get covered. Start with an insurance aggregator like Insure My Trip, or with SafetyWing, World Nomads, or another. Then decide what is important to you; trip cancellation, baggage coverage, medical, or all of the above. And get a yearly evacuation plan, since you'll have to get home after your emergency! 
Need more resources? Click here!