Photos: The Gorgeous Interior Of Porto's Palacio Da Bolsa — The Stock Exchange Palace
Bolsa Palace—Porto, Portugal's Fairy-Tale Tour
Porto—the oldest cultural center in Portugal—has a truly unique landmark, The Palacio Da Bolsa. Otherwise known as the Bolsa Palace, or the Stock Exchange Palace, it's easy to overlook based on its plain exterior. But the interior is where it's at. Inside Bolsa Palace is a travel photographer or architectural photographer's dream.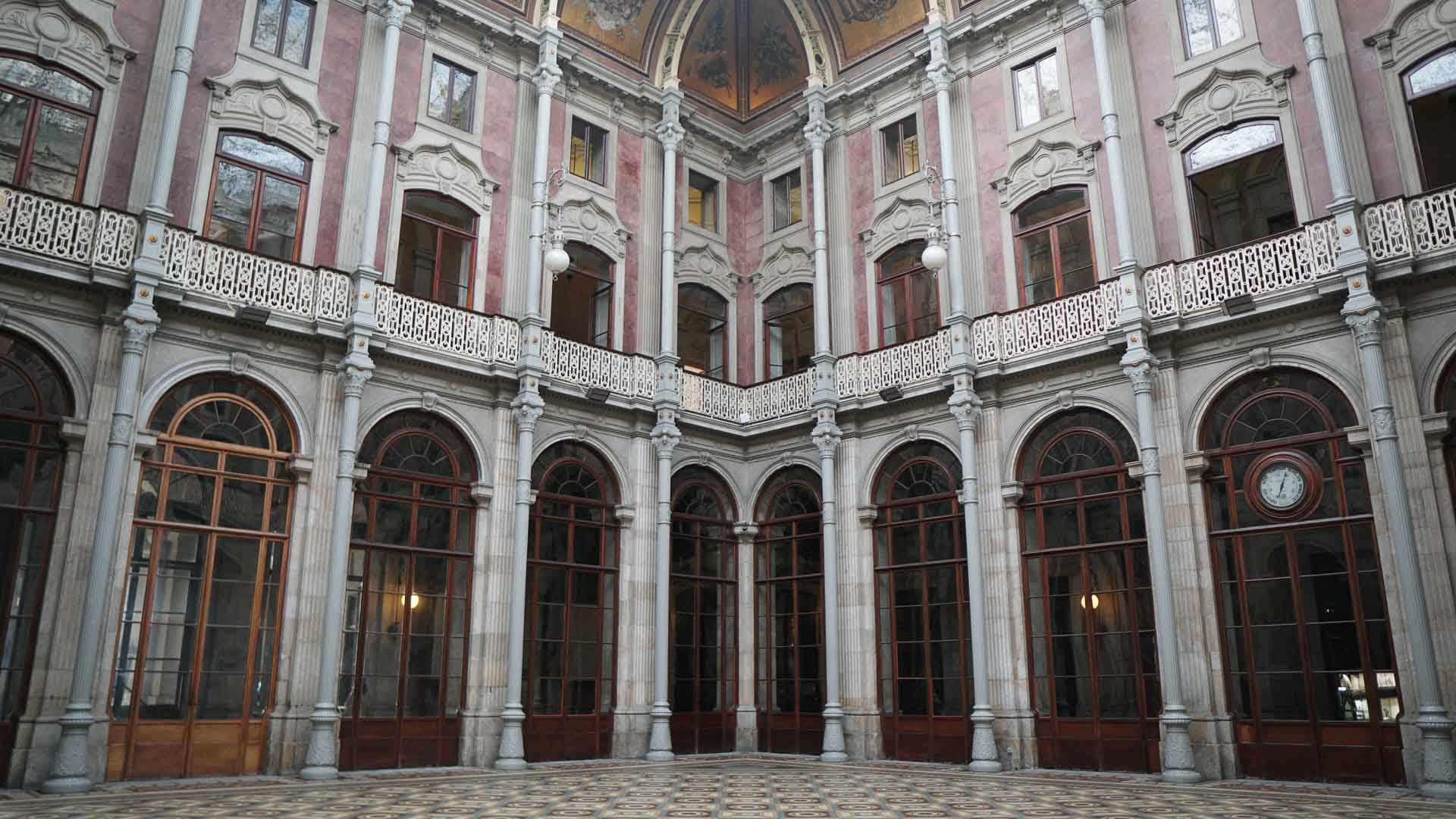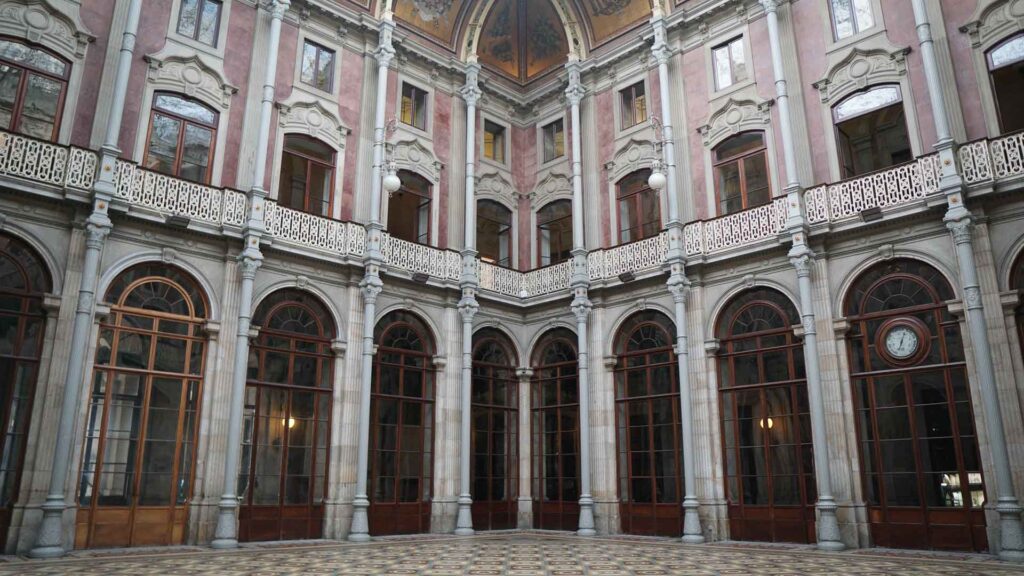 This site participates in the Amazon Services LLC Associates Program and other affiliate programs and may earn from qualifying purchases. You're never charged more, but it helps out little by little! Check out "Privacy" in the top menu if you need to know more!
Each year 250,000 tourists visit Bolsa Palace to bear witness to its amazing architecture & interiors. If you're planning to travel to Portugal—a land full of beautiful palaces—this one should definitely be on the top of your list.
The History of Bolsa Palace
The rich history of The Palacio Da Bolsa dates back to 1842 when the exterior construction started. The building construction took nine years to complete. The most surprising part is that the Bolsa Palace interior took over 50 years to complete!
The palace was designed by Joaquim da Costa Lima Júnior as a center of trade and commerce activities. While it was once a hub for stock exchange affairs, now it holds the status of UNESCO World Heritage Site and museum.
Today different events and concerts take place in Porto's Bolsa Palace. I overheard that you can even book it for your wedding…if you have the cheddar!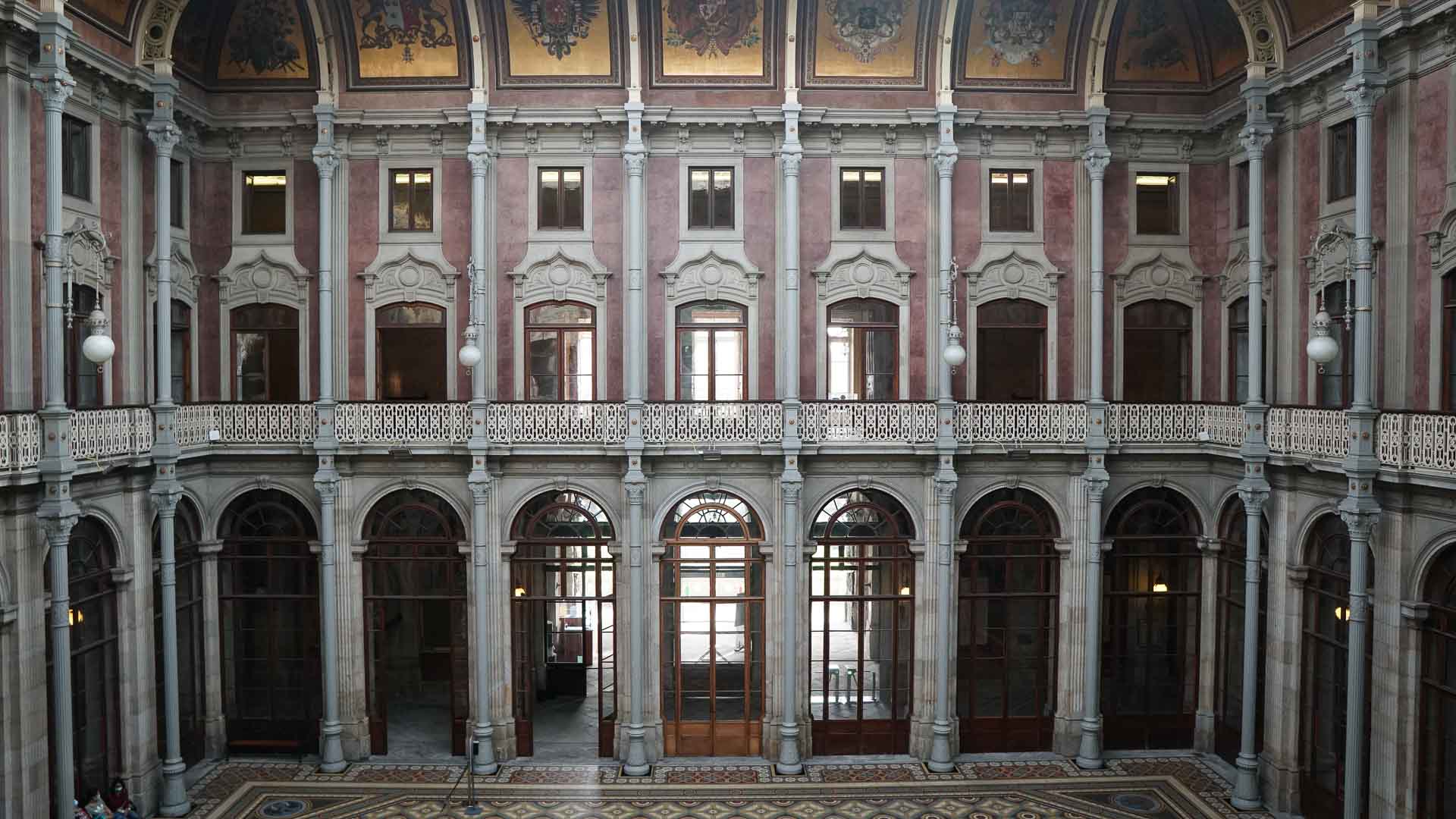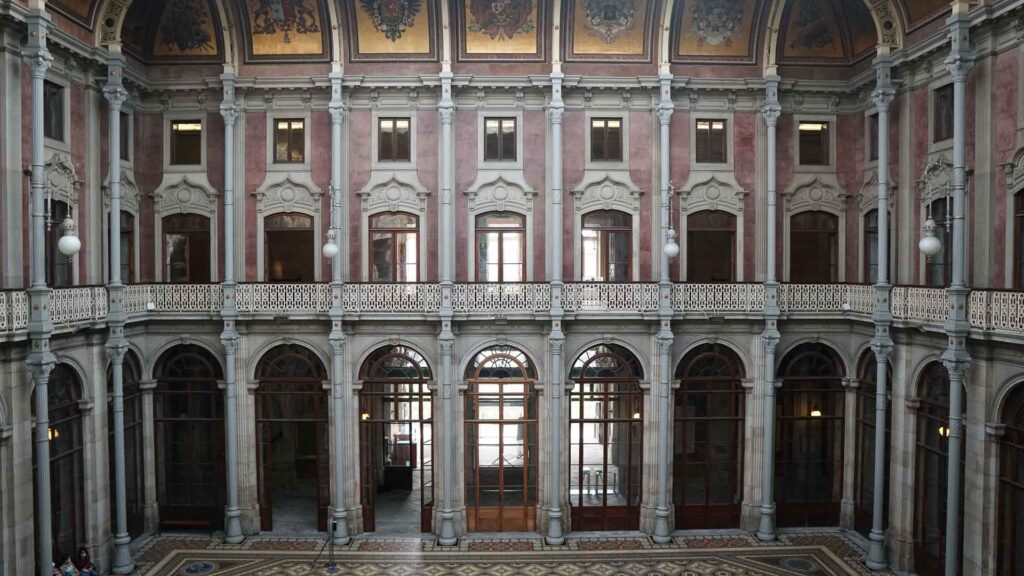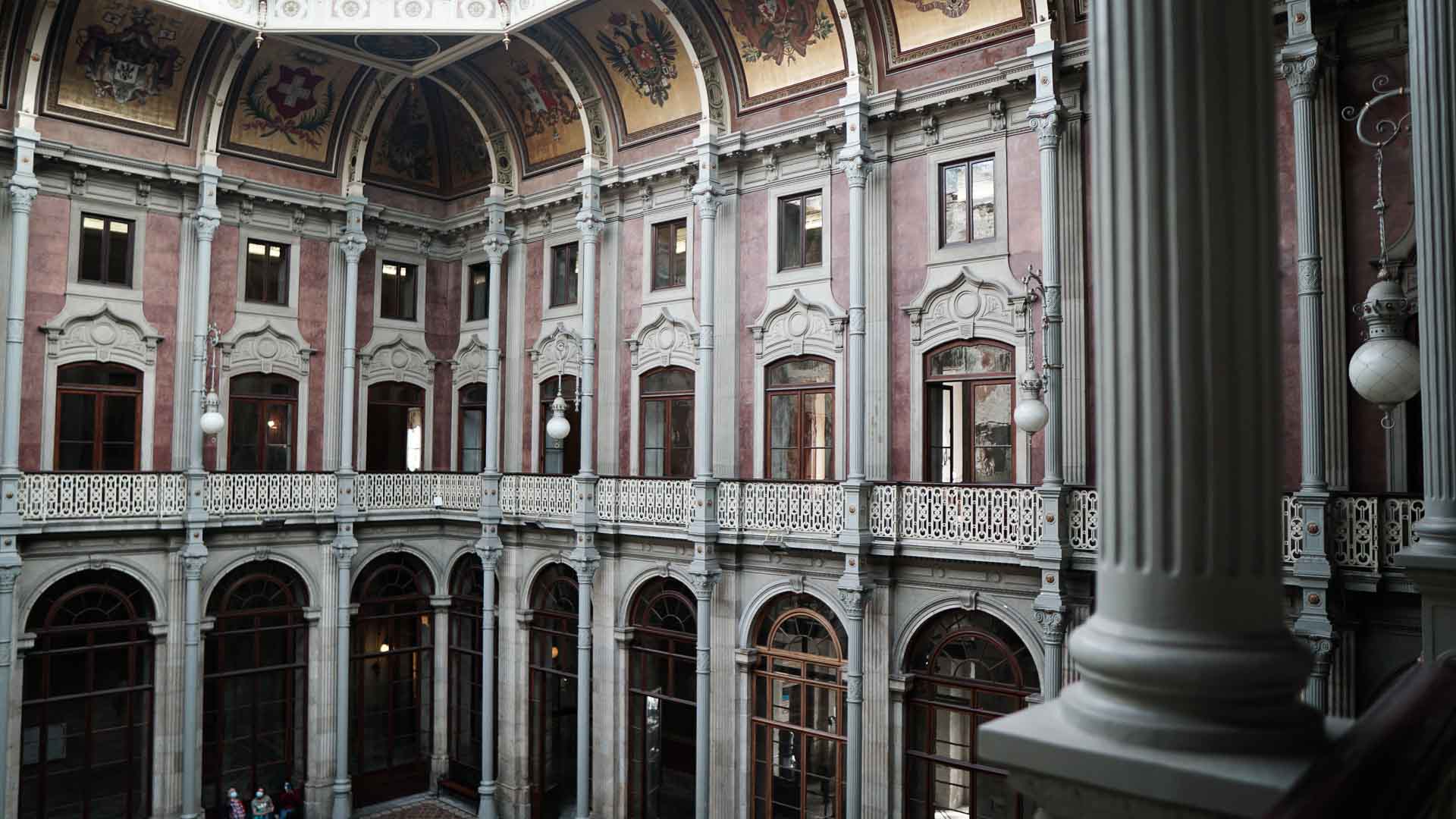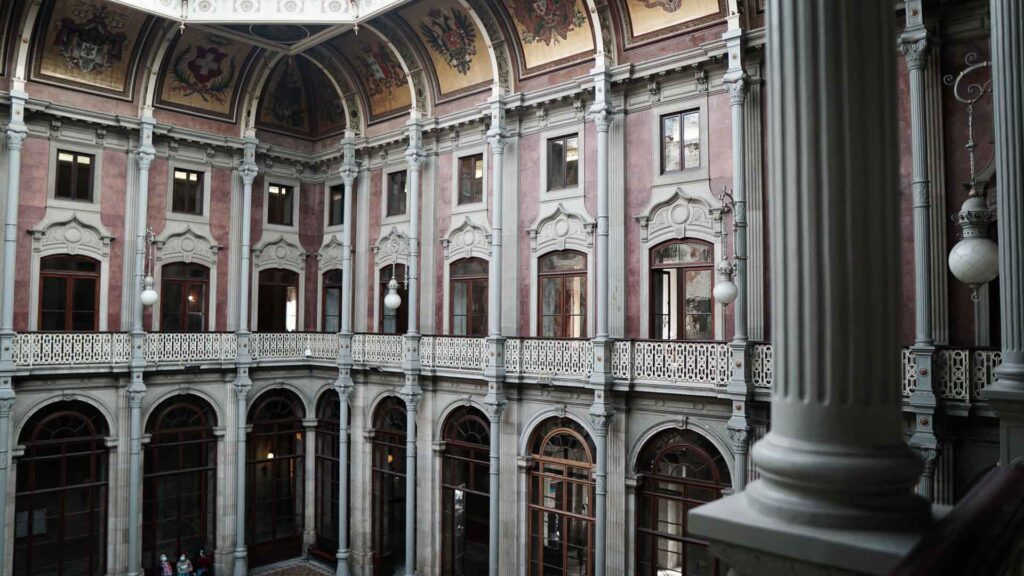 Neoclassical On The Outside…Neopolitan On The Inside
The Neoclassical style exterior of the building depicts the design trends of Porto at that time. But the interior of the palace is what it's popular for! It's one stunning space after another, culminating in a visit to the mind-boggling Arab Room near the end of the tour. More on that later. (How's that for a teaser?)
Tours begin in the central courtyard of the Stock Exchange Palace—known as the Hall of Nations. It's covered by a huge, octagonal glass and iron dome. The light from the dome illuminates the coats-of-arms of Portugal and the countries with which it had commercial relations in the 19th century.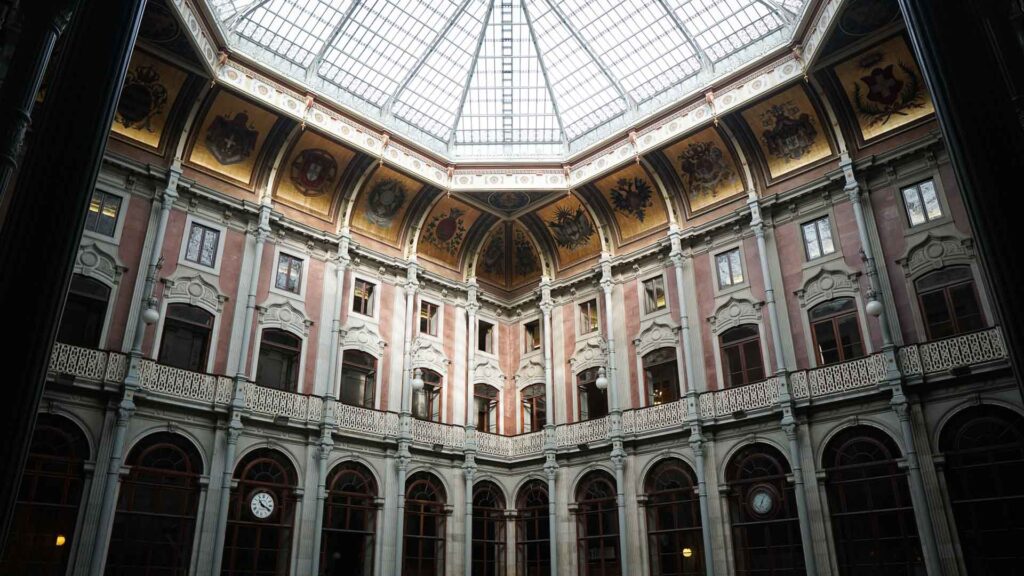 The Grand Staircase Of Bolsa Palace
Exiting the Hall of Nations, you're met with a grand, granite decorative staircase straight out of a fairy tale. Two beautiful chandeliers and a skylight truly elevate the pomp-and-circumstance qualities of the space.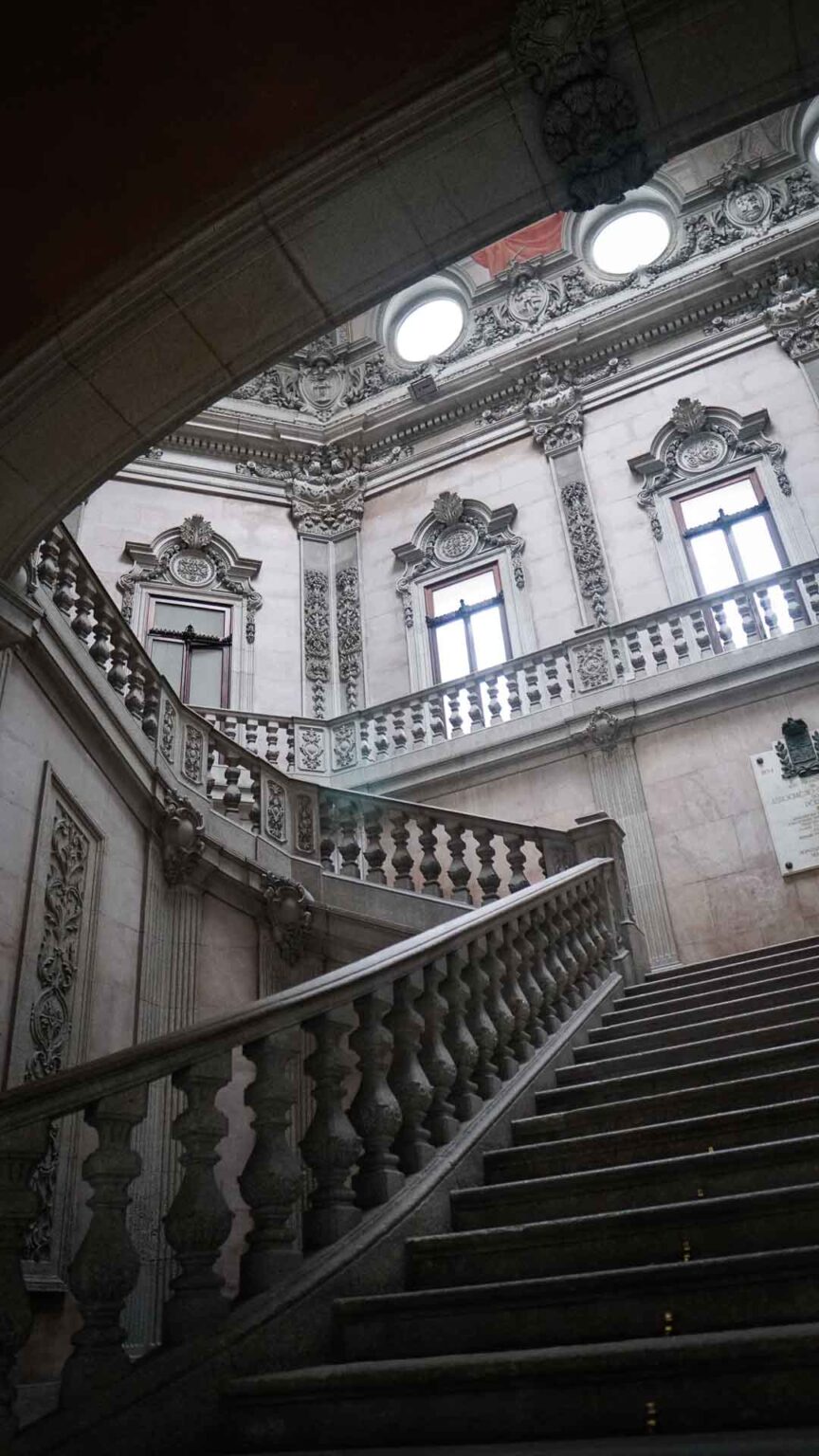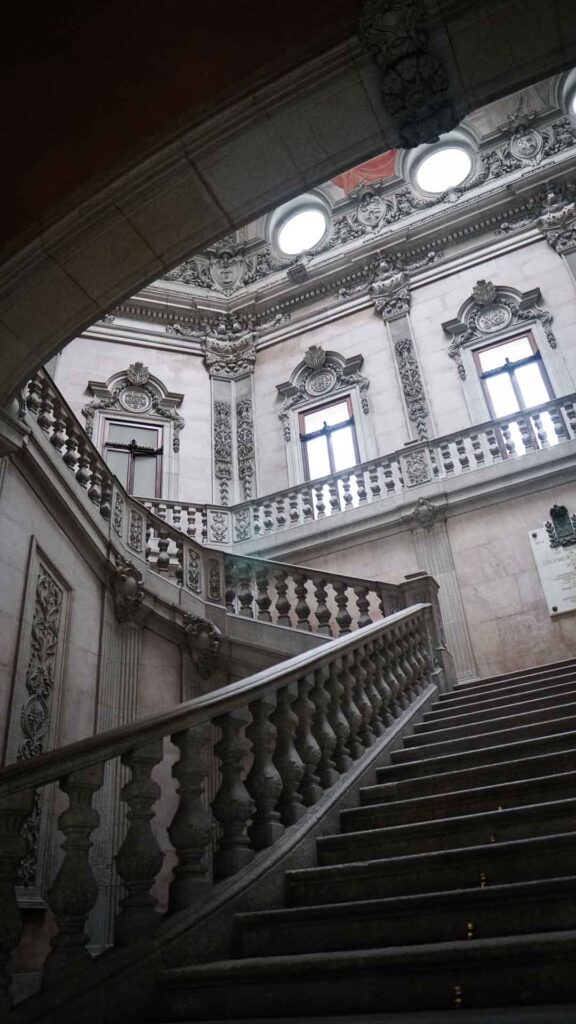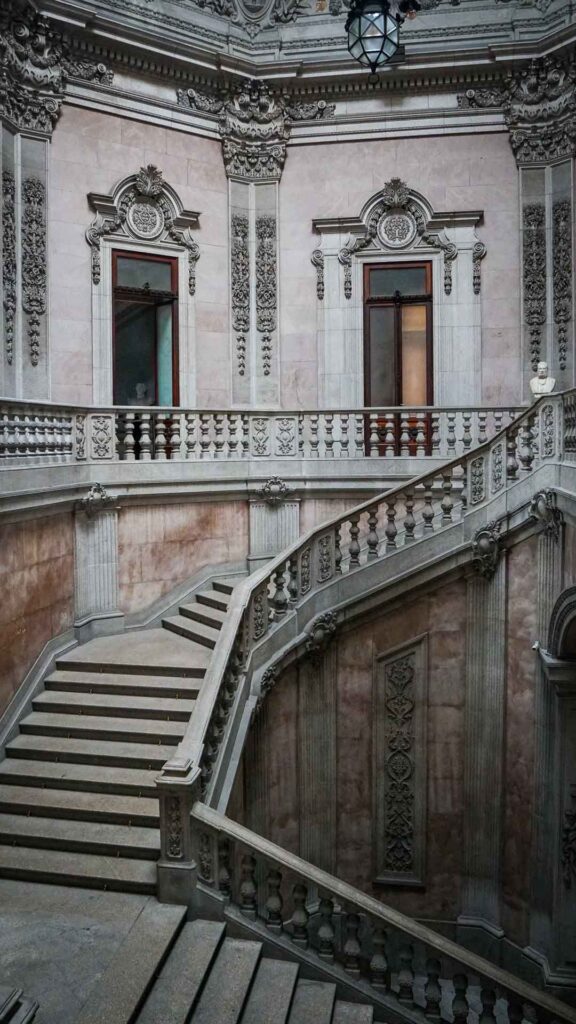 The Gustave Eiffel Room
This room in Stock Exchange Palace is preserved to pay tribute to the famous architecture Gustave Eiffel. He actually used this room as one of his offices when he lived in Portugal. His most remarkable works in Portugal include the Barcelos Railway Bridge and the Viana do Castelo double Bridge.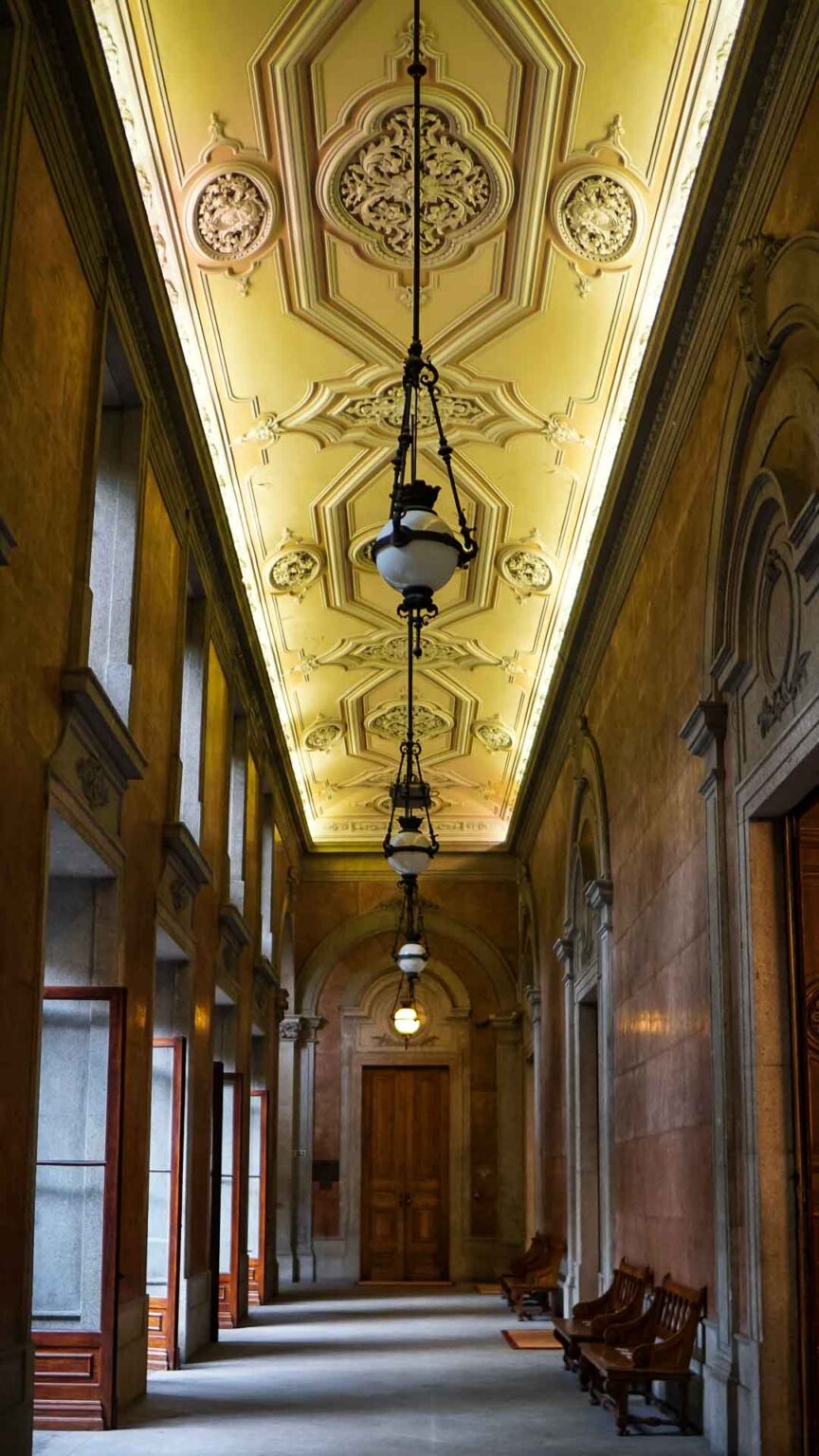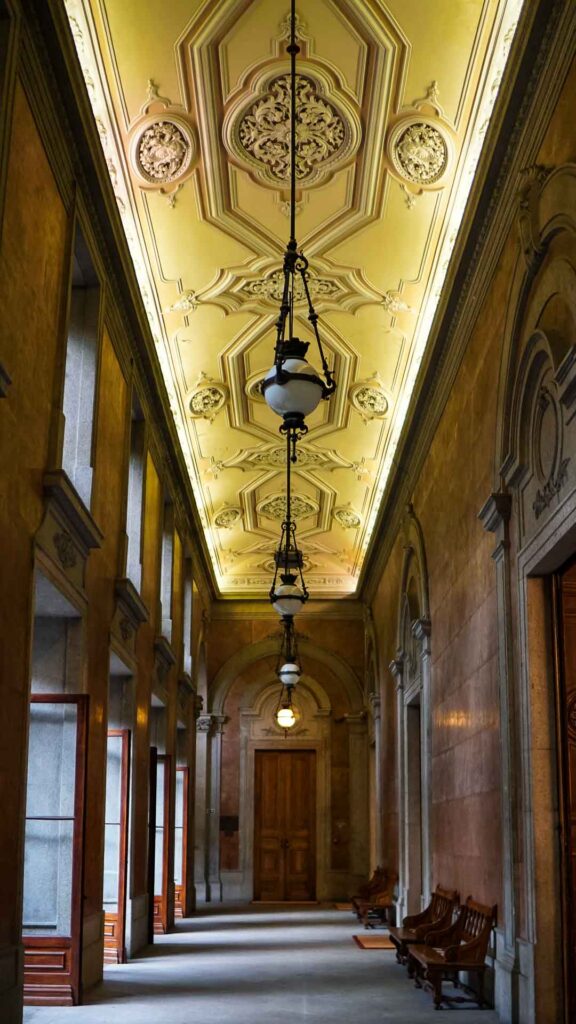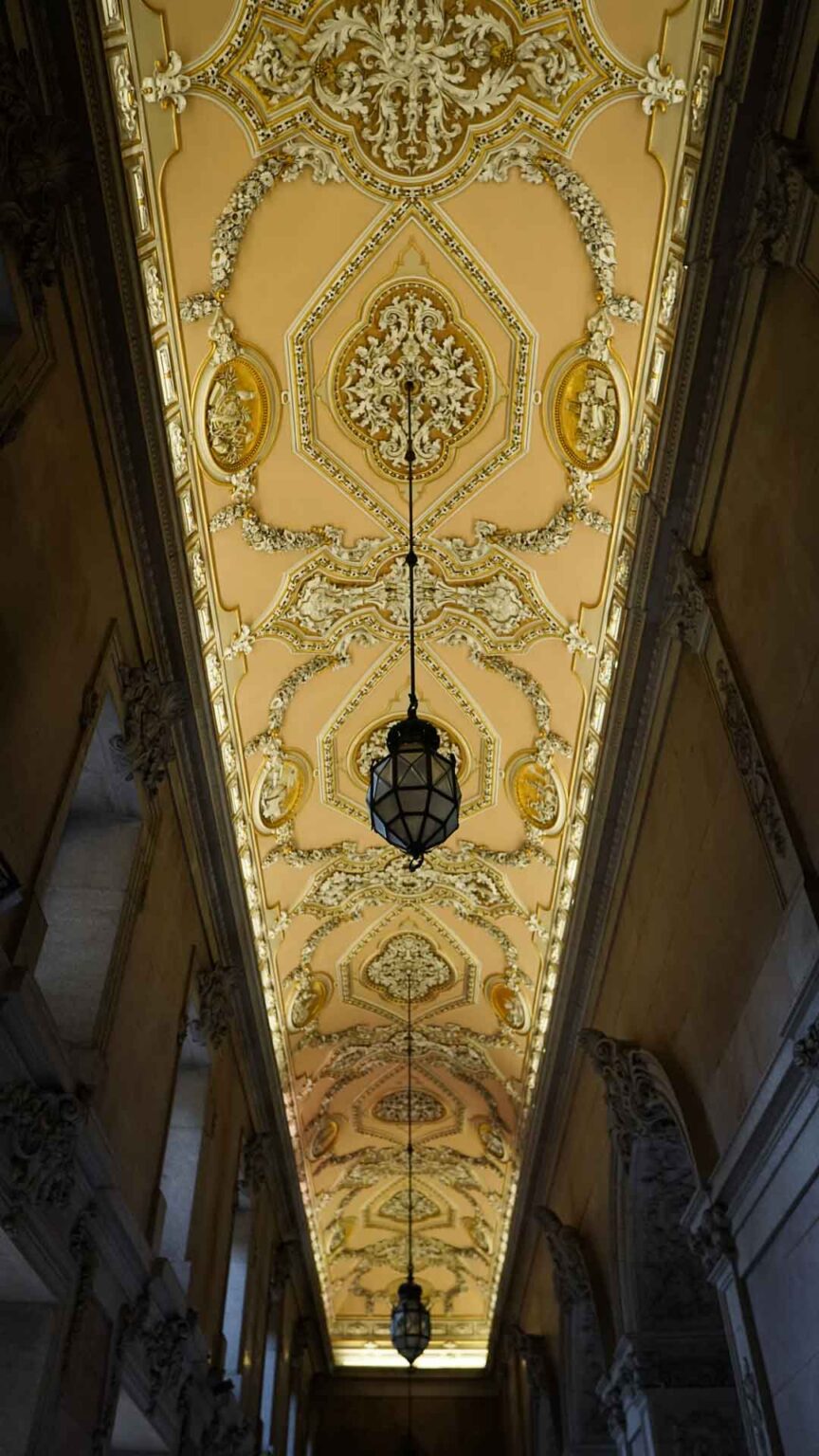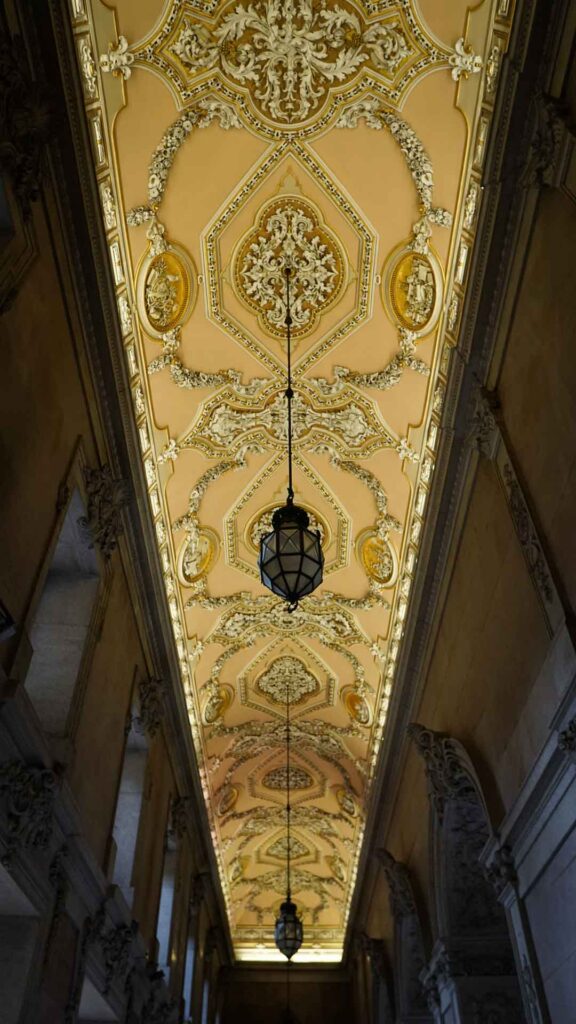 The Arab Room— Moorish Influence In The Heart Of Porto
The most admired room of Palacio Da Bolsa is the Arab Room. Not surprisingly, it was inspired by Alhambra Hall in Granada, Spain.
The Arab room was built to impress and was used as a reception room for the gathering of officials. Delicate tilework, wooden floors, and the use of 18kg of gold top off the decadence of the setting.
READ NEXT: A Visual Feast Of Romanticism – Monserrate Palace in Sintra, Portugal
Jaw-Dropping Images Of Pena Palace & Gardens in Sintra, Portugal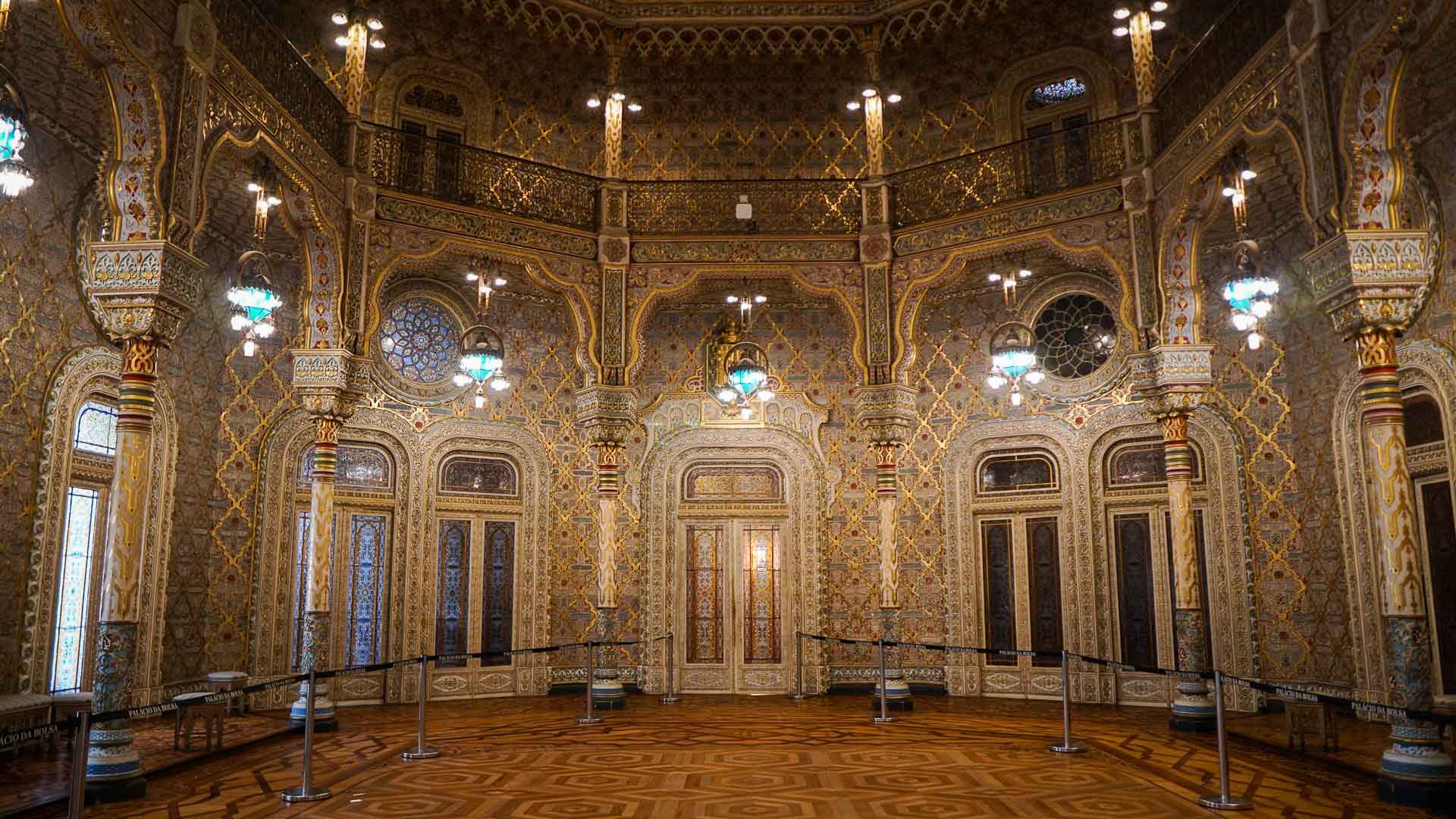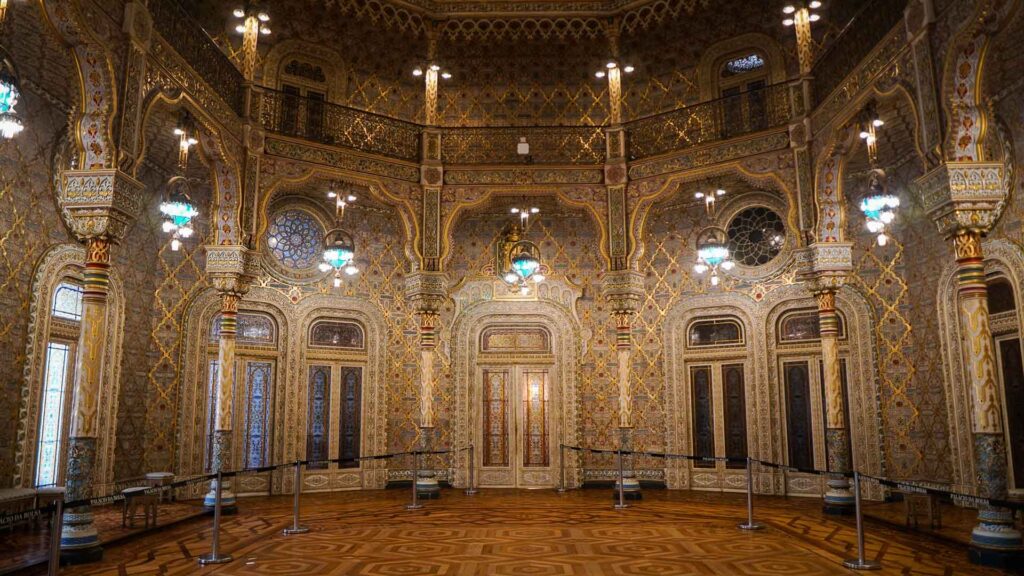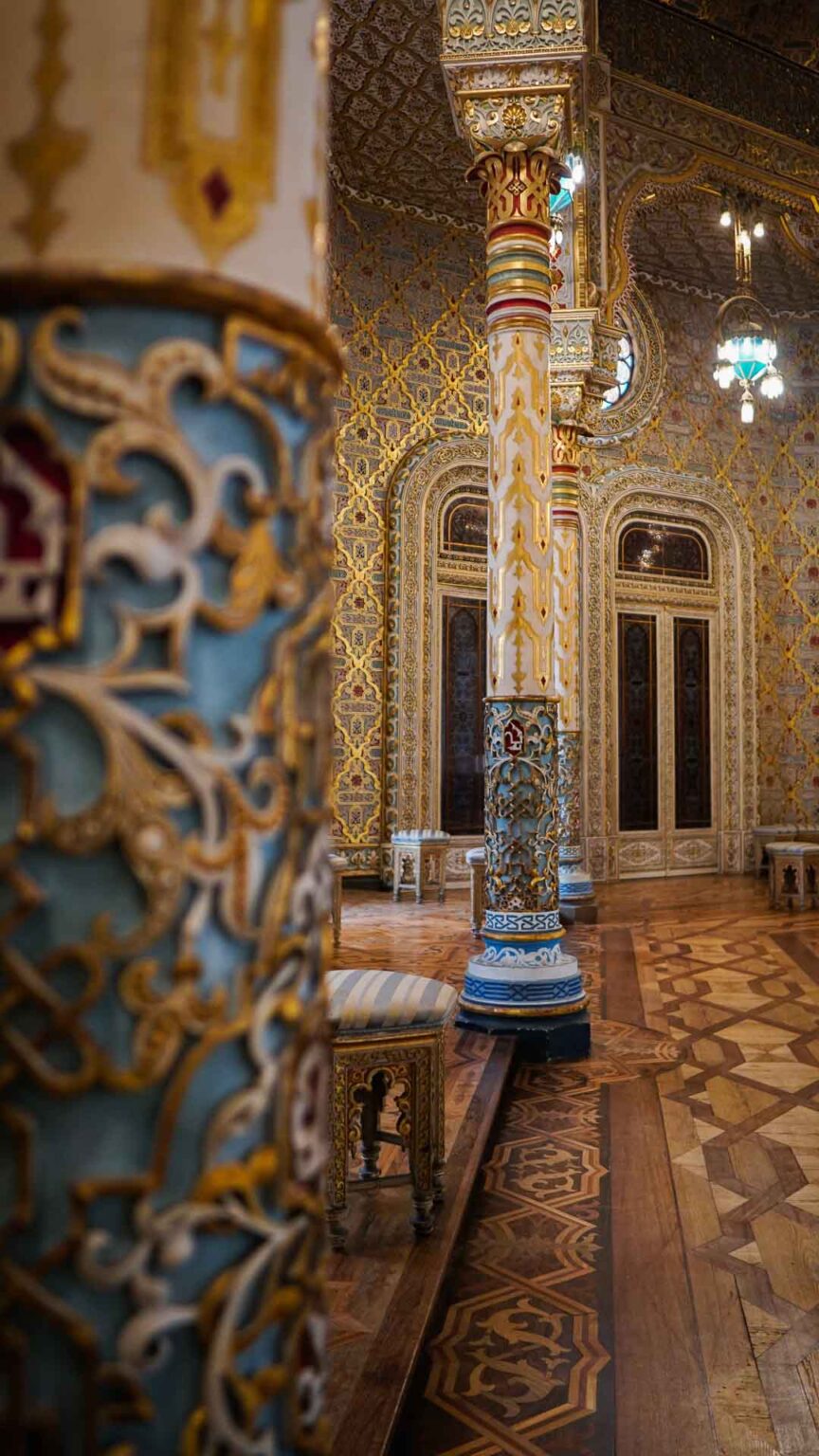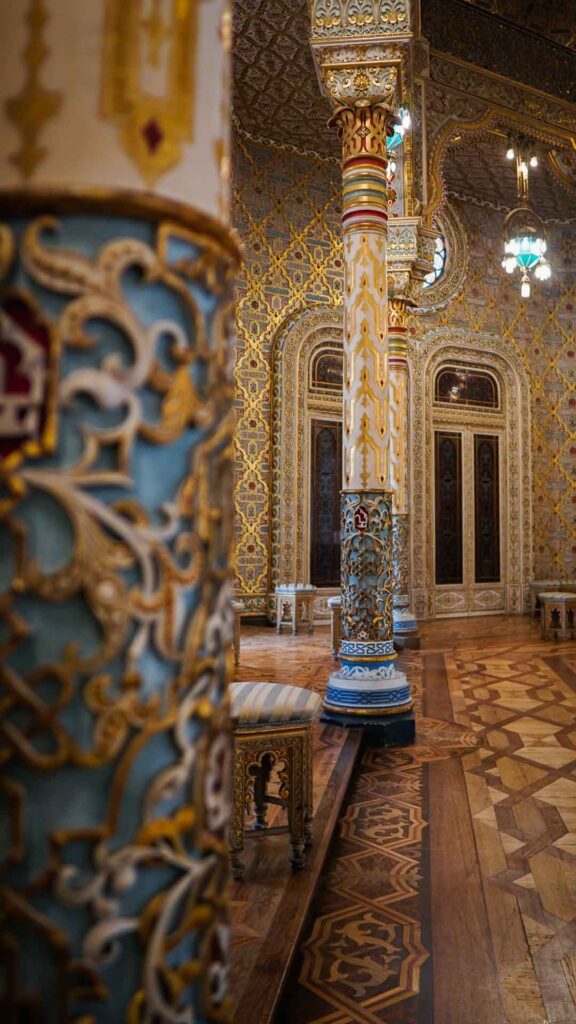 Fun Fact: The windows of the Arab Room don't actually lead to the outside of the building. The windows and doors that appear to have natural light, actually have artificial lights behind them. So if you visit Bolsa Palace on a rainy day you'll still feel like the room is shimmering in sunlight!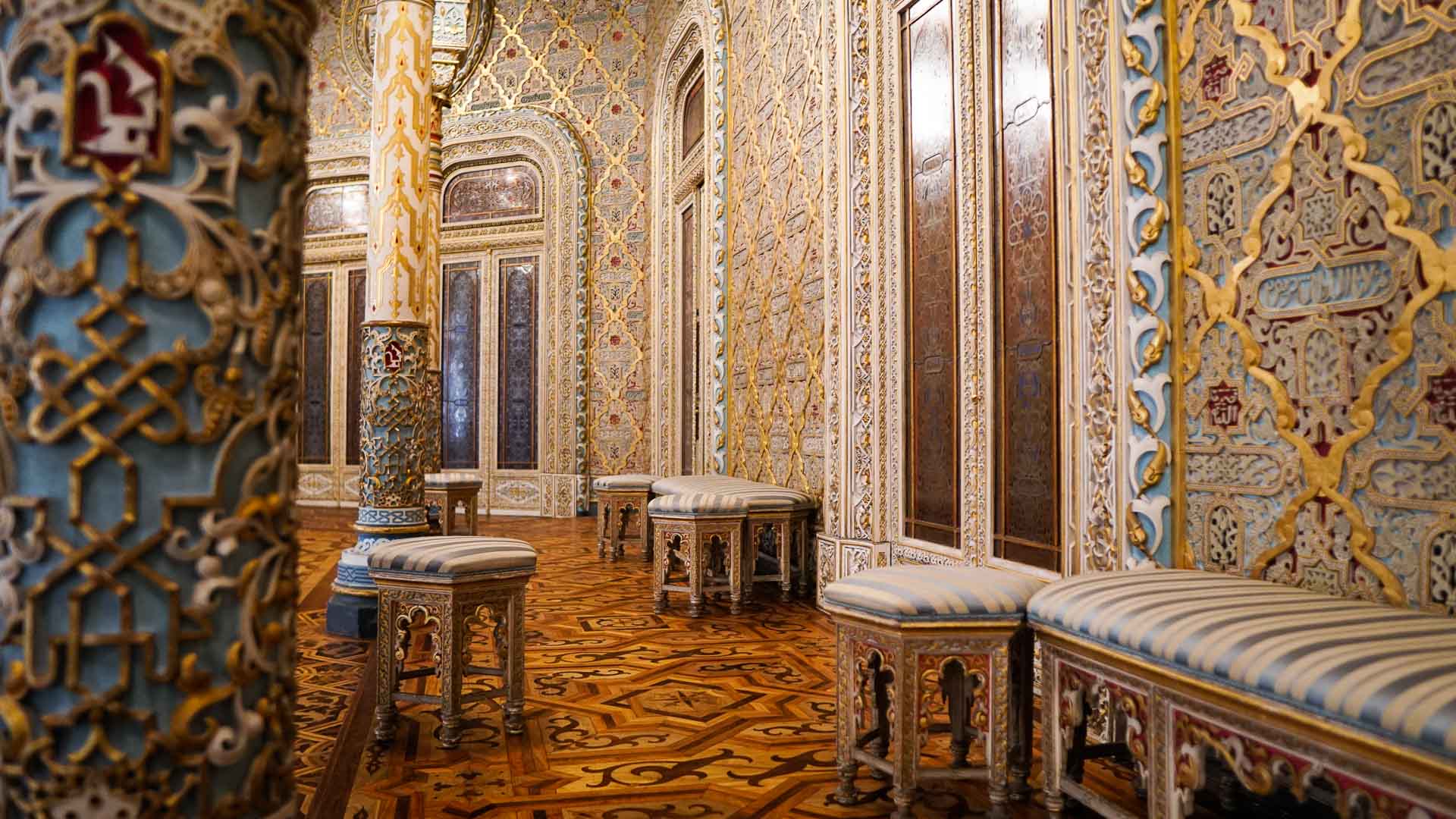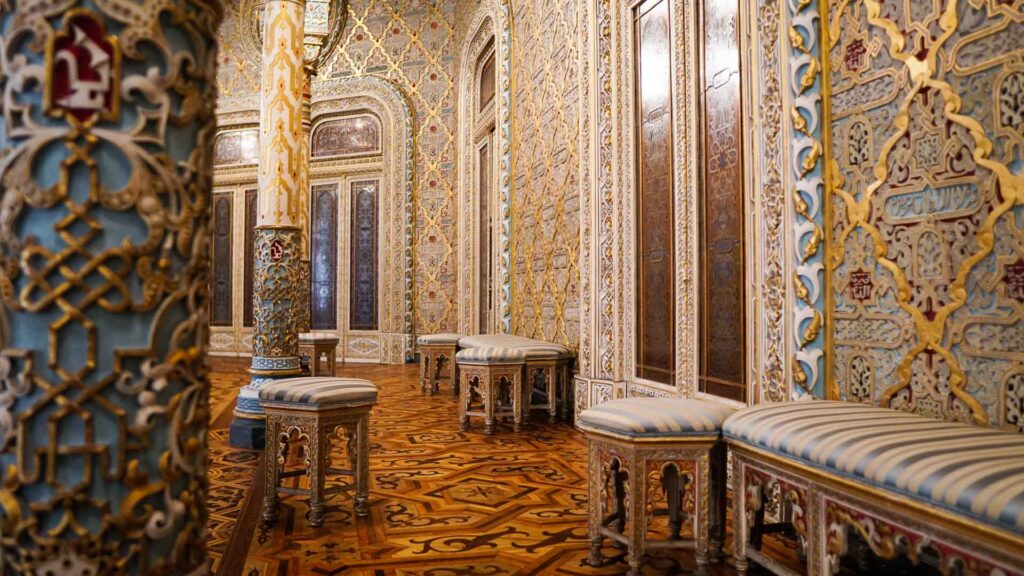 READ NEXT: Beautiful Porto: Things To Do, See, And How To Travel in Porto, Portugal
A Visual Feast Of Romanticism – Visiting Monserrate Palace in Sintra, Portugal
Opening Hours And Guided Tour Ticket Costs For Bolsa Palace
Bolsa Palace is a favorite spot for tourists visiting Porto. You also literally can't tour the palace if you don't buy a ticket and have a tour guide lead you through in small groups. This might seem like a drag, but I actually loved hearing about the history of Bolsa Palace and thought the tour guide did a great job. Tours are available in different languages; English, French, Portuguese, and Spanish.
Stock Exchange Palace Guided Tour Ticket Prices / Entry Fees & Hours
Adult tickets (18 – 64 years old) – €10
Children's w/adult (up to 12 years old) – Free (woot!)
Senior tickets – €6.50
School/Student tickets (groups) – €6.50
Stock Exchange Palace Opening Hours
9:00 am – 6:30 pm
They may close for lunch!
Join the email list to stay in the loop on new releases!
Planning To Travel To Porto?
Make sure you read this full rundown on planning your visit to Porto. It has many other amazing things to do in Porto…along with visiting a beautifully creepy mausoleum and cemetery! Please leave a comment below if you've already been! What was your favorite room or detail of Bolsa Palace?
Cheers!
– Jason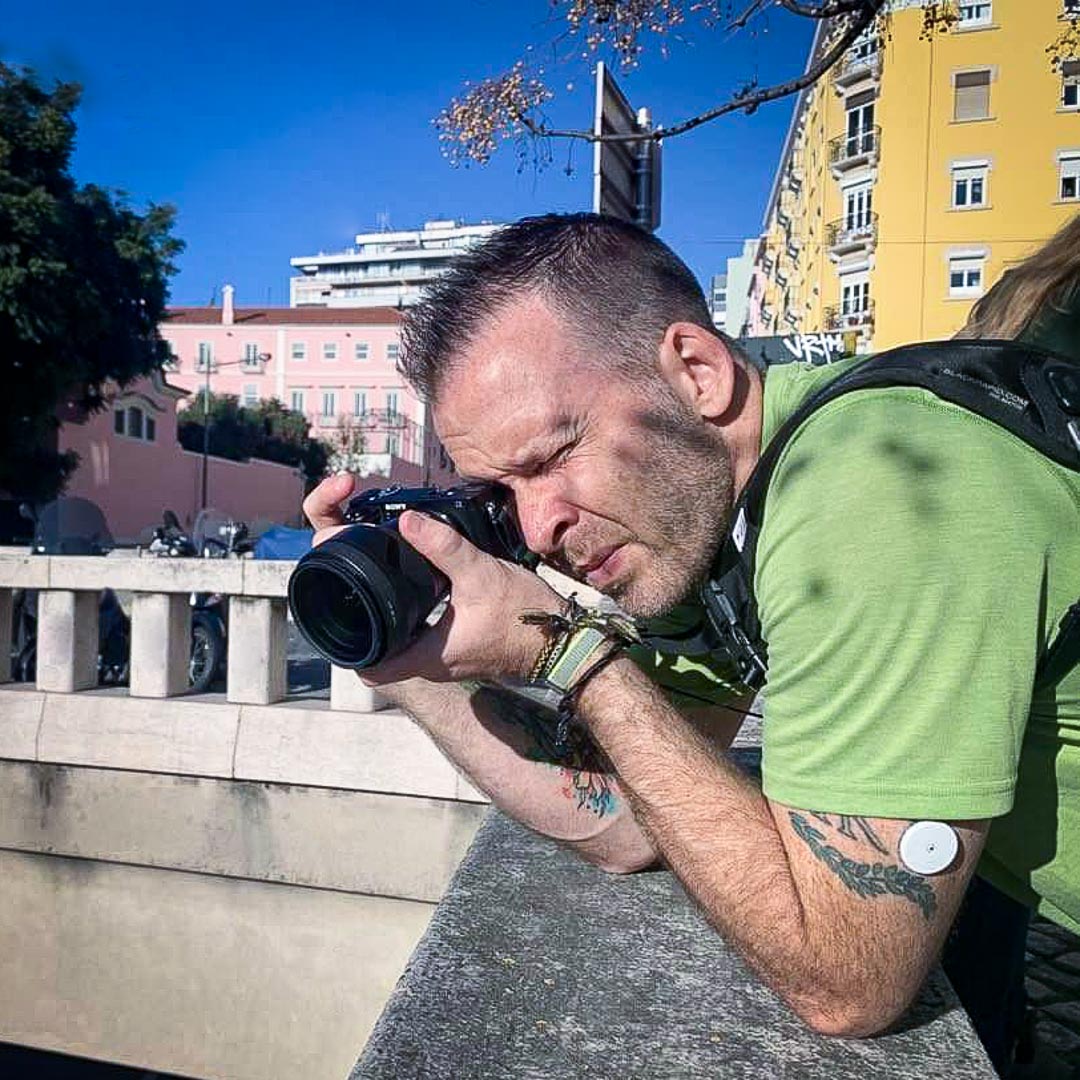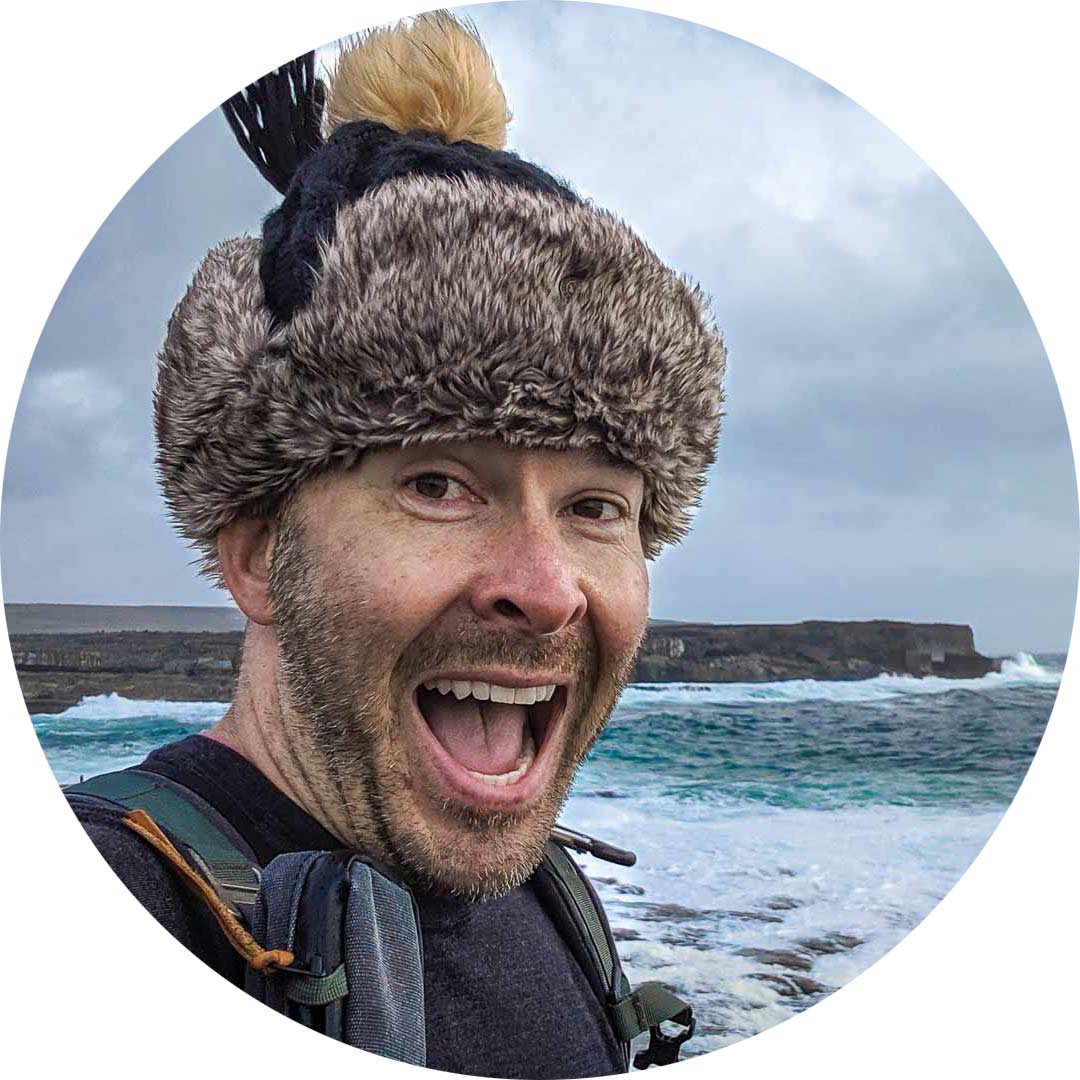 About Jason Robinson
Jason is the author of "The Beginner Traveler's Guide To Going Nomad," as well as the voice behind the words and the eye behind the lens for The Nomad Experiment. "Planning to travel at some point" wasn't actually getting the job done, so nearing 40 he decided to make it a priority, nomatter how scary that was. A few years later—through the pandemic and a type 1 diabetes diagnosis at age 42—now living a life of nomadic travel, he's speaking out to encourage others of any age, or with any serious medical diagnosis, to live an unconventional life.
Travel Planning Tips
Figure out where you are going & how are you getting there…
I suggest using at least 2 to 3 different travel search sites. Start with Skyscanner or Orbitz or Booking …or whatever aggregator site you prefer. Then when you see what airlines to use, check their respective sites for better deals or rewards flights.
Figure out where you're going to stay…
If you're interested in hostels, search Hostelworld or Hostelling International. For longer-term or more private digs, look at Airbnb, VRBO, or you can look for hotel rooms in the links from the search engines listed above.
Get comprehensive travel insurance, or in the least, travel medical insurance if internationally…
Especially with Covid not going anywhere, get covered. Start with an insurance aggregator like Insure My Trip, or with SafetyWing, World Nomads, or another. Then decide what is important to you; trip cancellation, baggage coverage, medical, or all of the above. And get a yearly evacuation plan, since you'll have to get home after your emergency! 
Need more resources? Click here!
Tough Love, Tips & Strategies To Help You Finally Kick-Start Your Travel Life…Or Go Full Nomad!
Been wondering how the hell all those digital nomads, location-independent travelers, and remote workers, travel "full-time?" Maybe you've thought about living that life one day, but you're really not sure where to start.
Beyond giving you the stepping stones to dive into short-term domestic and international travel, this book will show you how long-term travelers extend those tools, maximize their budgets, and turn weeks into months…or even years…of traveling the world indefinitely.