I Froze My Insulin Flexpens On The Way To Europe—Tips For Traveling With Insulin Internationally
My First Time Traveling With Insulin And I Froze My Insulin Flexpens
I knew that flying with diabetes and traveling with insulin was going to be tricky. Still, I never thought I would have two frozen insulin flexpens after my first international flight while on the way to Portugal for three months. It was barely a year earlier that I had been diagnosed with Type 1 diabetes. At age 42…and having just sold everything I owned to become a location-independent nomad. And it was my first time flying with diabetes supplies. Heck, my first time flying since diagnosis…which happened during the height of Covid.
Join the email list to stay in the loop on new releases!
This site participates in the Amazon Services LLC Associates Program and other affiliate programs and may earn from qualifying purchases. You're never charged more, but it helps out little by little! Check out "Privacy" in the top menu if you need to know more!
I'll talk about how I got the courage up to travel with diabetes—long-term travel internationally at that—under such ominous circumstances. We'll also talk about insulin producers, the insulin travel case I was using, and more importantly the insulated insulin travel case that I use now. If you're planning on traveling with insulin, it will be tricky.
READ NEXT: I just got diagnosed with Diabetes and I'm FREAKING OUT!
Gifts For Diabetic Travelers—Essential Travel Items & Unexpected Gifts
Leading Up To This Trip: Selling It All, Going Nomadic, And Getting Diagnosed With Type Diabetes
Quick recap on the two years before this trip, and before I was diagnosed with Type 1 diabetes:
2 years before this trip – Sold my house and belongings so that I could be nomadic, after a lot of learning and life changes. Oh…I had only traveled to three countries outside the US…at age 41. After selling, I overlanded across the US then fast traveled across Europe and saw a few more countries. (To be clear, I recommend slow travel…not fast travel like I did!)
18 months before this trip – I was in Queretaro, Mexico for two months, which ended with me flying home at the beginning of travel shutdowns due to Covid.
12 months before this trip…almost to the day) – I was diagnosed with Type 1 diabetes at age 42. I was single and traveling solo, so it was a pretty rough time.
3 months before this trip – I felt that I was doing "well-enough" living with diabetes while locked-down in the US. But I realized that I had to get back on the horse and figure out the ins-and-outs of flying with diabetes. Well…flying with insulin more specifically, and what my digital nomad, location-independent life would entail moving forward. So I bought the ticket.
READ NEXT: Lessons from My First Year as a New Digital Nomad – Sell It All!
I Just Got Diagnosed With Diabetes And I'm FREAKING OUT!
Planning To Travel With Type 1 Diabetes
After about 8-9 months of learning how to live with Type 1 diabetes—and being forced to stay put in the US during Covid—I started planning to travel internationally again. Honestly, that idea was scary as f*ck, but again, I wasn't willing to let fear stop me. I started kicking irrational thoughts aside and attempted to think rationally.
And most of the countries I will be visiting while I spread my wings as a world traveler are considered well-developed. Read: There is access to insulin and basic diabetes care.
To help cancel out the largest fears of traveling internationally, I started doing research to find some backup plans in specific areas. I suggest you do the same, even if you're just planning to travel with Type 1 diabetes domestically.
READ NEXT: Analysis Paralysis? Rigid Plans Are Overrated—BackUp Plans For The Win!
Research About Travel With Type 1 Diabetes You Should Consider:
Insulin Producers & Diabetes Around The World
One of the things I realized was that I could pack double the supplies until the cows came home, but I would need to have a backup plan for insulin and all of my diabetes supplies in case something happened.
For instance, my bag could get lost or stolen. Or hell, my hostel could burn down while I'm out exploring. Unlikely, but better to at least have a little bit of a plan. That led me to researching where our insulin comes from, and where the insulin producers were in the world.
The insulin aspart flexpens I used were Novolog, and the basal insulin flexpens were Tresiba…both from the insulin producer Novo Nordisk. And Novo Nordisk is based in Europe; Denmark to be specific.
Many Other "World's Largest" Insulin Producers Are Located In Europe
The majority of the major insulin producers in the world have licenses to produce insulin in nearly 100 countries. Combine this with the more socialized medical products and care available in Europe, and I realized that I would have options, no matter the cost, in case of an emergency.
Further research into Portugal uncovered that they really take care of their citizens so far as diabetes goes.
Where the US has the highest cost of insulin in the world, Portugal has one of the lowest. And at the time, Portugal had the highest vaccination rate against Covid in the world.
So at this point, I stopped planning to travel and bought the ticket! I got my travel medical insurance and my yearly evacuation subscription coverage. I Booked a hostel or two for the first week in Portugal so I could get my bearings…then packed my bags! 
READ NEXT: Gifts For Diabetic Travelers—Essential Travel Items & Unexpected Gifts
Books for Inspiration, Motivation, & Generally Slaying it at Adulting
How I Froze My Insulin Flexpens
Well, to be clear…I didn't freeze my insulin flexpens. The very kind and well-meaning flight attendant on my long transatlantic flight to Portugal accidentally froze my insulin flexpens. Specifically, only two of my basal insulin flexpens out of the hoard of both basal and aspart flexpens I had packed.
Oh. Did I mention that I was able to pack carry-on-only for three months if Europe? And that included enough of my Freestyle Libre 2 CGM applicators! Note that the insulated insulin case that I had been using while traveling with insulin up to this point did have small icepacks, but those would not keep my insulin cold enough for an entire transatlantic flight.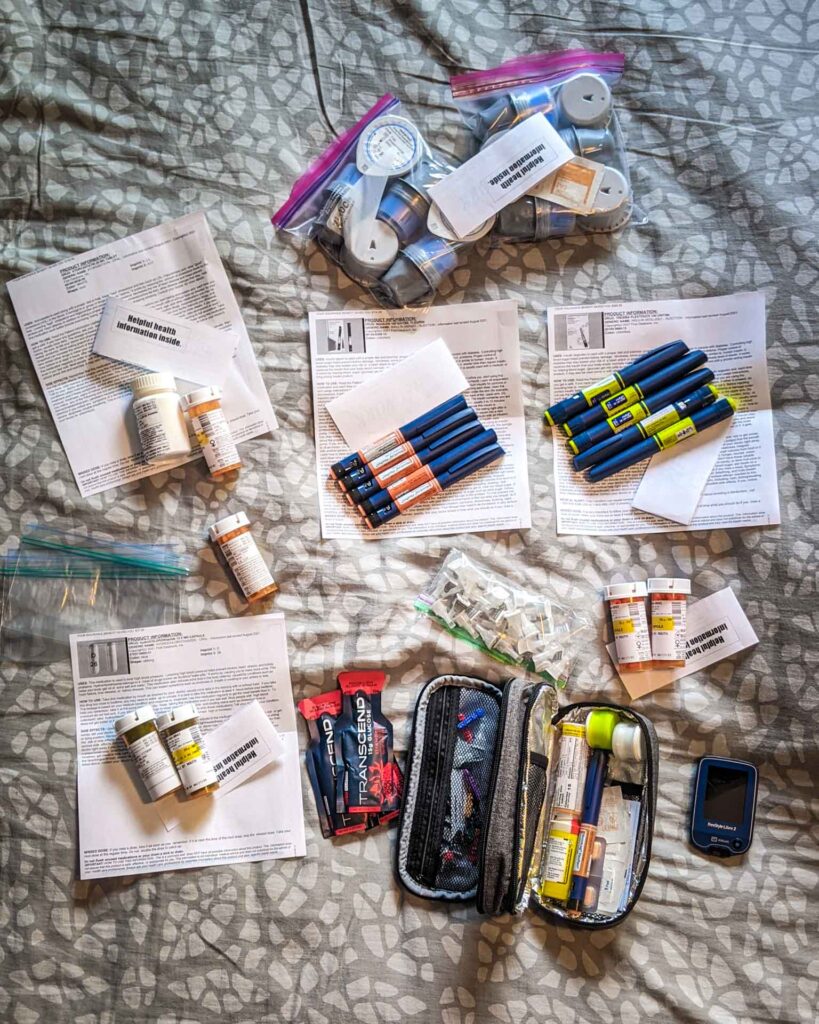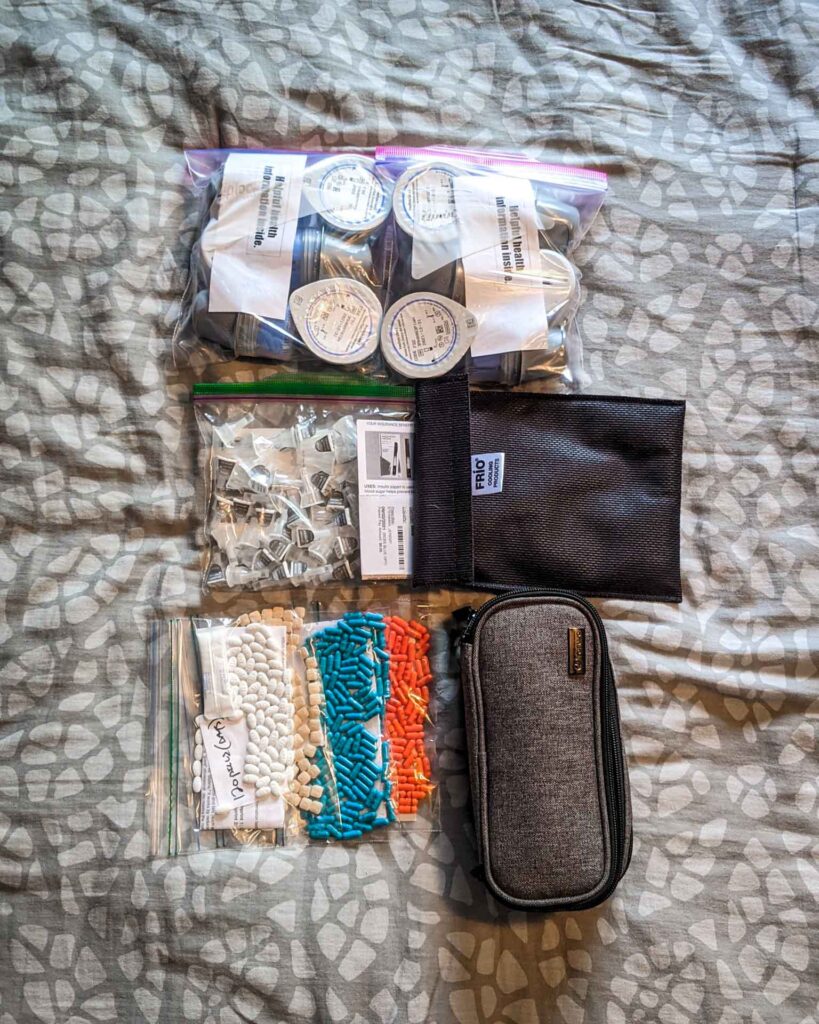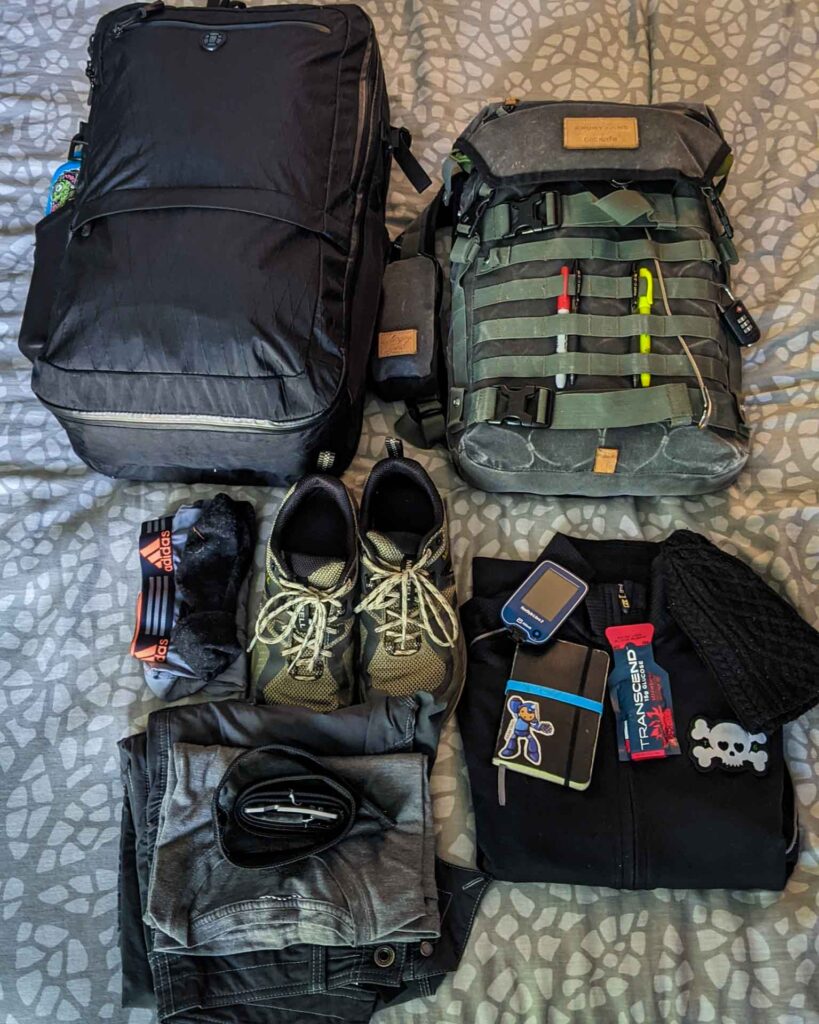 Before boarding my flight, I found the most important looking person I could from the airline. She was in charge of the entire crew, so I explained to her that I was a Type 1 diabetic and traveling with insulin. I asked if there was a way that I could have my insulin refrigerated while in flight, and she coordinated with an attendant.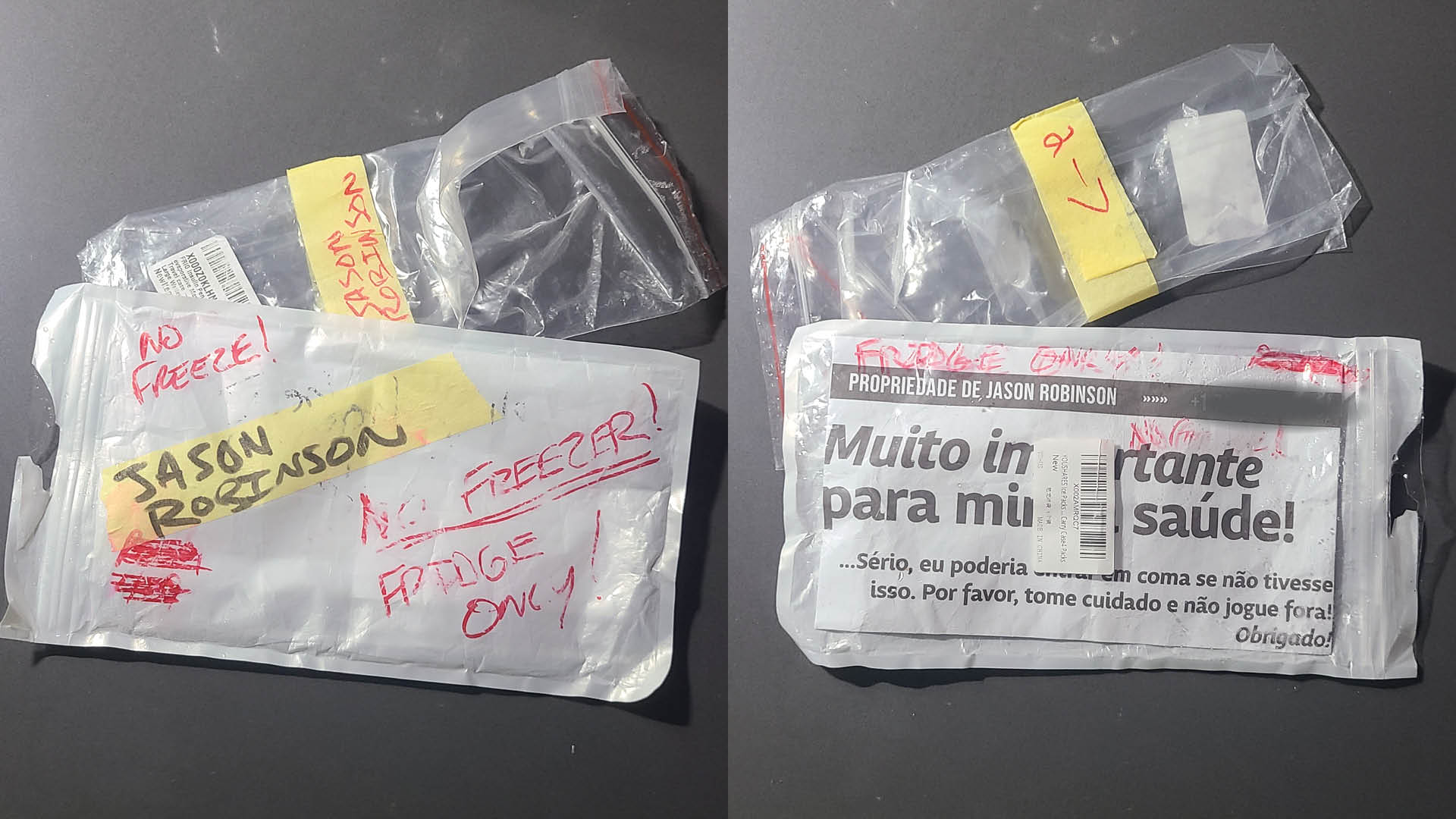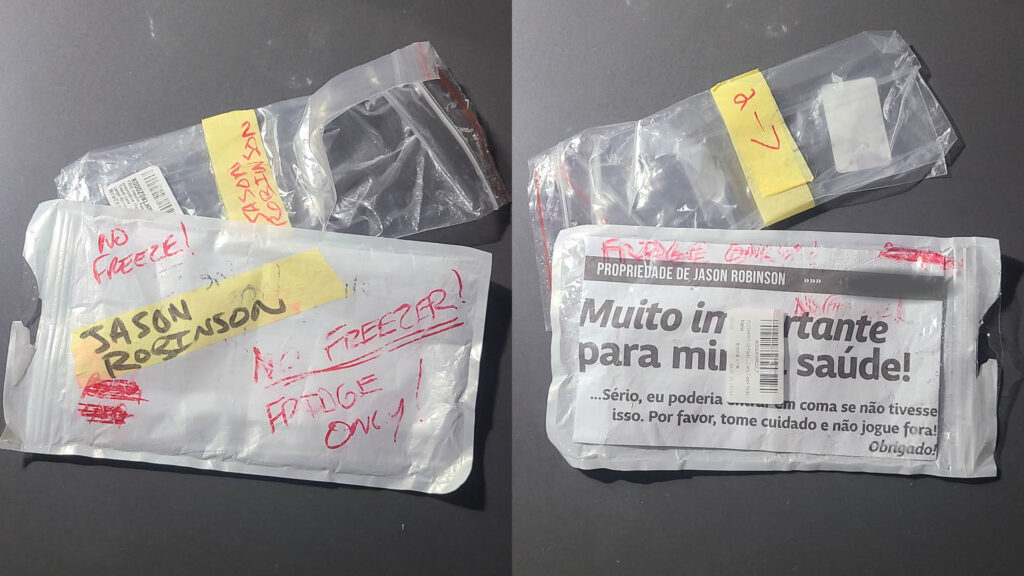 "These Insulin Flexpens Can't Be Frozen…Only Refrigerated!"
When boarding, I was very specific that my insulin flexpens couldn't be frozen…only refrigerated. I even had written it all over the bags I had my insulin flexpens in. I handed them off and just tried not to be hella-nervous the entire flight. When we landed, I waited to be nearly the last one off and found the attendant and followed her to retrieve my insulin.
I knew that the attendant meant well, so I thanked her and exited the plane with my extremely cold insulin flexpens. When I got to the concourse I frantically popped off the top of each flexpen to see if my insulin was still nice and clear.
At This Point I Started Doing The Math
I knew that I had packed 1 extra flexpen for each type of insulin. Each could last me for as many as 4-6 weeks depending on my daily cardio level, eating habits, and reduced efficacy of the insulin after being opened and not refrigerated.
I realized that I could likely make it through my entire trip with what insulin I had left, barring any other insulin-related emergencies or missteps. Regardless of that, my plan all along was to do as much research as possible about traveling with insulin and to learn some new best practices for traveling with Type 1 diabetes.
Researching While In Portugal For Three Months
Now that I was settling into Portugal, I got to work with my research. Honestly, it was intimidating…but just like many other things…mostly just in my head. In each city or town in Portugal I visited, I found 1-2 pharmacies and simply started asking questions. Much like nearly every other Portuguese citizen I met, the pharmacists were extremely happy to help me and answer as many questions as I could ask.
I showed them the exact insulin flexpens I was traveling with and they looked up the prices. When the first pharmacist told me the cost…for a box…I actually had to confirm that I had heard him right.
Having seen my "before insurance" costs listed back home, this was both amazing and very disheartening. Knowing that I was planning to start an insulin pump when I returned home, I also asked about generic insulin aspart vials.
Insulin Costs Are Monumentally Less Pretty Much Anywhere Outside Of The US
I also asked what I would need to do to get the insulin, and let them know that I had printouts of all of my prescriptions and doctors letters from the US if I needed them. Most pharmacists said that would be enough, but some said I may just need to make a consultation appointment with their head pharmacist onsite to write me a prescription…but that it should be very inexpensive and easy.
READ NEXT: Travel Medical Insurance, Pre-Existing Conditions, & Type 1 Diabetes
Other Diabetes Supplies I Asked About While In Portugal
Note that at the time my Freestyle Libre 2 CGMs were considerably expensive out of pocket even in Portugal—around $70 USD each. And at that time in Portugal, there wasn't an option to get any Dexcom G6 CGMs. Know that moving forward would at least help me when planning future trips. Getting insulin flexpen tips was super easy and cheap, as was the case with most of the other less critical diabetes supplies I asked about.
The Rest Of The Trip In Portugal
The rest of my reality was that would be traveling with insulin throughout Portugal, staying at different hostels, and I still needed to manage my storage. At nearly every hostel I spoke with the owner or just the staff upon check-in, and they all made accommodations for my insulin to be stored and refrigerated somewhere safe.
I made it the entire three months in Portugal without another problem with my insulin. And because I was walking so much and eating so healthily, I actually adjusted my daily insulin use down significantly. There was no need for me to buy more insulin during the trip.
Traveling With Insulin Now: The Insulated Insulin Travel Case I Use
Since returning to the US, having dealt with the minor emergency of freezing my insulin flexpens, I knew I had to have a better plan for airline travel as well as for when I was staying in different hostels. Handing over my insulin and trusting I would get it back…useable…was mentally exhausting.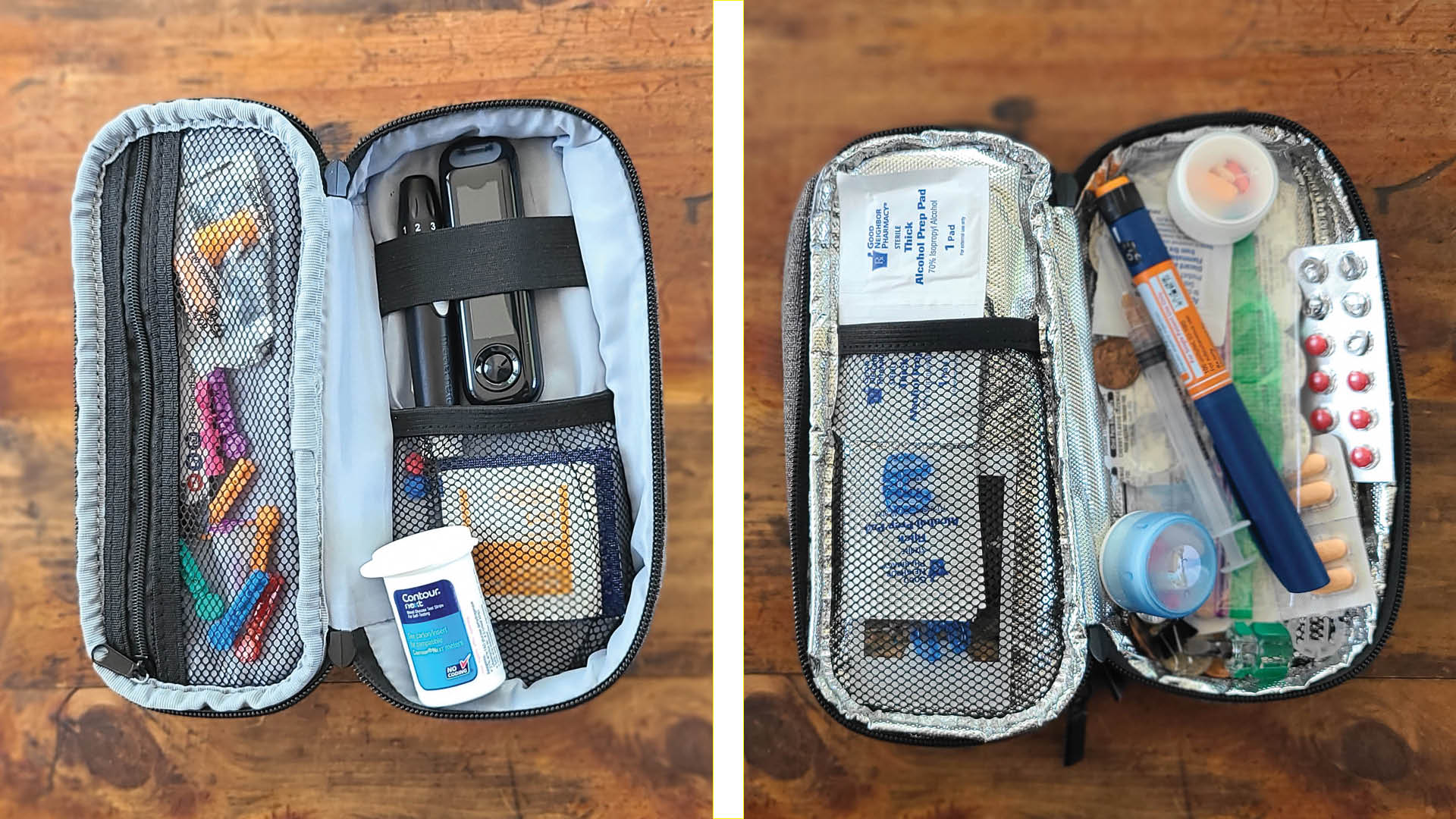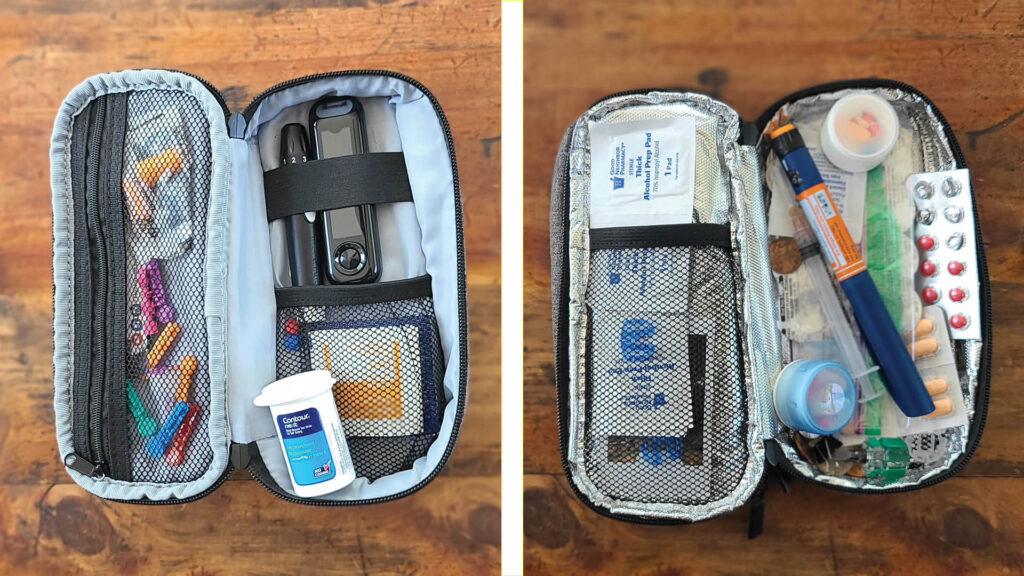 The insulin travel case I was using with simple ice packs just wouldn't cut it, and it wouldn't make me feel confident. That said, this one is still the one I use daily for all of my insulin gear and insulin that doesn't need to be refrigerated. But now I own two different-sized insulated insulin travel cases.
My other insulin travel case is smaller—enough for 3-4 vials of insulin—and has a rigid ice pack that will still keep my insulin cool for nearly a day.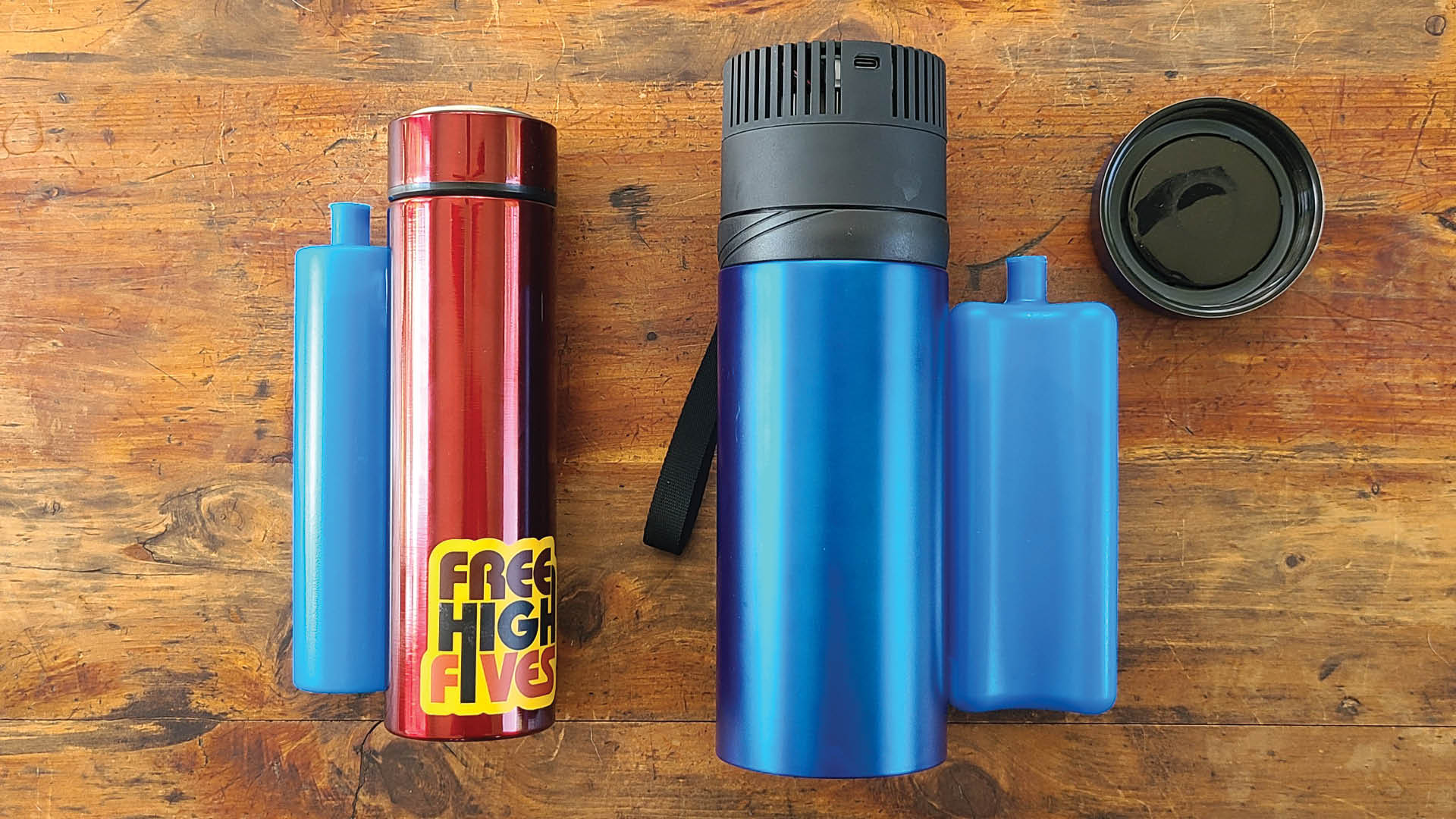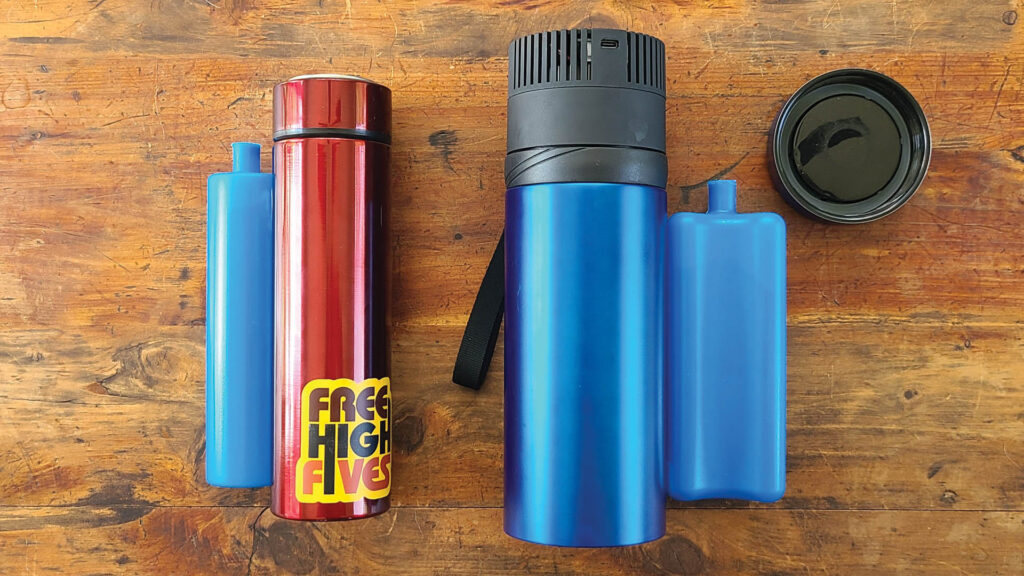 Sometimes these things feel like they cost a lot, but at the end of the day, the gains in confidence I get from them while traveling are well worth the cost. And assuming these are treated well and maintained, I have no doubt they'll last for years and many, many trips.
Traveling With Type 1 Diabetes And Traveling With Insulin: What's Next?
First, if you've read this far, thank you! If you think someone you know or love can gain some confidence or tips about traveling with Type 1 diabetes—or with any other major medical condition—please share this article with them. Second, I hope you've gotten something out of it!
For me, I'm now on an insulin pump and a new CGM. That change means I've moved on from flexpens and now I'll be traveling with insulin vials. No more need for flexpen tips. Now I'll have to make room in my carry-on luggage for infusion sets and cartridges…at least until I know what I'll have access to wherever I go.
Join the email list to stay in the loop on new releases!
As of this writing, I'm just coming up on my two-year "diaversary. " I'm well aware that there is so much more I have to learn about how Type 1 diabetes affects me and how it affects others differently. My story is my own, and any of the things I'm learning will have to be tweaked for your situation. But I'm oddly excited about the journey ahead…both for myself and for you.
I hope you'll reach out and connect! Leave a comment if you have anything helpful to contribute that might help others!
Cheers! (Oh…And don't forget to share this with someone that might need to read it!)
-Jason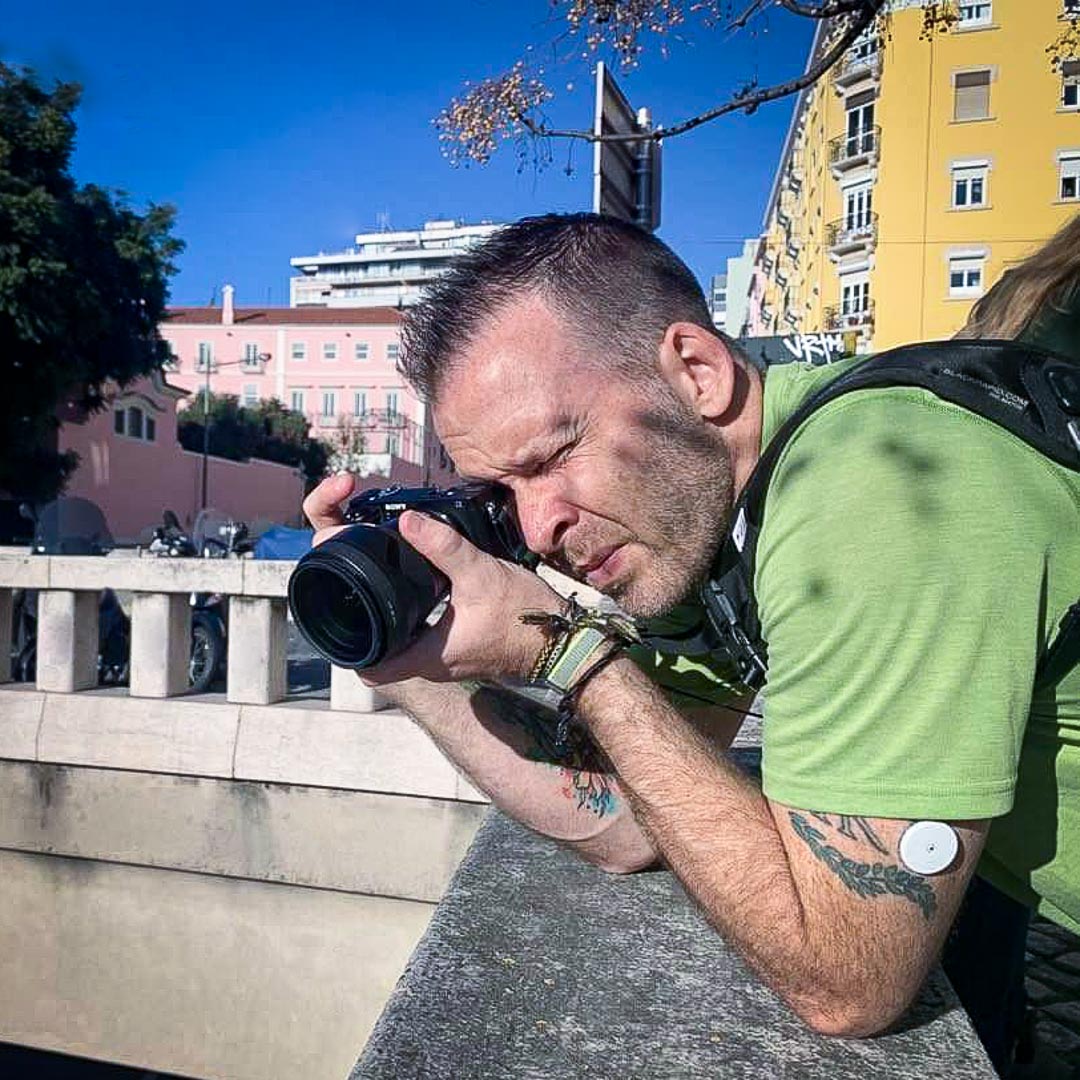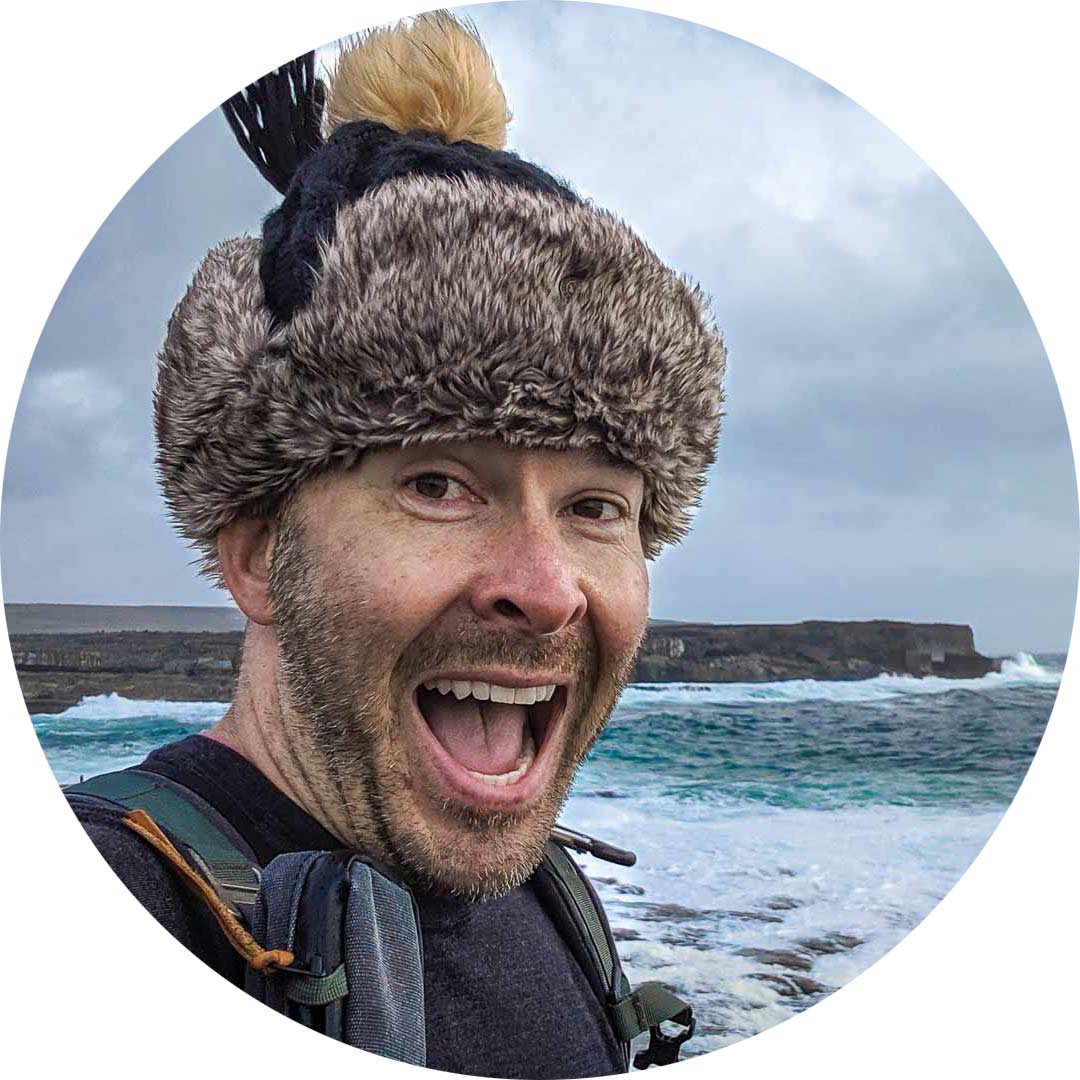 About Jason Robinson
Jason is the author of "The Beginner Traveler's Guide To Going Nomad," as well as the voice behind the words and the eye behind the lens for The Nomad Experiment. "Planning to travel at some point" wasn't actually getting the job done, so nearing 40 he decided to make it a priority, nomatter how scary that was. A few years later—through the pandemic and a type 1 diabetes diagnosis at age 42—now living a life of nomadic travel, he's speaking out to encourage others of any age, or with any serious medical diagnosis, to live an unconventional life.
READ NEXT: More Articles About Type 1 Diabetes & My Experiences
I just got diagnosed with Diabetes and I'm FREAKING OUT!
Diabetes Symptoms For Noobs – My Type 1 Diabetes Symptoms & Diagnosis Story
Travel Medical Insurance, Pre-Existing Conditions, & Type 1 Diabetes

Travel Planning Tips
Figure out where you are going & how are you getting there…
I suggest using at least 2 to 3 different travel search sites. Start with Skyscanner or Orbitz or Booking …or whatever aggregator site you prefer. Then when you see what airlines to use, check their respective sites for better deals or rewards flights.
Figure out where you're going to stay…
If you're interested in hostels, search Hostelworld or Hostelling International. For longer-term or more private digs, look at Airbnb, VRBO, or you can look for hotel rooms in the links from the search engines listed above.
Get comprehensive travel insurance, or in the least, travel medical insurance if internationally…
Especially with Covid not going anywhere, get covered. Start with an insurance aggregator like Insure My Trip, or with SafetyWing, World Nomads, or another. Then decide what is important to you; trip cancellation, baggage coverage, medical, or all of the above. And get a yearly evacuation plan, since you'll have to get home after your emergency! 
Need more resources? Click here!
Tough Love, Tips & Strategies To Help You Finally Kick-Start Your Travel Life…Or Go Full Nomad!
Been wondering how the hell all those digital nomads, location-independent travelers, and remote workers, travel "full-time?" Maybe you've thought about living that life one day, but you're really not sure where to start.
Beyond giving you the stepping stones to dive into short-term domestic and international travel, this book will show you how long-term travelers extend those tools, maximize their budgets, and turn weeks into months…or even years…of traveling the world indefinitely.