Hostel Review: Oaxaca, Mexico – Azul Cielo Hostel
I had an amazing trip through Mexico recently. I stayed at hostels all along the way. I started in Mexico City, taking in all of the amazing murals and street art along the way. Then I hopped an ADO bus down to Oaxaca. My stress level was pretty high in Mexico City, as I'm not a huge fan of rough-and-tumble concrete jungles. But when I stepped off the bus and started walking down the quaint streets around the zocalo in Oaxaca, I was quickly chilled. That feeling didn't end when I stepped into the cool little garden courtyard magic of the Azul Cielo Hostel.
Join the email list to stay in the loop on new releases!
This site participates in the Amazon Services LLC Associates Program and other affiliate programs and may earn from qualifying purchases. You're never charged more, but it helps out little by little! Check out "Privacy" in the top menu if you need to know more!
There are a lot of hostels in Oaxaca, and although I only got to glimpse into the front doors of a few, I'm glad fate led me to Azul. Being one that loves nature and gardens, it was a perfect fit.
Moon Oaxaca Travel Guide
"With rugged mountain ranges and stunning Pacific coastline, savory mole and smoky mezcal, Oaxaca is more than just a stop along the way: it's an adventure in itself. 
check price
1. Location — What's Around the Azul Cielo Hostel in Oaxaca
The hostel is well-places just a short walk from the Zocalo. If you're uninitiated, most cities in Mexico have a "center of town" which is called the Zocalo. This is where all the fun happens on the regular, so in most cities, you'll want to be hunkered down pretty close. While the hostel was not right near the center, it was actually the perfect distance off.
See, I don't prefer to step out of a hostel right into the thick of things. There's a slower pace about Oaxaca that I really loved, and walking the calm streets outside of the "tourist district" was part of the charm. But there was plenty to do within just a block or two so far as food and bars. And just a short bus ride away (for about $3 USD) was Monte Álban, one of the most important archaeological sites in the Oaxaca state.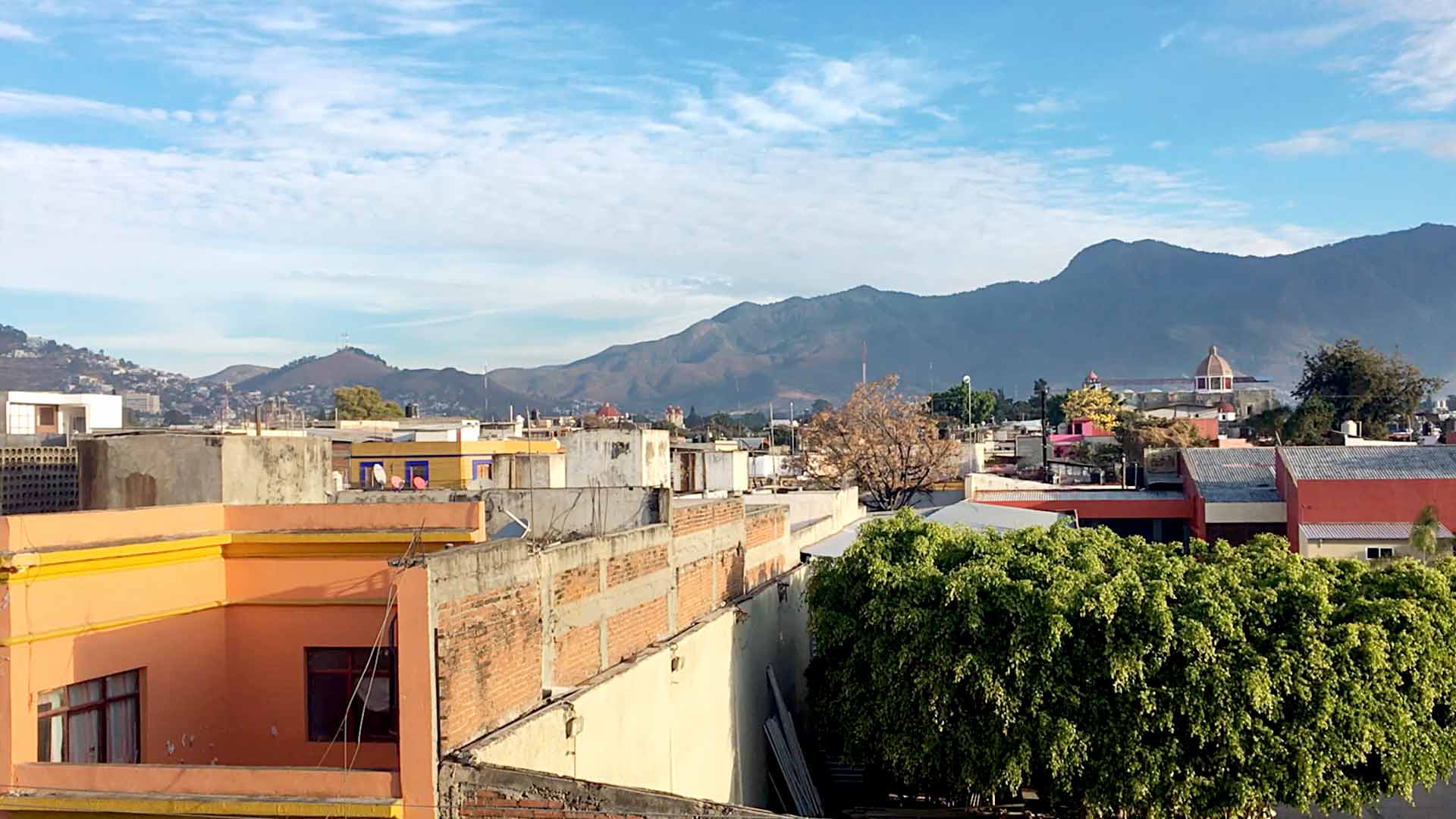 2. Friendliness & Staff
The staff at the hostel were really great. From the front counter to the folks that cooked fresh breakfast every morning, to the young hostel owner, positive vibes were everywhere. They could set up tours, or just point you in the right direction. Need a beer or some Mezcal? It's onsite and just a few pesos from your thirsty lips.
READ NEXT: The Best Hostels I've Stayed At…& Why They Make The List
Gifts For Diabetic Travelers—Essential Travel Items & Unexpected
3. Atmosphere & Ambiance Azul Cielo Hostel
This place was just like a quaint little tropical paradise, but without the tropical heat (at the time I was there at least). One of the reasons I wanted to stay, as opposed to staying at one of the other many hostels in Oaxaca, was because of the courtyard garden.
The covered, outdoor kitchen area overlooks the courtyard, so the view is proper for any meal. There's a terrace tiki bar area, complete with Mezcal, cervezas, bamboo, and a hammock if you're ready for a nap. I spent many evenings just hanging with new friends over a beer. And going up another level to the roof, there were views of the city and mountains you couldn't top. The sunrises and sunsets at this hostel were amazing!
READ NEXT: Mexico Travel By Bus; They Could Straight-Up Leave Your Ass Behind
Travel Medical Insurance, Pre-Existing Conditions, & Type 1 Diabetes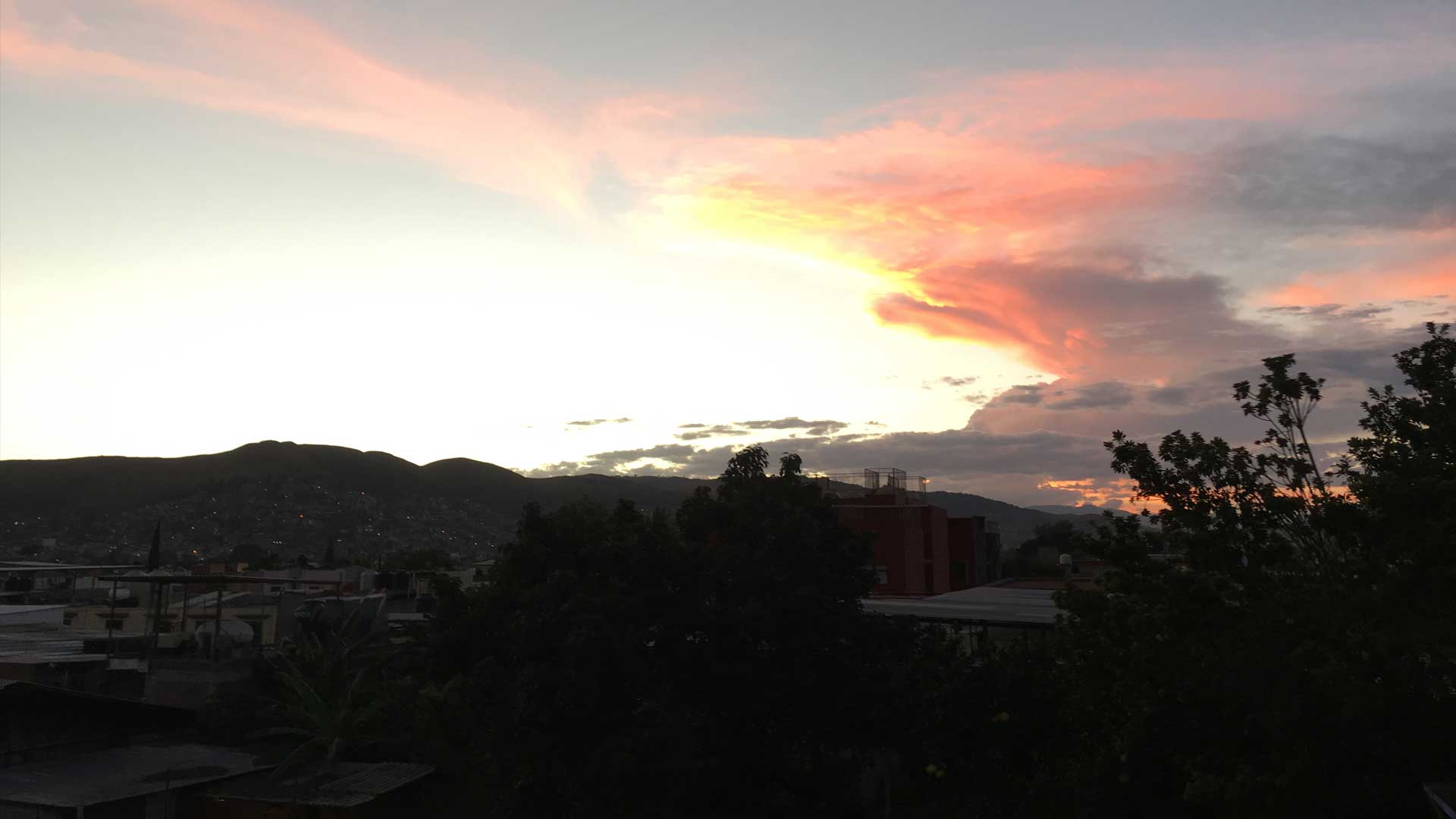 4. Public Transit Options Around Azul Cielo Hostel
So transit is a little unique from place to place in Mexico. Some larger cities will have Uber and rideshares, while smaller cities have plenty of "Collectivos" of different shapes and sizes. Oaxaca is smaller, so no dail-up ride shares, but the availability of immediately hailing a collectivo or finding a swarm of them was everywhere.
Typically, whether a bus or car, you can cram into a collectivo going to a certain destination for mere pesos. They're all very well labeled, just ask before you get in how much it costs; don't wait till you're down the road. And since they are cramped spaces, just watch your gear.
Beyond public transit, Oaxaca is so easily walkable that I would tell you just to pick a direction and venture out. The street art and the colors of Oaxaca are perfect for slow travel. The hostel did offer free bikes to ride, but when I was there they were in pretty bad disrepair. Hopefully they'll remedy that. Follow your nose! Oaxaca is famous for its Mole. Check out the Negro Mole chicken and rice below…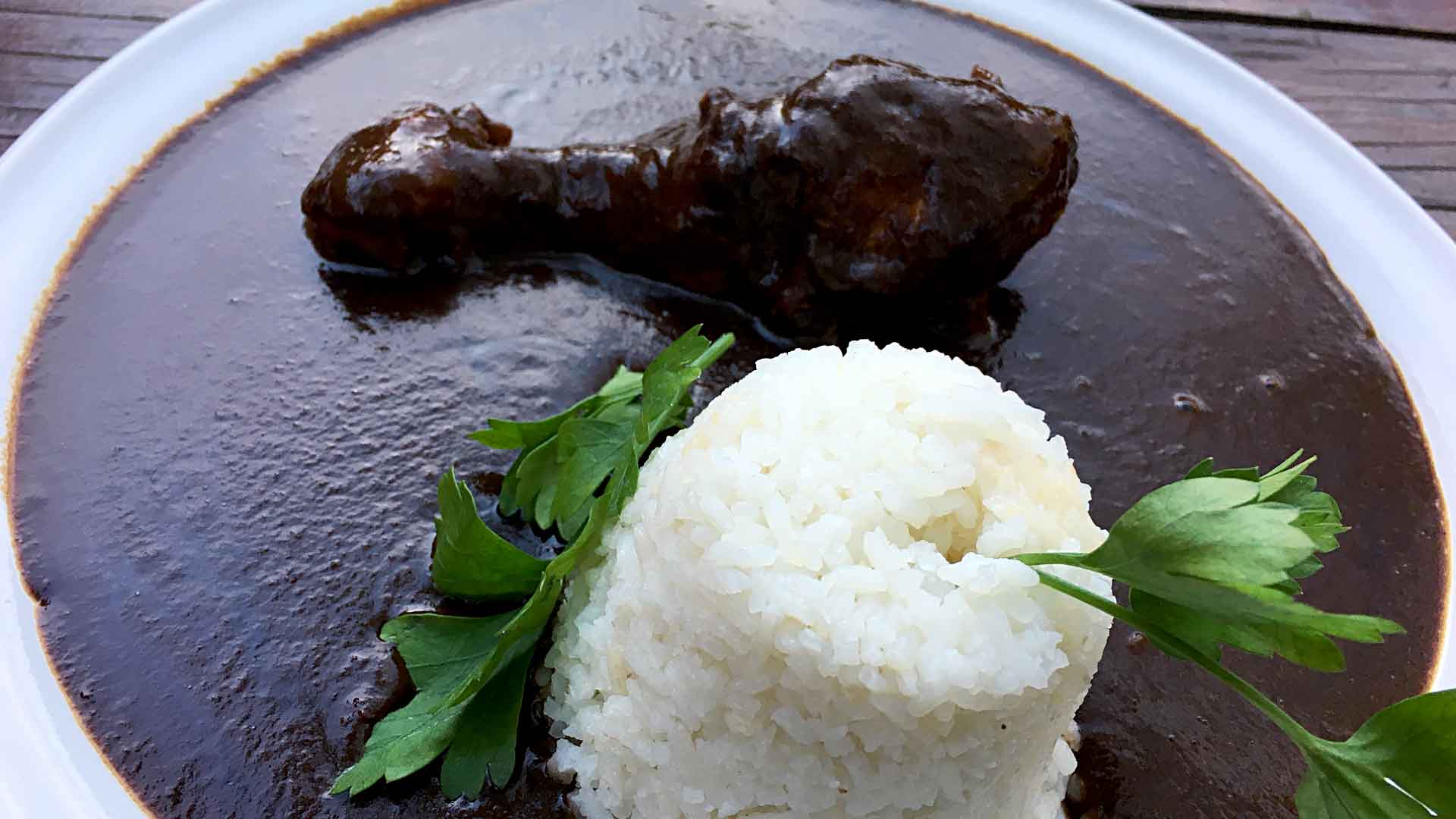 5. Hostel Beds & Comfort
I stayed in an eight-bed dorm at the hostel. While I typically err on a smaller bedding configuration, the options were limited. There are only a couple of dorms and a handful of private rooms. That said, the sleeping situation was just fine, nothing crazy. It was January when I stayed, so a little chilly in Mexico, but there was plenty of warm, comfortable bedding to keep me cozy. The private rooms that I did see looked perfect for a couple or those willing to share a bed with a friend.
6. Cleanliness At Azul Cielo Hostel In Oaxaca, Mexico
Being in an eight-bed dorm, you do tend to have to deal with a little more stank than in smaller dorms. But there really wasn't an issue in my opinion. The showers and bathrooms were cleaned daily, along with every other area. And since the communal bathrooms were only for dorm folks, since private rooms had their own, they were never full.
The only thing to keep in mind is that Mexico is a little dusty and dirty by nature, just because of the desert climate. It's no different anywhere you go in Mexico, really.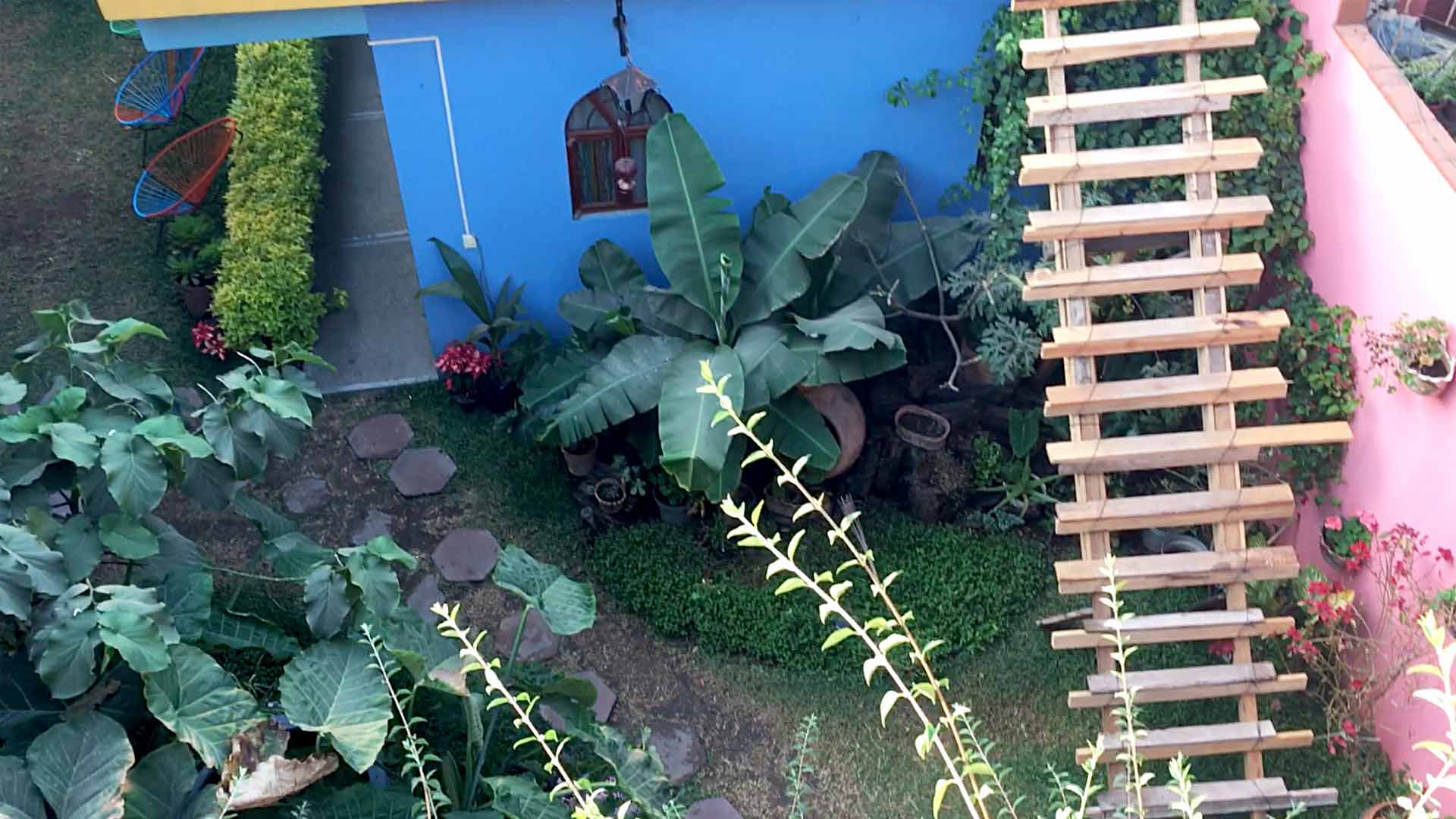 READ NEXT: Game-Changing Hostel Facts: Did You Know There are Hundreds of Hostels in the US!?
Hostel Guide 101 – Answers To The Questions You're Asking!
7. Workability
If you've been following along with this old experiment, you know I work a lot when I'm on the road. Good wifi and a decent desk or workspace is kind of paramount for me to feel complete and not super-stressed. Azul Cielo was pretty adequate as it came to getting work done, but by no means the most comfortable hostel I've ever worked at. (That might go to HI Portland Northwest…)
I spent time working in the kitchen/eating area and up in the terrace bar area. Wifi was decent, but I wasn't going to be streaming much at the time fo shiz. I also spent time up on the roof in some of the chairs up there, just typing and enjoying the views. I will say that there's an amazing courtyard library (Biblioteca Francisco de Burgoa) just a couple of blocks from the hostel that I spent a few afternoons at. There are always libraries to work at if you run into productivity problems, no matter what city you're in!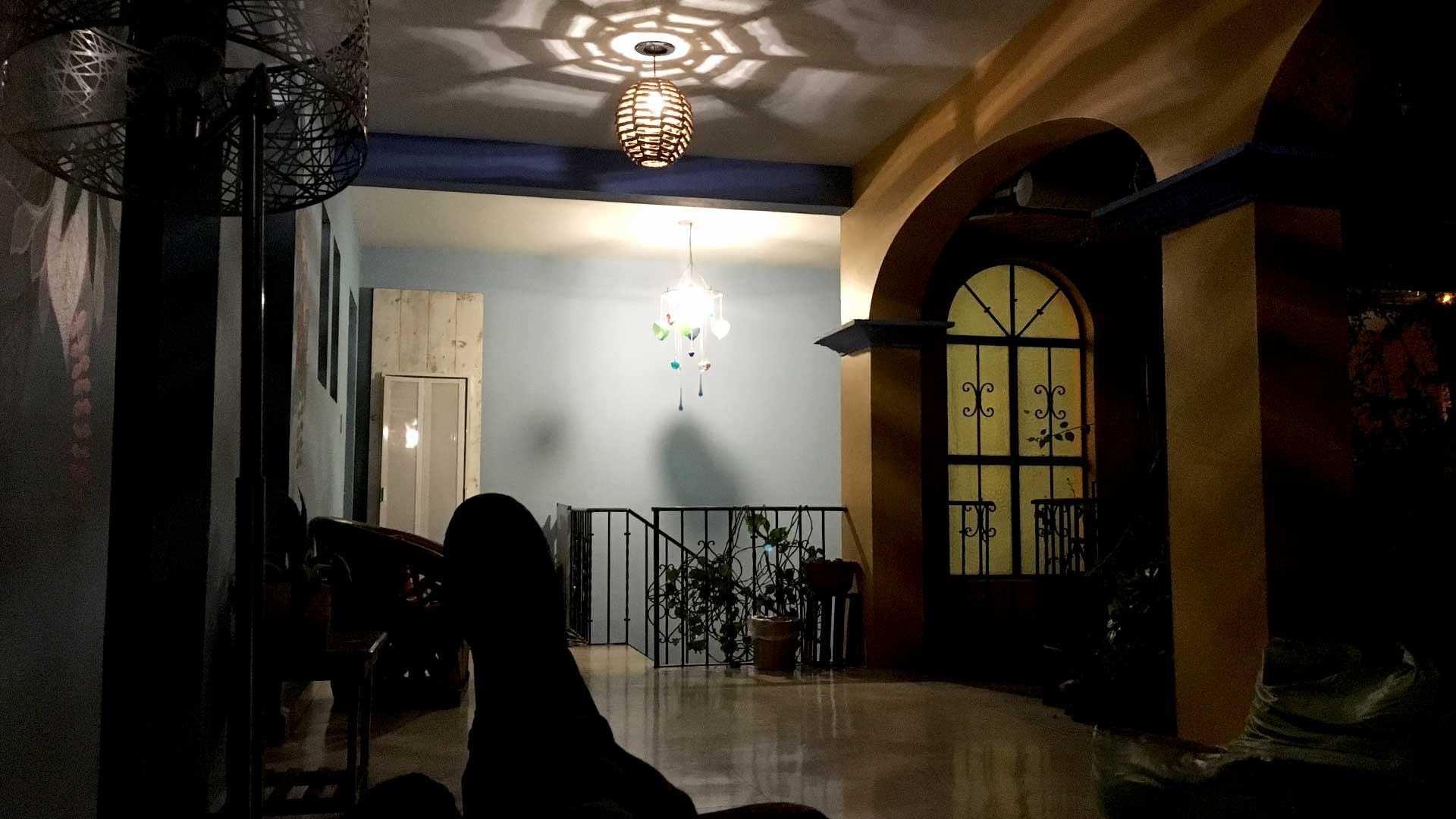 8. Events & Socializing At Azul Cielo Hostel
I personally didn't take advantage of any of the tours that they were able to set up at the hostel. Most of the hostels in Oaxaca will likely hook you up with local tours, so that's likely the same everywhere. I will say that the simple openness of courtyards, gardens, rooftops, and terraces at Hostel Azul Cielo made it pretty inevitable that people mix.
The terrace bar is also no joke. Talk about a perfect place to hang out and wind down. And since I'm not a party hostel kind of guy, it was perfect that it wasn't a huge hostel with loads of people. Every evening at the bar felt very quaint, with less than a dozen people just enjoying each other's company and a few cold ones. Lovely for sure. Man, I want to go back…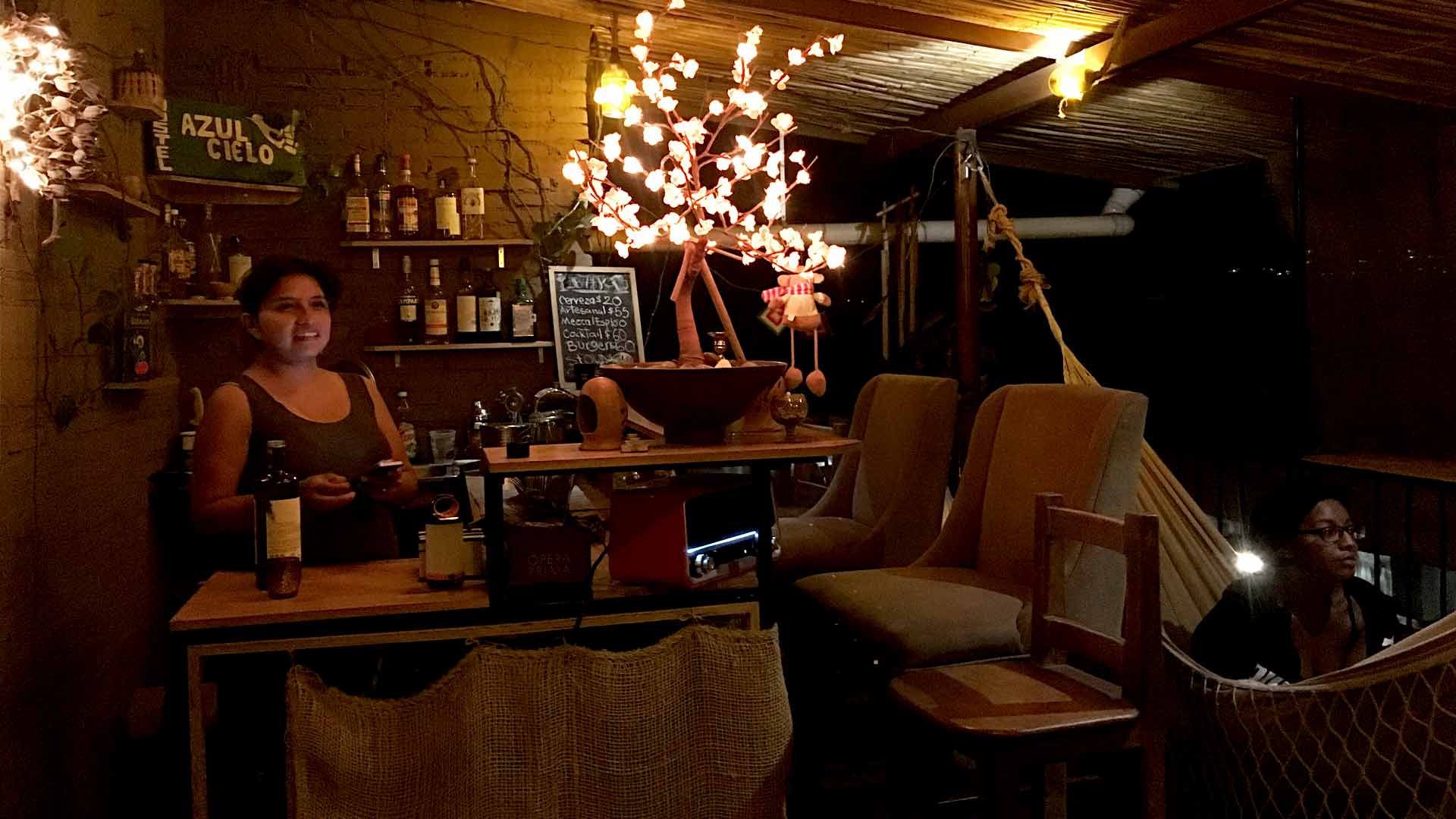 9. Free Stuff!
Well, no hostel review would be complete without talking about those added benefits of staying in hostels!
Back to the last mention of socializing at Azul Cielo, this was another place where relationships and conversations were started. The long picnic-styled table in the eating area really invited all of the people to interact. And when you're being served delicious fresh food and warm coffee, everyone's in a good mood!
10. Hostel Azul Cielo – Overall Value
Compared to US hostels, staying pretty much anywhere in Mexico is very inexpensive. The cost of hostels in Oaxaca was no different, and you can lay your head anywhere north of $8USD per night, depending on where you stay. Combine that with an amazing breakfast, perfectly charming areas to chill with your new friends, and a cerveza or mezcal, and you may never leave.
I honestly can't wait to go back. I loved Oaxaca and this hostel so much!
READ NEXT: Mexico: Murals & Street Art of Oaxaca – A Baker's Dozen of Badass #04
Fear & Loathing in Las Nomad: Admissions Of A Wannabe Nomad
Part 5: Digital Nomad, Slow Travel Life In Queretaro, Mexico. Well, At Least For 2 Months
OK. When are we going? Meet me there? We can take in a sunset from the roof like the one below… Cheers!
— Jason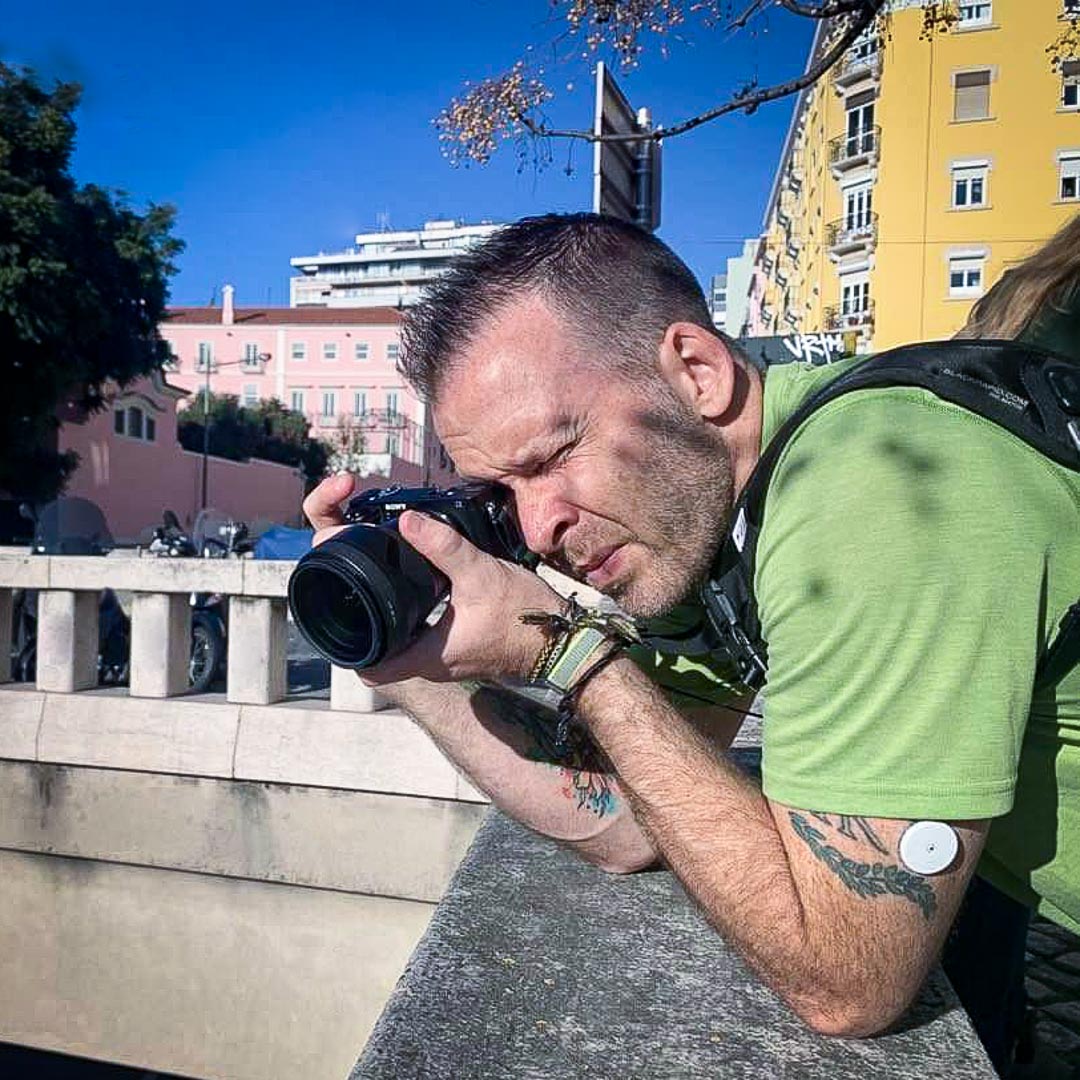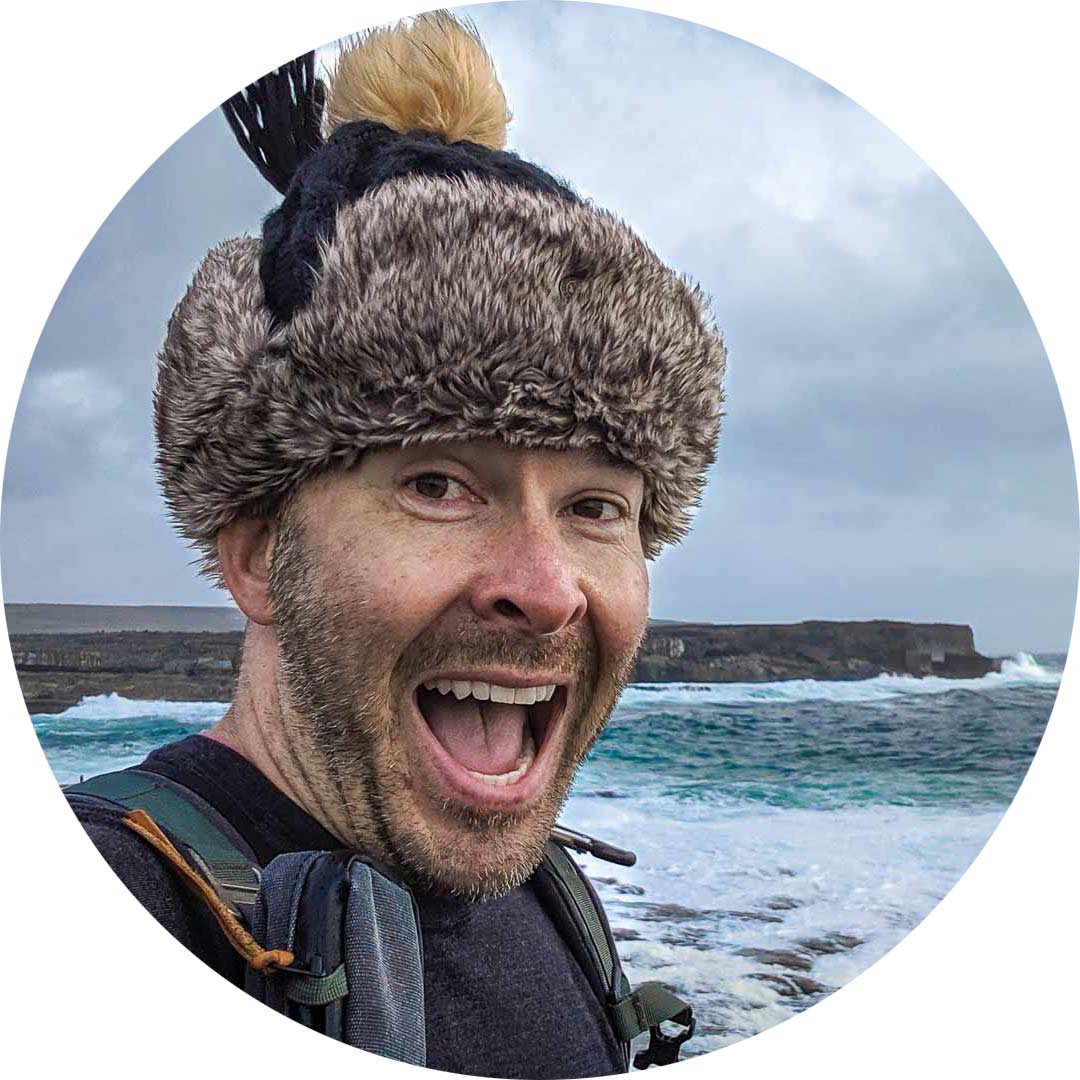 About Jason Robinson
Jason is the author of "The Beginner Traveler's Guide To Going Nomad," as well as the voice behind the words and the eye behind the lens for The Nomad Experiment. "Planning to travel at some point" wasn't actually getting the job done, so nearing 40 he decided to make it a priority, nomatter how scary that was. A few years later—through the pandemic and a type 1 diabetes diagnosis at age 42—now living a life of nomadic travel, he's speaking out to encourage others of any age, or with any serious medical diagnosis, to live an unconventional life.
Travel Planning Tips
Figure out where you are going & how are you getting there…
I suggest using at least 2 to 3 different travel search sites. Start with Skyscanner or Orbitz or Booking …or whatever aggregator site you prefer. Then when you see what airlines to use, check their respective sites for better deals or rewards flights.
Figure out where you're going to stay…
If you're interested in hostels, search Hostelworld or Hostelling International. For longer-term or more private digs, look at Airbnb, VRBO, or you can look for hotel rooms in the links from the search engines listed above.
Get comprehensive travel insurance, or in the least, travel medical insurance if internationally…
Especially with Covid not going anywhere, get covered. Start with an insurance aggregator like Insure My Trip, or with SafetyWing, World Nomads, or another. Then decide what is important to you; trip cancellation, baggage coverage, medical, or all of the above. And get a yearly evacuation plan, since you'll have to get home after your emergency! 
Need more resources? Click here!