Hostel Review: Portland, OR USA – HI Portland Northwest Hostel
I Visited Two Hostels On My First Trip To Portland: The Hawthorne Hostel, And This One, The Hostelling International Portland Northwest Hostel.
Both of these Portland hostels were equally unique! You'll probably want to drop a look at my review of both if you're heading that way! The most interesting thing about the Hostelling International (HI) Northwest Hostel in Portland stems from the fact that it's not really just one hostel, it's like a half a block of hostel, over multiple buildings! This makes for a really cool property full of nooks and crannies and both social and private spaces to spend your time.
READ NEXT: Hostel Review: Portland, OR USA – HI Hawthorne Hostel
I was lucky enough to get a bunk in their newest, and recently remodeled building, which also had a fully-functioning coffee shop (with beer taps…) on the bottom level which was open to the public.
Often time it feels like a hostel is a secluded place from the rest of the world, and I always enjoy it when it feels that the public and the hostel are somewhat more sybiotic, even if only in my own romantic mind!
Keep this in mind: I stayed in their newest bunks, so review parts that have to do with bunking down may be skewed pretty high!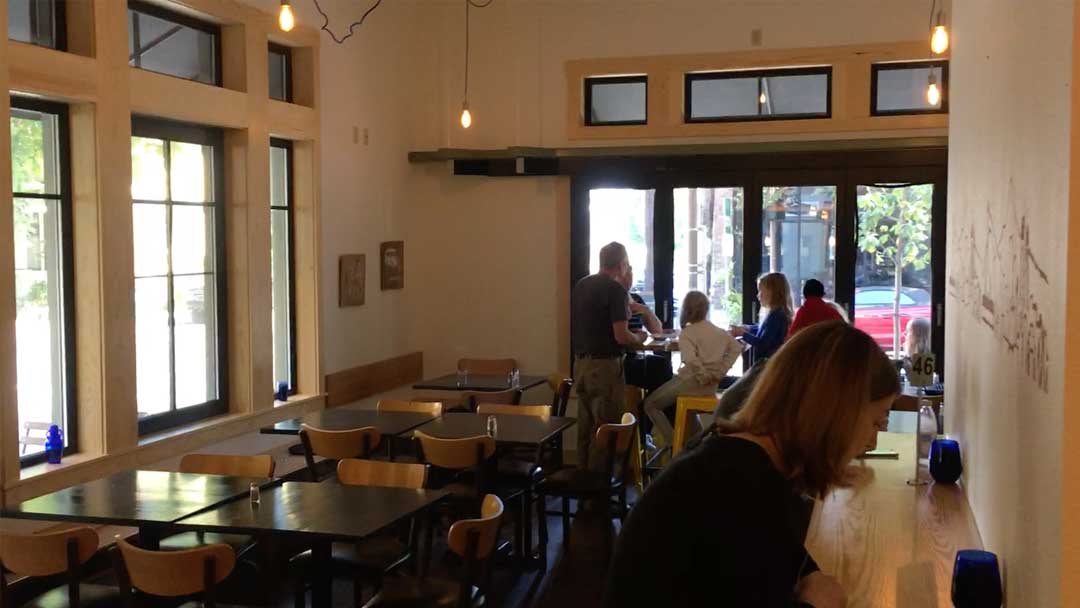 1. Location — What's Around The HI Northwest Portland Hostel
The Nob Hill neighborhood where the HI Northwest Hostel calls home is a fairly upscale, happening place, with plenty of walkable food, bars, and of course coffee shops within literally the surrounding couple blocks and further. And most of those places are (or at least feel) like small, locally owned businesses.
While Portland is a well connected city so far as transit goes (see below), it's entirely walkable. Honestly, if you aren't against walking about a mile or so in any direction, you can really get to anything the city offers, including Washington Park (and the rose gardens) or Forest Park, the largest urban forest reserves in the entire US.
2. Friendliness & Staff In This Portland Hostel
No beef about it here, everyone was very helpful. Big maps on the walls and plenty of paper literature, maps, books, etc., also help to make it feel like the kind of place that really welcomes world travelers and wants them to succeed.
Even the note left on my room locker when I picked a locker not associated with my bed had a friendly and understanding aire to it. That's good customer service!
3. Atmosphere & Ambiance at the HI Northwest Portland Hostel
So you might be happy to know that you're able to have some beers at the Northwest Hostel. Actually, they serve beer and even have happy hour at the cafe bar! Also, recreational marijuana is legal and sold at dispensaries in Portland, so if that's your deal, it's around. 
Make sure you search for the "Secret Garden", where they prefer you keep your personal reveling, especially if you're supplying your own beers. It's literally through the corner building, out past the (first) patio, left through the door, up the steps, through that building's kitchen, then out the door.
Make that journey and it opens up into a completely secluded courtyard with half a dozen tables,  30+ft fig tree canopies, canvas overhead draperies, and stringed twinkle lights to add to the mood.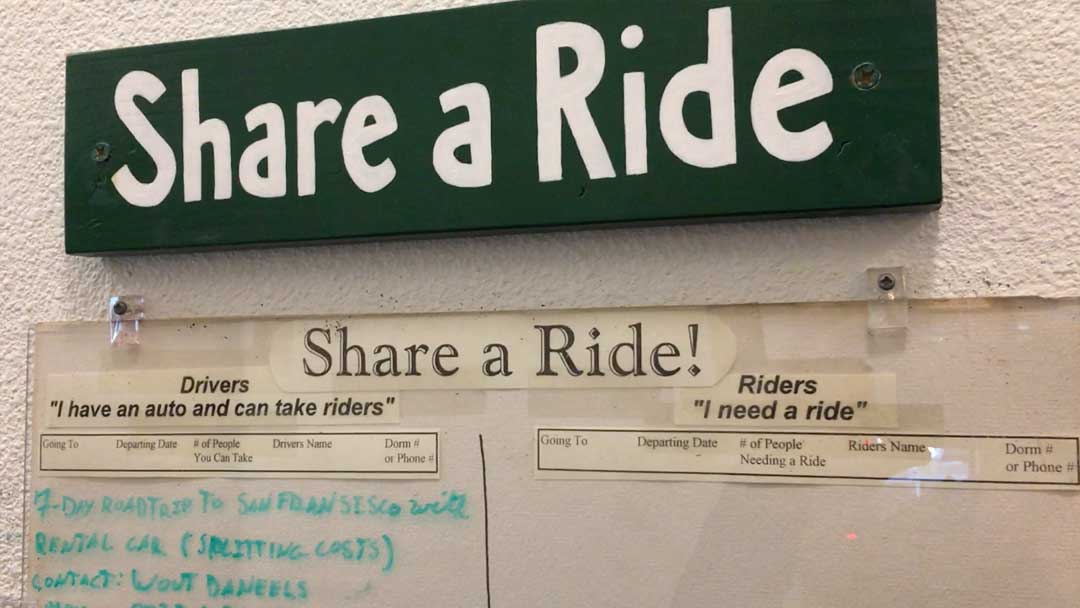 4. Public Transit Options in Portland, Oregon
Portland is solid as it comes to public transportation. Getting to and from the airport via TriMet was a piece of cake, with only about a 1/4 mile walk from the stop to the hostel. Buses and trains were very clean, and one of the most unique thing I noticed was how friendly all of the riders were with the operators. Truth be told, it was actually a little bit weird to me that nearly every person that got off of transit was overtly friendly in thanking and wishing the operator a good day. Bravo Portland! (Maybe this says something more about other cities?)
But that said, the city really is very easily walked. I actually felt that I wasted money on a weekly transit pass because I found that it was much easier just to walk everywhere! Not too much elevation change and truly unique neighborhoods and compact city spaces made it really enjoyable with a feeling of safety the majority of the time, unless it was really late or early, at which times the homeless population was definitely more visible and active.
5. Hostel Beds & Comfort At This Portland Hostel
Well, I was spoiled to get a spot in the newly renovated building, which came with a spanking clean room with new furnishings, including bedding. No complaints on the sleeping situation there at all!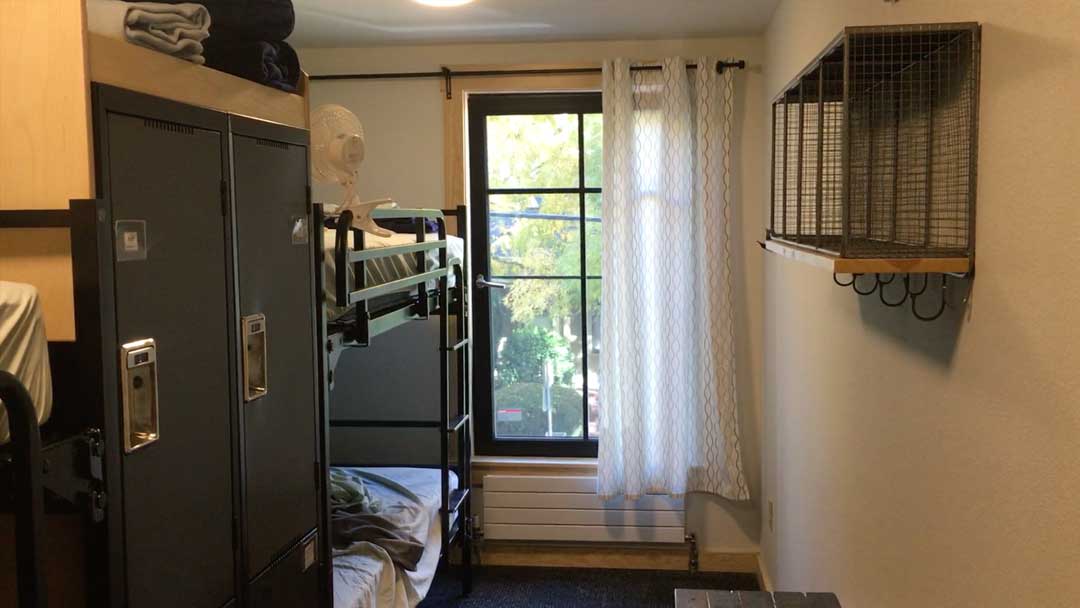 6. Hostel Cleanliness
Again, I stayed in the newest hostel building, and it was very clean. The floor I was on, in a four-bed male door, had four private bathrooms complete with individual showers. Very upscale feeling, especially since it was so new. The check-in desk, cafe, and lounge area at the bottom of this main building were also super fresh.
Some of the other spaces I experienced in some of the older buildings had a little more wear and tear on them, but by no means uncleanly or anything. They actually felt like they had more character due to their older aesthetics!
7. Workability at HI Northwest Portland Hostel
If you've been paying attention, I work a lot, so it's always important for me that a hostel be very work-friendly. I actually spent nearly every morning of my stay at the Northwest Portland Hostel enjoying my free coffee and bagel in the cafe. I hunkered down with plenty of power and WiFi for 2-3 hours every day until I felt I had overstayed my welcome.
Beyond that, there were tons of other places to work at the Northwest Portland hostel. Tables outside in between the buildings, the Secret Garden (see Atmosphere & Ambiance above), kitchen seating, hidden lounge areas, and even desks and chairs tucked into the ends of hallways within the hostel dorm floors.
The HI Northwest Portland Hostel was truly one of the most conducive hostels for getting work done that I've found in my travels!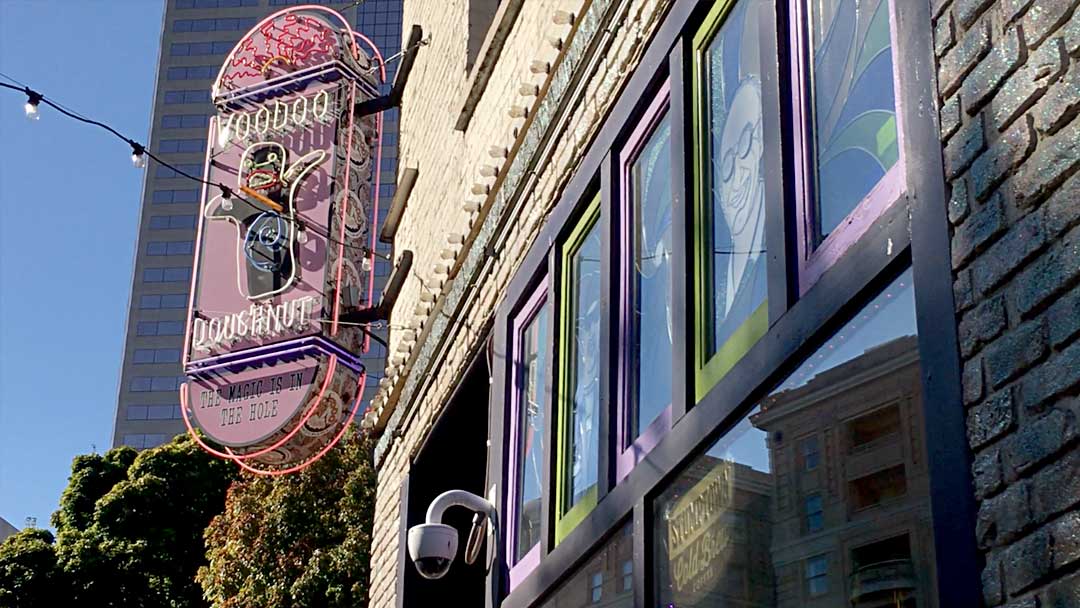 8. Events & Socializing
Just past the check-in desk and elevators of the hostel is a room with a wall calendar and clipboards with the weekly events in the area or provided by the hostel. I got really lucky because, when I asked about events as I was checking in, they told me that a group was meeting for a Kell's Brew Pub tour at that moment! I literally dropped my bags in the room and was drinking a beer downstairs in the cafe with a half dozen other folks within 10 minutes of arrival, and then touring Kell's within 30 minutes! Bonus!
Beyond that, the hostel calendar board was great for knowing what cool things were going on in the city during the week. For such a large hostel, I will say that this one did feel a little slim on getting the guests together, beyond my brewery tour. That said, it did look like they were doing their part to put in the effort.
The hostel offered free coffee or juice and breakfast each day; either a (day old?) bagel and some other simple eats.
9. Free Stuff at the HI Portland Northwest Hostel
If you pay attention, there may also be giant bins of day-old pastries in the hostel kitchens labeled free for the taking, along with some pretty stocked free shelves in the fridges. I found those good eats in the kitchen in the building by the Secret Garden.
Also, that Kell's Brewery tour turned up some free beer in the process, which was fantastic. So delicious that I found myself heading back to Kell's later in the week for happy hour and food! By the way, this is the same Kell's Brewery that's in Seattle's Pike Place Market area near the Green Tortoise Hostel. Check them out!
10. Overall Value
The Northwest Portland hostel is a huge hostel that actually feels very quaint. Free breakfasts, comfortable beds, and dorms starting around $30 a night? Yeah. Pretty solid. Combine that with the fact that the Hostelling International Portland Northwest Hostel also has private rooms for around $75 and there's something for everyone. Cool neighborhood, friendly staff, beer onsite. OK. Just go check it out.
That said, don't forget about the HI Portland Hawthorne Hostel across town. Totally different and cool in its own way, and in a totally different part of town, complete with permanent food trucks, tons of restaurants and bars, groceries and more.
Cheers!
— Jason
Travel Planning Tips
Figure out where you are going & how are you getting there…
I suggest using at least 2 to 3 different travel search sites. Start with Skyscanner or Orbitz or Booking …or whatever aggregator site you prefer. Then when you see what airlines to use, check their respective sites for better deals or rewards flights.
Figure out where you're going to stay…
If you're interested in hostels, search Hostelworld or Hostelling International. For longer-term or more private digs, look at Airbnb, VRBO, or you can look for hotel rooms in the links from the search engines listed above.
Get comprehensive travel insurance, or in the least, travel medical insurance if internationally…
Especially with Covid not going anywhere, get covered. Start an insurance aggregator like Insure My Trip, or with SafetyWing, World Nomads, Travel Guard, or TravelEx. Then decide what is important to you; trip cancellation, baggage coverage, medical, or all of the above.
Need more resources? Click here!
This site participates in the Amazon Services LLC Associates Program and other affiliate programs and may earn from qualifying purchases. You're never charged more, but it helps out little by little! Check out "Privacy" in the top menu if you need to know more!