Hostel Review: Green Tortoise Hostel At Pike Place Market In Seattle
I Finally Go To Stay At The Green Tortoise Hostel Next To Seattle's Famous Pike Place Market!
Visiting just after Thanksgiving, it came with the much cooler wet season in the Seattle waterfront area. But also with the added bonus of leftover Thanksgiving dinner deliciousness laid out for the Green Tortoise Hostel guests to nosh on in the days following! The Green Tortoise is literally right next to Pike Place Market, which is pretty legendary.
Join the email list to stay in the loop on new releases!
This site participates in the Amazon Services LLC Associates Program and other affiliate programs and may earn from qualifying purchases. You're never charged more, but it helps out little by little! Check out "Privacy" in the top menu if you need to know more!
OK dealing with pretty thick crowds and anarchy on the weekends? Want tons of local, city-centric options to walk around and see? The Green Tortoise Hostel definitely a great budget-friendly option for you.
Add to that a stellar programming calendar with literally 1-3 offerings for guests each day, and you'll have a full calendar. Listed for the week I was at the Green Tortoise Hostel, I noticed at least 3 planned bar/pub crawls in different neighborhoods, movie nights, walking tours, and the list goes on. Hope this hostel review helps you find a place to crash in Seattle! Here's the lowdown…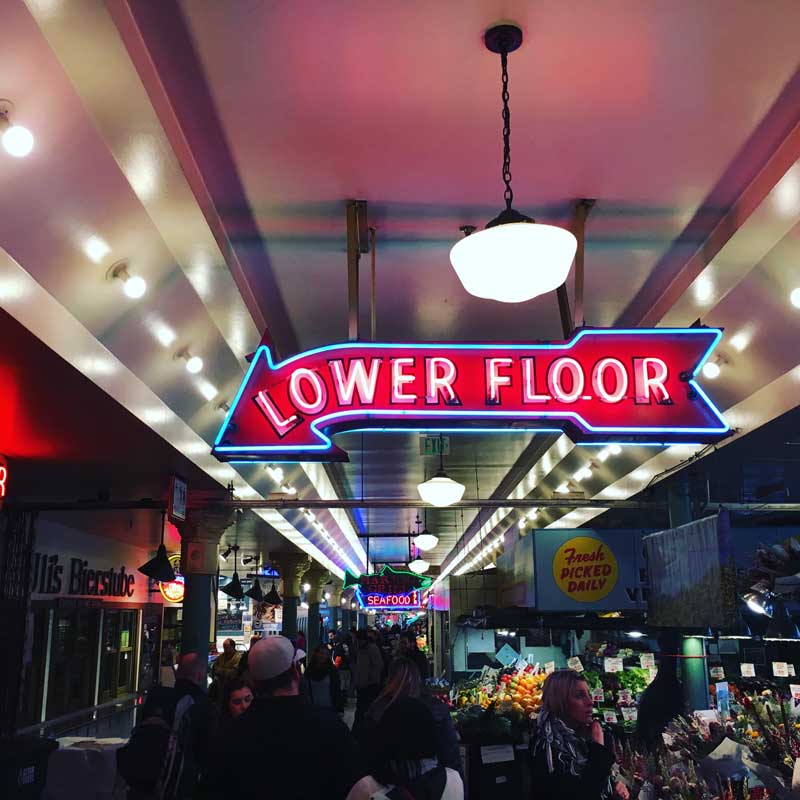 1. Location — What's Around The Green Tortoise Hostel
Again, The Green Tortoise Hostel is in the Pike Place Market area of Seattle, near Belltown, and literally in the shadow of the badass neon signs of the market. Just like any city, you have access to pretty much anything: theatres, museums, coffee shops, grocers, dispensaries (weed is legal in Washington), bars, and a noticeably high number of Nudey Bars.
If you're in Seattle, you should obviouslty check out the Space Needle and the Chihuly exhibit right next door. I highly suggest going at night because the Chihuly exhibit is amazing in the dark!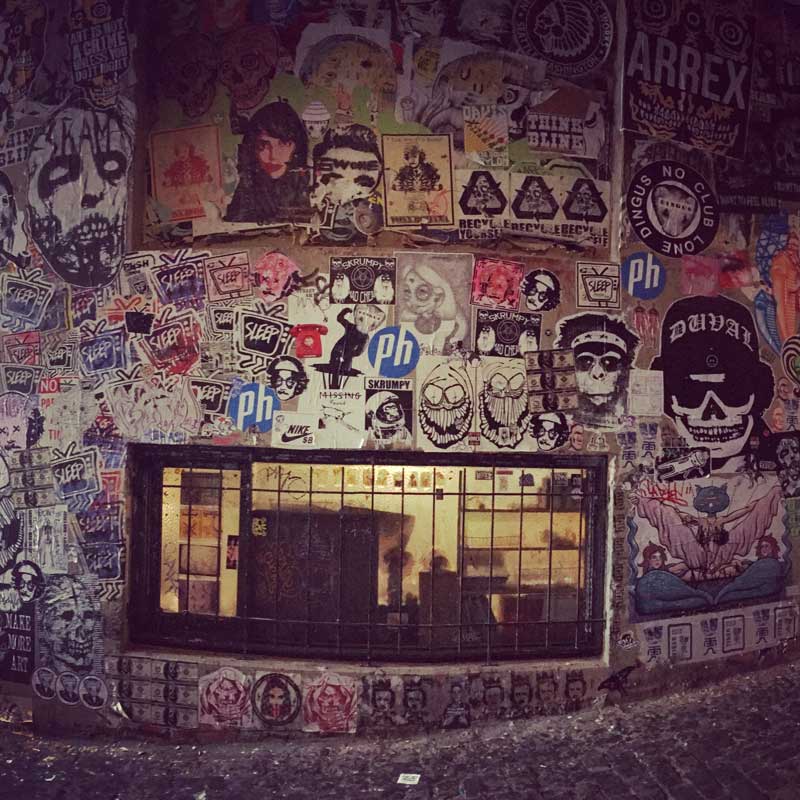 2. Friendliness & Staff
Unfortunately, my stay was swift here, but everyone was helpful and friendly. I actually dropped in to the Green Tortoise Hostel a week or so prior to staying just to ask some questions, and everyone was equally cool then. Sorry, I can't give too much more here.
READ NEXT: Hostel Review: Portland, OR USA – HI Portland Northwest Hostel
Travel Medical Insurance, Pre-Existing Conditions, & Type 1 Diabetes
3. Atmosphere & Ambiance at the Green Tortoise
I've been trying to figure out a couple of adjectives I could throw down to succinctly describe this one, but It's been tough. The main common areas are mostly tables and chairs, and the "lounge" (really the smoking lounge…) is the same. While those spaces are decorated with all sorts of rad sh*t reminiscent of a good trip or a mellow buzz, there was a bit of a disjointed feeling for me. I couldn't really get comfortable.
This probably has something to do with the fact that this is definitely a city hostel. City hostels are typically a little less spacious and more cramped. So don't get me wrong, it's not a big deal, but definitely just a lack of that super comfortable, relaxing vibe I usually enjoy. Different strokes for different folks. I have plenty of friends that absolutely loved the vibe there, so take it with a grain of salt! (I'm more of the Portland Northwest Hostel vibe kind of guy.)
4. Public Transit Options In Seattle And Around The Green Tortoise Hostel
There's plenty of public transit nearby, including buses and train lines. I only actually used the trains back and forth from the airport, which was a decent trek through many neighborhoods. But there was no shortage of buses all over the streets as I explored.
Seattle is pretty easily walkable though, so keep that in mind, with the understanding that it did feel a little seedy after dark. May have something to do with all the nudey bars in the Pike Place and Green Tortoise vicinity.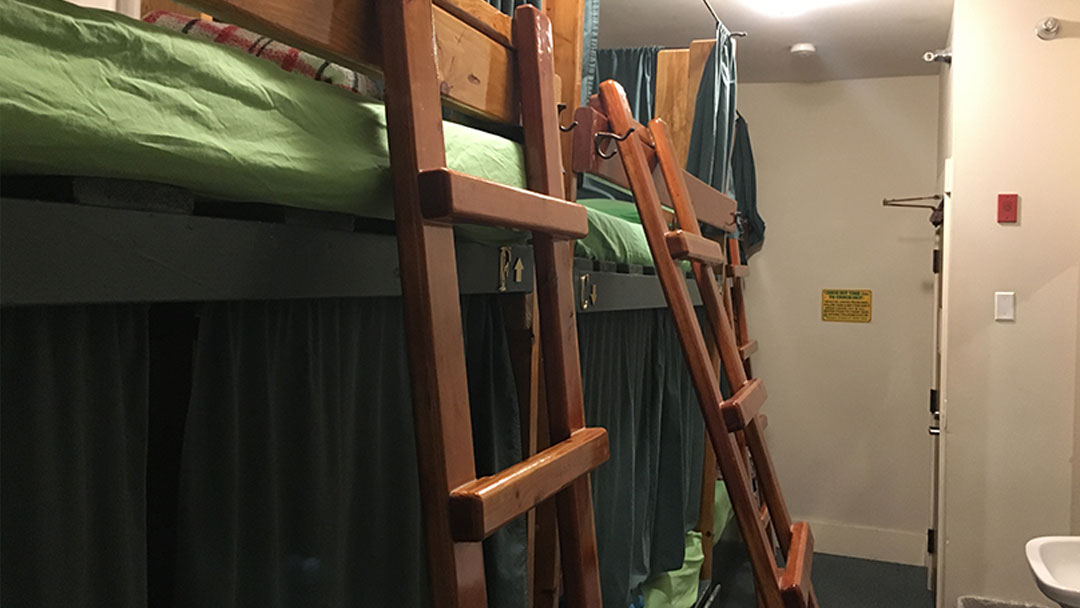 5. Hostel Beds & Comfort
I didn't get to peak in any other rooms, but I must say that I was pretty stoked with the 6-person male dorm that I was in. I'm a huge fan of "pod" styled bunks; when you have curtains that you can pull on all sides of your bed for privacy.
The bunks in this room were extra tall, custom-built to utilize the height of the high ceilings. Bravo. And the actual bedding was on point, with real, thick mattresses and decent pillow/fleece blanket combos. The room I was in had a sink, while actual bathrooms and showers were single/private units in the hallways.
6. Cleanliness At The Green Tortoise Hostel, Seattle
The Green Tortoise Hostel is an older hostel in a city setting, so it's not going to be spit-shined. Overall I would say it was about average. The kitchen was packed floor to ceiling with plenty of cooking gear, but a fairly tight space. Bedrooms and bathrooms seemed to be kept up well, and common areas were fairly well kept. There were a few too many fruit flies near some of the kitchen areas, but that happens.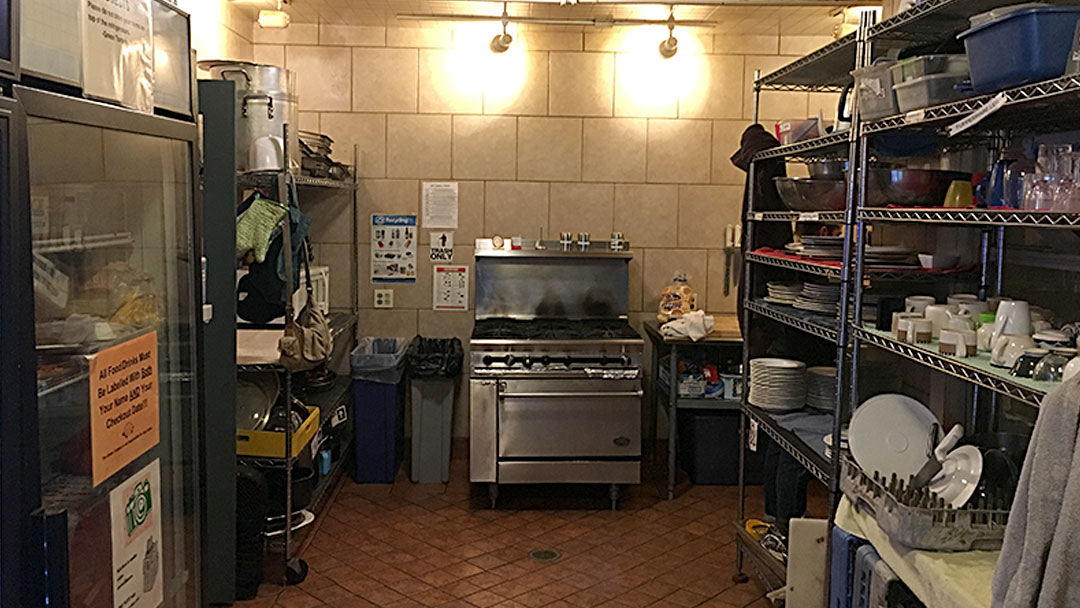 7. Workability
While I didn't actually need to work much, I guess this would fall under the "decent" category for me. Like I mentioned in the ol' Ambiance section, it didn't feel like there were many quiet places to chill or get work done at the Green Tortoise Hostel.
That said, all I need is typically a table, a good chair, and my headphones with working WiFi to kill it, and that was ample. There was a working printer and computers onsite. You could email them a document and get 5 pages printed free, then a small charge per page after that, which is pretty helpful for otherworldly travelers!
8. Events & Socializing At The Green Tortoise Hostel In Seattle
Well, if there's one area in which this hostel definitely excelled, it would be the social planning department! There were dozens and dozens of posters covering multiple walls with all the parties, theatre shows, and other things to do locally. But the actual programming that the Green Tortoise hostel set up was stacking anywhere from 1 to 3 events a day!
Yeah, some of those were outsourced (like city/bus tours, etc.), but the consistency and availability are important. Looked like a minimum of 3-4 pub/bar crawls per week was the norm. There were also a few "pregaming" free beer events before the pub/bar crawls. This might be why some of my friends liked this hostel so much, come to think of it! Unfortunately, I was there on a couple of slow nights!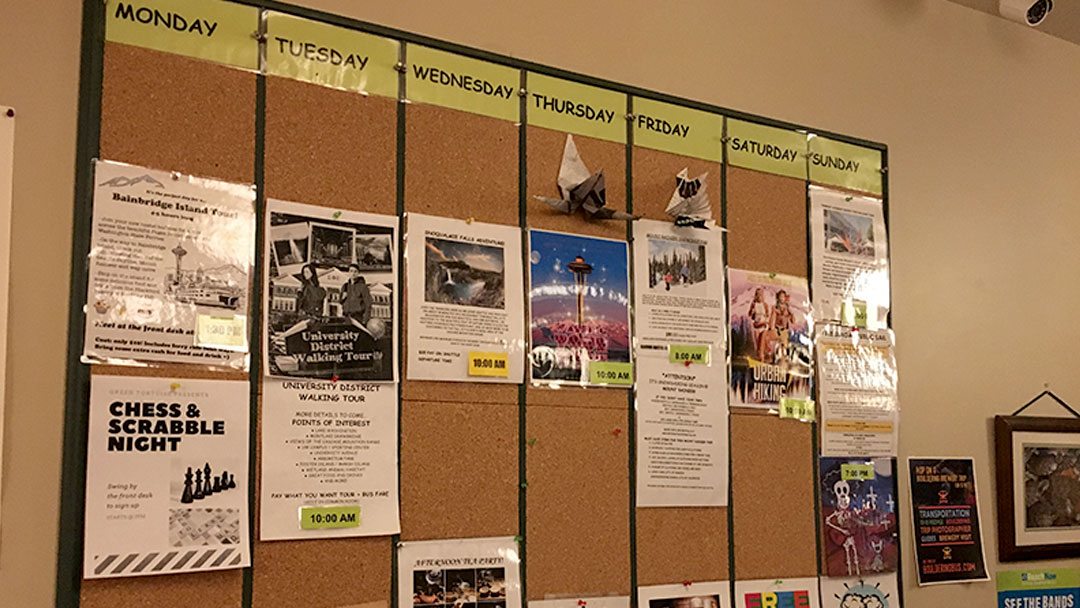 The breakfast spread was pretty on point, including free eggs, coffee, cereal, milk, toast, fruit, and more. I also scored a ton of leftovers from Thanksgiving, but I'm not sure how many other free food events they have other than breakfast. They also had plenty of discounts going on for local events. Not free, but discounts are good!
10. Overall Value
With the cheapest hostel dorm bed being about $40+ a night, this is a little high, even in the US. But Seattle's cost of living is hella high, so it's expected. Do keep in mind that if you're driving into town you're going to have to be pretty creative not to lose your ass on parking.
Plan ahead for that. And the Pike Place Market location means that you're paying a couple of bucks more for eating out, just because it's a super touristy area.
I did like the hostel and wished that I actually had more time to stay and play and really enjoy the social calendar. Like I said, just pack your wallet for the city as it's pretty expensive, and take advantage of that free breakfast at the hostel!
Cheers!
— Jason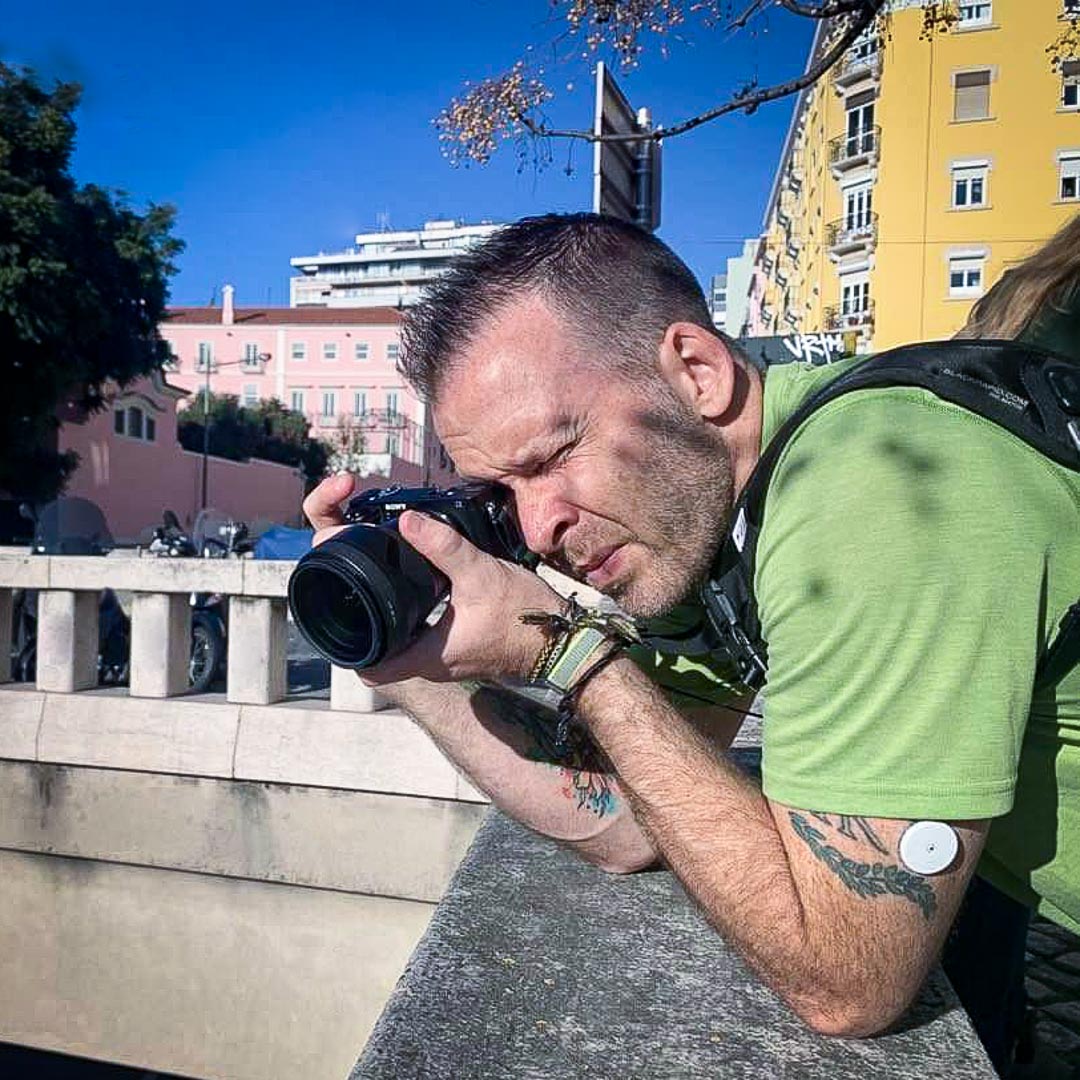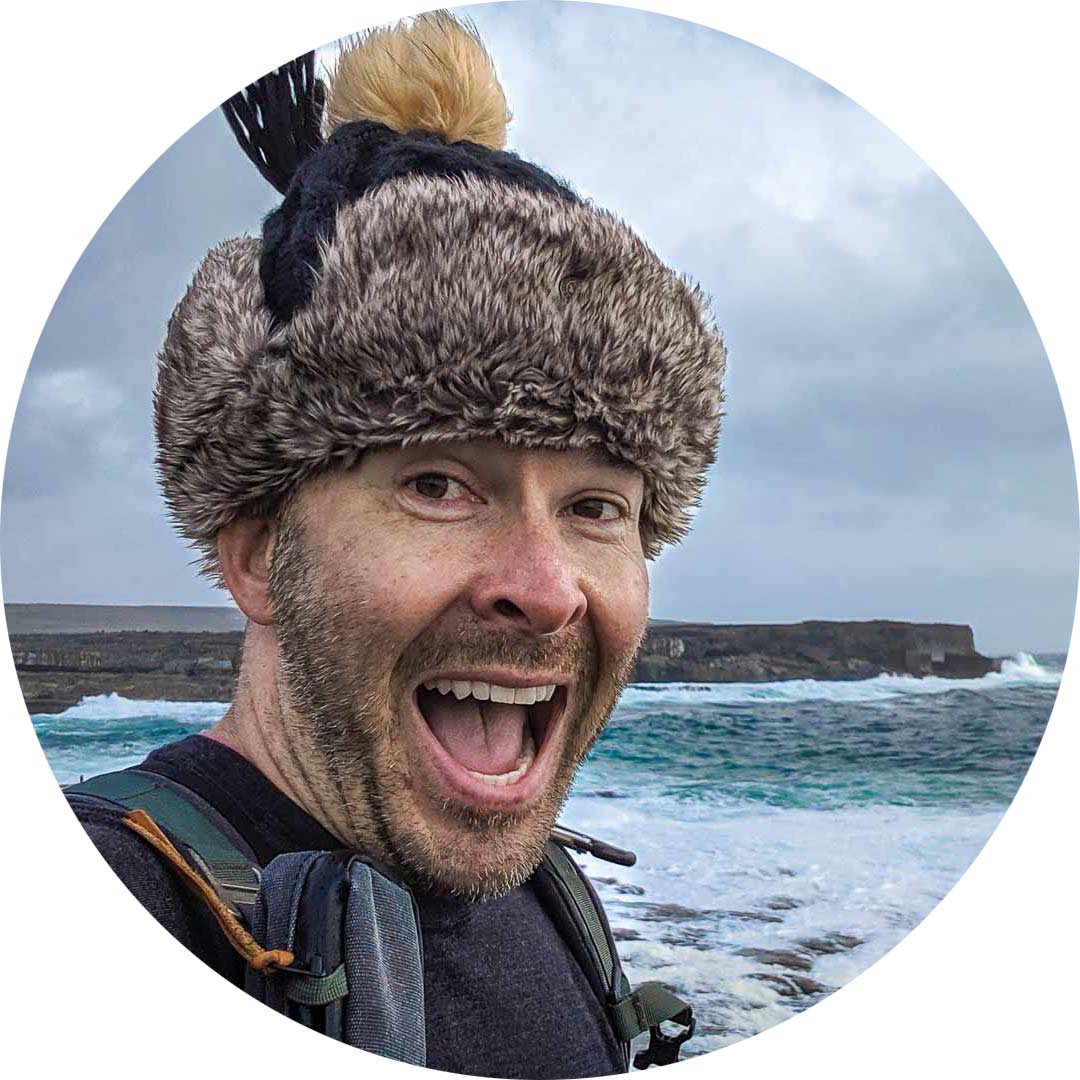 About Jason Robinson
Jason is the author of "The Beginner Traveler's Guide To Going Nomad," as well as the voice behind the words and the eye behind the lens for The Nomad Experiment. "Planning to travel at some point" wasn't actually getting the job done, so nearing 40 he decided to make it a priority, nomatter how scary that was. A few years later—through the pandemic and a type 1 diabetes diagnosis at age 42—now living a life of nomadic travel, he's speaking out to encourage others of any age, or with any serious medical diagnosis, to live an unconventional life.
Travel Planning Tips
Figure out where you are going & how are you getting there…
I suggest using at least 2 to 3 different travel search sites. Start with Skyscanner or Orbitz or Booking …or whatever aggregator site you prefer. Then when you see what airlines to use, check their respective sites for better deals or rewards flights.
Figure out where you're going to stay…
If you're interested in hostels, search Hostelworld or Hostelling International. For longer-term or more private digs, look at Airbnb, VRBO, or you can look for hotel rooms in the links from the search engines listed above.
Get comprehensive travel insurance, or in the least, travel medical insurance if internationally…
Especially with Covid not going anywhere, get covered. Start with an insurance aggregator like Insure My Trip, or with SafetyWing, World Nomads, or another. Then decide what is important to you; trip cancellation, baggage coverage, medical, or all of the above. And get a yearly evacuation plan, since you'll have to get home after your emergency! 
Need more resources? Click here!
This site participates in the Amazon Services LLC Associates Program and other affiliate programs and may earn from qualifying purchases. You're never charged more, but it helps out little by little! Check out "Privacy" in the top menu if you need to know more!