2 Months in Queretaro, Mexico: My Favorite Centro Restaurants & Food…for $2-20USD/meal!
Queretaro, Mexico On A Budget Doesn't Mean Missing Out On The Best Food!
Wow. Just finishing up this list of amazing food in the Centro area of Queretaro, Mexico and I'm friggin' starving now! Spending 2 months as a digital nomad in a place with such economical food options, compared to back in the States, was dangerous! Not gonna lie, like 3 weeks in I had to give myself an intervention. Good thing the only belt I own works on magnets and not holes…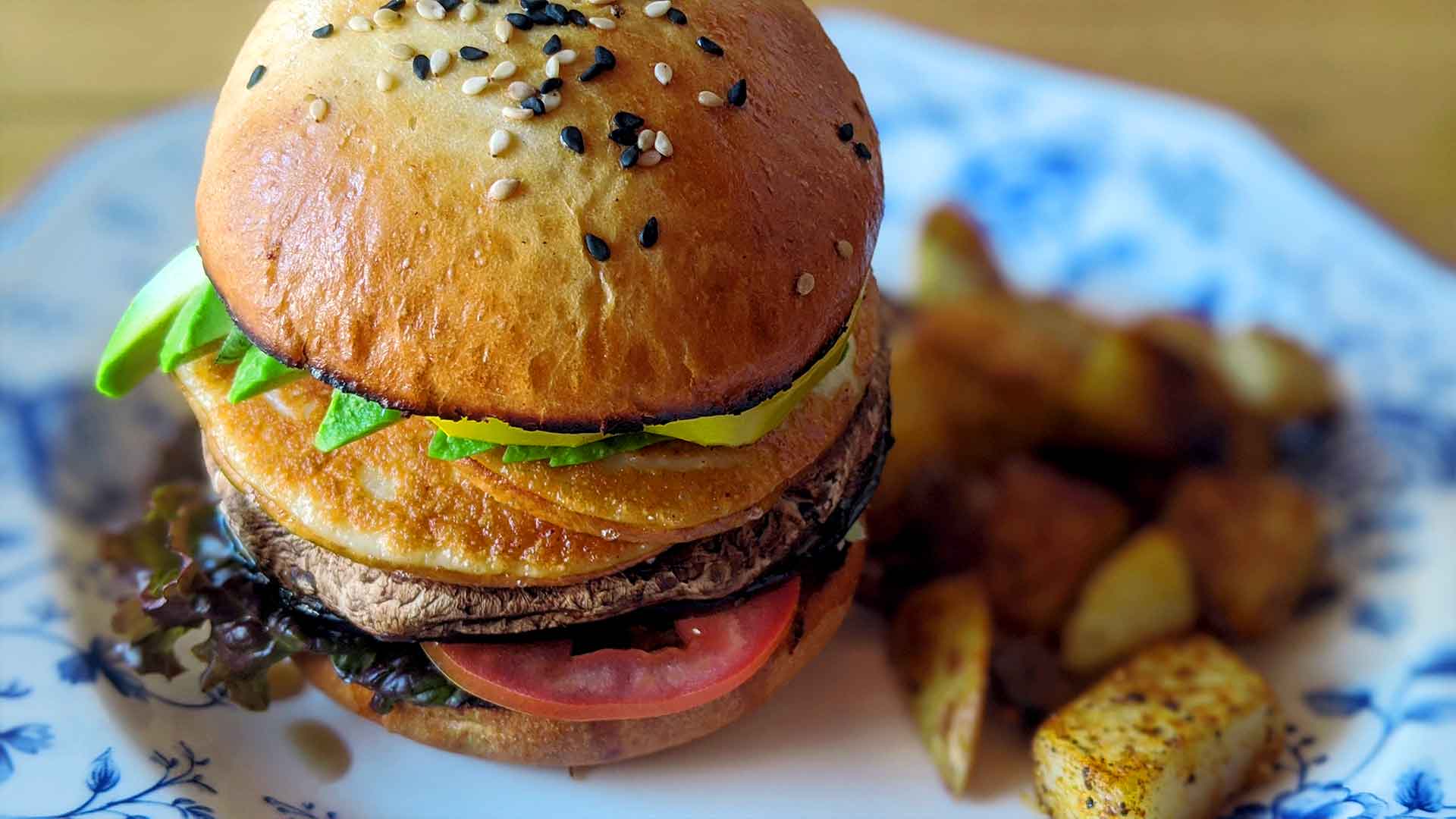 Centro Queretaro, Mexico food stands and restaurants are a dime a dozen. Personally, I really like putting in a little more work and diligence to find the hidden and hole-in-the-wall gems if at all possible. So for you, I did the work. And for the kids. I do it for the kids.
My daily spend (all-inclusive) was less than $50/day for my two months as a digital nomad in Queretaro. Over 60 days I only spent $10/day on average on eating out! I usually have coffee and work 2-4 hours in the AM before eating a big brunch/lunch, then have a late dinner. The portions are typically huge, so really two big meals a day was beyond plenty.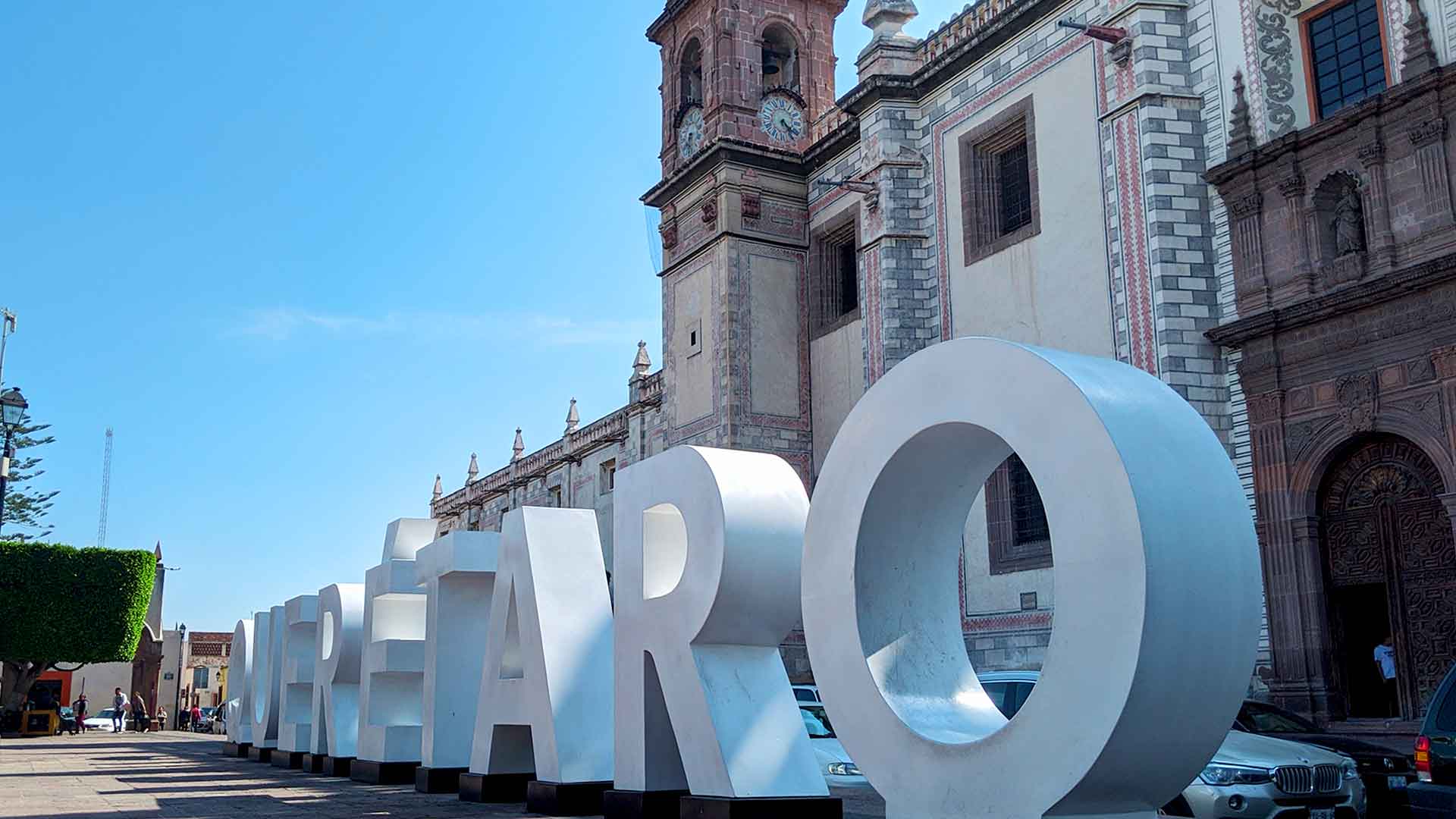 This site participates in the Amazon Services LLC Associates Program and other affiliate programs and may earn from qualifying purchases. You're never charged more, but it helps out little by little! Check out "Privacy" in the top menu if you need to know more!
How Do I Convert Money Values/Costs From Mexican Pesos to USD?
So on average, the Mexican Peso has hovered around $18-20MXN per $1USD over recent years. I use $20MXN/1USD for my math, which means by rounding up it keeps me a little under budget. Essentially, the math I do in my head (nerd alert) is to take the cost in MXN pesos and drop the 0 and divide by 2 to get what something costs in USD.
So if something cost $200MXN, drop one 0, divide by two, and it's about $10USD. $50MXN for an egg/veggie torta (con queso of course) the size of my head is about $2.50USD. That's eating good and cheap in the Mexican neighborhood yo.
How I Picked My Favorite Restaurants and Food in Centro Queretaro, Mexico
Now, take this with a grain of salt, since there was no way for me to visit every food stand or restaurant in Centro Queretaro! But with that said, I did make it a point to try a lot of different places in the two months while I was there! When it comes down to it, my list of best food and restaurants in Queretaro comes with a healthy balance of reasons:
Typically I want great food in a reasonable, if not budget price range.
I want smiles and warmth and to feel welcomed by the restaurant and it's owners or servers. A little conversation always helps!
The ambiance is important! That can take a place with good food up a notch or two for sure!
Last but not least is authenticity. Now, that can mean a lot of things. But for me I want to feel like whatever food the restaurant is peddling feels "authentic" as to where it's supposed to be from, assuming it's meant to be authentic. I may be a terrible judge of that since I'm not ridiculously well-traveled as of this writing. But again, it's just a feeling. Cooking Italian? I want to feel like I'm there when I close my eyes. Cuisine based on Oaxaca, Mexican traditions? It helps to see traditional Oaxacan practices and explanations of why it's unique, etc.
If you're gonna read this article and plan your trip, I highly suggest you watch this three minute video! It's about a great way to save all of these places to your travel wish list!
Blue Fish Restaurant – Favorite Fish Tacos / Seafood in Queretaro…And Best Breakfast Omelet!
Truth be told. I ate at Blue Fish Restaurant at least a dozen times. No Rahgrets Bruh. It had my heart and my taste buds from the moment I stepped in. I was staying a few blocks from it, and it's a bit on the fringe of Centro Queretaro, but the walk was amazing. Literally some of the most beautiful sunset walks I've had in my life going back and forth.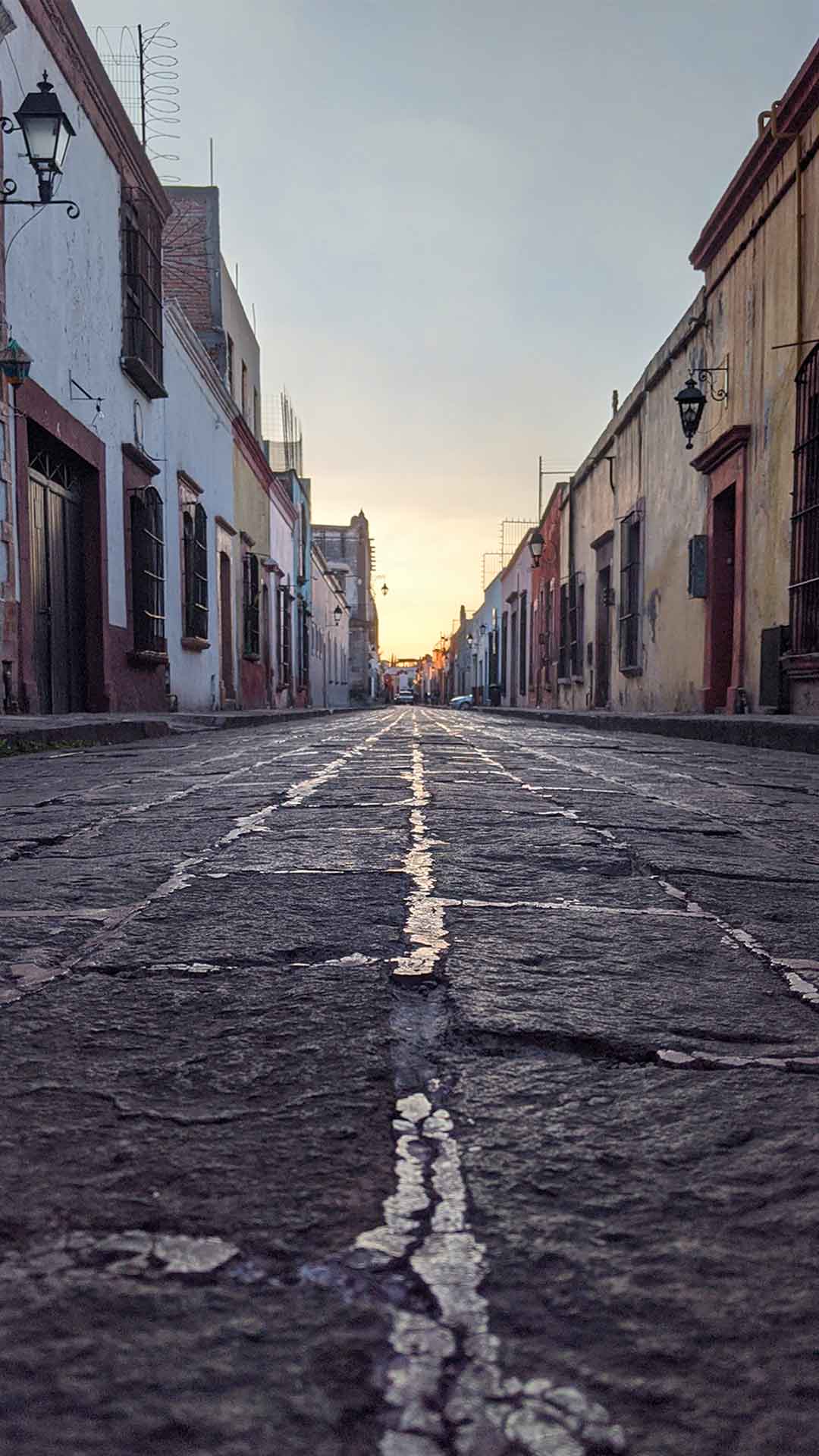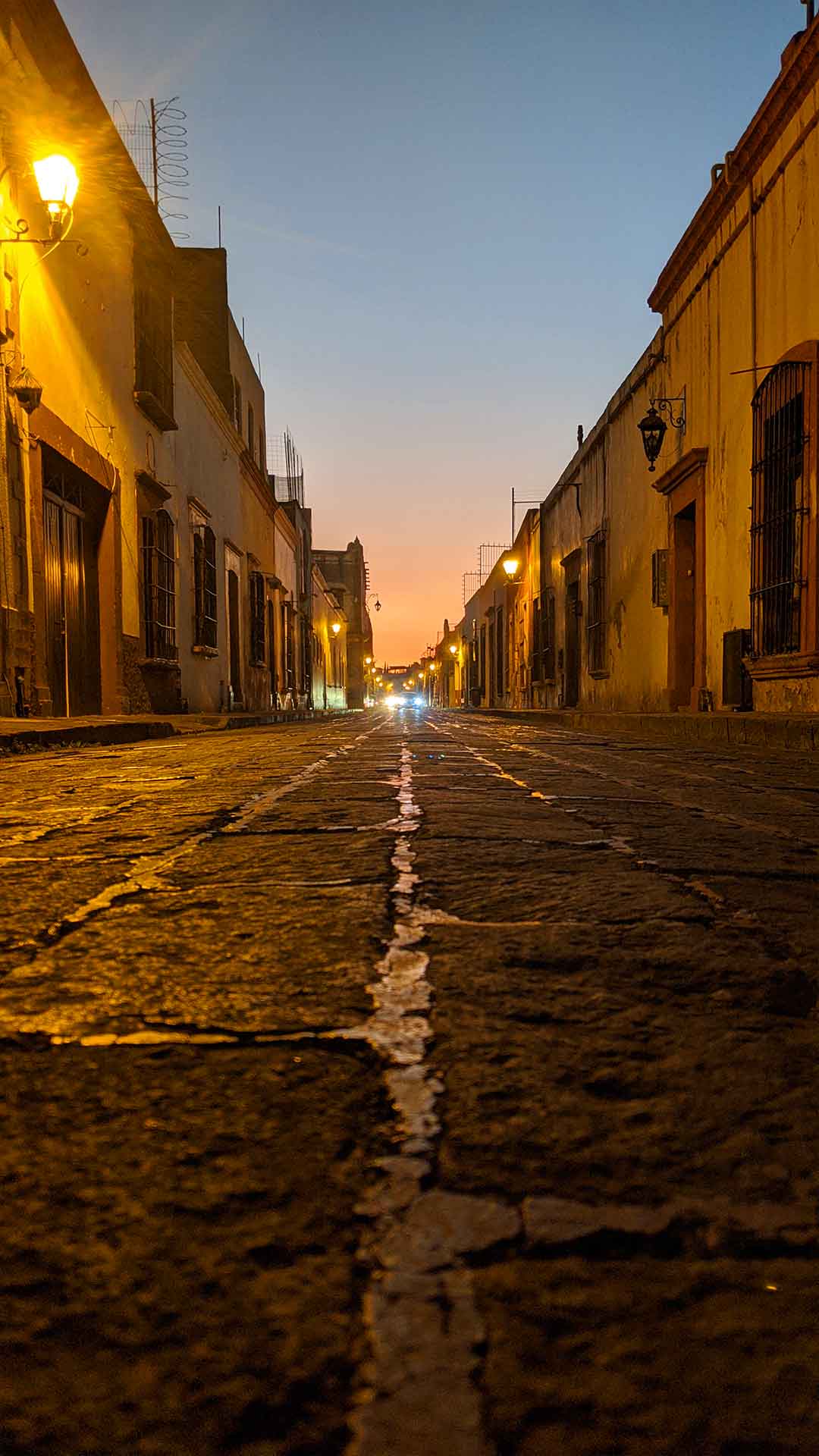 Beyond that, Blue Fish Restaurant was small and relaxing; seating for only about 20 people It checked all the boxes for me. The owner became my friend from the first visit and the other cook and servers were always kind and smiling. Everything was cooked in a small kitchen one order at a time, right behind the 3 seats at the bar.
The food at Blue Fish was ridiculous, and the tacos were plentiful and cheap! Your options are across the board on seafood, from breaded to pan-fried, etc. And the options for tacos are just as plentiful. They even had a Baja fish taco special one day that was 5 tacos for 100 pesos—just over $5USD!? And yes, even though the fish tacos are huge, I finished that one night.
You can get a proper dinner of pan-seared fish or the like, with sides, for upwards of 200+ pesos, about $10USD.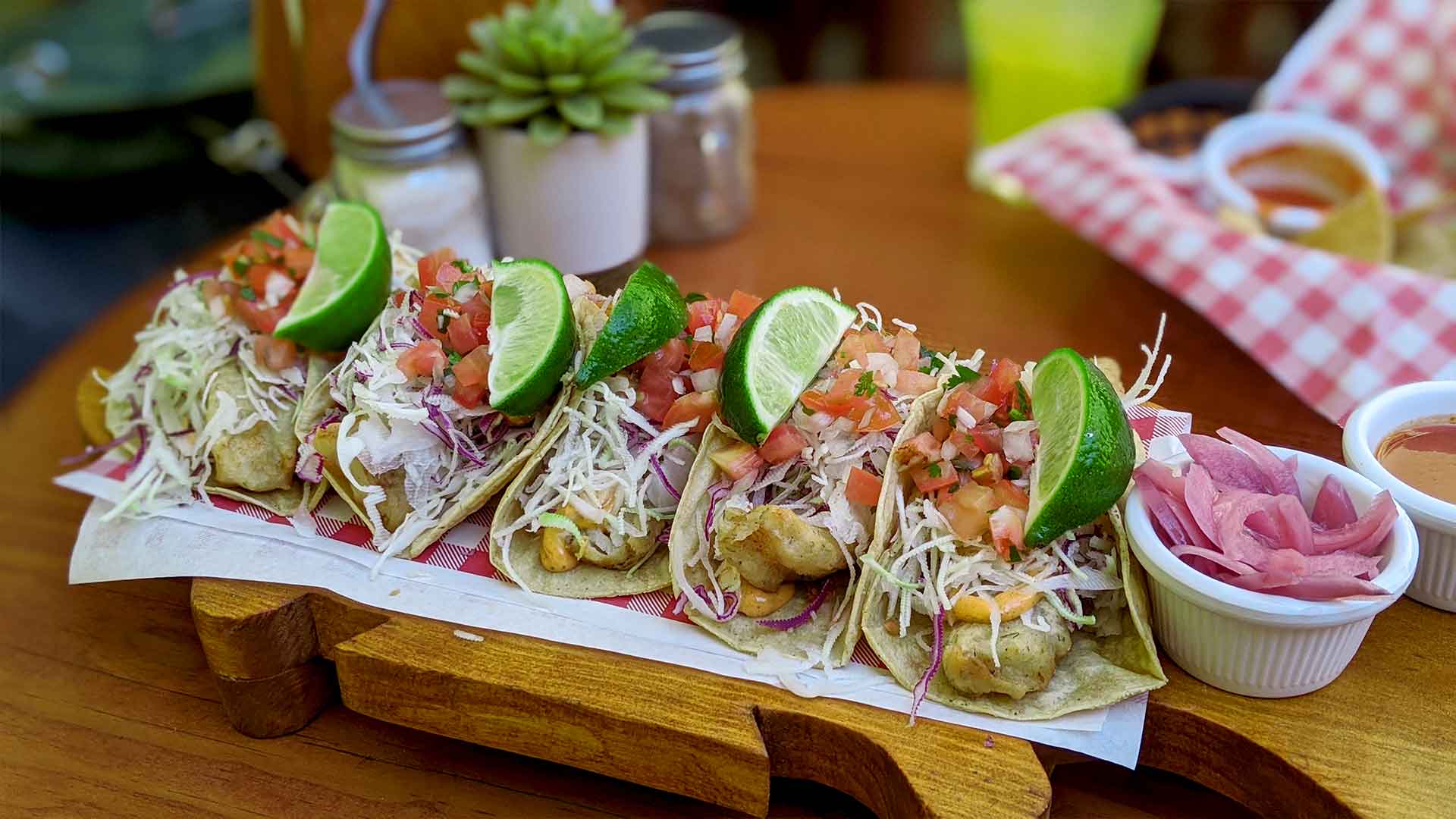 What to try at Blue Fish Restaurant
The fish or shrimp tacos, in whatever style you like. Make sure you squeeze the limes on. That was kind of new to me but after two months in Mexico, I'm a lime freak.
Breakfast! Insanest (is that a word?) omelets ever. Never thought I would care for seafood for breakfast but I was totally wrong. And they even have a gourmet coffee roaster/cafe attached to the restaurant, so you can have gourmet coffee if you want!
Get a side of the papas fritas. Made-to-order pan-fried potatoes. Delicious.
Fresh fried tortilla chips with house salsa/sauce
Check out Blue Fish Restaurant in Queretaro on Facebook or Google Maps. Yes, trust those 5-star reviews.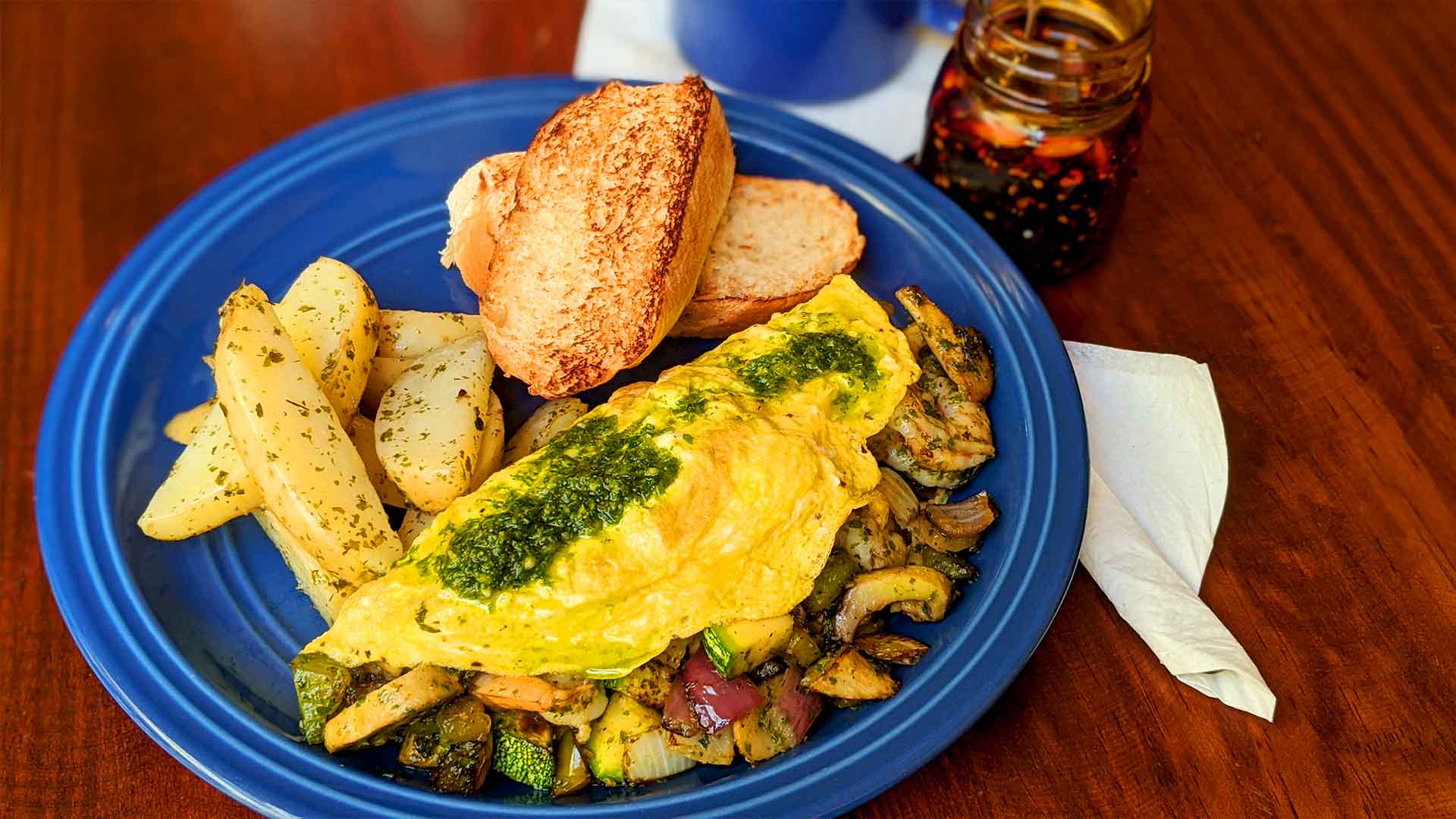 Join the email list to stay in the loop on new releases!
Antojitos Tere Restaurant – Favorite Place to Eat Like a Local Near Centro Queretaro
Imagine a line of locals out the door working their way up to a counter full of daily made food. Behind that counter made for 2 are 5 women dancing amid each other, furiously filling orders. Heaping spoonfuls from bowls onto or into various Mexican flour-based bread staples. As quick as one order's done, on to the next person, rinse, repeat. Unless you're well-versed in Spanish and practiced in eating like a local, Antojitos Tere Restaurant might not be the type of place you would immediately step into. It's working folk food, fast and to the point. Not the sexiest presentation you'll see, but damn it was tasty.
Order up, grab your food, go grab a seat on a table that hasn't even yet been cleaned since an empty seat is hard to come by, then dig in. Still hungry? Unlikely, but if so, hop back up in line and order more. Only when you're done do you go up to the cash register and, based on the honesty policy, tell whoever was closest to the register when you stepped up what you had. Even if you're stuffed, you'll be hard-pressed to shell out more than $3-5 USD for your spoils. Now that's eating like a local. A happy, happy local.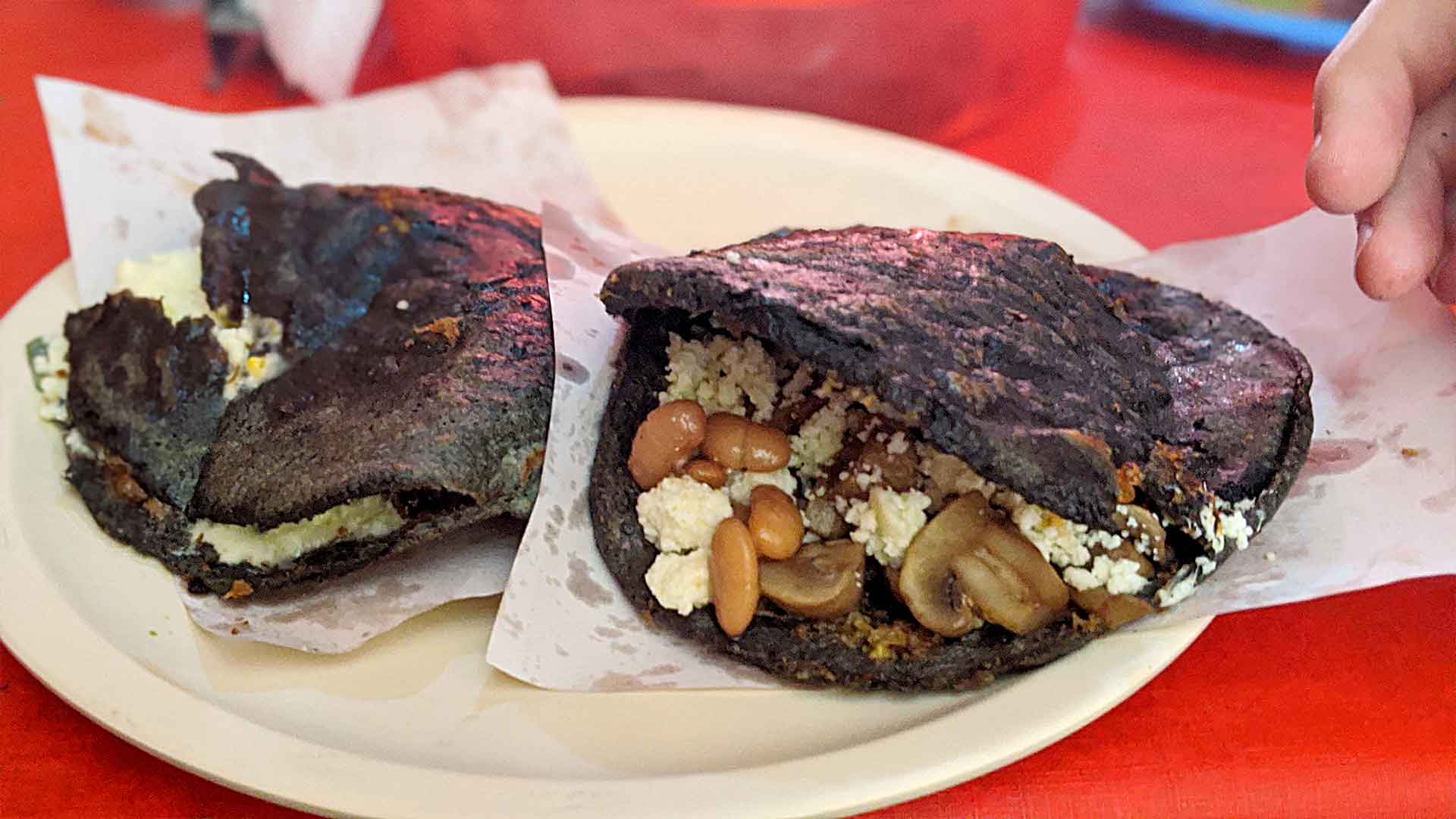 What to have at Antojitos Tere in Queretaro, Mexico
Gordita filled with Rajas con Crema. Flame roasted poblano chiles, cut into strips and cooked with onions, Mexican cream, and cheese.
Chile Rellenos. Large chile stuffed with cheese, breaded and fried. Note that their version is much more street/local. They're prepared in advance and then thrown on the grill for a few seconds to reheat. Not a delicacy, but if you're wanting to eat real, this is one way.
Check out Antojitos Tere on Google Maps. Again, reviews aren't kidding.
Now, I've never been to Italy. But having visited Il Giardino Di Roma a few times, I kind of feel like I have. This small Italian restaurant, just up the hill of Calle 5 De Mayo, had the most amazing Italian food I've ever tasted. Seriously setting the bar high for my first trip to Italy! It's in the back of a little mercado with a hodgepodge of tables outside. Complete with a view of the stars and chill music to help settle you in.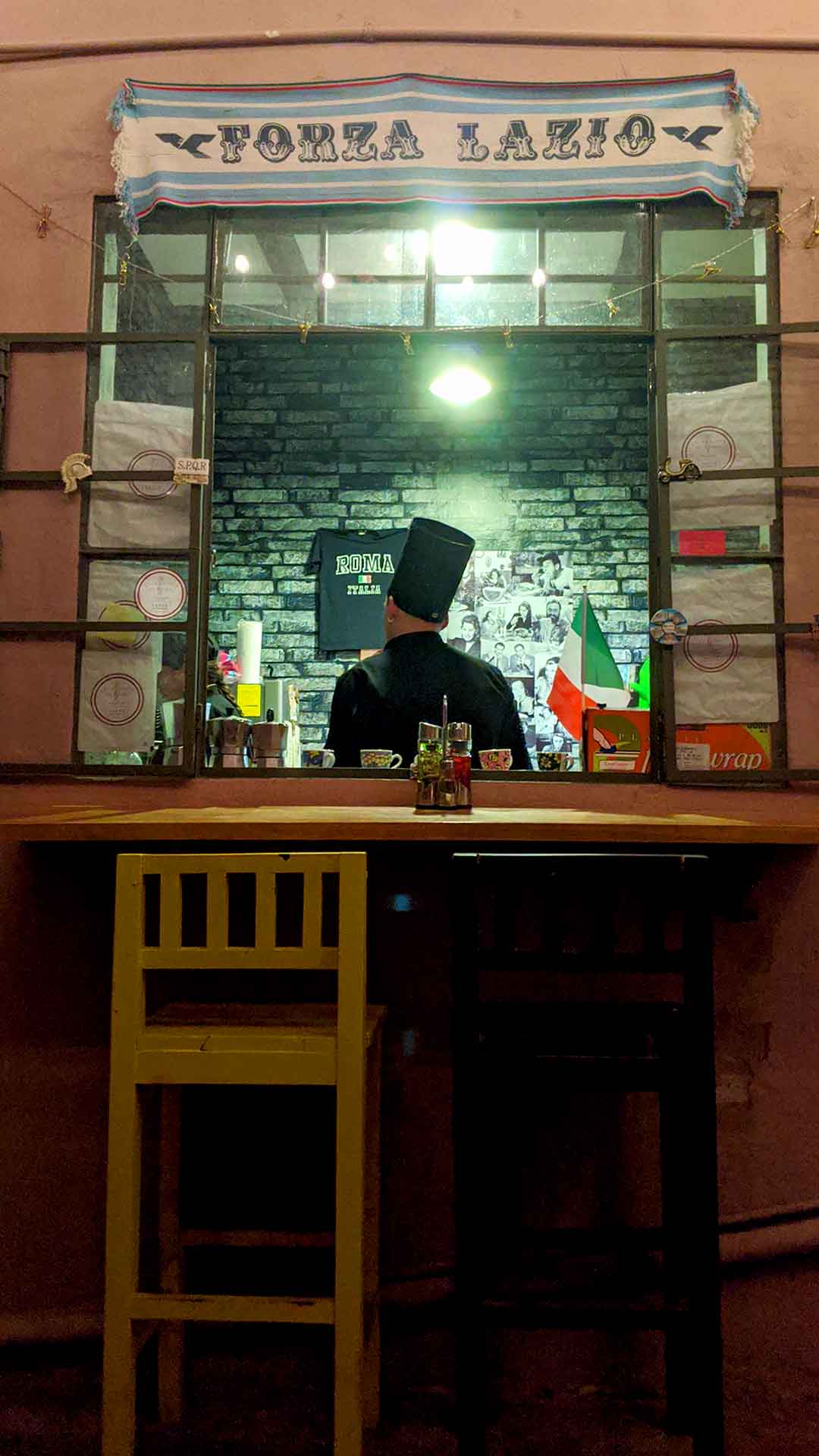 They make all of their pasta fresh and their Instagram account will make your mouth water. My first visit, I used my broken Spanish to order. Then I heard the server and the cook (who I'm pretty sure are the two owners as well) go full-on Italian while talking in the kitchen.
When the chef visited my table on a few visits I could tell by his enthusiasm that he loves cooking and creating food for people!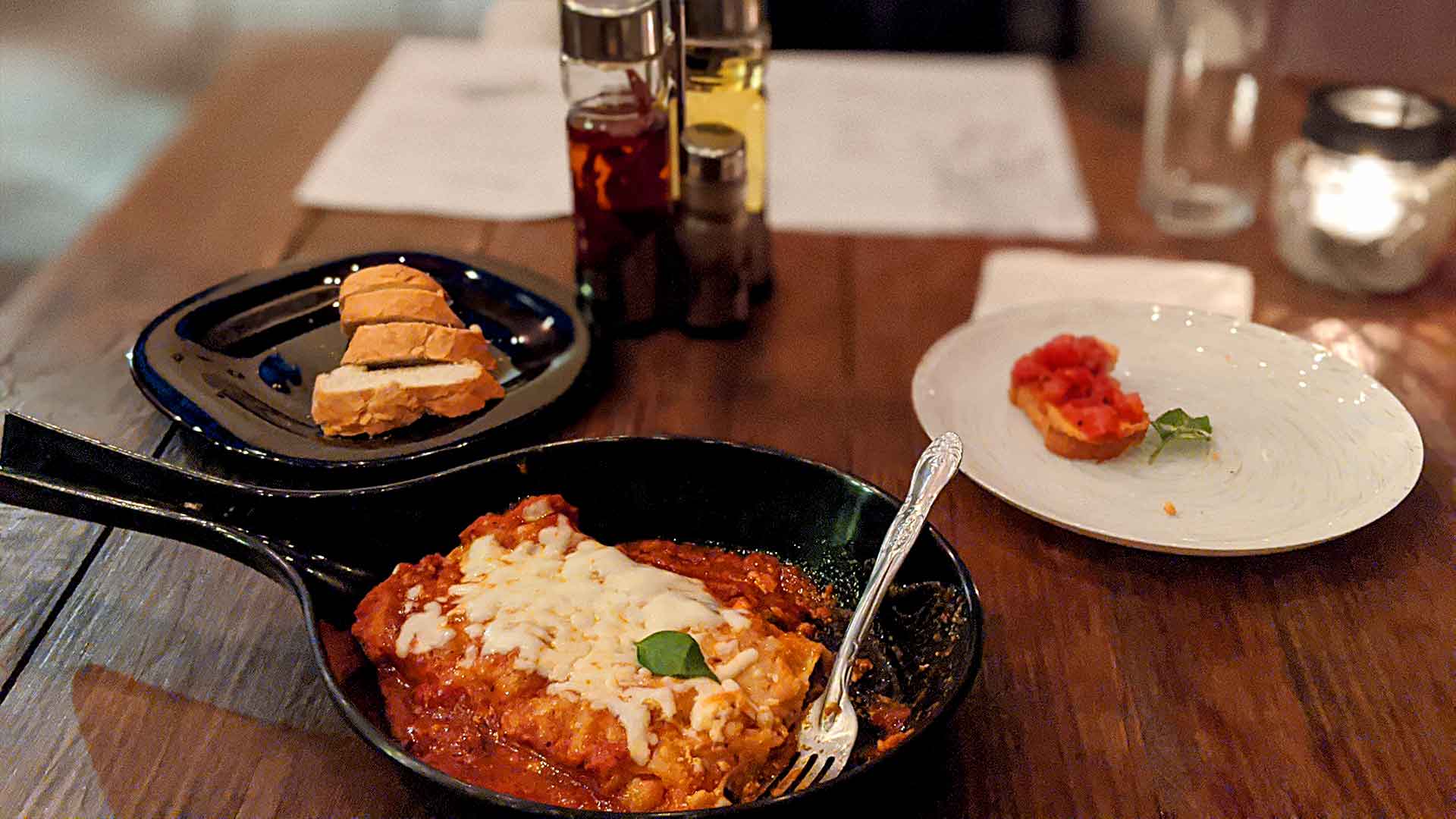 What to try at Il Giardino Di Roma Restaurant in Queretaro, Mexico
The Bruschetta at Giardino Di Roma is off the hook. Make sure you order some to start. Something about proper Brushetta that makes me want to melt. Theirs does that.
Honestly, I don't know how you can go wrong with any pasta. Ask them what the special or freshest of the day is. Just go with their recommendation and I don't know how you could go wrong.
Try the white lasagna for me, since I eat primarily vegetarian and didn't try it. It looks amazeballs. They only do it every once and a while so keep an eye on their delicious Instagram for when they make it. When it's gone it's gone!
The Tiramisu is amazing. While it's a little different of a spin than I am used to, since it's not a cake. Save room for dessert!
Check out Il Giardino Di Roma Restaurante on Instagram, Facebook or Google Maps.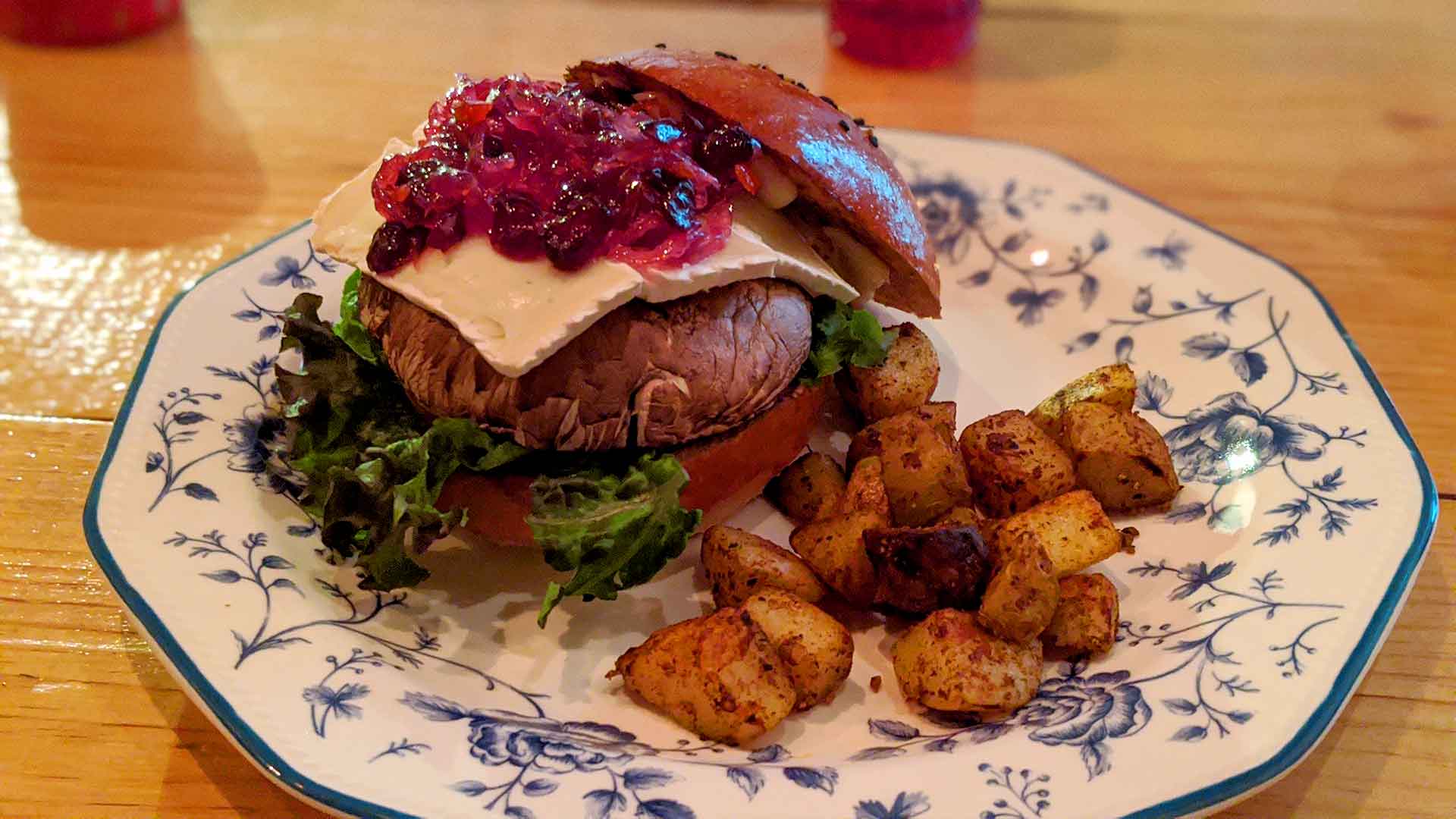 Royal Burger Spot – Favorite Burger / Portobello Burger in Queretaro Centro (Also coolest hipster interior?)
I walked by Royal Burger Spot at least a dozen times before getting the courage to go in. Somehow I made the huge mistake of equating small and less traveled as bad traits? Crazy. I'll rightfully take the dum-dum card for that. And the fear of the unknown is a real thing, especially as a solo traveler, unfortunately.
READ NEXT: The Learn To Travel Series: A Brief Apology to Fear
Game-Changing Hostel Facts: Did You Know There are Hundreds of Hostels in the US!?
Airbnb vs. Hostels: The Similarities (and Differences) Might Surprise You!
The owner—and only chef—used to own/run a big restaurant and burnt out, closed, then a couple of years later opened this gem. (Read more about his story and see my amazing burger here.) Royal Burger Spot is small and only seats about 8-10 people by design. When the fresh-every-morning buns run out, the restaurant is closed for the day.
He cooks his truly unique burger creations on a small grill less than 10 feet from where you eat, in full view and welcoming conversation. And he even has Portabello burger options across the board. Cooked to order art, and you get to watch the artist at work.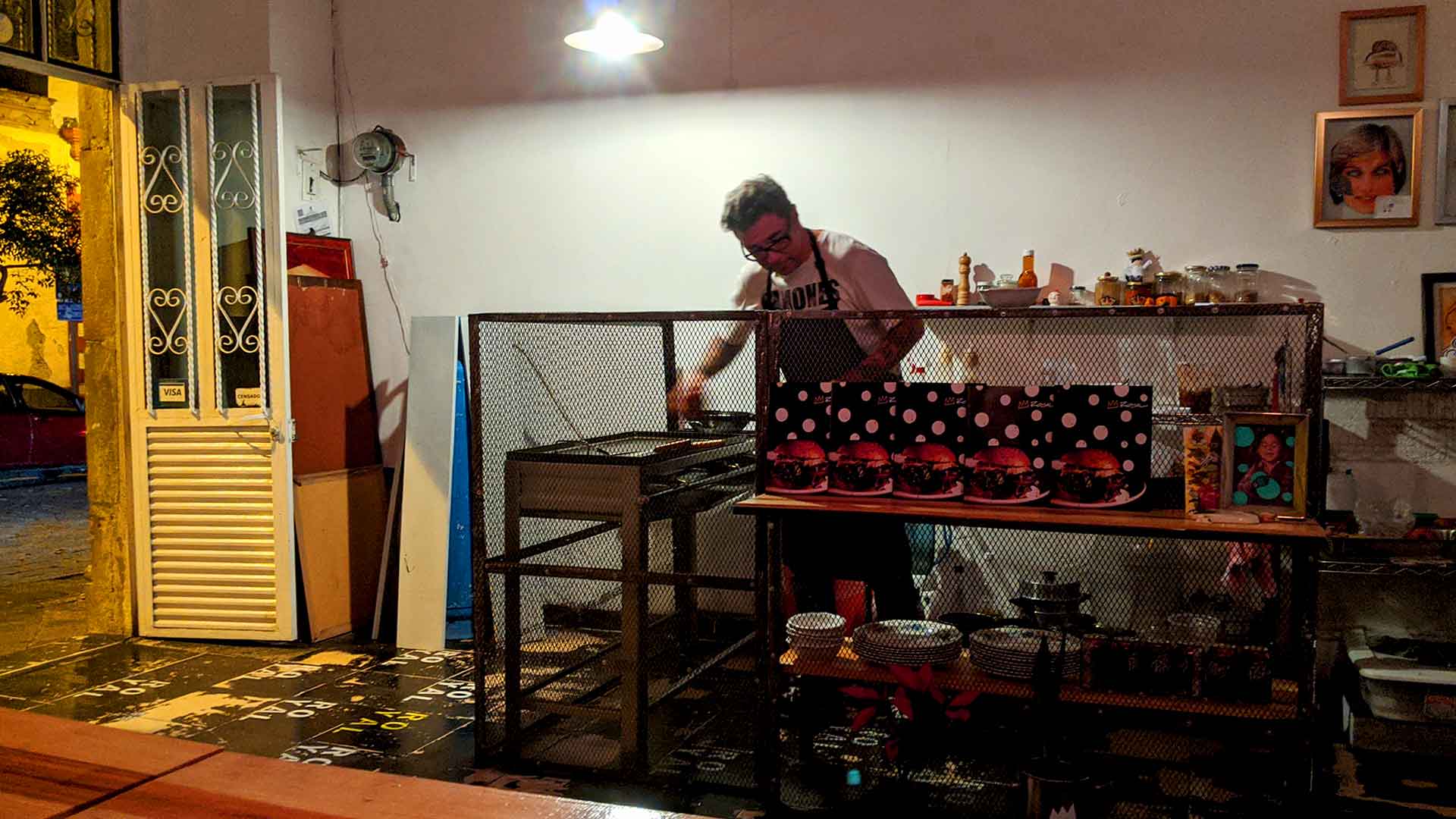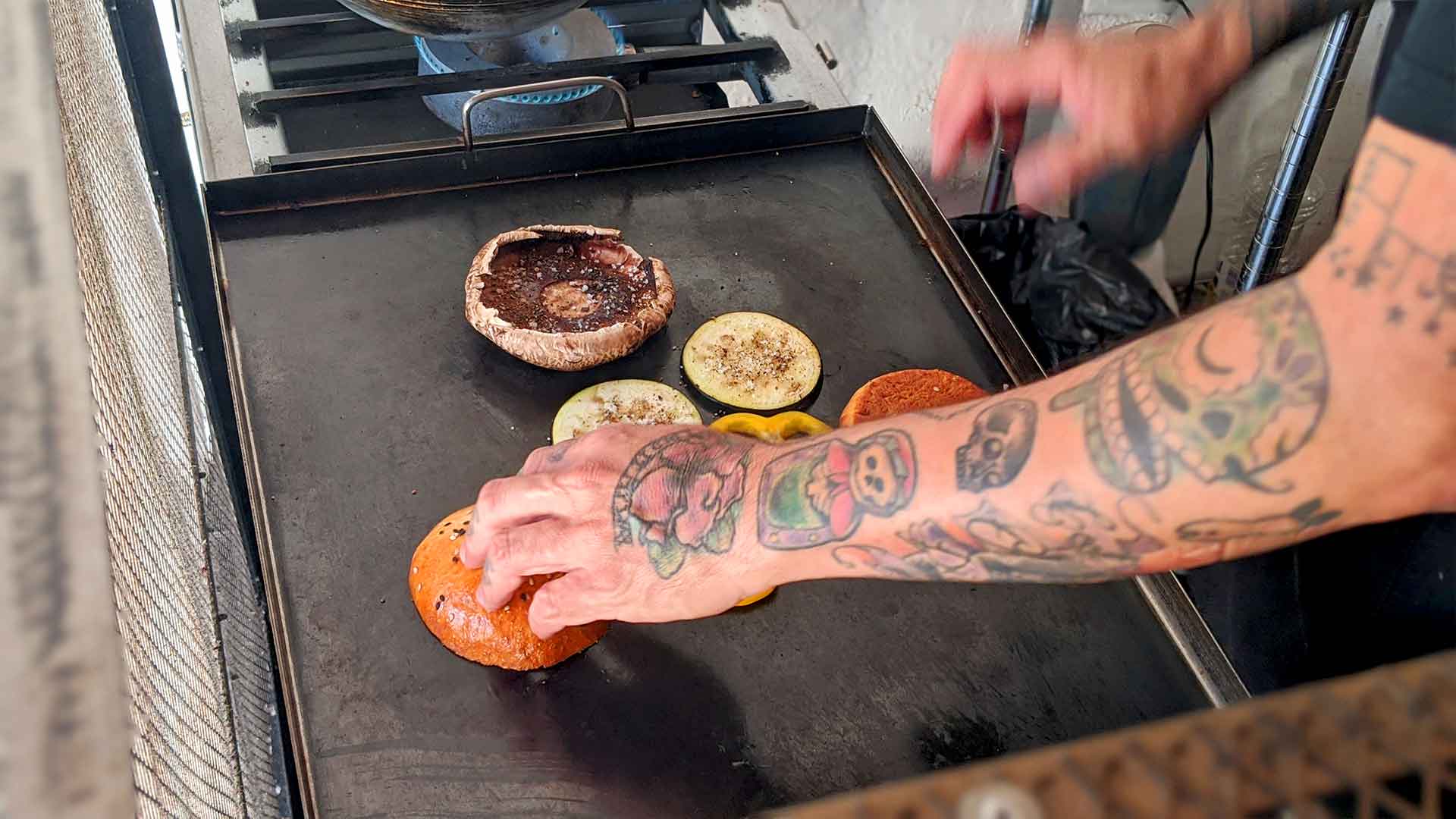 My second visit to Royal Burger Spot, the owner greeted me by name and offered to just make me something off the top of his head. Without a moment's hesitation, I trusted him to go crazy. That day I ate a juicy Portabello burger topped with seared yellow peppers and eggplant, tomato, avocado, a massive slice of Brie cheese and a dash of Basil…all on a toasted fresh bun. Check them out on Instagram. And wipe your face, you're drooling.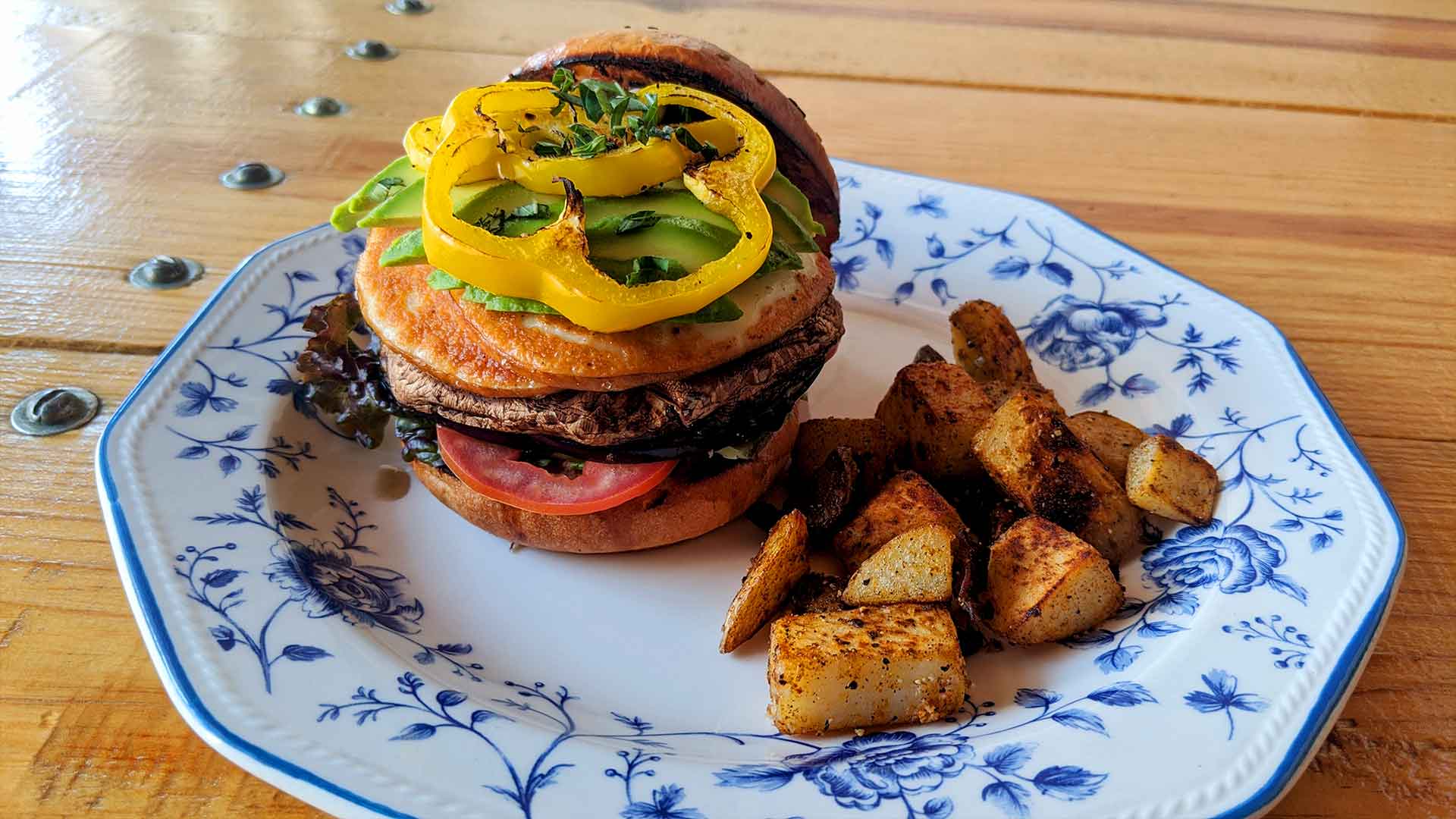 What to eat at Royal Burger Spot Restaurant in Centro Queretaro, Mexico
Any burger with the homemade red relish on it. Not sure what' it's called, but it's so good you might need a moment to yourself afterward.
Portabello burger. Seriously, if you've put off trying one, this would be the place to do so. I never had the meat burgers here, since I eat mostly veggie, but easily one of the best shroom burgers I've ever had.
Papas fritas, made to order.
Conversation. Adrian is a cool dude and seems truly happy with his small, personal creation at Royal Burger Spot. Tell him Jason sent you, and that Jason can't wait to come back and visit.
See what kind of unique Aguas Frescas is on the menu for the day. Had a basil watermelon recipe that was insane!
Check them out on Instagram, Facebook and Google Maps. Tell Adrian I said hello!
Casa Apothecarius – Favorite Coffee Shop in Queretaro
I'm gonna go off-script here and give you a little more luxurious (read: expensive) coffee spot in Centro Queretaro. Casa Apothecarius is not the cheapest coffee joint in Centro, but in my opinion, it was one of the best cups of coffee.
Note that there are plenty of great coffee spots in Queretaro for sure! And whereas Mexico is typically pretty good for value of USD vs MXN Peso, fancy coffee and craft beer are exceptions to the rule. If you're getting those, they will still run you about $3-6USD usually. But a cafe Americano (essentially a single cup of coffee, often pour-over) should be between $1-2.50USD.
Casa Apothecarius gets my vote for a few reasons beyond the gourmet prepared coffee and drinks though. The space is cool, with quaint inside spots along with a nice little courtyard and even hidden table nooks. Gilded gold drawings on the walls surrounded by dark slate and black and white marble accents throughout the spaces. The internet was some of the fastest I found, a digital nomad luxury that can't be underscored. And they were always friendly to me, which ranks high in my book.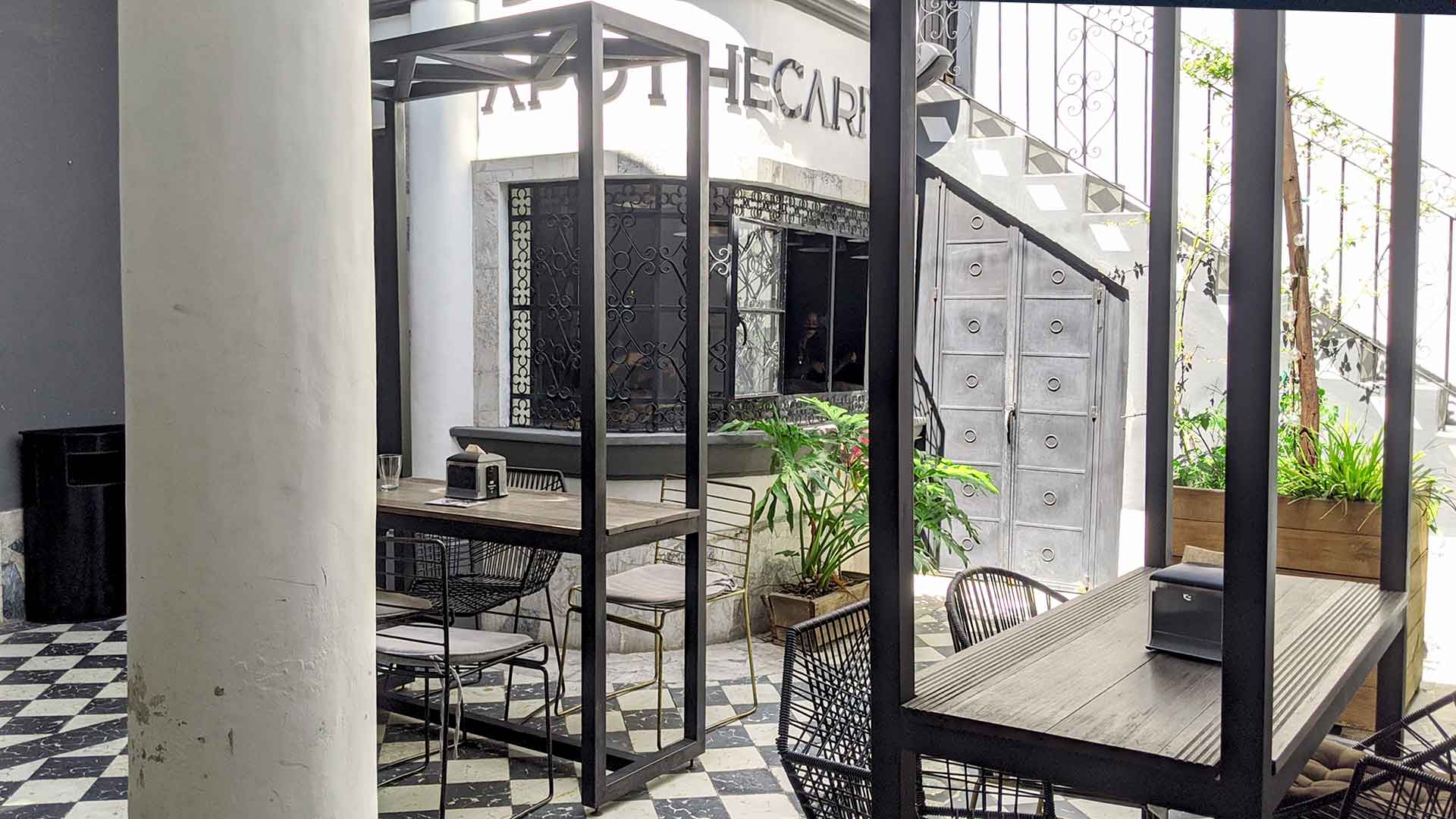 What to order at Casa Apothecarius Coffee in Queretaro, Mexico
Caramel Latte Macchiato, since I'm fancy. (No.) Actually, I'm just cheap. And if I'm going to pay top dollar for an Americano, I'll just put up the extra buck for this bad boy!
The Pizza Margarita looked fantastic although I never ended up trying it!
Find Casa Apothecarius here on Google Maps.
Cafe Pal Diario – Runner-Up Favorite Coffee Shop in Queretaro…Especially for A Digital Nomad
I would be remiss if I didn't mention Cafe Pal Dario, especially since I easily spent 2-3 days a week drinking coffee and working in their quaint little coffee shop. The Cafe Americanos were priced right, and they were big and delicious.
The space is small and quiet and perfect for a Digital Nomad in Queretaro to work or read in. The staff was always very friendly and attentive. Really was nice to be greeted with such great smiles every time, especially once they new my order by heart! Check them out on Google Maps.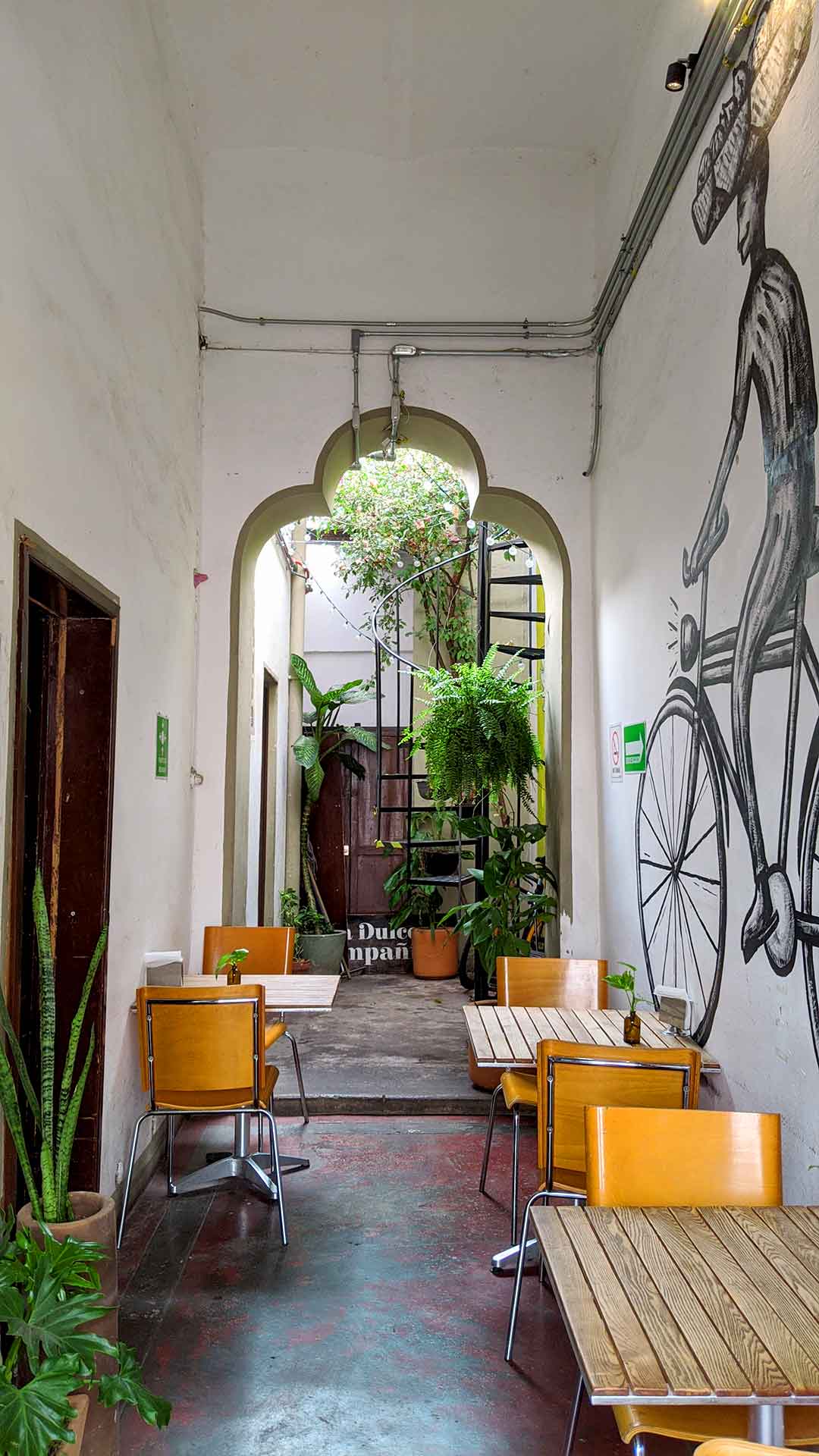 La Dulce Compania Panaderia – Favorite Pastries and Baked Goods in Queretaro, Mexico
Let's get something clear, Queretaro has amazing spots for pastries and baked goods, especially if you're smart enough to get them fresh in the morning. Also, they're called "Panaderias" in case you're looking them up. Hard to go wrong, really. The only place I've found yet that compares is Paris. But again, it's not just about the food.
La Dulce Compania is a tiny coffee and baked good shop just off of the main Centro drag. They boast seating for about 10 at most in a tiny room or outdoor walkway and an overwhelmingly beautiful array of baked goods every day.
But the people are extremely friendly too, and the coffee is delicious and priced right. As a digital nomad in Queretaro, I spent many mornings at La Dulce Compania taking in smiles, downing coffee and baked deliciousness and editing video or writing.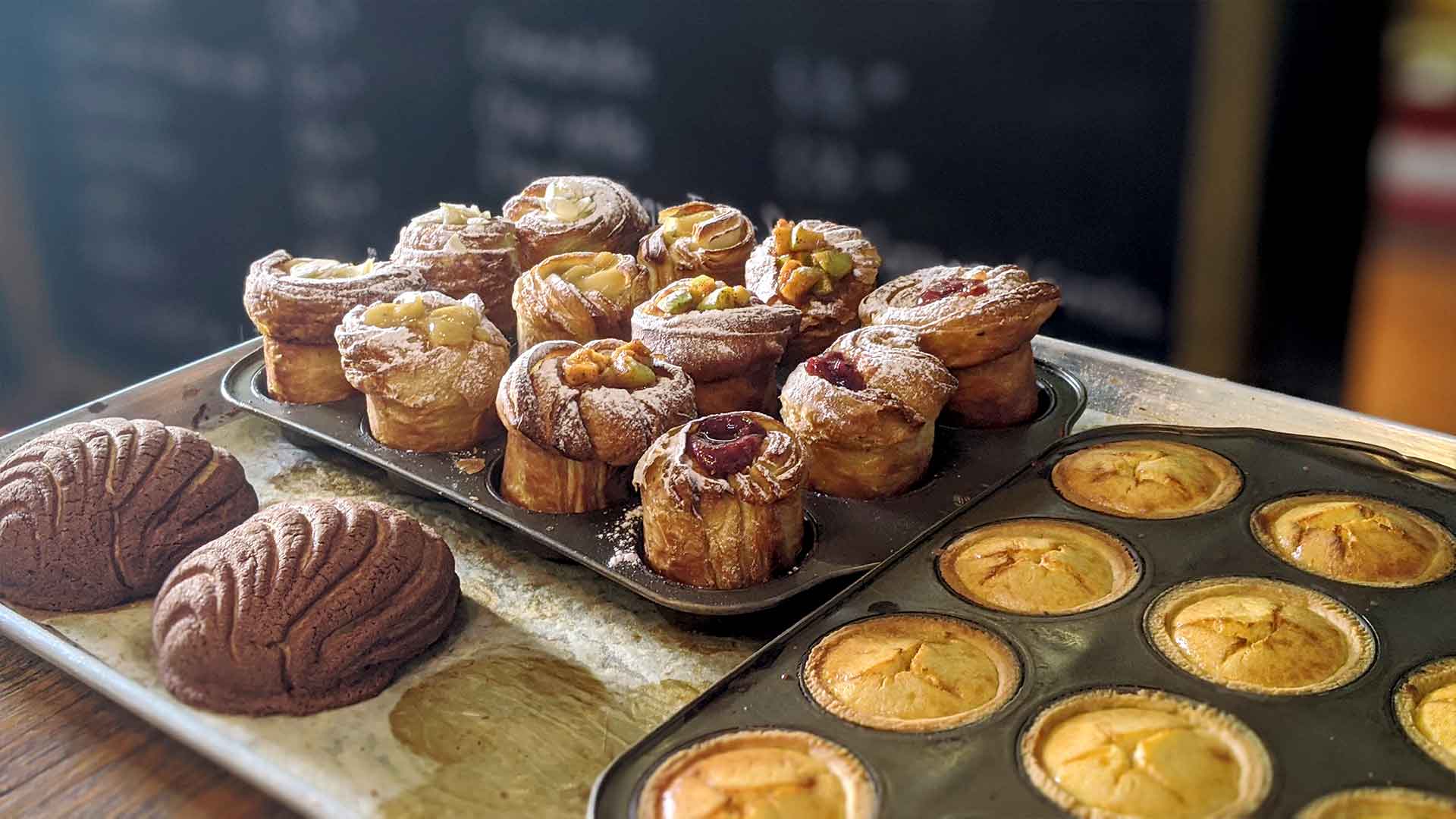 What to try at La Dulce Compañía, Centro Queretaro, Mexico
Cafe Americana is small, hot, and made to order. Not a giant mug here, but occasionally it's more about just sitting and enjoying your surroundings.
Err Ma Gersh every pastry I had here was amazing. Anything that looks like a muffin stuffed with apples or cherries or cheese are amazing. Yes, the ones in the picture above.
The Tiramisu was on point. Have one there and take one for later.
Check out La Dulce Compania Panaderia on their gorgeous Instagram page, facebook or find them in Google Maps.
Poderosa Restaurante Vegano was suggested to me by the owners of the Airbnb I stayed in, and based on my multiple trips back, a good one. Another place where you can tell that the cooks really care about seeing the smile on your face when you dig into a dish.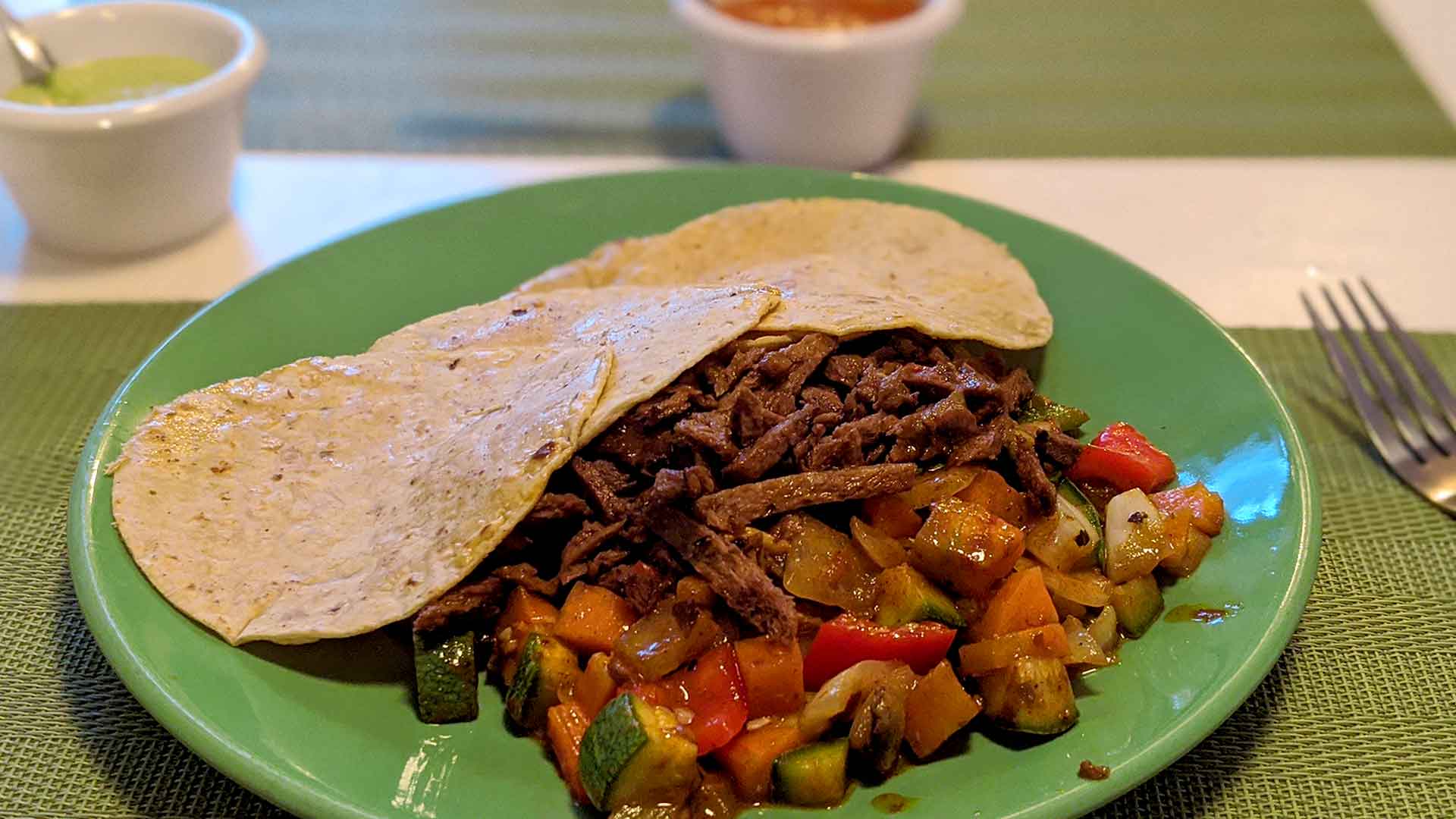 The vegan street tacos are amazing, and you can literally try one of each without getting a dirty look! And I suggest this. Vegan "meats" are surprisingly filling, so any of their dishes is enough, but I often ordered more simply because everything was so good.
What to eat at Poderosa Restaurante Vegano, Queretaro, Mexico
Any of the vegan street tacos that sound good to you
The Alambre is enough to fill you up, full of "meat" and grilled veggies shells to make-your-own street tacos
Try one of the kombuchas from their fridge
Check out Poderosa Restaurante Vegano in Centro Queretaro on Instagram or Google Maps.
Browar Tap Room – Best Chill Bottle Shop, Craft Beer Tap Room & Restaurant in One
Browar Tap Room has a meticulous selection of Mexican and European craft beers; easily the most and best selection I saw while in Queretaro. Their 10+ rotating taps are also the most I saw in a street-level joint. This place seems to somehow still be a little bit under the radar, but not for long.
My many enthusiastic conversations with the owner showed me clearly how much he not only cares about good beer but about creating an amazing overall experience for people that visit. He talked endlessly about working hard to refine their menu and food recipes and find out of the way beers that are hard to get. My digital nomad friends Cassie and Nate came through town one night and we spent hours there drinking, eating and catching up. Highly recommend!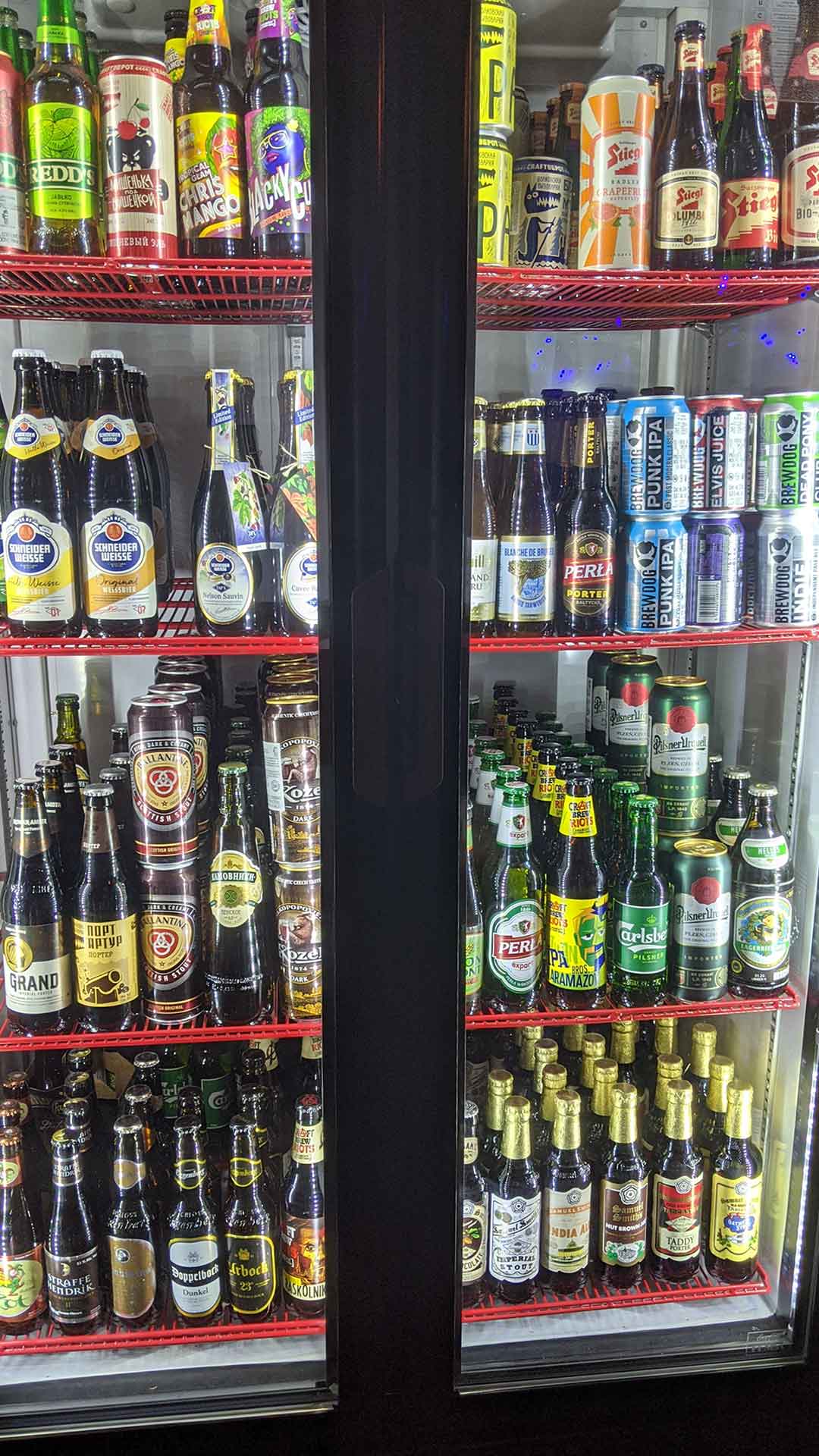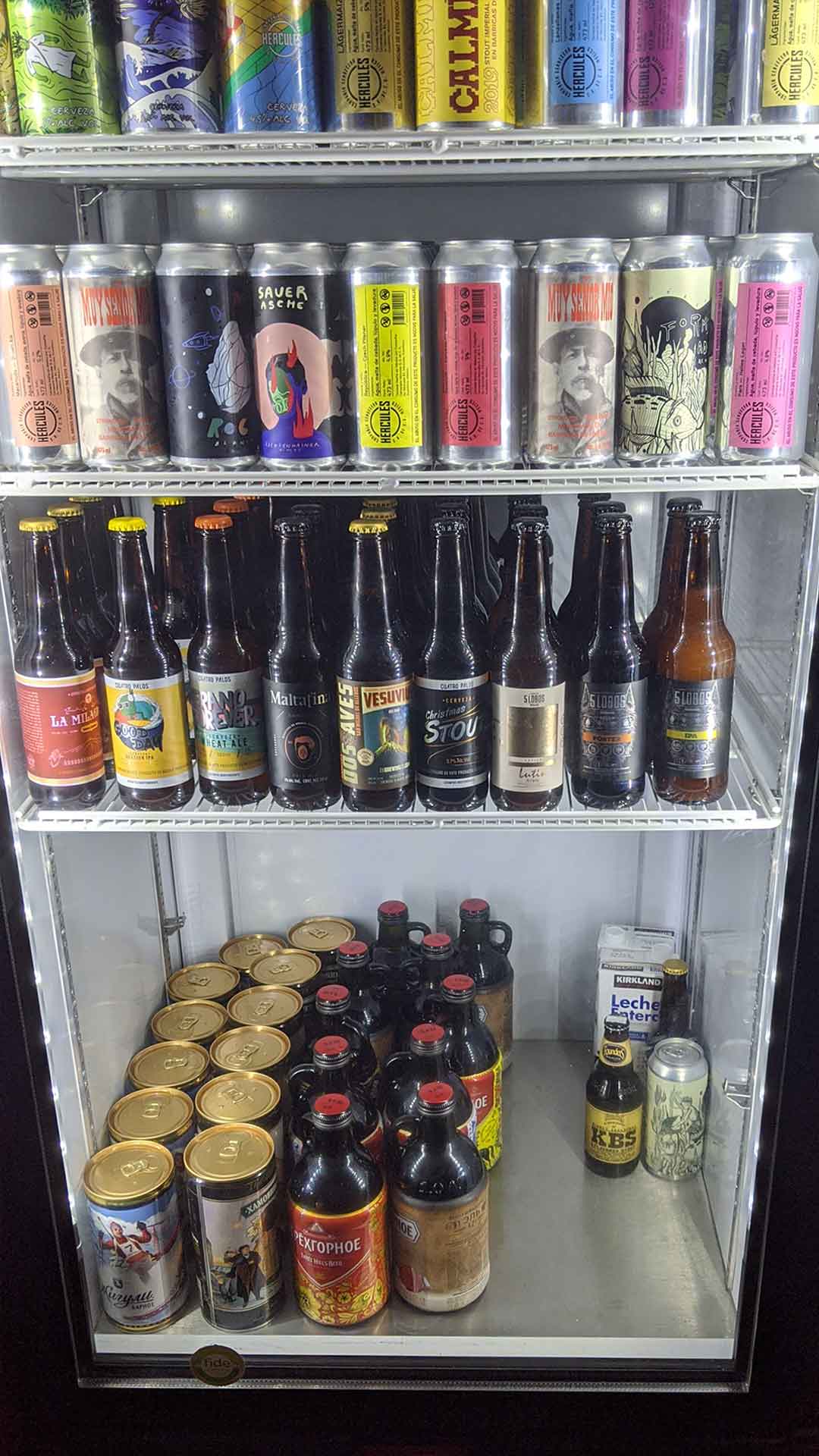 What to try at Browar Tap Room in Queretaro
As the owner about what's on tap. He's kind and well-versed in speaking English if needed, and happy to help you find what's perfect for you.
The Margarita Pizza. It's huge and delicious!
Check out Browar Tap Room in Centro Queretaro on Instagram or Google Maps.
Cafe Natif – Favorite Vegetarian Burrito in Queretaro
Another spot that I walked by many times before trying, to my regret, was Cafe Natif. When I finally did stop in one late evening, I was floored by the vegetarian burrito that they made for me. For the most part, it was the normal array of sautéed veggies, maybe the odd happy addition being zucchini. But there was a twist…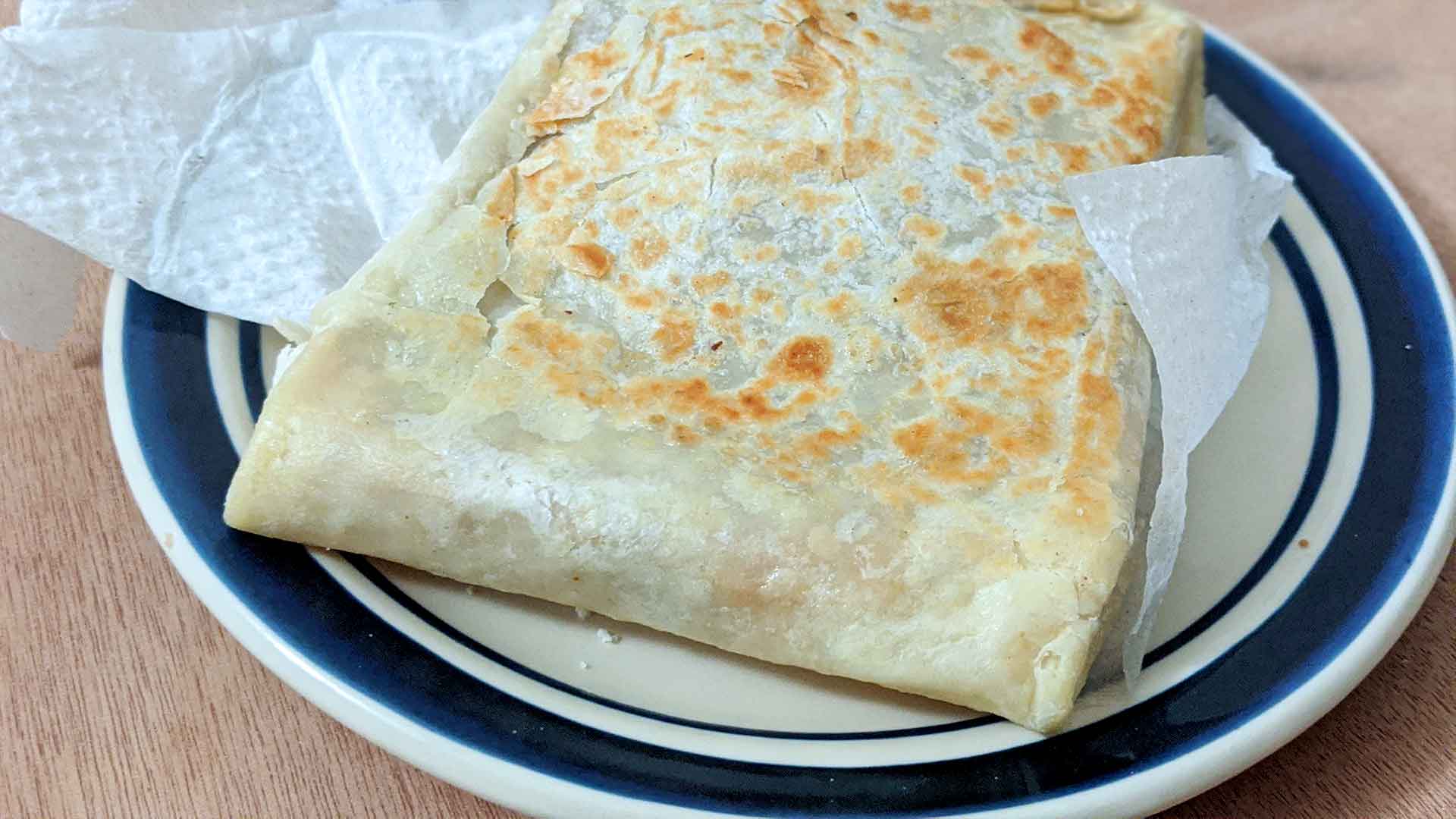 What to order at Cafe Natif Restaurant in Centro Queretaro
Find Cafe Natif in Google Maps.
Chinicuil Cocina de Origen Restaurant was one of my treat meals. See, I usually stick to a budget, but I also know it's healthy and necessary to Treat YoSelf and enjoy the little things from time to time. But even with taking myself on a few fancy solo date nights at nice restaurants, I still only averaged about $50/day for my time in Queretaro, Mexico.
A few blocks outside of the Centro area, Chinicuil Cocina de Origen Restaurant is a literal feast as well as a visual feast. I've never really been one to go to restaurants where they treat every plate like it's art, but that's exactly what they did here. The inside is meticulously yet not overly detailed with art and artistic touches throughout. No alcohol on the menu, which was actually a nice twist, but they do have daily recipes of Aguas Fresca. I tried the strawberry and it was insane.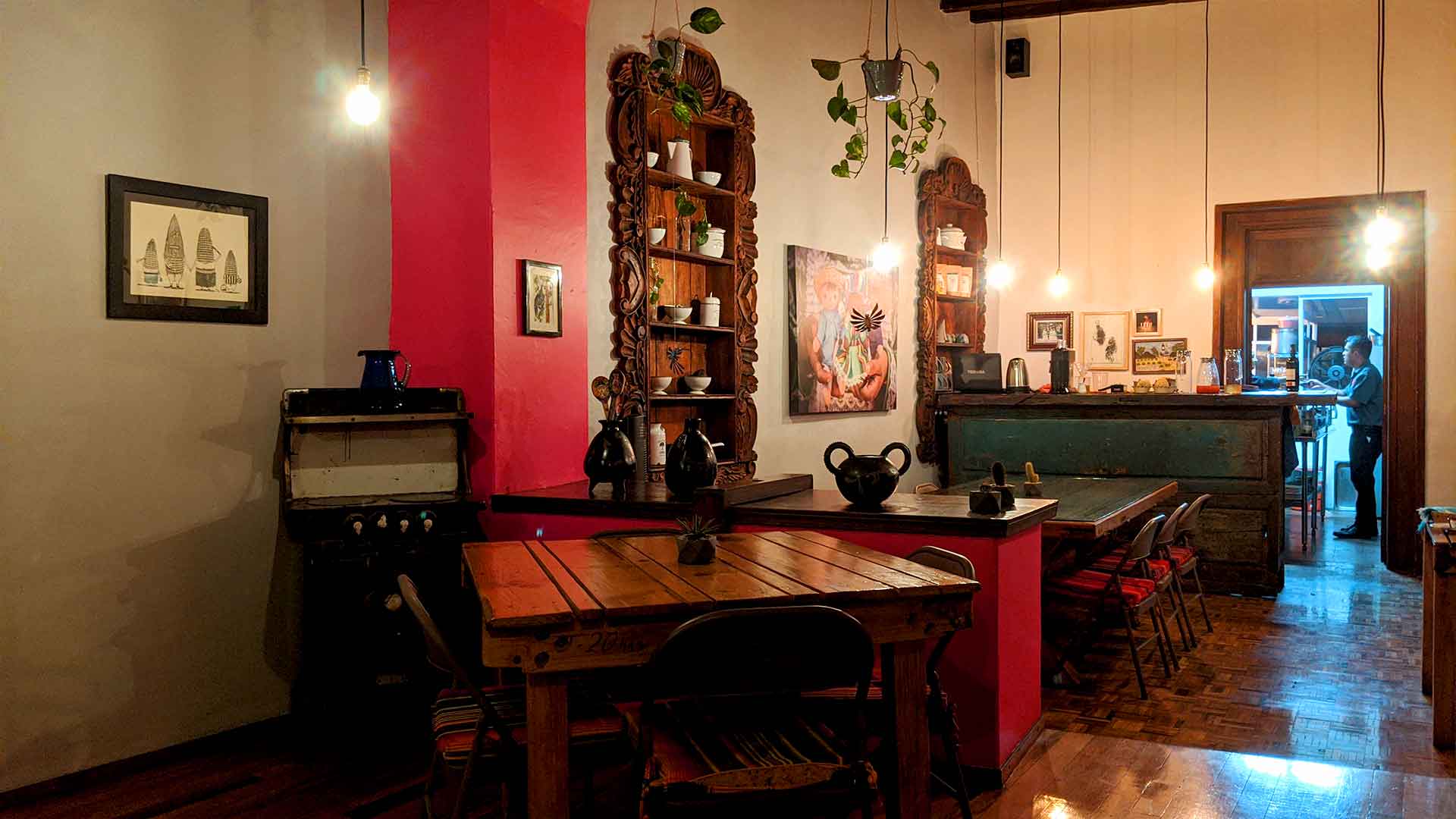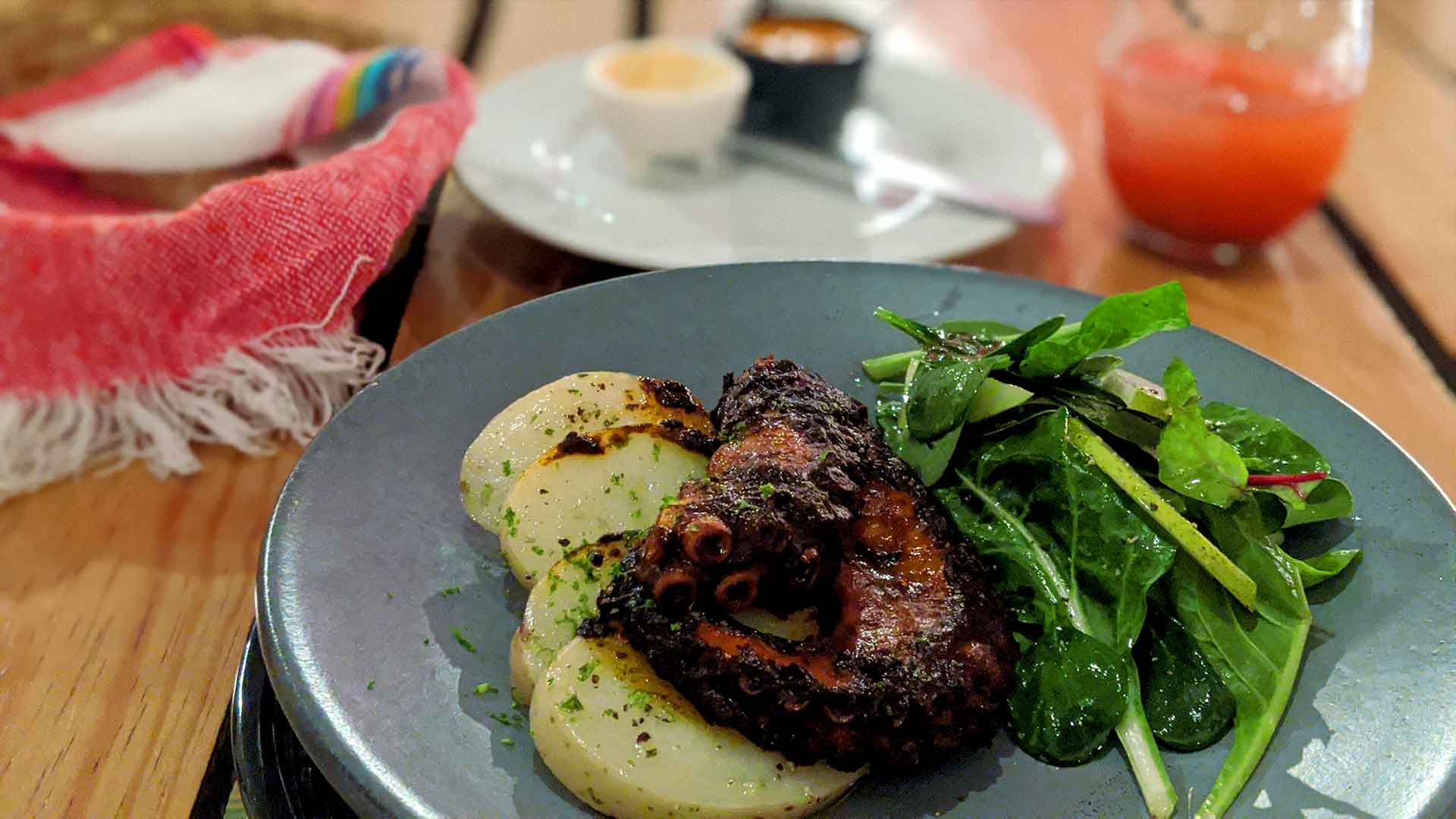 I treated myself to octopus one evening, having seen pictures on their beautiful Instagram account. And I was surprised that that cost was actually extremely in line with my budget. A fancy dinner for me in the US like this would have easily run me $50-75+, but it was only $20-25 at Chinicuil Cocina de Origen.
What to order at Chinicuil Cocina de Origen Restaurant, Queretaro, Mexico
Pulpo Negro: Octopus with Apple Salad and Potatoes. If simply because you've never had a plate full of beautiful suckers staring back at you.
Aguas Fresca. Pretty much every restaurant in Mexico has its own ever-changing versions of "fresh waters" made with water and fruit, etc. But this was one of the best I had.
The Creme brûlée. Treat YoSelf.
Find Cinicuil Cocina de Origen Restaurant just outside Centro Queretaro on Instagram, facebook or Google Maps.
Some of My Other Favorite Food and Restaurants in Centro Queretaro, Mexico
Let's be clear, even breaking down my favorite places to eat in Queretaro, Mexico to that long list above was really hard! There are so many great places, and on any given day, some of the ones below would have made it up top. Here are just a few others.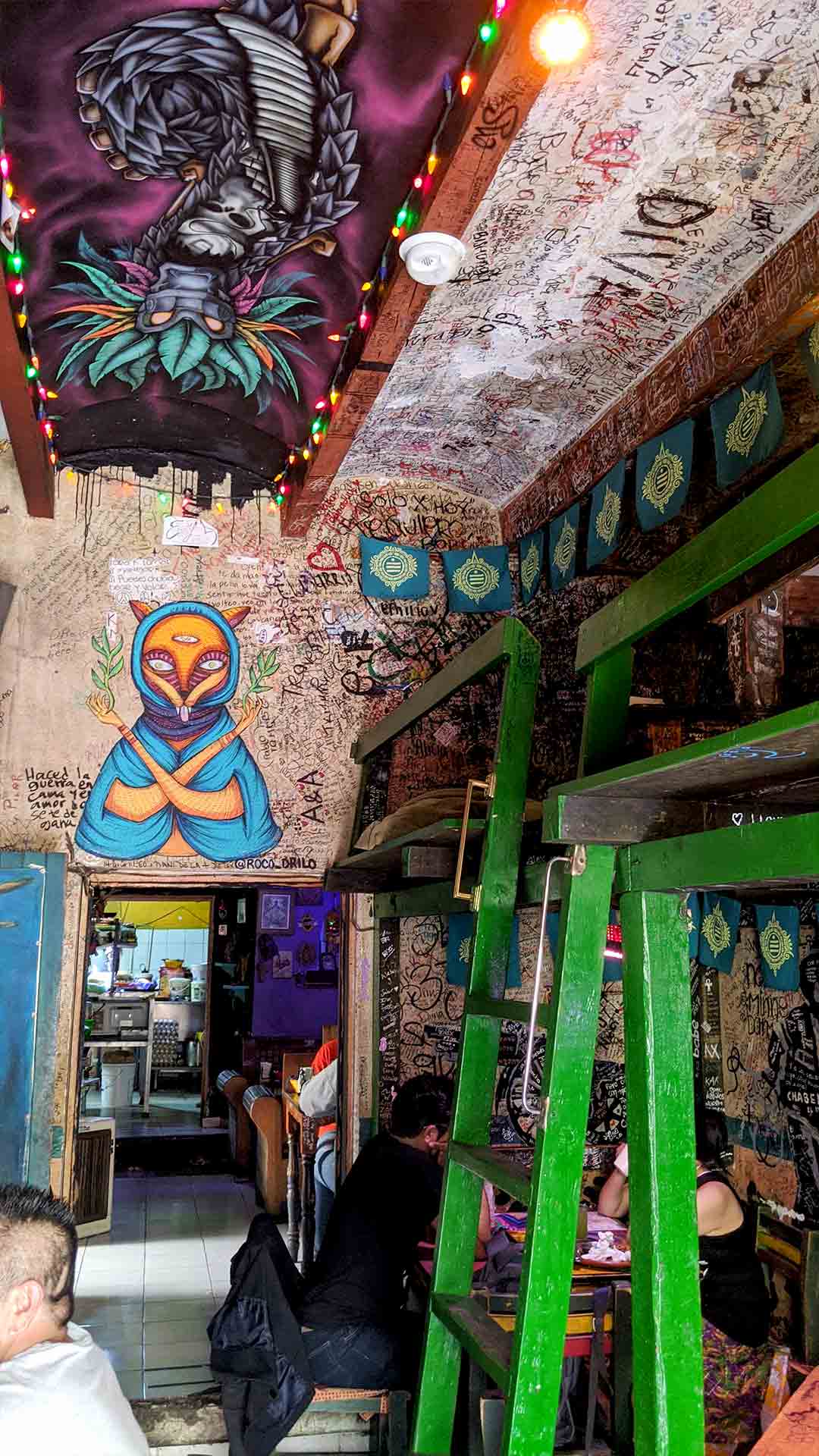 Crazy little cash-only joint with walls (and ceilings) covered with murals and nick-nacks. The food wasn't necessarily off the charts, but it's just a cool little joint that's worth checking out! See if you can get the bunk bed "table."
I was on my way to one of the restaurants above, again, but decided to stop in here. Awesome street tacos and Aguas Frescas, and a wicked deal if you go on Tuesdays!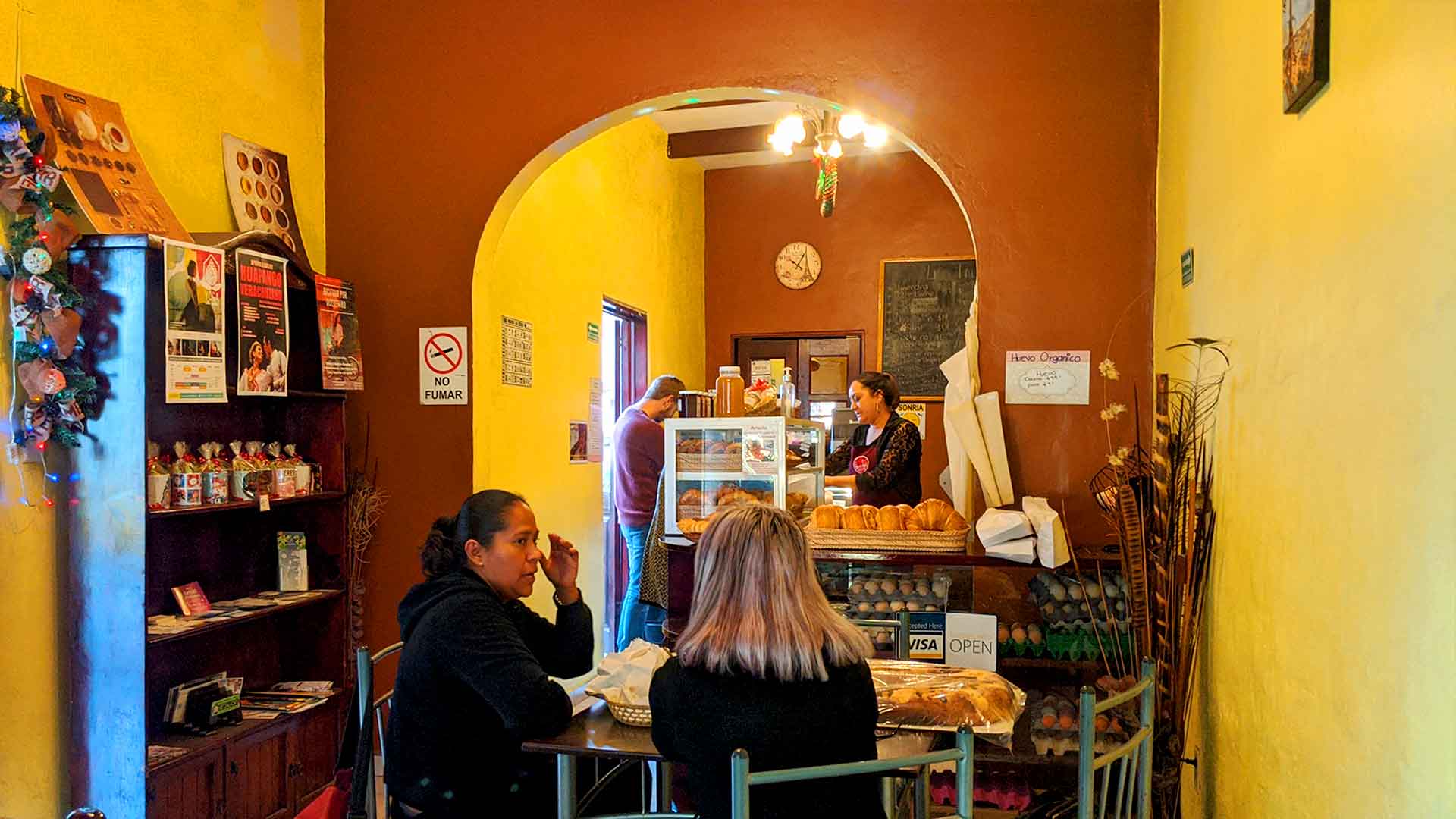 I loved this little French-themed Mexican Panaderia. Many a cup of coffee and pastry enjoying sweet smiles and conversations with their staff and owner. Try the croissants. They melt in your mouth.
A surprising little Dumpling restaurant on Calle 5 De Mayo in Centro Queretaro. All made to order with their delicious sauces. Enjoy the tiny courtyard area on a weeknight where the escape room next door is closed and it's a little quieter.
Grab a craft beer out of the fridge and head up to the rooftop at sunset. Yes, they have a rooftop, but you wouldn't know it without going in and asking. Grab a cheese plate while you're at it. You're welcome.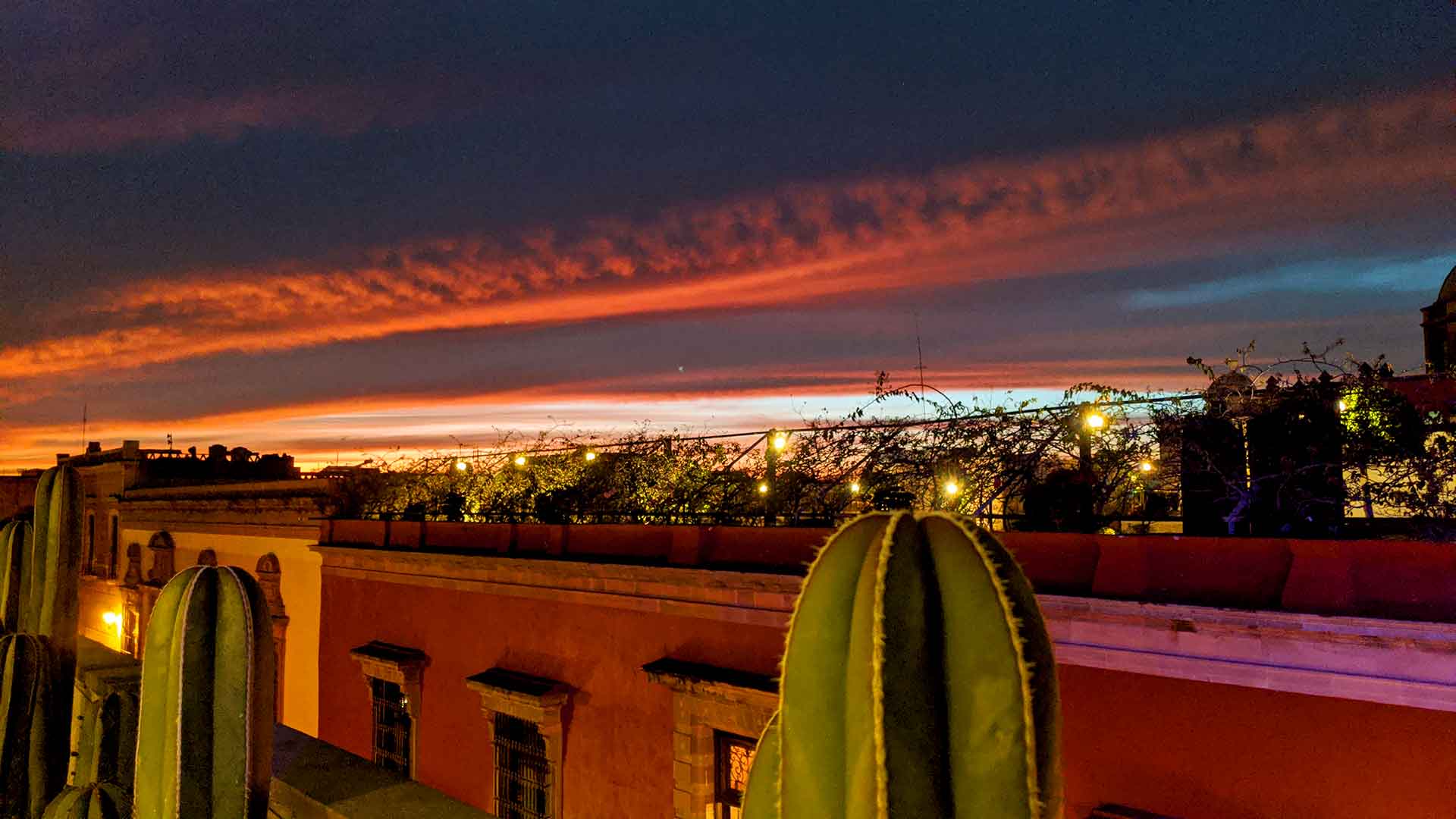 Never been to Oaxaca? This is a great restaurant to try to get as close to Oaxacan cuisine without actually being there! Read the menu for more tasty bits about Oaxacan traditions, food, and history!
A cool little spot with a handful of taps and a good amount of Mexican craft beer in fridges. Snuggle up to the bar and talk about what you're looking for and they'll lay it all out! They also had some pretty rad red twinkly lights up that were kind of mesmerizing me…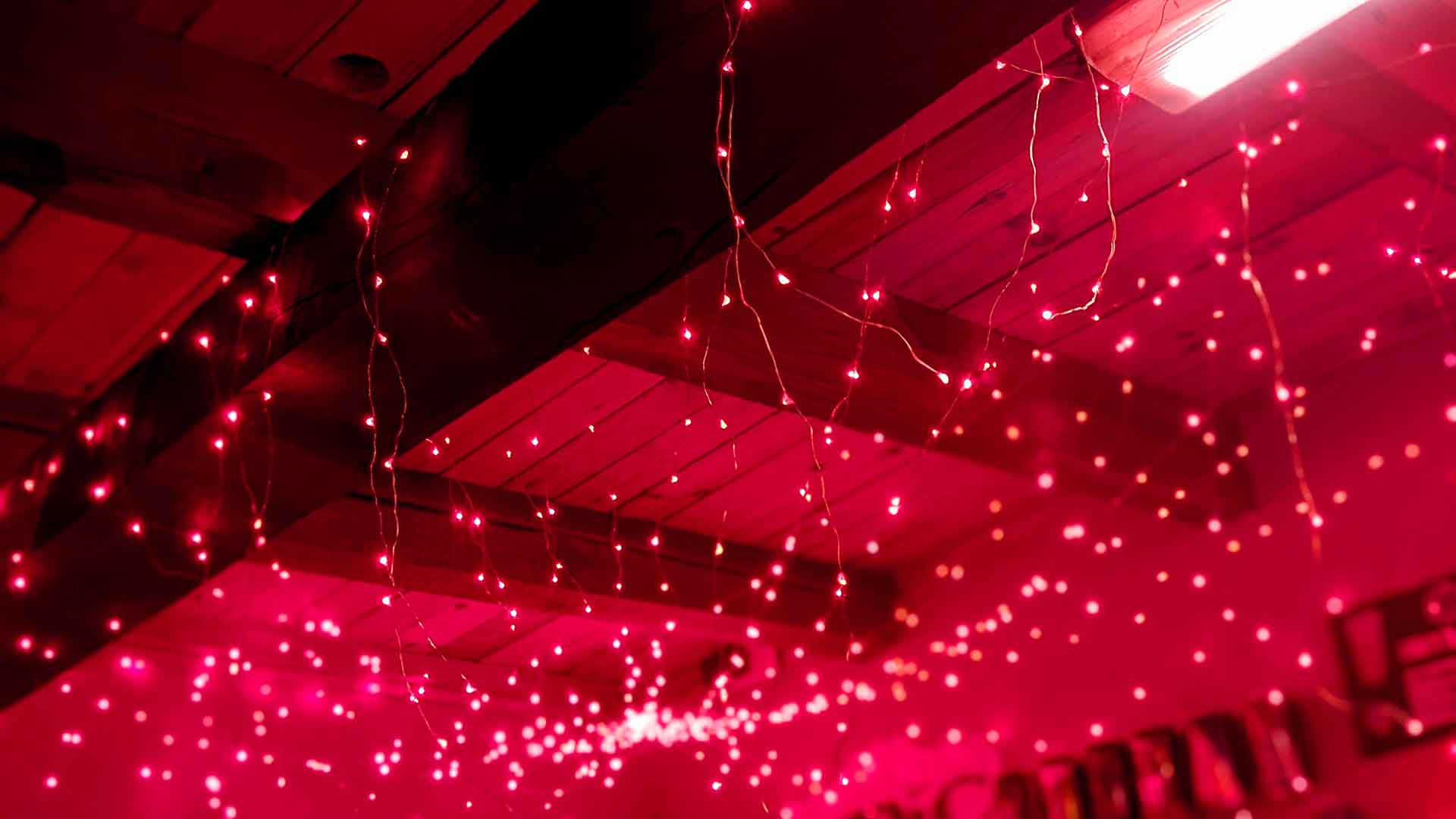 The big boy in Queretaro, but a little of a drive or a cab from Centro. HUGE grounds and outdoor restaurant with room for massive concerts and gatherings. Great beer on tap and a place you could probably chill the day away. Keep an eye out for when they host Mexican Lucha Libre Wrestling!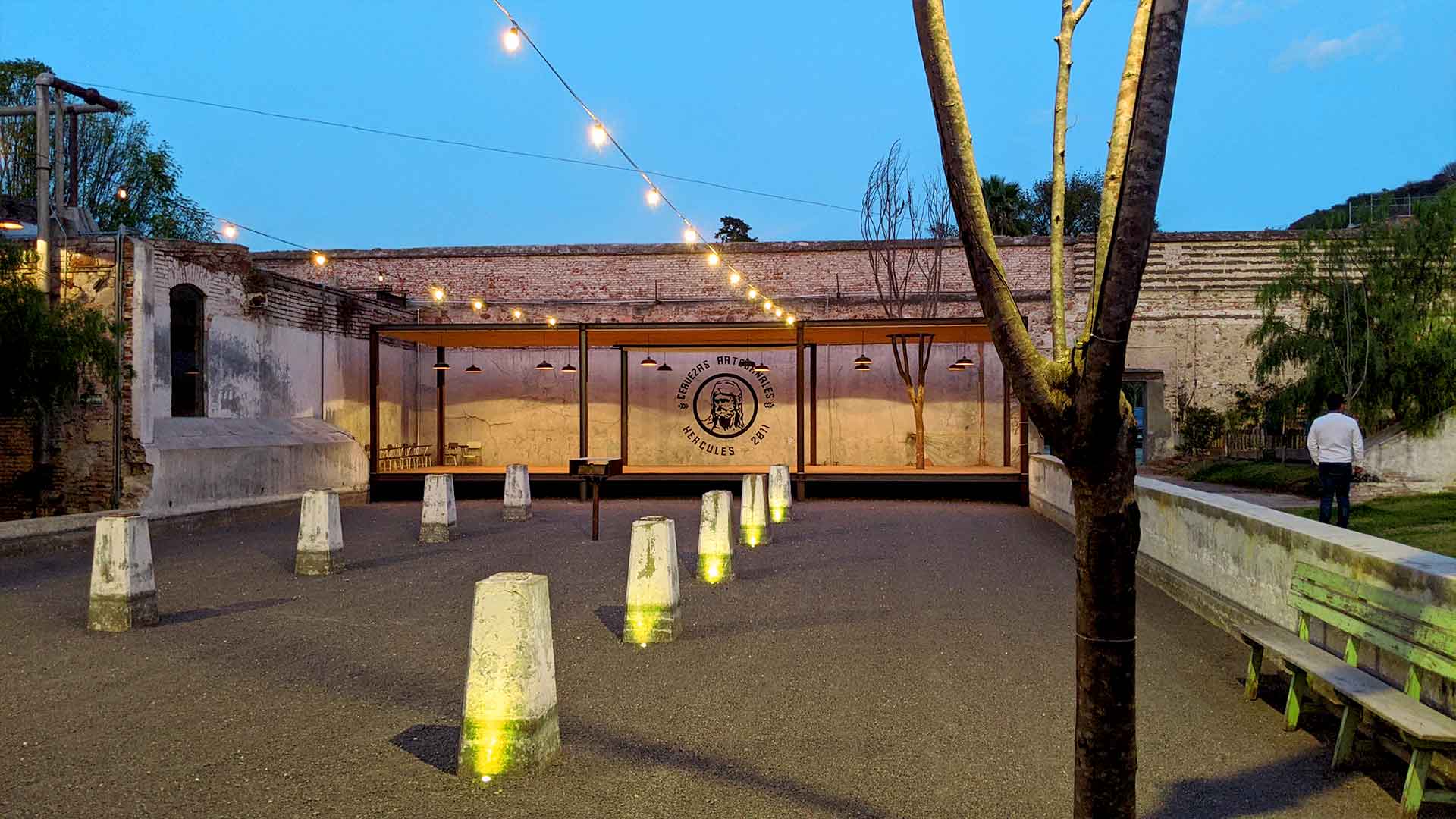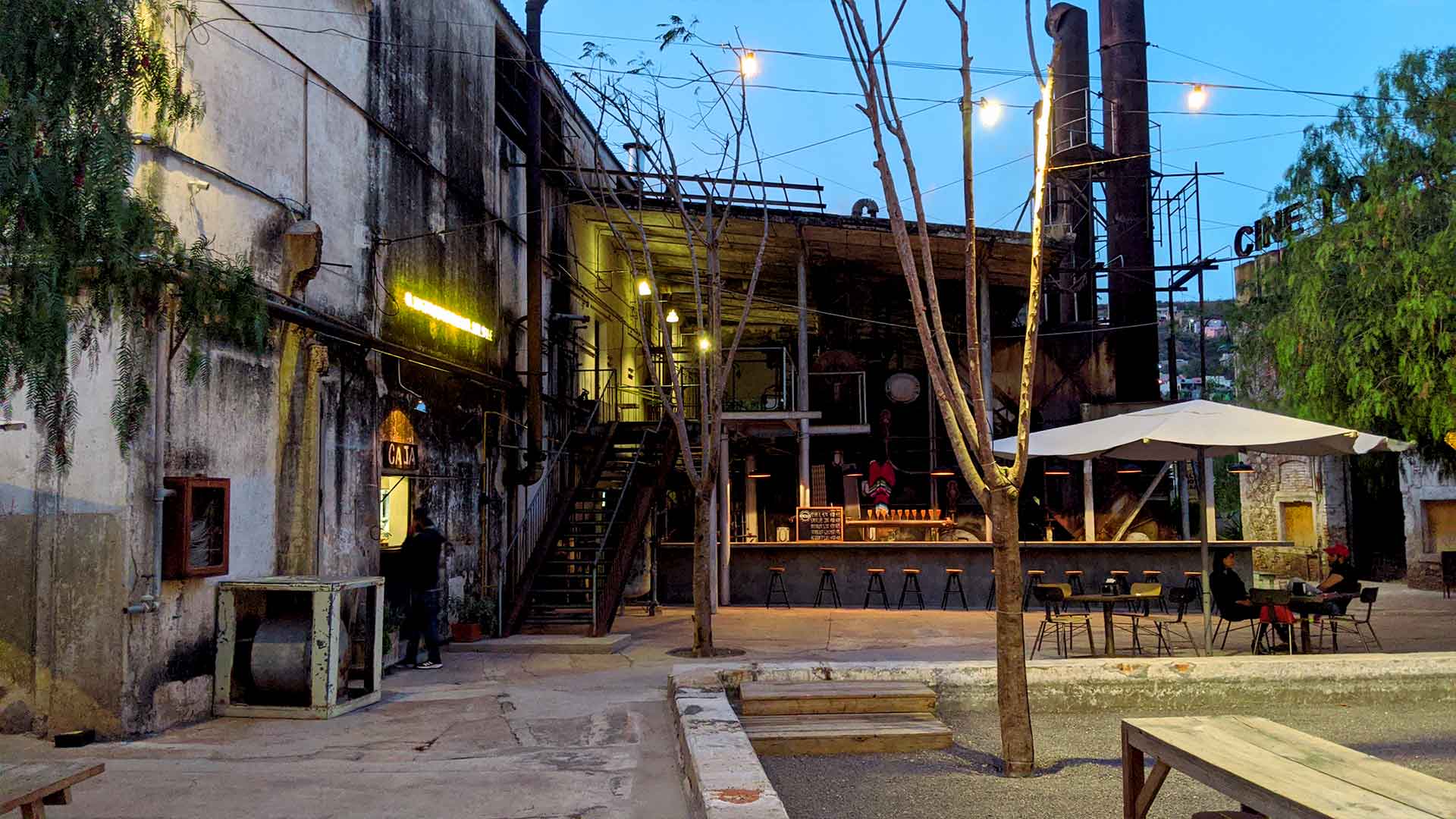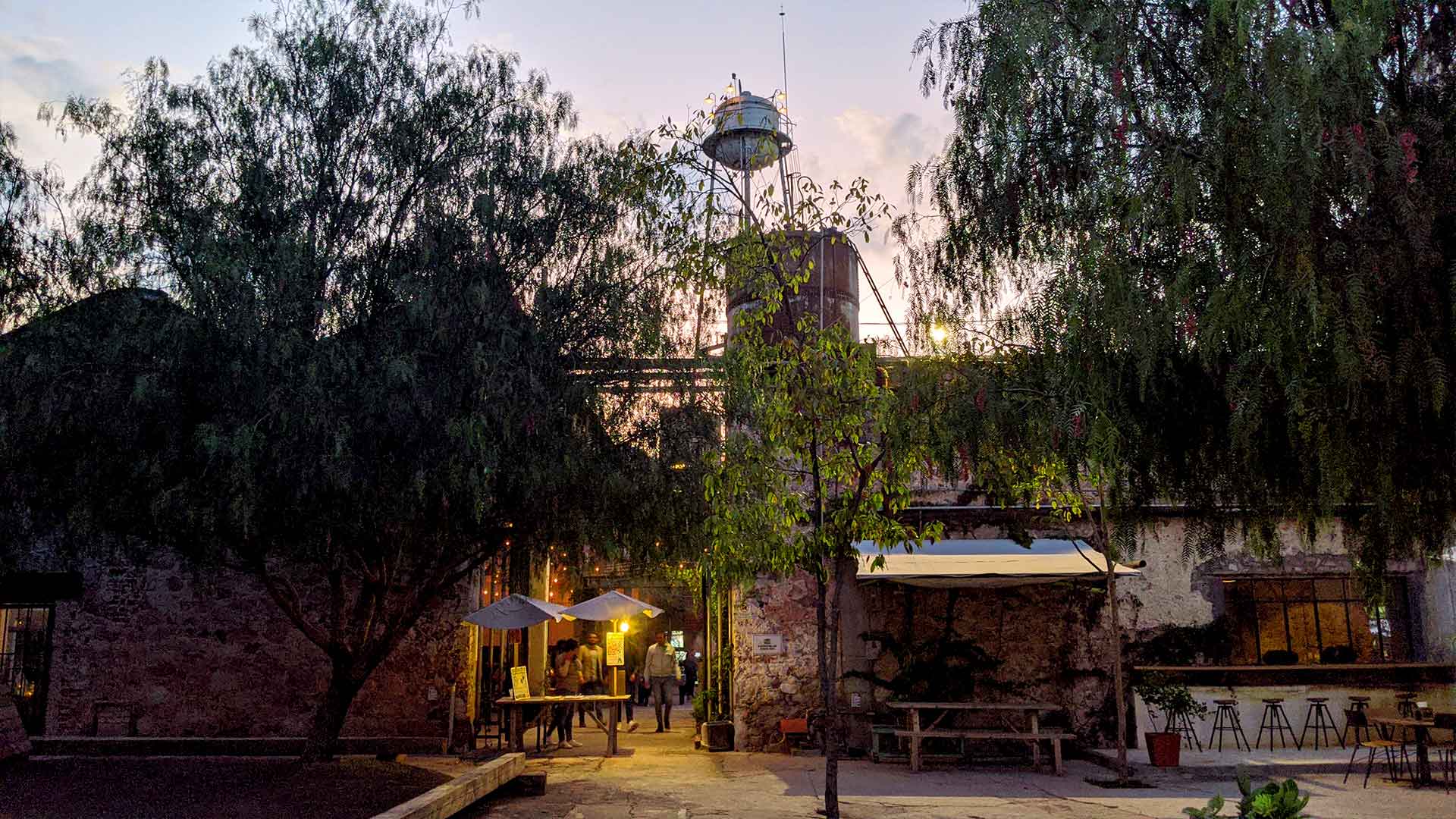 Whew! I'm Exhausted and Hungry!
There you go. Results from my exhaustive "research" from living as a digital nomad in Centro Queretaro, Mexico for two months! If you have any questions, please join the conversation over on Facebook and ask! I loved my time there, experiencing the kind people and culture. I'll be back!
Cheers!
— Jason
Don't forget to subscribe and check out all the videos on the Youtube channel! Cheers!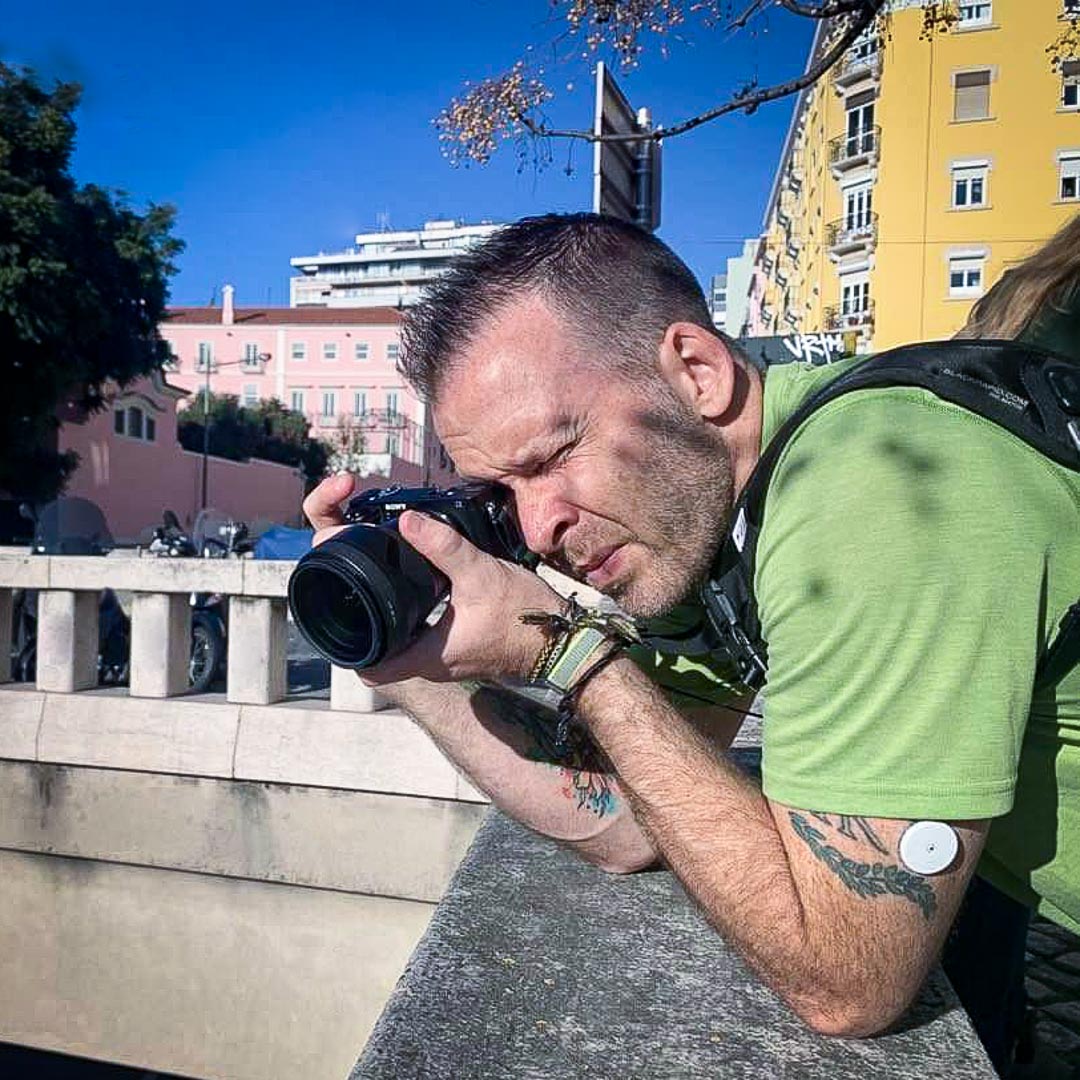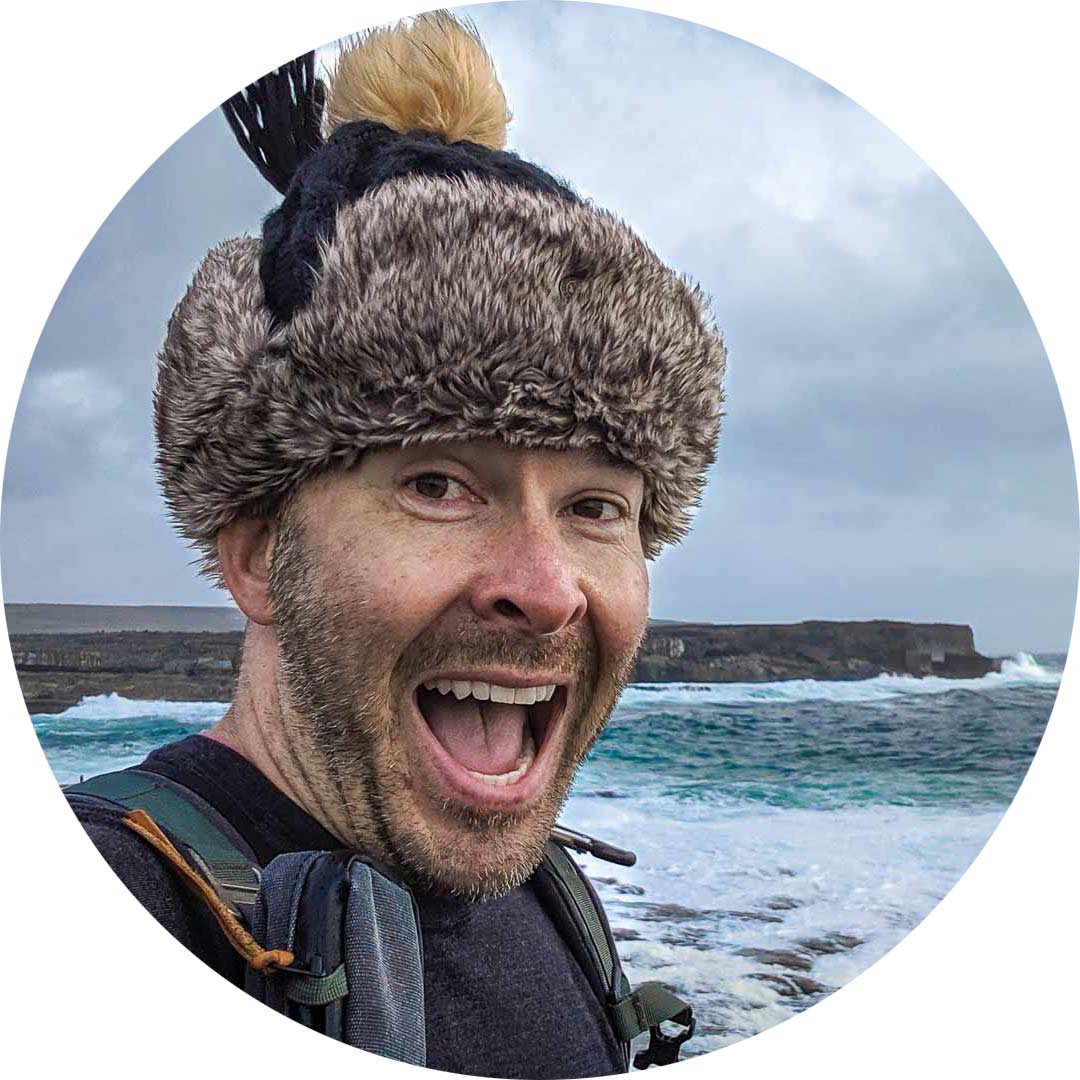 About Jason Robinson
Jason is the author of "The Beginner Traveler's Guide To Going Nomad," as well as the voice behind the words and the eye behind the lens for The Nomad Experiment. "Planning to travel at some point" wasn't actually getting the job done, so nearing 40 he decided to make it a priority, nomatter how scary that was. A few years later—through the pandemic and a type 1 diabetes diagnosis at age 42—now living a life of nomadic travel, he's speaking out to encourage others of any age, or with any serious medical diagnosis, to live an unconventional life.
More Resources and Videos from my time in Centro Queretaro, Mexico!
Check out these videos. If you're not yet subscribed on Youtube, I would love it if you would!
10 Essential Beginner Spanish phrases for your first trip to Mexico
Cacao & Cocoa & Mezcal, Oh My! Mexicacao Festival, Queretaro, Mexico
What happens on weekends in Centro Queretaro
The truth about being a digital nomad in Mexico
Travel Planning Tips
Figure out where you are going & how are you getting there…
I suggest using at least 2 to 3 different travel search sites. Start with Skyscanner or Orbitz or Booking …or whatever aggregator site you prefer. Then when you see what airlines to use, check their respective sites for better deals or rewards flights.
Figure out where you're going to stay…
If you're interested in hostels, search Hostelworld or Hostelling International. For longer-term or more private digs, look at Airbnb, VRBO, or you can look for hotel rooms in the links from the search engines listed above.
Get comprehensive travel insurance, or in the least, travel medical insurance if internationally…
Especially with Covid not going anywhere, get covered. Start with an insurance aggregator like Insure My Trip, or with SafetyWing, World Nomads, or another. Then decide what is important to you; trip cancellation, baggage coverage, medical, or all of the above. And get a yearly evacuation plan, since you'll have to get home after your emergency! 
Need more resources? Click here!
This site participates in the Amazon Services LLC Associates Program and other affiliate programs and may earn from qualifying purchases. You're never charged more, but it helps out little by little! Check out "Privacy" in the top menu if you need to know more!