Review: ZAGG Rugged Book iPad Case
[et_pb_section bb_built="1″ fullwidth="off" specialty="off"][et_pb_row][et_pb_column type="4_4″][et_pb_text _builder_version="3.0.106″ background_layout="light"]
So working "la vie nomade" requires some hardware in the suitcase or backpack
There are thousands of options out there, of course, so I can only speak to the side of the nerd spectrum based on my everyday carry.
Personally I don't prefer to lug my gold-plated MacBook Pro everywhere (well, it might as well be gold-plated for the price tag…), so I have to defer to my iPad for draft writing and some of the more simple web site editing, etc. I'm actually typing this article on said hardware while sipping a delicious cider.
Truth be told, I'm usually half lit while I'm writing these posts.
When working on an iPad or any other tablet and writing on a regular basis, you definitely want a trusty keyboard. I prefer one that protects the bejesus out of my iPad while I'm at it.
So I used to have this Logitech Ultrathin case/keyboard back before they decided to change to two removable watch batteries. I actually [highlight]loved the old rechargeable version[/highlight] and would recommend it if/when they get smart and go back to that. Unfortunately I've learned that anything that runs on actual, removable batteries is a serious bane on my nomadic ninjaness. More and more I seriously base new purchases on whether or not they plug in to recharge versus requiring actual changing or recharging of batteries. But this Zagg Rugged Book keyboard/case is super stout, and it holds a fantastic charge.
This ZAGG iPad case is chunky as funk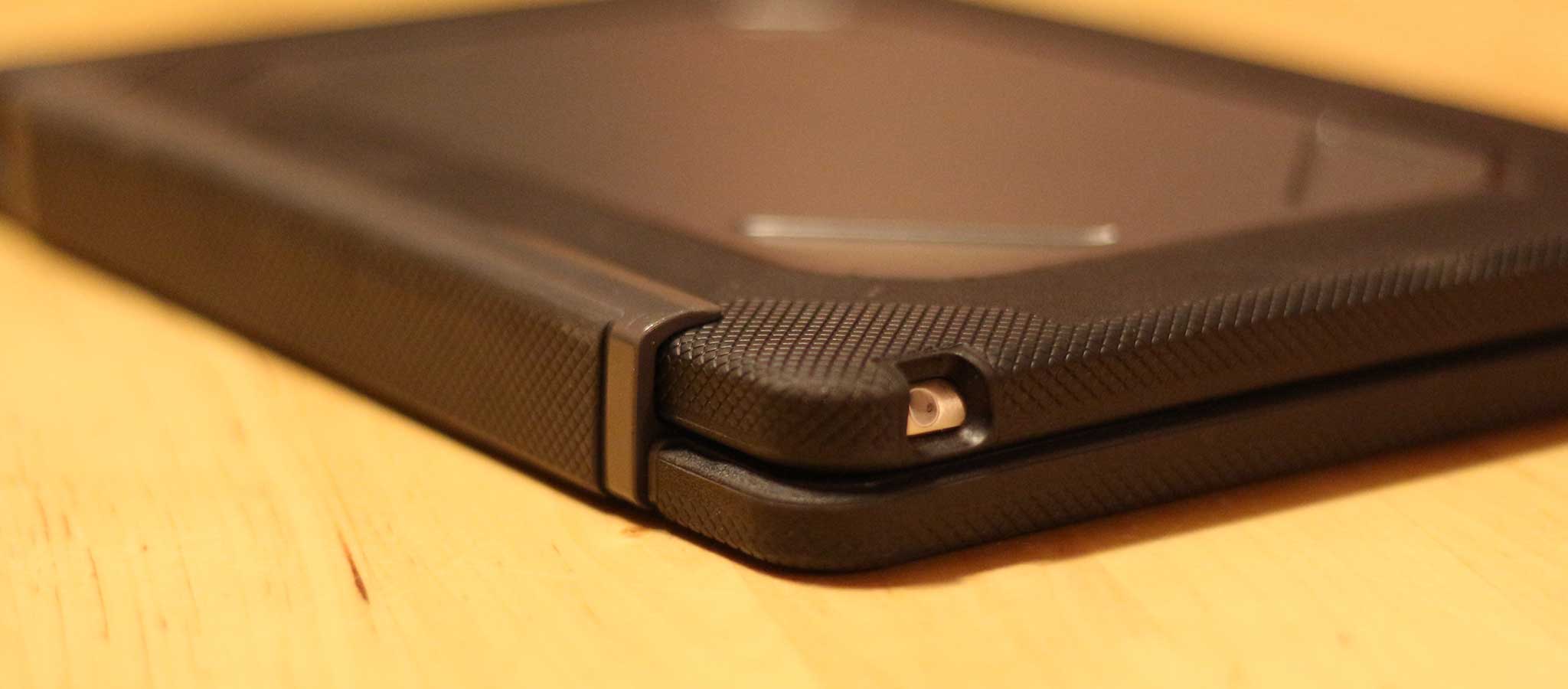 Pros:
It's Beefy. Seriously, it weighs 1.5lbs. It can take some sh!t. I've dropped it (closed) a few times and it's like nothing ever happened.
It has 4 setups: case, keyboard, video, and book modes (essentially, you flip your pad around into a few different ways for different uses. Actually pretty handy.)
Backlit keyboard, and it's hella bright.
2-year battery power. Seriously? If you're going to wait two years to use this, just skip it!? I personally know a charge easily lasts for a month or two even with very regular use, but I make it a habit to charge my long-term devices at about every 4-6 weeks and before any long trips.
It's pretty rad looking. Most folks think I'm carrying a small computer and are stunned when they realize it's an iPad clamshell.
[/et_pb_text][et_pb_gallery _builder_version="3.0.106″ show_title_and_caption="off" show_pagination="off" gallery_ids="26983,26990,26991,24764″ fullwidth="on" orientation="landscape" zoom_icon_color="#1e73be" hover_overlay_color="rgba(255,255,255,0.9)" background_layout="light" pagination_font_size_tablet="51″ pagination_line_height_tablet="2″ /][et_pb_text _builder_version="3.0.106″ background_layout="light"]
Cons:
It's Beefy. Seriously, it weighs 1.5lbs. (But it can take some shit?)
The hinge is stout, but after about 6-8 months of use, it gets a little wiggly. Not something I really worry about, as it's barely noticeable. Just wanted to mention!
So there you go!
Overall, I have no qualms about recommending this one, as I've been putting it through the rigors for months now with no issues. If you grab one, I hope you have the same experience!
Links:
ZAGG Rugged Book clamshell with keyboard
Logitech Ultrathin case with keyboard
CLEAR App, which I use a lot for keeping lists while on the go (shown in photos)
Elephant Wallet (shown in photos), reviewed here: Elephant Wallet Review
[/et_pb_text][et_pb_gallery _builder_version="3.0.106″ show_title_and_caption="off" show_pagination="off" gallery_ids="24763,24762,24761,24760″ fullwidth="on" orientation="landscape" zoom_icon_color="#1e73be" hover_overlay_color="rgba(255,255,255,0.9)" background_layout="light" pagination_font_size_tablet="51″ pagination_line_height_tablet="2″ /][/et_pb_column][/et_pb_row][/et_pb_section]